This page of dates, photos, and comments is posted to help us look into the questions of (a) how many Short-tailed Albatross were in Monterey Bay and offshore Monterey County (MTY) in the year between 17 July 2021 and 9 July 2022, and (b) what should observers look for and document when considering the presence of multiple individual albatross. During this period multiple Short-tailed Albatross were seen from birding boat trips and whale-watching trips, in addition to our regular Black-footed Albatross and the now scarce but regular Laysan Albatross.
Short-tailed Albatross Phoebastria albatrus, sometimes called Steller's Albatross (e.g., Howell 2012), is an Endangered species that is recovering nicely from near-extinction during the World War II era. Adults don't typically nest until they are are 8-9 years old, but with protection and time, the world population has steadily grown. There are breeding populations on two sets of Japanese islets, and a nesting attempt has been made at Midway. Recent population estimates for adults are in the 1700 range, and with younger ones included, the global total was recently estimated by USWS at 7365 birds of all ages now at sea (Carboneras et al. 2020). Post-WWII, the first record in MTY was in 1983 (Roberson 2002). At the turn of the most recent century, I posted a page on the eleven "modern" records of Short-tailed Albatross from 1977–2000 for all of California.
For clarity, I've named each possibly different albatross a name following the English alphabet (even if some words are Greek): Alpha, Beta, Cortes, Delta, and Euclid. I believe that these photos document somewhere between 3-5 Short-tailed Albatross in Monterey Bay and offshore MTY in the year-long period. I've given a name to five sets of albatross but I'm inclined to believe that, on balance, there were 4 different individuals present during these months. Others might opt for a conservatively view of "at least 3 different birds," but in either case it is encouraging that Short-tailed Albatrosses are once again occurring in small numbers in and around Monterey Bay.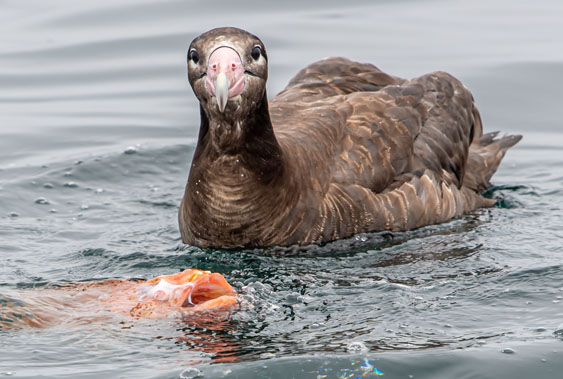 Our initial Monterey Bay albatross is called ALPHA (photo, right, on 15 Sep 2021 off Moss Landing, photo © Brad R. Lewis). In writing about it on 15 Sep 2021, Lewis stated that the "bird has metal band on its right leg and also ... an injury to its right wing, but no other signs of injury or unhealthy behavior." Lewis has an extensive gallery of superb photos of this albatross. Although this individual had a damaged remiges, compelling US agencies to issue a "do not chum" order to avoid intentionally close encounters, this young albatross could fly well. It located food as well, like this dead rockfish.
As detailed below, its known dates on Monterey Bay range from 17 July 2021 through 9 July 2022, so it has moved around the Bay, both in MTY & SCZ, for basically a year. This bird was initially seen in the Catalina Channel off Los Angeles & Orange counties on 5-6 June 2021 (see eBird checklists).
Brad Lewis forwarded his 15 Sep 2021 photos to U.S. Fish & Wildlife Service (FWS), and they read 3 digits on the metal band. According to Lewis, the Yamashina Institute of Ornithology in Japan determined, based on those digits, that this individual was banded as a chick on 3 March 2020 at the Hatsune-Zaki colony on Torishima I.
When it first appeared off southern California, it was 15 months old, and on the date Lewis photographed it off Moss Landing in September, it was 18 months old. At that time its plumage, using the Howell (2012) vocabulary, was "second cycle" in "Stage 1." Although still mostly brown with a big pink bill, it is no longer in a traditional "juvenile" plumage as shown in field guides. Key differences, beyond the state of molt, include "underparts often paler in contrast to blackish brown head and neck" and a "whitish subocular crescent" below the eye (Howell 2012). That whitish crescent is apparent on these photos of ALPHA, as well as some white on the forecrown. The extent of white on the face increased over the 12 months covered by this review. By July 2022 it was 28 months old, going into its 3rd year of life, and had a huge white triangle on the face (see photos from July 2022). The absence of a subocular crescent, combined with a lack of obvious remiges molt, suggests a bird still in juvenile plumage (Howell 2012).
ALPHA

17 July 2021 on Monterey Bay SCZ

photo right © Sydney Minges

ALPHA

23-24 July 2021 on Monterey Bay SCZ
lat-long 36.9052167, -122.1533194

photo 24 July near right © Norm Uyeda
photo 24 July far right © Michael Bolte

more photos available from Norm Uyeda, Brian Scanlon, and Michael Bolte in eBird; they were doing a "chase trip" of one seen in this vicinity on 23 July 2021

ALPHA

14 Sep 2021 ~2 miles off Pt. Pinos [9:30 a.m.];
distant iPhone photo in eBird. Jan Loomis learned of its presence from Monterey Bay Whalewatch and alerted birders. Observers at different spots refound it on 14 Sep by viewing from shore at Pacific Grove & Monterey [from ~11:00 to 11:45 a.m.]; see multiple eBird checklists

15 Sep 2021 ~2 miles west of Moss Landing
lat-long: 36.8055993, -121.8603459
provided by Alex Lamoreaux

photo right upper © Brad R. Lewis
photo right lower © Alex Lamoreaux


ALPHA

30 Mar 2022 a few miles off Moss Landing
photo right upper © Tim Zoliniak
photo right lower © Tim Zoliniak


ALPHA

9 July 2022 ~ 2.5 mi NW of Pt. Pinos
photo near right © Morgan Quimby
photo far right © Dean LaTray

This bird, off Pt. Pinos, was in the morning of 9 July. Morgan Quimby provided the lat-long: 36.663705, -121.979245. Quimby said that the albatross then flew north, away from his Monterey Bay Whale Watch boat, and then was seen later in the SCZ portion of the Bay on another Monterey Bay Whale Watch boat (see next set of photos below),

ALPHA

9 July 2022 ~3 mi from SCZ shore


photo right full-length © Chris Overington
[an iPhone photo of bird right next to boat]
photo near right lower © Chris Overington
photo far right lower © Chris Overington

This is the same individual seen from another Monterey Bay Whale Watch boat near Pt. Pinos this same morning, and was seen to fly north towards Santa Cruz, as explained above.
BETA

8 Nov 2021 ~7 mi SW of Pt. Sur MTY
photo right © Tinker Neese

The photo is by "Tinker," a longtime boat captain for fishing trips. The bird was right next to the boat at a fishing spot over the shelf break into deep water. It looks like a fresh juv with no subocular crescent.

BETA

3 Dec 2021 in Monterey Bay MTY
photo right © James Maughn

The photographer mapped his eBird report to the Monterey Bay (MTY Co.) hot spot, so exact location is uncertain. It looks like a fresh juv with a blue tip to pink bill, but it may or may not be the same bird as off Pt. Sur a month earlier. I assign it to BETA under the concept of parsimony
CORTES

18 Jan 2022 on Monterey Bay MTY
photo right © Daniel Bianchetta

According to the captain & photographer, this albatross was missing a left foot. I have no flight shots from this date. This is the best photo showing the left leg and it may show a missing or deformed left foot. Otherwise it looks like a juv with no apparent subocular crescent.

CORTES

18 Feb 2022 on Monterey Bay MTY
photo 18 Feb, right © Dan McDermott

One photo from this encounter did show a missing/injured left foot, and an apparent gray band on its right leg

CORTES

19 Feb 2022 ~6 mi N of Pt. Pinos MTY
photo 19 Feb, right © David Ekdahl

David Ekdahl & Connie Vigno joined this whale-watching trip in search of "the Short-tailed Albatross." Good luck was with them! This photo looks like the 18 Jan bird. The wings show a lack of molt, and are undamaged.

CORTES

27-28 May 2022 within a mile of Pt. Pinos MTY
photo right © Andrew Zazeski

Its bill color and white fore-crown patch are consistent with CORTES. Isaiah wrote on 28 May that "Andrew and Rod [skippers on the trips] were calling yesterday's and today's individual 'Nubs,' and said it was missing a foot."

I only have this "back of the camera" photo, provided by Isaiah Foulks of Discovery Whale Watch.
Foulks said he also saw it on 24 or 25 May in the same area, but didn't get a photo.

CORTES

10-11 June 2022 near Pt. Pinos MTY
locations ~2 mi NNE & ~2 mi NNW of Pt. Pinos, respectively

photos © Isaiah Foulks of Discovery Whale Watch

Isaiah Foulks gave me the lat-longs which I converted to decimal:
10 June: 36.682222, -121.903611
11 June: 36.683333, -121.955556

photo right from 10 June 2022
photo below from 11 June 2022

This photo shows the missing left foot.

DISCUSSION: CORTES is missing left foot since at least February. The skippers began to call it "Nubs." The white forecrown patch appears to have become larger over the January to June period, and the underparts do look paler than the darker head and neck. By June a hint of a subocular crescent is present. At close range, the bill has a small black tip (Howell 2012 says that a "fine black tip" may be retained for 2+ years). Chicks fledge in June, and a "second cycle" of "Stage 1" begins 13-15 months after fledging (Howell 2012). This individual appears to match the plumage and bill of a bird about one year after fledging.

It is possible that BETA and CORTES are the same individual. BETA only has single photos of each occurrence but they look (to me) to be a juvenile/first cycle within the concept of Howell's "first cycle" of "Stage 1." We have no information about the legs/feet. The photo from 3 Dec 2021 shows a small whitish patch on forecrown that was present (and grew larger over time) on CORTES. BETA first appeared off Pt. Sur, but the second photo a month later is in Monterey Bay. However, ALPHA appears to have arrived in Monterey Bay from southern California, so the distances involved are not much for an albatross. I do note that ALPHA was always relatively close to shore, and that is true of both BETA and CORTES. Just on the concept of parsimony, I am inclined to treat BETA and CORTES as the same individual.

In early July, word spread about a dead all-dark albatross found washed ashore near Moss Landing. I've been told by two sources that it was missing a foot. The carcass was apparently not collected, and those searching on 12 July did not re-locate it on the beach, despite extensive efforts. If these bits of information are true, the carcass may have been "Cortes." I'll update this postscript if more direct facts are obtained.
POSTSCRIPT: Thanks to help from Gerry McChesney of USFWS, who tracked down details and these photos (right, 11 July © Alex Drzaic), we now know more of the story.
Stephanie Coates of Point Blue Conserv. Science first found the carcass on 30 June 2022 at Salinas River SB. She wrote on 11 July: "It was washed into the wrack, and the chest cavity had been hollowed out, but seemed reasonably 'fresh.' Carcass still there on July 6th, washed a little farther north."
The carcass was photographed on 11 July by Alex Drzaic. As he noted, the left foot is missing (photo far right). Also, "[It] did not show up well as a photo, but the beak still had that pinkish color."
There is a mystery as to why no band is seen apparent on the right leg in this photos. However, no one specifically looked for a band; it could have been lost or removed by a beachcomer. Otherwise, everything else suggests this is Cortes.
DELTA

17 Apr 2022 ~2 mi SW of Cypress Pt., or ~2.2 mi west of Pt. Lobos MTY
lat-long: 36.533889, -122.034721

photos right © Morgan Quimby

DELTA unequivocally has both feet, is all dark-brown, and appears not to be in primary molt. I think we can call it a juvenile. I think we can conclude it is not CORTES.

If BETA is not CORTES, than it is possible that DELTA is the same bird as BETA, but I would have expected some changes since December. On balance, I consider this to be a new individual.
EUCLID

24 Apr 2022 ~50 nmi WSW of Cypress Pt., or ~37 nmi N of the Davidson Seamount MTY. Water depth here was ~3474m deep.

photo right © Michael Force

Another apparent juvenile STAL, seen from a research boat ~50 miles from the nearest point of land and ~70 miles from Monterey Bay. It looks a lot like DELTA but what are the odds that a bird seen a week ago in Monterey Bay would be seen from a research vessel over deep waters north of the Davidson? With already 3 different Short-tails on Monterey Bay in 2022, might this suggest dispersal from a good breeding season in 2021? Just given the distance and probabilities, I lean towards thinking this is a different bird, but others may consider DELTA and EUCLID to be the same individual.
I am grateful to all the photographers who provided photos for this project, and to those who entered eBird checklists whose photos I have borrowed at low resolution. I thank Colleen Talty, Dane McDermott, Morgan Quimby and Daniel Bianchetta from Monterey Bay Whale Watch, and Isaiah Foulks and Andrew Zazeski from Discovery Whale Watch, for assistance with photos and information from their operations. Information from NOAA surveys and from FWS, provided by Michael Force and Gerry McChesney, respectively, was very helpful. I appreciate the efforts of Tom Benson, Rita Carratello, Gerry McChesney, Michael Rieser, and Dan Singer in providing editorial comments and improvements.
Photos: All photos © of the photographers as set out above, all rights reserved. Text © Don Roberson, all rights reserved.
Literature cited:
Carboneras, C., F. Jutglar, and G.M. Kirwan. 2020. Short-tailed Albatross (Phoebastria albatrus), version 1.0, in Birds of the World (J. del Hoyo, A. Elliott, J. Sargatal, D. A. Christie, and E. de Juana, eds). Cornell Lab of Ornithology, Ithaca, NY, USA. https://doi.org/10.2173/bow.shtalb.01
Howell, S.N.G. Petrels, Albatrosses & Storm-Petrels of North America. 2012. Princeton Univ. Press, Princeton, N.J.
Roberson, D. 2002. Monterey Birds, 2d ed. Monterey Audubon Soc., Carmel, CA.