THE CREAGRUS CALIFORNIA LIST
A personal portfolio
all photos & text by Don Roberson
all photos taken in California
COOK'S PETREL Pterodroma cookii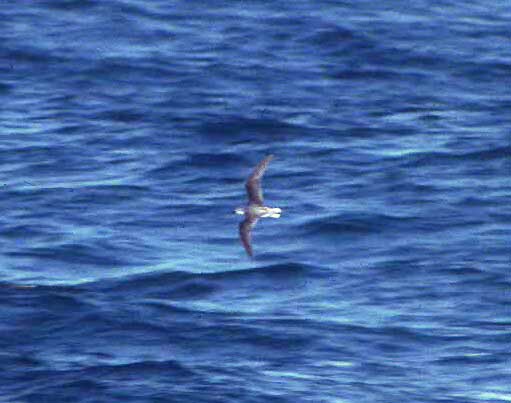 17 Nov 1979

The COOK'S PETREL is apparently a regular non-breeding visitor far offshore California. Its primary occurrence is over deep waters along the eastern edge of the Pacific gyre, and well beyond the California Current, from perhaps April through November. There is a specimen of a storm-driven birds onshore, and a couple observations of birds "trapped" in the Salton Sea after moving north in the Gulf of California.
The primary identification paper for the 'Cookilaria' petrels is Roberson & Bailey (1991). It was based in part on my California experiences but also four months in the eastern tropical Pacific in fall 1989.

All of my California records are listed below. Those preceded by Hwere found or co-found by me personally; those preceded by K receive some partial credit (e.g., I was involved in sorting out i.d. of a previously discovered bird or found some but not all of the birds on a boat trip). These are my personal Cook's Petrel records:
11/17/79 40-50 nmi. SW of Cape San Martin MTY (one bird nearer Pt. Buchon SLO) 6; description & sketch in my notes; photo
12/1/79 50 nmi. SW of Cape San Martin MTY details in my notes
K 6/23/85 SW of Cordell Banks MRN 6: 5 nearer Pt. Reyes MRN, 1 nearer Farallon Is. SF; details in my notes
H4/8/91 40-48 nmi WNW of Pt. Sur MTY 3 Cook's+ 2 "Cookilaria" details in my notes
H4/9/91 68 nmi WNW of Pt. Sur MTY details in my notes
H4/10/91 100 nmi W of Pt. Sur MTY 9; details in my notes
K 8/16/92 from 31°34'N,120°43'W to 31°59'N,120°34'W 2: nearest land San Nicolas I. VEN; details in my notes
K 8/19/92 from 34°39'N,122°54'W to 34°44'N,123°41'W 8: half in MTY, half in SLO
H5/24/94 approx. 140 nm. SW of Pt. Sur MTY 3: 2 in SLO, 1 in MTY; details in my notes
K 7/15/95 north end Salton Sea RIV sketch & description in my notes; may or may not be same as there much earlier that day
Literature cited:
Roberson, D. and Bailey, S. F. 1991. Cookilaria petrels in the eastern Pacific Ocean: identification and distribution. Amer. Birds 45: 399-403 (Part I); 45: 1067-1081 (Part 2).
See the family page for county abbreviations. All photos & text © 2001 Don Roberson; all rights reserved.
Readers may use this material for their own private enjoyment, study, or research but none of the photos or text herein may be used commercially nor may they be reposted on other web sites without written permission. All material is copyrighted. The posting of photos and text on this private web site is not a submission to political or quasi-political organizations, including, but not limited to, the California Bird Records Committee of Western Field Ornithologists. However, blanket permission for use of descriptions by North American Birds editors in their research is granted, and serious researchers in general are granted permission to use the records cited herein.

TO SHEARWATERS & PETRELS PAGE

TO CREAGRUS CALIFORNIA LIST PORTAL PAGE

Page created 7 July 2001