THE CREAGRUS CALIFORNIA LIST
A personal portfolio
all photos & text by Don Roberson
all photos taken in California
GLOSSY IBIS Plegadis falcinellus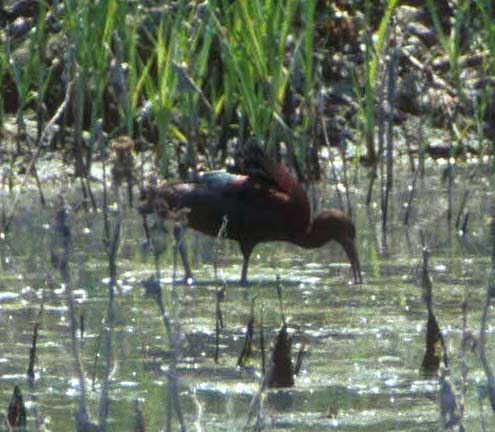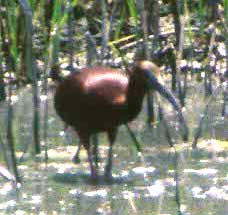 15 May 2001



The GLOSSY IBIS is a recent vagrant to California, first appearing in southern California in summer 1999. There were more records at the Salton Sea in summer 2000 and May 2001 brought one with a group of White-faced Ibis to the San Francisco Bay area. The species has undergone a major range expansion northward in eastern North America in the last 25 years, and now is pushing westward.
The photos above were taken in a backlit situation that makes it hard to see details; much better photos are on-line at Joe Morlan's web site. My field notes of the above bird note that it was "~5% larger than usually adjacent White-faced Ibis; probably sexual dimorphism?" and have this to say about bare part differences between the alternate-plumaged Glossy and the nearby alternate-plumaged White-faced:
"White-faced have reddish bills, reddish lores, red eye, no pale edges on bare skin near eye, and all red legs. Glossy has grayish bill, rather dark gray lores, brown eye, and bright baby-blue edges in front of eye on either side of bare lores. This looks whitish in bins but is pale blue in scope. The bare-skin bright edges do not circle around back of eye; rear of eye likely touches feathers (or bare skin very narrow here). Legs of Glossy were gray but with reddish "knees" (both front and back)."
All of my California records of Glossy Ibis are listed below: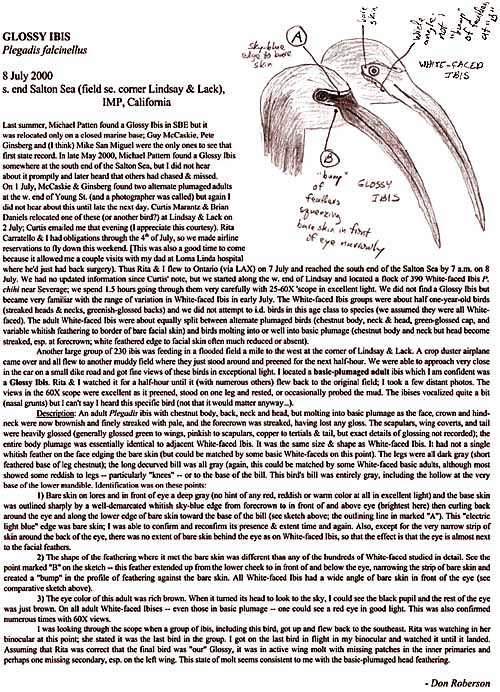 7/8/00 Salton Sea south end IMP adult molting to basic plumage
[copy of my field sketch & description right]

5/15/01 Alviso SCL adult in alternate plumage
[photos top]




See the family page for county abbreviations. All photos & text © 2001 Don Roberson; all rights reserved.
Readers may use this material for their own private enjoyment, study, or research but none of the photos or text herein may be used commercially nor may they be reposted on other web sites without written permission. All material is copyrighted. The posting of photos and text on this private web site is not a submission to political or quasi-political organizations, including, but not limited to, the California Bird Records Committee of Western Field Ornithologists. However, blanket permission for use of descriptions by North American Birds editors in their research is granted, and serious researchers in general are granted permission to use the records cited herein.

TO IBISES PAGE

TO CREAGRUS CALIFORNIA LIST PORTAL PAGE

Page created 15 July 2001