THE CREAGRUS CALIFORNIA LIST
A personal portfolio
all photos & text by Don Roberson
all photos taken in California
GREEN-TAILED TOWHEE Pipilo chlorurus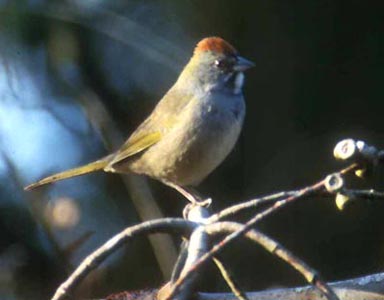 25 Oct 2002 in my Pacific Grove yard, MTY

The GREEN-TAILED TOWHEE is a widespread breeder in montane chaparral throughout the higher mountains of California. All these migrate generally southwards in winter, and some winter in the southern California deserts in small numbers. An occasional bird will winter in coastal California, much more often in southern California than in the north. Migrants can occur just about anywhere but are rarely observed because the species is very secretive when not singing on territory. Coastal migrants are particularly scarce and mostly found during the fall.

Most of my California records are of breeding birds on territory. The only ones listed below are a handful of wintering birds in the southern deserts, local MTY vagrants, and the few migrants encountered. Those vagrants preceded by H were found or co-found by me personally; those preceded by K receive some partial credit (e.g., I was involved in sorting out i.d. of a previously discovered bird or refound a vagrant that had been thought to have left).
10/26/74 Tijuana R. valley SD 1 migrant
6/26/77 SE Farallon I. SF 1 newly arrivied vagrant (helped band it)
12/22/77 Brock Ranch IMP 2; regularly winter in small numbers in s.e. CA
3/5/78 Glamis IMP 1 wintering
12/28/79 Pacific Grove MTY 1 at feeder Shell & Beach Sts.; brief details in my notes
1/11 & 16/97 Zmudowski SB, MTY 1 wintering in coastal scrub; brief details in my notes
H 10/21-11/2/02 + Pacific Grove MTY 1 at our home feeder, spotted first by Rita but I got the name out .....
See the family page for county abbreviations. All photos & text © 2002 Don Roberson; all rights reserved.
Readers may use this material for their own private enjoyment, study, or research but none of the photos or text herein may be used commercially nor may they be reposted on other web sites without written permission. All material is copyrighted. The posting of photos and text on this private web site is not a submission to review organizations, including, but not limited to, the California Bird Record Committee. However, blanket permission for use of descriptions by North American Birds editors in their research is granted, and serious researchers in general are granted permission to use the records cited herein.

TO CA SPARROWS PAGE

TO CREAGRUS CALIFORNIA LIST PORTAL PAGE

Page created 6 Feb 2002, updated 2 Nov 2002