THE CREAGRUS CALIFORNIA LIST
A personal portfolio
all photos & text by Don Roberson
all photos taken in California
VARIED BUNTING Passerina versicolor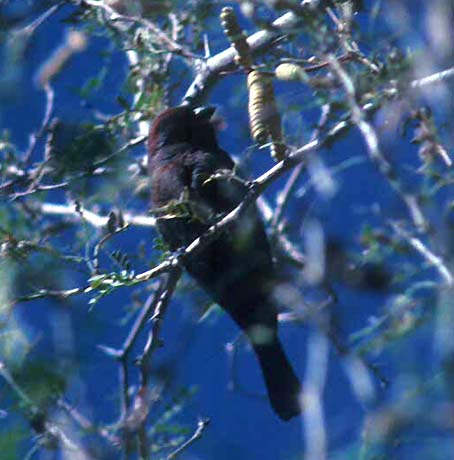 18 Nov 1977

The VARIED BUNTING is an exceptionally rare vagrant in California with but 2 or 3 records. I was involved in finding one of them. All of my California records are listed below:
K 11/18/77 Mesquite Springs INY male; 1st modern CA record
found by Donna Dittmann as we birded this site together; I quickly rushed to confirm & document after she spotted the bird.
I took the following description (copied from my notes):
Varied Bunting 18 Nov 1977: "Found in large mesquite by Donna Dittmann where we watched it for leisure for 20 min. at up to 20 ft. in good light with 8X35 binos. Photographed.
Description -- small dark bunting -- look black at distance. Breast and back coppery plum, wings & tail dark blue-black, face around bill black, rest of face & crown coppery blue, nape (in sun) red. Bill shiny silverish, eye dark, legs dark. Belly dark purple, feathers molting -- extreme tips at belly feathers and wing coverts buffy. Donna saw blue rump. Tail bluer at base.
1st truly acceptable state record."
See the family page for county abbreviations. All photos & text © 2001 Don Roberson; all rights reserved.
Readers may use this material for their own private enjoyment, study, or research but none of the photos or text herein may be used commercially nor may they be reposted on other web sites without written permission. All material is copyrighted. The posting of photos and text on this private web site is not a submission to political or quasi-political organizations, including, but not limited to, the California Bird Records Committee of Western Field Ornithologists. However, blanket permission for use of descriptions by North American Birds editors in their research is granted, and serious researchers in general are granted permission to use the records cited herein.

TO GROSBEAKS & BUNTINGS PAGE

TO CREAGRUS CALIFORNIA LIST PORTAL PAGE

Page created 4-7 July 2001