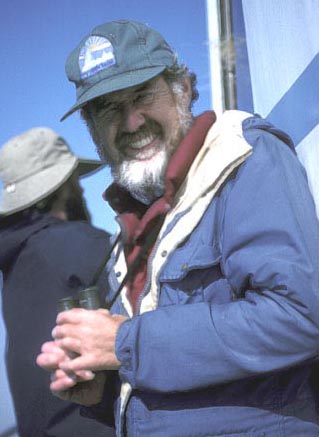 Alan Baldridge is one of a kind; he is a force of nature. Many credit him with providing the impetus to found California Field Ornithologists in the late 1960s by inviting interested birders to gather, but he claims no recollection of this. He is an excellent field birder but is probably more appreciated for his work with marine mammals. Like Guy McCaskie, he is a transplanted Englishman in America, and his roots are in British birding. Because of these backgrounds, Guy and Alan encouraged Californians to establish a rarities committee based on the British model, and the California Bird Records Committee was formed.

Alan is a seabird expert — but not just on identification, as his expertise ranges widely to ecology, biology, and conservation. If anything, he is even more of an expert on marine mammals, and has served for years as officer, board member, lecturer, and program chair for the Monterey chapter of the American Cetacean Society. His co-authored popular book on Gray Whales (Gordon & Baldridge 1991) is a classic. Alan has used his expertise to help save the environment. Indeed, Alan was a major player in gaining public and governmental support for the creation of Elkhorn Slough National Marine Estuary at Moss Landing, and the 5300 square mile Monterey Bay Sanctuary.

Alan was employed as the librarian for Hopkins Marine Station, on the shores of Monterey Bay in Pacific Grove, from 1966 until his retirement in 1993. This is the marine research station for Stanford University. His wife, Sheila, also well known as a local conservationist, was librarian at the California State Universities' Moss Landing Marine Lab from 1978 until 1994. These periods as local librarians and teachers were interrupted only by several years' service at Florida State University in the early 1970s. Together, their impact as Monterey Bay environmental experts and mentors has been so great that in Nov 2002 they were jointly honored by an event at Monterey Bay Aquarium. It was at Hopkins Marine Station that Alan, in June 1985, discovered California's first Swallow-tailed Gull, one of the most astonishing vagrants ever to reach the State.

Alan's direct impacts on California birding include his observations as a regular pelagic trip leader on Monterey Bay; as a member of the editorial board during the first three volumes of California Birds (which would thereafter become Western Birds); and as a Regional Editor for Audubon Field Notes/American Birds for northern California. Alan served as seabird editor for the Middle Pacific Coast Region for 12 seasons

Photo (above) aboard a boat on Monterey Bay, Nov 1988 © Herb Clarke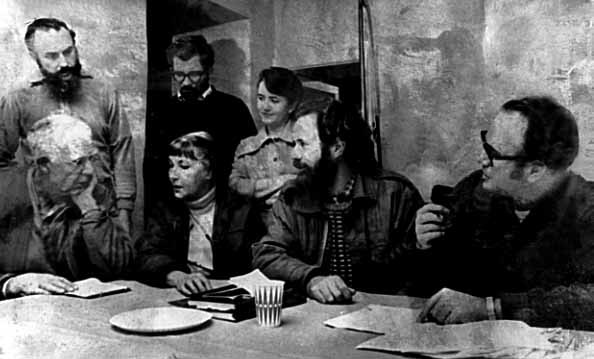 Alan was also an active Monterey area birder beyond his many bouts as trip leader on boats in Monterey Bay. He was a regular on Monterey Peninsula Audubon Society events in the late 1960s, and served on many committees. The old photo (right), taken by a newspaper photographer, shows Alan among the others planning for the Monterey Peninsula Christmas Bird Count in 1971. Alan was involved in the discovery of eight first Monterey County records, many stemming from that era, and the group shown (see legend, below) has 44 credits for finding or co-finding first Monterey records among them. Alan found or confirmed a long list of sea-edge vagrants in the late '60s and '70s, including a long list of records of Yellow-billed Loon, King Eider, and Thick-billed Murre. He also acted as a liaison to the fishing community, and many records of boobies, frigatebirds, and other rare seabirds first came to the attention of birders through Alan's efforts to acquire and pass on information.

Alan has been an indefatigable teacher and mentor to numerous birders and marine researchers. He instilled in them a love for the ocean, a quest for knowledge, and a desire to protect the environment. Within the bird world, an excellent example of Alan's teaching is his book (with John Davis) The Bird Year (1980), a primer of bird habitats, seasonality, ecology, and an excellent introduction to the history of ornithology around Monterey Bay. At the Monterey Bay Aquarium event, both the American Cetacean Society and the Monterey Peninsula Audubon Society paid tribute to Alan and Sheila for their "continued and seemingly tireless educational efforts to promote an understanding of the marine environment — particularly in the Monterey Bay area, where they have lived for more than 30 years."

Photo (right) shows the organizers of the Monterey Peninsula CBC in 1971: Front row, seated (L to R) Laidlaw Williams, Val DaCosta, Alan Baldridge, Bill Reese; Back row, standing (L to R) Ron Branson, Ted Chandik, and Emmy Reese
Significant bird records: many records of interest on Monterey Bay and in Monterey County, including many State vagrants such as Yellow-billed Loon, King Eider, and Thick-billed Murre, and also the following of Statewide interest
Swallow-tailed Gull 6 June 1985 Hopkins Marine Sta., Pacific Grove MTY — first CA record
Roseate Spoonbill 24 Sep 1966 Mendota FRE — first northern CA record since 1850 [co-finder]
Horned Puffin 6 June 1967 Monterey Bay MTY — first live HOPU found in CA [all prior records were tideline corpses]
Red-billed Tropicbird 17 July 1970 Monterey Bay MTY — 2nd northern CA rec [co-finder]
Streaked Shearwater 26 Sep 1982 Monterey Bay MTY — 4th CA rec [co-finder]
Prairie Warbler winter 1982-83 Hopkins Marine Sta., Pacific Grove MTY — first to winter in n. CA
Selected publications 1973-1989:
Baldridge, A. 1973. The status of the Brown Pelican in the Monterey region of California: past and present. West. Birds 4: 93-100.
Baldridge, A. 1976. Site Guide: the Monterey Peninsula and adjacent ocean, California. Amer. Birds 30: 663-666.
Davis, J., and Baldridge, A. 1980. The Bird Year: A Book for Birders. Boxwood Press, Pacific Grove, CA.
Selected publications since 1989:
Gordon, D.G., and Baldridge, A. 1991. Gray Whales. Monterey Bay Aquarium, Monterey.