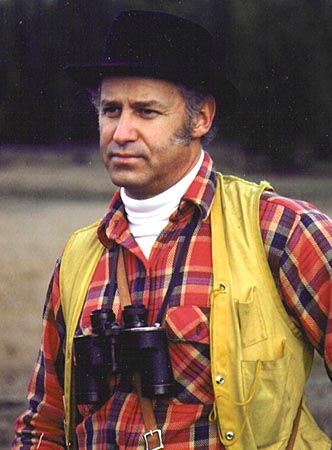 Jon Winter is a (mostly) northern California birder best known for serving as the first Secretary of the California Bird Records Committee (CBRC) from 1971-1976. He authored or co-authored the first two CBRC reports, and it was under his stewardship that the basic organizational structure came together. He went on to do extensive survey work in the Sierra, especially the study of owls, and to teach a variety of bird classes and lead a wide range of bird tours. He now resides in Santa Rosa, Sonoma County.

When Jon was attending San Diego State University in the late 1960s , he birded regularly with Guy McCaskie, and came under his spell as a mentor. Jon recalls that Guy "had a remarkable memory of birds and could recall records accurately for years. If there was anything I learned from Guy, it was focus. He was the most focused and disciplined birder I have ever met." Jon was one of the founders of California Field Ornithologists, which later became Western Field Ornithologists, and through those efforts became the first CBRC secretary. Jon participated in a record-setting Big Day (with Guy McCaskie, Cliff Lyons, and Scott Terrill) in April 1972. Their route was from the Salton Sea to San Diego. It was the highest Big Day in North America at the time, although this was before the institution of ABA Big Day rules which now require a more uniform approach to this event.

Jon returned to northern California in the mid 1970s, worked with Point Reyes Bird Observatory, and resumed a long birding association with Rich Stallcup. Jon and Rich joined together to lead trips to southeast Arizona. He and Rich founded and acted as the first compilers of the Point Reyes Christmas Bird County in 1971. Today, the Pt. Reyes CBC is one of the continent's largest counts in terms of participants, and is regularly in the top ten in birds recorded. Jon worked at various PRBO banding stations in the late '60s through mid '70s, including work on S.E. Farallon I., where he and Bob Yutzy found a Connecticut Warbler in Sep 1975.

Jon was one of the first to teach courses in field identification, including a 9-week course that covered what was known about i.d. problems at the time. ["Not sure you could do the same thing in 9 weeks today," Jon recently wrote]. He also taught ornithology at the College of Marin and Santa Rosa Junior College for many years,, until the mid-1980s, and his tour schedule expanded to such far distant realms as Antarctica. Jon's expertise on northern California birds was an essential asset during his 14 seasons as a Regional Editor of the Middle Pacific Coast Region for American Birds during the 1970s.

Jon undertook a nine-year research on the Great Gray Owl, a project that would also gain him substantial expertise with that species, as well as Spotted and Flammulated Owls. Throughout it all he kept a field journal of personal observations and thoughts, portions of which have been included within this overall web project [with Jon's permission]. His papers on the Flammulated Owl influenced a number of birders in the 1970s (e.g., Winter 1971b, 1974), including this writer, and are as pertinent today as they were 30+ years ago.

In the early 1970s, while in college, Jon worked as a Forest Service lookout in Placer County, at a time when the antiwar and counter-culture movements were at their peaks. These cultural movements had a major impact on at least portions of the birding world, and I've touched upon just a few of those impacts throughout this web project. The group shot below was taken back then, and sets the tone perfectly. It features quite a selection of famed birders (legend follows the photo).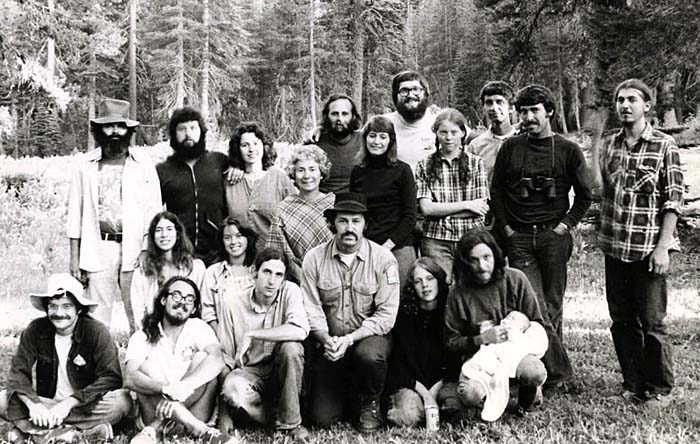 Among those shown (above) are: Tim Manolis (front row, cross-legged, second from left); Jon Winter (kneeling on one knee in center of front row, in black hat); Rich Stallcup (back row, second from left); Dave Winkler (back row, tallest person, 4th from right), Alan Craig (back row, 3rd from right); and Bruce Webb (back row, 2nd from right, with binoculars). Both photos on this page courtesy Jon Winter.
Significant bird records: many local records of interest, especially in the Sierra Nevada. Those of Statewide interest include:
Red-footed Booby 12 Oct 1975 SE Farallon I., SF — 2nd CA record [co-finder]
Neotropic Cormorant 22 Apr 1972 West Pond near Imperial Dam IMP — thought at the time to be the second CA record; now thought to be the previous year's bird [the State's first record] returning [co-finder]
Rusty Blackbird 11 Oct 1970 Pt. Reyes MRN — 3rd northern CA rec [co-finder]
Scarlet Tanager 29 Sep 1975 S.E. Farallon I., SF — 3rd northern CA rec, 16th for State [co-bander]
Mountain Plover 10 Feb 1967 Limantour, Pt. Reyes, MRN — one of the first coastal records in n. CA
Pine Warbler 22 Nov 1987 Ackerson Meadow TUO — first Sierran record (31st for CA)
Chestnut-collared Longspur 21 Sep 1987 White Wolf camp, Yosemite NP — first high Sierran record
Tennessee Warbler 3 Jul 1983 Ackerson Meadow, Yosemite NP — first Yosemite rec, and one of few summer recs in State [co-finder]
Selected publications 1971-1989:
Winter, J. 1971a. California Bird Records Committee. Calif. Birds 2: 109-110.
Winter, J. 1971b. Some critical notes on finding and seeing the Flammulated Owl. Birding 3: 205-208.
Winter, J. 1973. The California Field Ornithologists' Records Committee report 1970-1972. West. Birds 4: 101-106.
Jehl, J.R., Rumboll, M.A.E., and Winter, J. 1973. Winter bird populations in the Gulfo San Jose, Argentina. Bull. Brit. Ornithol. Club 93: 56-63.
Winter, J. 1974. The distribution of the Flammulated Owl in California. West. Birds 5: 25-44.
Winter, J., and McCaskie, G. 1975. 1973 report of the California Field Ornithologists Records Committee. West. Birds 6:135-144.
Winter, J. 1979. "The status and distribution of the Great Gray Owl and the Flammulated Owl in California," pp. 60-85 in Owls of the West: Their Ecology and Conservation (Schaeffler, P.P., and Ehlers, S.M., eds). Proc. Nat. Audubon Symposium.
Winter, J. 1985. Partial albinism in a melanistic Mew Gull. West. Birds 16: 187-188.
Winter, J. 1986. Status and distribution of Great Gray Owl in California. Unpublished M.A. thesis, San Francisco State Univ.