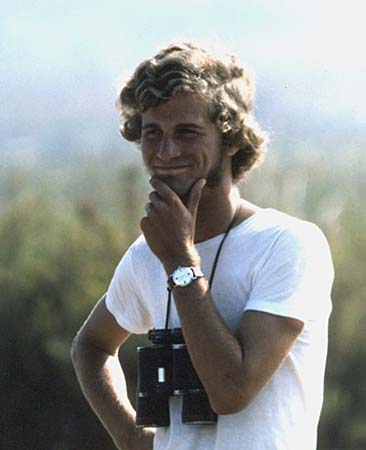 Paul Lehman is now one of the best known birders in North America. He spent 20 years in California (1974-1994) and was known throughout the State for his skill, his intensity, and his efforts to find new vagrant traps and understand the effect of weather on tomorrow's potential vagrants. His studies were in geography, and later he would lecture widely on finding vagrant traps by studying the layout of the land. Likewise, he showed that some vagrant fallouts could be predicted by emerging weather patterns (e.g., Lehman 2003b), and he would coin the term "the Siberian Express" for winter 1983-84 and its surfeit of Asian vagrants (Lehman 1984).

Paul grew up in New York, where he became a skilled birder. He moved to the Santa Barbara area in 1974 to attend the University of California at Santa Barbara. Paul has written about that first week in California on the Santa Barbara County birding page:
"I certainly still remember well the very first week I arrived in Santa Barbara in September 1974 — as an incoming freshman at UCSB — and how Brad Schram didn't call me about a Great Crested Flycatcher only a few miles away because he thought that since I came from New York I wouldn't be interested in such a bird! We soon cleared up that misconception! [And I later would see two GCFLs in the county.]"
In the late 1970s, Paul would become one of the very active birders in California. He readily joined the treks to desert oases at the peak of spring and fall vagrant season. On those nights that birders camped in the high desert near Oasis and Deep Springs, I remember him as the one who was almost always up and out before first light; the first to drive to Oasis; and the first to begin birding down the row of cottonwoods. Inevitably, this led to Paul's finding of the first vagrant of the day!

Paul was very much an indefatigable birder around Santa Barbara County, participating in the discovery of many new vagrant traps and finding many first county records. I recall the story of how someone in L.A. or Ventura County phoned Paul that a Magnificent Frigatebird had been seen that morning, heading north. So Paul headed to the famous UCSB beaches with his homework. Instead of ogling the bikini-clad coeds, he kept a weather eye up to the skies — and eventually saw the frigatebird sail by, still heading north. . . Paul recalls that "Many a rare bird found in the morning was followed by a group chase of that bird in the afternoon, once folks got out of work or school, which was then followed by a (usually) celebratory Mexican dinner and predictions of what the next great birds and first county records would be (usually wrong)."

Paul was a member of the record-setting Santa Barbara County big day team: 179 species on 3 May 1977 (P. Lehman, L. Bevier, I. McGregor, B. Schram). He and Brad Schram co-organized the well-attended WFO conference in Santa Barbara in '78. Paul was also an important member of the California Bird Records Committee, serving 9 of the 10 years between 1979 and 1989. Paul was also an author of several species accounts in the 3 volume Audubon Society Master Guide to Birding (1983).

Photo 1975 Tijuana River valley, SD © Brad Schram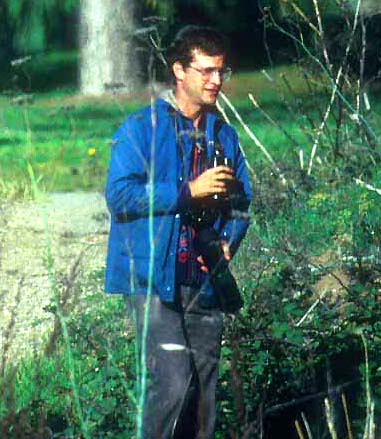 On the Santa Barbara web site, Paul wrote: "Some of my 20-year highlights certainly included my finding the first Little Curlew for North America in the Santa Maria Valley in September 1984, while looking for a Curlew Sandpiper found earlier in the day, and having a White Wagtail and Sulphur-bellied Flycatcher very close to each other in autumn 1978 at Devereux." The Little Curlew, of course, would become one of the best known rarities ever to occur in North America, dazzling multitudes during its first month-long visit in fall 1984, and then returning in later autumns. Paul was the lead author on the published paper of its occurrence (Lehman & Dunn 1985).

Paul, with Richard Webster and Louis Bevier, co-authored "The Birds of Santa Barbara and Ventura Counties" in 1980. Paul's UCSB master's thesis on the status and distribution of Santa Barbara County birds would eventually become the published volume on that topic (Lehman 1994a).

Paul writes of other memories from those California golden days: "The other fondest memories would probably include . . . the first Little Gull for the county plopping in front of us at Devereux in April 1977, expecting to see a reported Common Ground-Dove at a north Goleta feeder in January 1992 but having a Ruddy Ground-Dove fly in instead, . . . a Dusky Warbler in the Patterson ag fields in October 1993, my first stunning Golden-winged Warbler (Botanic Gardens, October 1982) . . . having a skulking Connecticut Warbler almost walk over my shoe near Patterson Avenue in September 1990, and . . . watching my county Bendire's Thrasher and a Dickcissel sit side-by-side in the Patterson ag fields. But such a list could go on forever, so I'll stop here!"

Paul would go on to a wide variety of bird-related endeavors. He has been a bird tour leader since the late 1980s, and has recently specialized in leading trips to St. Lawrence Island, Alaska, in the fall (see Lehman 2005). There, he has discovered several rarities that represented first North American records: Yellow-browed Warbler (Lehman 2000, Willow Warbler, Lesser Whitethroat, and Spotted Flycathcer (Lehman 2003a).

After leaving California in 1994, Paul settled at Cape May, New Jersey, where he has become one of the top Jersey birders. He may also have America's largest yard list. From his second-floor Cape May condo he has a fine view of a fragmites marsh, a hammock of trees, and dunes and coast beyond. His current "yard list" is 310 species! Paul is also a "total tickie" junky. He began working on all his state and provincial lists at a young age, and has traveled widely throughout the continent to add new species to each of his state and provincial lists ["total tickies" are the sum of all of a birders' 49 continental state lists and all Canadian provincial lists together.]

Paul was the editor of Birding magazine from 1989-1997, significantly upgrading its contents and making it much better recognized as an important journal for field identification articles. Since leaving that post he has been the map editor on several major publications — including revised editions of the National Geographic, the Peterson eastern & western, and two-volume Sibley field guide projects — and is now one of the leading experts on bird distribution throughout the continent. He is currently (2005) acting as managing editor for the upcoming CBRC rarities book.

Photo Nov 1987 Santa Barbara © D. Roberson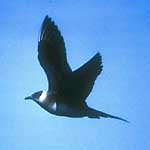 Official Bird Name: Parasitic Jaeger
Ticky Token: Yes


Significant bird records: Many records of local interest, especially in Santa Barbara County; those of Statewide interest include:
Little Curlew 16 Sep 1984 Santa Maria valley SBA — first CA record
White-rumped Sandpiper 16 June 1976 south end Salton Sea IMP — 2nd CA rec [co-finder]
Yellow-bellied Flycatcher 16 Oct 1987 Carpinteria SBA — 4th CA record
Lark Bunting 26 May 1978 Lanfair Valley SBE — first nesting evidence for State [co-finder]
Little Gull 14 Apr 1977 Goleta SBA — 6th CA rec, 3rd for southern CA [co-finder]
White-eyed Vireo 18 May 1982 Goleta CA — 7th CA rec, first to summer in the State
Dusky-capped Flycatcher 5 Dec 1983 Goleta CA — 7th CA rec
Painted Bunting 3 Oct 1983 Scotty's Castle INY — 9th CA rec
Selected publications 1979-1989:
Lehman, P., and Schram, B. 1979. The changing seasons — summer 1979. Amer. Birds 33: 839-844.
Lehman, P.E. 1980. The identification of Thayer's Gull in the field. Birding 12: 198-210.
Lehman, P. 1984. The changing season — winter 1983-84. Amer. Birds 38: 287-291.
Lehman, P., and Dunn, J. L. 1985. First record of Little Curlew: a little-known species reaches North America. Am. Birds 39:247-250.
Lehman, P. 1987. Immature Blackburnian and Cerulean warblers: A cautionary note. Birding 19:22-23.
Lehman, P. and Morlan, J. 1987. The 88th Christmas Bird Count: Regional summaries - California. Amer. Birds 42: 559-562.
Webster, R., Lehman, P., and Bevier, L. 1980. The Birds of Santa Barbara and Ventura counties, California. Santa Barbara Mus. Nat. Hist. Occ. Paper 10.
Selected publications since 1989:
Lehman, P.E. 1994a. The Birds of Santa Barbara County, California. UCSB Vert. Mus., Santa Barbara.
Lehman, P. 1994b. Franklin's vs. Laughing Gulls: a "new" problem arises. Birding 26: 126-127.
Lehman, P. 1997. A tribute to Claudia Wilds. Birding 29: 358-360.
Lehman, P. 2000. First record of Yellow-browed Warbler (Phylloscopus inornatus) in North America. West. Birds 31: 57-60.
Lehman, P.E. 2003a. Gambell, Alaska, Autumn 2002: First North American records of Willow Warbler (Phylloscopus trochilus), Lesser Whitethroat (Sylvia curruca), and Spotted Flycatcher (Muscicapa striata). North Amer. Birds 57: 4-11.
Lehman, P.E. 2003b. A weather primer of birders. Birding 33: 596-605.
Lehman, P.E. 2005. Fall bird migration at Gambell, St. Lawrence Island, Alaska. West. Birds 36: 1-53.