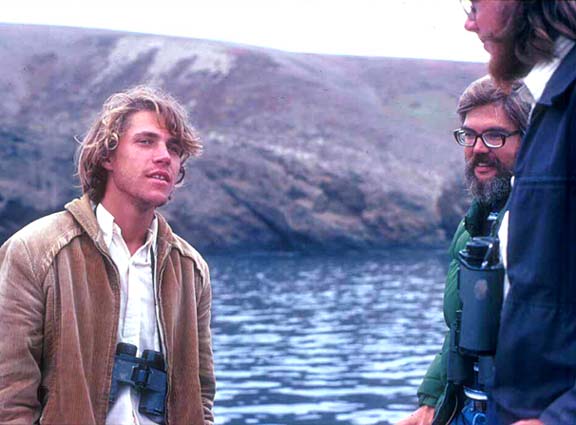 Dick Erickson has long been one of California's more avid birders. He grew up in Oakland, Alameda County, and was birding with his friend Scott Terrill at an early age. He first appears in Audubon Field Notes in the summer of 1968 (a Wrentit in Sequoia Nat'l Park at 8000' elev.). In the mid-1970s, counters on the Oakland Christmas Bird Count made major efforts to set national records of common species, and in due course Oakland was officially the "Brown Towhee" capitol of the world (i.e., more counted on that CBC than any other). It seems probable that Dick's background as an Oakland boy, and his unassuming manner, led the bird-naming committee to dub him the "Brown Towhee" in the late 1970s, a name that, like the bird itself, evolved to California Towhee in time. Fittingly, this evolution in name fits Dick perfectly, as no other top California birder has divided his residence and his birding time so equally between northern and southern California.

In the mid-1970s, Dick attended Humboldt State University in Arcata, and rapidly became one of the most dedicated Humboldt County birders. Dick remained in northwestern California for years after graduation, and was involved in such astonishing finds as the State's first White-collared Swift and Brambling; the swift remains today as one of the State's 'best birds.' On the Pt. Reyes CBC on 16 Dec 1978, Dick discovered a small, streaky bird in a cattle-grazed field and puzzled over it; it was not something that he knew. Describing it to those at the countdown, someone proposed "Smith's Longspur" and so began one of the more memorable episodes of mass hysteria in California birding. It eventually proved to be the State's first (and, to date, only) Eurasian Skylark. The full story is elsewhere in this web project. Dick and Joe Morlan would go on to research this interesting i.d. problem and publish the definitive paper on the record (Morlan & Erickson 1983).

In the late 1980s, Dick moved to Orange County and began a career as a biological consultant with LSA Associates in Irvine. Dick had already traveled the entire State extensively, and moving to southern California allowed him the opportunity to further increase his already significant lists in southern counties. Dick was among the first to become interested in birding in every California county, and having lived in northern, central, and southern California, he has one of the best backgrounds in bird distribution of anyone in the State.

Photo (above) shows Dick (left) with Cliff Lyons and Tom Schulenberg, on a boat off Santa Barbara I., 20 Sep 1974 © D. Roberson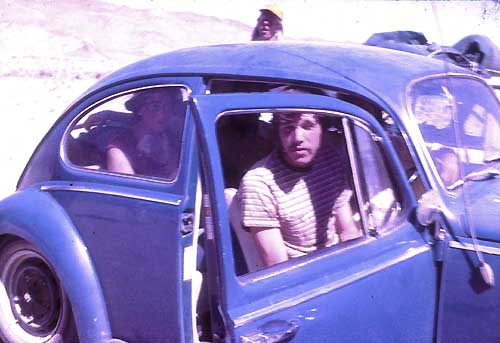 Dick was among those who regularly checked the far-distant desert oases in the mid-1970s for eastern vagrants. The photo (right) shows Dick — in the front passenger seat — arriving at Deep Springs in Inyo County after one of those famed all-night drives. No wonder he looks a bit dazed. . . It was on one of those Memorial Day weekend adventures that Dick discovered what was then thought to be the first Common Grackle in the State; the grackle was calming walking the lawn in front of Furnace Creek Ranch. No matter that it turns out there was a previously unknown specimen in an obscure museum collection, or that the local rangers had seen the grackle a few days before — for those of us there, this was a major event! It was Guy McCaskie's 500th State bird (under then-current AOU taxonomy), placing him in a status that no one else had ever reached anywhere. Dick's State list also built steadily, and today he has the 3rd or 4th highest list in California.

Dick has long been a member of the California Bird Records Committee (CBRC), with 9 years of service during our period of review (our historical review is between 1965-1989). Later, after our period of review ended, he would become Chairman of the CBRC when the CBRC structured itself differently, and adopted a non-voting Secretary position. Dick was also very important as a Regional Editor for American Birds for northern California. His 25 seasons (over 6 years) of service in that capacity are more than anyone else during our period of review.

The LSA Associates website states that Dick is "a recognized expert on birds of western North America, especially their status and distribution in California." This is certainly true. Dick was co-author of the major bar-graph status analysis for northern California (McCaskie et al. 1979, 1988), and is today (2005) serving as one of the primary editors of an upcoming CBRC book on State rarities. He is also well versed in threatened and endangered species, and is a member of the Pacific Seabird Group Marbled Murrelet Technical Committee.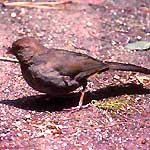 Official Bird Name: California Towhee


Significant bird records: many records of local interest, including numerous first county records in Humboldt & Del Norte counties; those of Statewide importance include
White-collared Swift 21 May 1982 Pt. St. George DN — first CA record [co-finder]
Brambling Feb 1984 Crescent City DN — first CA record [Dick was first to i.d. bird coming to feeder]
Barred Owl 12 Mar 1982 Redwood NP nr Crescent City DN — first CA record
Eurasian Skylark 16 Dec 1978 Pt. Reyes MRN — first CA record [Dick found that bird that would prove to be the skylark]
Steller's Eider 16 Jan 1983 Crescent City DN — first CA record [co-finder, independently]
Common Grackle 21 May 1975 Furnace Creek INY — 2nd CA record [co-finder; thought to be 1st rec at time]
Spotted Redshank 14 May 1985 Crescent City DN — 2nd CA record
Cerulean Warbler 2 Sep 1976 Fairhaven HUM — 1st northern CA rec, 3rd for State [co-finder]
Blue-footed Booby 16 Jan 1981 Pt. St. George DN — 2nd northern CA rec [co-finder]
Trumpeter Swan (4 ads) 2 Dec 1985 nr Ft. Dick DN — 7th CA rec
Little Gull 20 Mar 1979 Stockton SJ — 9th CA rec; this was start the run of records here
Curlew Sandpiper 28 Aug 1981 Ft. Dick DN — 9th CA rec
Selected publications 1979-1989:
McCaskie, G., DeBenedictis, P., Erickson, R., and Morlan, J. 1979. Birds of Northern California: An Annotated Field List, 2d ed. Golden Gate Audubon Soc., San Francisco.
McCaskie, G., DeBenedictis, P., Erickson, R., and Morlan, J. 1988. Birds of Northern California: An Annotated Field List, 2d ed., reprinted with Supplement. Golden Gate Audubon Soc., San Francisco.
Morlan, J., and Erickson, R. A. 1983. A Eurasian Skylark at Point Reyes, California, with notes on skylark identification and systematics. West. Birds 14:113-126.
Remsen, J. V., Garrett, K. L., and Erickson, R. A. 1982. Vocal copying in Lawrence's and Lesser Goldfinches. West. Birds 13: 29-33.
Erickson, R. A., Morlan, J., and Roberson, D. 1989. First record of the White-collared Swift in California. West. Birds 20:25-31.
Selected publications since 1989:
Erickson, R. A., Hamilton, R. A., Howell, S. N. G., Pyle, P., and Patten, M. A. 1995. First Marbled Murrelets and third Ancient Murrelet for Mexico. West. Birds 26:39-45.
Erickson, R. A., and Terrill, S. B. 1996. Nineteenth report of the California Bird Records Committee: 1993 records. West. Birds 27:93-126.