These highlights chronicle the year 2008. Created incrementally as new photos were available, the year runs generally "backwards" on this page. Page One chronicled highlights from January through 15 May; Page Two followed with continuing highlights through 15 August.
The abbreviation "MTY" means "Monterey County" in the text below. Text by Don Roberson. Photos on this page are copyrighted by the photographers to whom they are attributed, and may not be reproduced in any form (including other web sites) without the express consent of the photographer.
Each year concludes with the Monterey Peninsula Christmas Bird Count just a few days before the New Year. In 2008 the count was Monday, 29 December. Conditions were sunny and bright, and an influx of good observers from around the country contributed to a near-record total of 196 species. Two new species for the count were in Carmel Highlands yards: Gray Catbird (Craig Hohenberger) and Clay-colored Sparrow (Chris & Amy Hartzell).
The Monterey Peninsula was part of the first nationwide Christmas Bird Counts in Dec 1900. At that time a group led by W.K. Fisher tallied birds in Pacific Grove, and among those noted were several Western Bluebirds. Bluebirds have long since been extirpated as a P.G. resident; the last P.G. record that I know was collected in 1916. They may have lingered to mid-20th century in "the last hometown," but it was a surprise to learn that Steve Rovell & Rob Fowler had a half-dozen in the P.G. cemetery on the count; a pair were still present 31 Dec. Although they are just rare in this locale, these are the first reported here in ~90 years! A photo of a male bluebird and other highlights are in the gallery below.
| | | |
| --- | --- | --- |
| | | |
| | Other highlights on the Monterey Peninsula CBC on 29 Dec included (clockwise from upper left): Rose-breasted Grosbeak in P.G. (© Steve Rovell), Long-billed Curlew in Pebble Beach (© Paul Donahue), Baltimore Oriole in P.G. (© S. Rovell), juv pealei Peregrine at Pt. Pinos (© S. Rovell), Osprey at Carmel R. lagoon (© Bill Hill, photo'd a few weeks earlier), Aleutian Cackling & Snow Goose at Crespi Pond (© D. Roberson), Harlequin Duck in Monterey Harbor (© D. Roberson, photo'd a few weeks earlier), and Western Bluebird in P.G. cemetery (© S. Rovell). | |
| | | |

To round out a solid fall of sea-birding on Monterey Bay, a Greater Shearwater (above © Brian L. Sullivan) flew past a boat about 5 nmi off Pt. Lobos on 29 November. This adds to Streaked & Wedge-tailed Shearwaters offshore this autumn (see below for more on them). This is now the sixth fully acceptable Greater Shearwater for Monterey Bay, all between October & February.
| | |
| --- | --- |
| | November tends to scatter scarcer geese along the central coast. A example this year includes a group of 8 Greater White-fronted Goose near Salinas 15 Nov (below left © D. Roberson; 7 of the 8 in this digiscoped image that illustrates the wide variation in barring below between young birds and adults. |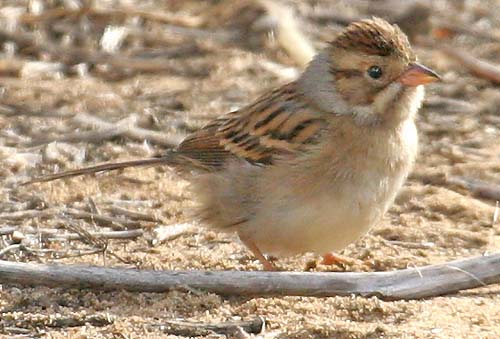 We regularly get a few Clay-colored Sparrow each autumn. This one at Moonglow Dairy 8 Nov (left © Pete Sole) posed for a classic photo that shows the gray nape and pale lores of vagrant Clay-coloreds in the fall.
Other birds of note included this juvenal American Golden-Plover (below left © Oscar Johnson) on 12 Oct, and an American Pipit showing characters of the Asiatic race japonicus (below right © Brian L. Sullivan) on 29 Oct, both near Salinas. This Asian vagrant tends to appear in good flight years for Red-throated Pipit, and 2008 was one of those years.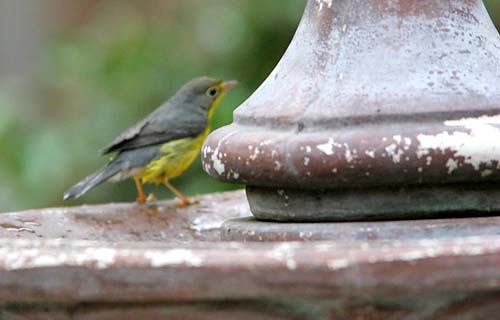 The number of vagrants showing up in our Pacific Grove yard this year is getting silly. On 27 Oct, Rita Carratello spotted this Canada Warbler (right © D. Roberson) at the fountain/bird bath, just as World Series game 5 got started. Although the photo is not nearly as nice as Bill Hill's shot in his yard, shown farther down this page, our bird seems also to have been an hatch-year male on the extent of gray to face & crown. Rarities in our yard this fall & summer include Chestnut-sided Warbler, American Redstart, and Summer Tanager.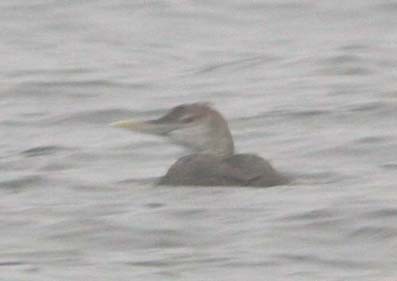 A Monterey Seabirds trip on 26 Oct left the harbor in cold fog, but spirits perked up with Todd Easterla's discovery of a juv. Yellow-billed Loon (right © D. Roberson) off Lovers Pt. in Pacific Grove, then a Laysan Albatross 9 nmi west of Pt. Pinos (D. Roberson, photo © DR, below), and huge numbers of Black-vented Shearwater on Monterey Bay (two photos above © DR). A conservative estimate was 1800 birds, and quite possibly over 2000 from this single boat, represented 1-2% of the entire world population of this species. We have not had numbers here like this since the El Niño years of 1984 & 1998. This photographer (DR) has never had opportunities like those on this single trip.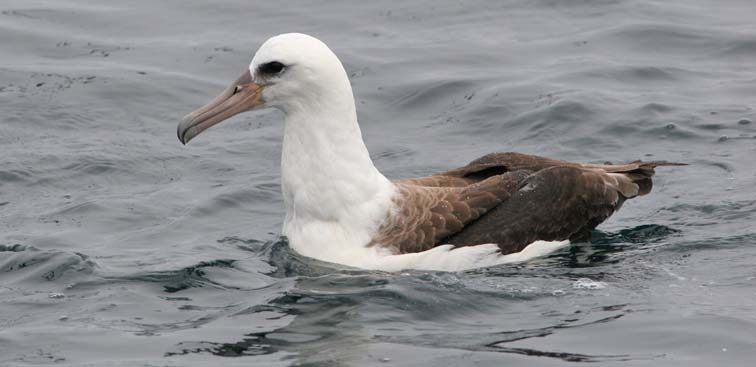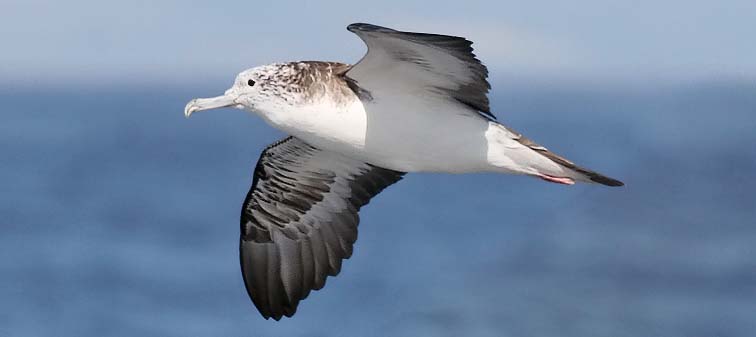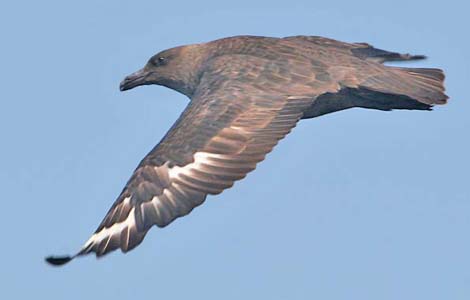 Monterey Bay was excellent for sea-birding as autumn progressed, with a good smattering of Manx Shearwater, fine numbers of South Polar Skua (e.g., right © D. Roberson, 6 Sep), and the best of October was this well photographed Streaked Shearwater at mid-Bay on 12 Oct (above © Todd Easterla). More of Todd's shots appear on Jeff Poklen's web site.
A great yard bird in Carmel on 6–7 Oct was this Canada Warbler (left; © Bill Hill). There are more photos on Bill's web site. Based on a review of the in-hand criteria in Pyle (1997), this is clearly a HY (hatch-year) individual, born this summer. This is based on the lack of black flecking to crown, the duller primary coverts that contrast with the greater coverts (shown on other shots), the shape of the outer rectrices (shown in a shot that shows the underside of the tail), and the rather dingy breast streaks. Because the crown and auriculars are grayish, it may be a young male, although Pyle warns that sexing some first-year birds on plumage may be impossible.


How are your i.d. skills? Can you identify this bird (right)? And what about age and/or sex?

For one answer, go to this web page.
With the turn of October, Brian Sullivan went looking for Red-throated Pipit, and discovered this one near Salinas (left © Brian L. Sullivan) with a migrant flock of American Pipit. The timing was perfect. At the next check, though, the entire flock appeared to be gone.

If you look at the bar graph and fine print in Monterey Birds, 2d ed. (2002), you'll find that there are no MTY records of Bufflehead between 4 September and 19 Oct. That changed this year. This female Bufflehead (right; © D. Roberson ) has been on the same pond near Salinas since 7 June (Blake Matheson). It was still present into late October when the first migrant Bufflehead had arrived. It is thus the first bird to fill in the missing gap in records in this county (this photo 26 Sep). It has an injured right wing and cannot fly but appeared to complete a molt on its left wing by late October.

The earliest fall migrant ever reported was 19 Oct. Most wintering Buffleheads do not arrive until late October or November.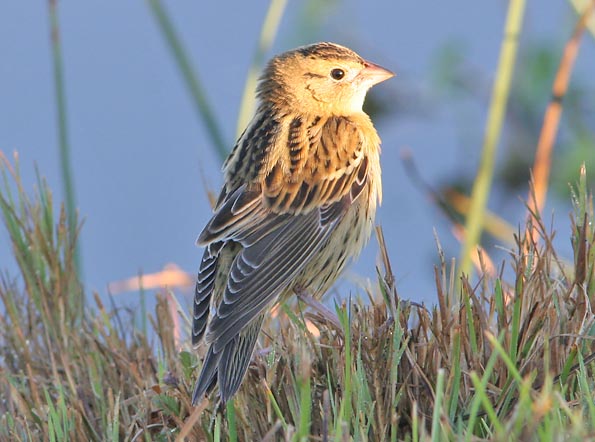 On 1 October, two Bobolink at Crespi Pond [photo of one at left © Don Roberson] were among a Tropical Kingbird, two Chestnut-sided Warblers, and a Blackpoll Warbler as vagrants in the general vicinity. A Black-throated Green Warbler visited a bird bath that date in a Monterey city yard (Sarah & Jerry Lane). A pelagic trip on 28 Sep also had vagrant warblers: a Bay-breasted, Palm, and American Redstart offshore in MTY waters (Shearwater Journeys).
| | |
| --- | --- |
| The last weekend of September was often dense with fog along the coast, but some interesting birds were photographed, including an American Redstart in a Pacific Grove yard 28 Sep, and two kingbirds at Carmel River mouth 27 Sep: Eastern (below left) and Tropical (below right; all photos © D. Roberson). The latter, in the red vegetation, does give the feel that autumn is really here. Nice shots of the Eastern are on Bill Hill's web site. | |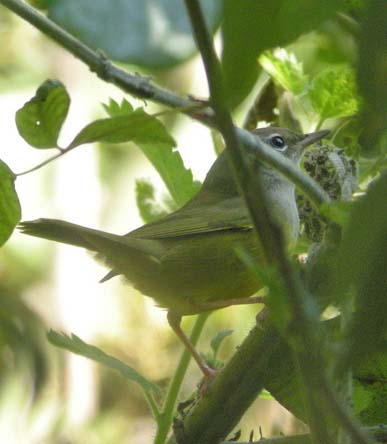 A Least Flycatcher at Fairview Slough, Gonzales 18-19 Sep [above left © Kent Van Vuren]; a young female Chestnut-sided Warbler present for a few day at Moonglow Dairy, Moss Landing [above right, found by David Wimpfheimer; this photo 22 Sep © Brian L. Sullivan]; and a calling Mourning Warbler at Big Sur R. mouth 20 Sep [Scott & Linda Terrill, photo right © Oscar Johnson) were among the better landbirds for early fall migration. Other interesting passerines in late September included a Virginia's Warbler near Julia Pfeiffer Burns SP on 18 Sep (John Yerger; photo below © Jake Mohlmann), a Philadelphia Vireo at Big Sur R. mouth 24 Sep (David Vander Pluym), and a Red-eyed Vireo there 27 Sep (Don Roberson).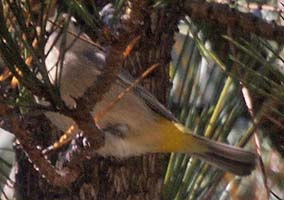 | | |
| --- | --- |
| Not many birders are ready to pick out a Little Stint (left) among a flock of Western (right), but Todd Easterla found the unusual juvenal-plumaged bird at Moonglow Dairy on 14 Sep (photo © Todd Easterla). See a separate web page on this exciting occurrence, the 2d for MTY and just the 8th for California. | |
Moonglow Dairy also hosted a male Summer Tanager on 6 Sep — in the eucalyptus grove (far left © Kent Van Vuren).

This juvenal Black Tern near Salinas on 13 Sep (near left © Don Roberson) was one of four Black Terns found in early September, but two were on pelagic trips on Monterey Bay!
Speaking of pelagic trips, the best bird by far in early fall came from a Monterey Seabirds trip from Monterey harbor on 23 August, but the bird itself was near the San Mateo/Santa Cruz Co. border, using 'nearest point of land' for county birding purposes. It was a light morph Wedge-tailed Shearwater, wonderfully photographed by Jeff Poklen (below © J. Poklen; more photos on his web site).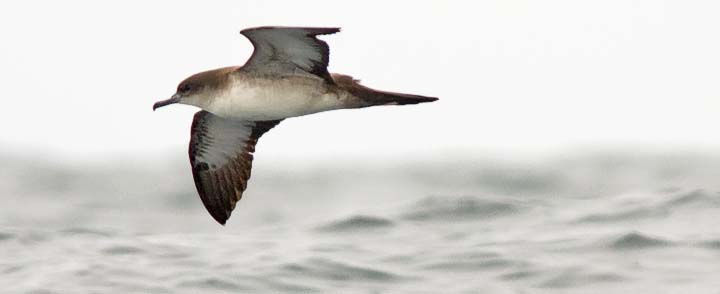 Found by Todd Easterla, it followed the boat for some distance, and came in to a slick set out to attract it. A Laysan Albatross also visited that slick. Several other Laysans were on boat trips in late summer, and one was seen from Pt. Pinos on 1 September (Matt Brady), one of the very few ever seen from shore locally.
GO TO PAGE ONE: highlights from 1 Jan–15 May 2008
Literature cited:
Pyle, P. 1997. Identification Guide to North American Birds. Part I. Slate Creek Press, Bolinas.