These highlights chronicle the year 2009. Created incrementally as new photos were available, the year runs generally "backwards" on this page. The abbreviation "MTY" means "Monterey County" in the text below.
Text by Don Roberson
. Photos on this page are
copyrighted
by the photographers to whom they are attributed, and may
not
be reproduced in any form (
including other web sites
) without the express consent of the photographer.
| | |
| --- | --- |
| Highlights of the Monterey Peninsula Christmas Bird Count on 28 December included a male Redhead in Carmel (right, photo'd sev. weeks earlier © Chuck Bancroft), and in Pacific Grove: Baltimore Oriole and Tennessee Warbler (row below) and Ross's Goose and Tropical Kingbird at Crespi Pond (2d row below; all P.G. photos © Ryan Terrill). The goose and kingbird had been present a couple of weeks, while the oriole and warbler were discovered on count day. | |
| | |
| | |
| | | |
| --- | --- | --- |
| | Highlights of the Big Sur CBC on 20 December included a female Black-headed Grosbeak at Andrew Molera SP, and a Ross's Goose (or maybe a hybrid Ross's X Snow?) with Greater White-fronted Geese (right, © Steve Rovell) but this young Rough-legged Hawk (left) was not discovered just south of Bixby Bridge until 21 Dec (© Mike Tyner), and thus qualified only as a "count week" species. | |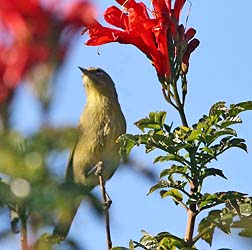 The famed bottlebrush at Acropolis & Shell in Pacific Grove had another interesting visitor during the last week of November. Ryan Terrill discovered an Orange-crowned Warbler that showed characters of the subspecies sordida, the nesting race on California's Channel Islands. First located by its sharp towhee-like callnote, the rather large and drab Orange-crowned had broad, blurry streaking on its throat, breast, sides, flanks, and undertail coverts (right, © D. Roberson). This localized subspecies generally winters in the coastal lowlands of southern California, but has been recorded from northwestern California to northern Baja California [Dunn & Garrett (1997) Field Guide to the Warblers of North America]. There are at least four specimens of V. c. sordida from MTY, including one taken in Pacific Grove on 21 Oct 1916, and three more from Seaside between 30 Dec 1918-9 Feb 1919 [all at Museum of Vert. Zool., U.C. Berkeley]. A couple netted birds at Big Sur have also been suspected to refer to this subspecies. It is possible that a few occur annually in coastal MTY in fall and early winter.
In early November a number of fine birds were located at Carmel R. mouth. State park ranger Chuck Bancroft photographed this female Merlin there (left © C. Bancroft). The white cheeks and lack of malar stripe may suggest the prairie race F. c. richardsonii, of which there are few MTY records.

Also present for a couple weeks in early Nov was a Tropical Kingbird (below right © C. Bancroft). It moved around to a variety of nearby sites. On 31 Oct, Matthew Dodder and his Bay Area class found a Sage Thrasher in coastal scrub near Cross Hill next to Carmel lagoon. It remained a few days to be seen by many (below left © Chris Hartzell; more photos on Bill Hill's web site). That same Bay Area field trip had another Sage Thrasher at Big Sur R. mouth that morning. Meanwhile, in Pacific Grove, a bottlebrush at Shell & Acropolis had up to two Orchard Orioles, a Clay-colored Sparrow, and a male Summer Tanager in late October. Photos of some are on Steve Rovell's photo blog.

Then on 5 November, Craig Hohenberger found an American Tree Sparrow (above © D. Roberson) in a restricted access, permit-only area near the Carmel R. mouth. This bird was actually an important milestone for one local birder (right; photo © Bill Hill). The white edge to the outer rectrices, seen by some of us, is consistent with the western race S. a. ochracea.

There are just 8 records of American Tree Sparrow in MTY, one in late September and the rest during a one-month window between 13 Oct-17 Nov. The most recent was at Kent Van Vuren's Prunedale feeder 12-13 Nov 2006. None have stayed more than two days. This 2009 bird was not seen after 5 Nov, despite efforts.

[The "Monterey 400 Club" will be updated in December, so if you are a member, please email me your current MTY list as of Thanksgiving, 26 Nov. I'd also like to add a note about "near-members" so also send along your list if you are over 350.]
Interesting birds found on 24 October included Magnolia Warbler at Moonglow Dairy (below left
© Kent Van Vuren) and Bobolink near Salinas (below right © Don Roberson), both hatch-year birds.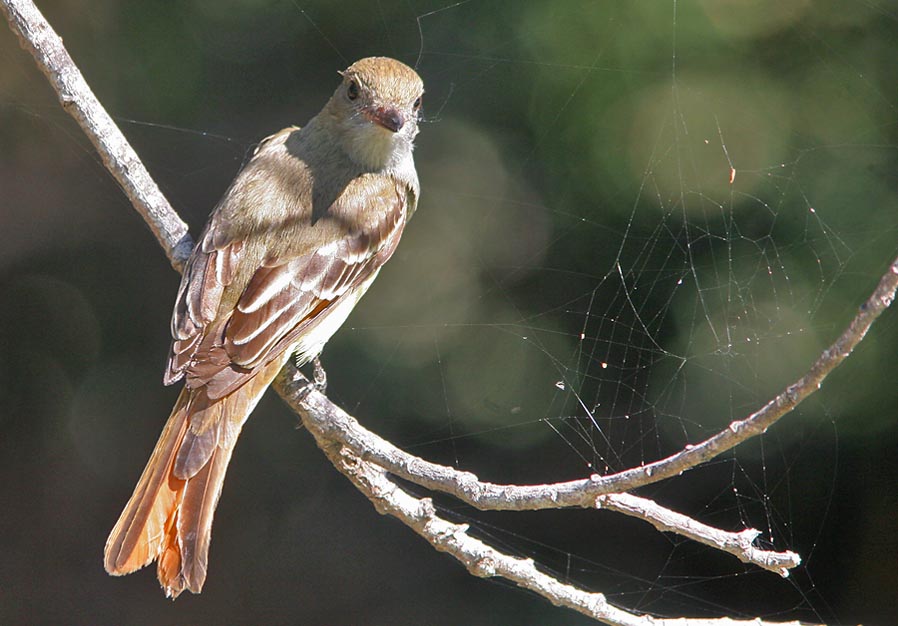 At mid-morning on 15 Oct, Brian Weed came upon this large Myiarchus flycatcher in a willow patch on the southwest side of Laguna Grande. He pointed out various key points (e.g., rectrix pattern) to some new birders there, but didn't recall offhand how to separate the vagrant species. Before he got to his field guide (back at the car) Brian ran into Rick Fournier (with some clients), and Rick went and identified it as Great Crested Flycatcher (so both get credit as finders; Rick also found a Great Crested at Moonglow Dairy in September, discussed further down this page). Steve Rovell got photos that first day. With two Great Cresteds this fall, MTY now has eight records, all between mid-September and mid-October.
I obtained a set of photos on 16 Oct (above & below, © D. Roberson ) as did Bill Hill. I like the shot with the spider web (above). That photo also clearly shows that the bird is in tail molt. The central rectrices are growing in and only about 1/3 length. This gave the bird a 'forked tail' look in the field, and also made it easy to see key patterns of individual outer rectrices in the field (and in these photos). Note that the rufous inner web of each outer rectrix extends both right to the central vane and right to the tip of the inner web. Other characters pointing to Great Crested include the extensive pale base to the mandible, the olive-green wash to the back, the very broad and crisply white edges to the tertials (particularly broad and 'bulging in the middle' on the upper tertial), and the contrast between dark gray breast and bright yellow belly.
Late on 9 Oct, visiting birders from the Iowa Ornithological Union (Jim Bangma et al.) discovered a female-plumaged Mountain Bluebird on a beach near Pt. Pinos, and it was present again the next morning. This is the beach the locals call the "John Denver beach," as his plane crashed just off this beach on 12 Oct 1997. There is a memorial, including a large driftwood with Denver's name on it. The bluebird often sat on that driftwood and adjacent rocks (left & below) or hovered over the beach (above; photos 12 Oct © D. Roberson). It was still present on the 12th anniversary of Denver's death, 12 Oct 2009 (at which time the memorial had flowers). A sentimental spirit might even attribute the lovely bird to the Rocky Mountain songster.

My review of photos and Pyle's handbook suggests this is a first-cycle male, based on molt limits and the presence of sky-blue color in the greater coverts. There are only two prior records on the Monterey Peninsula, both at Pt. Pinos: 21-22 Oct 1972 & 14 Oct 1979.
Another vagrant that appeared on 9 Oct was a Yellow-green Vireo that foraged briefly in a backyard near Esplanade (Karen & Rami Shihadeh), only a few blocks were one had been present 9-12 Oct 1988.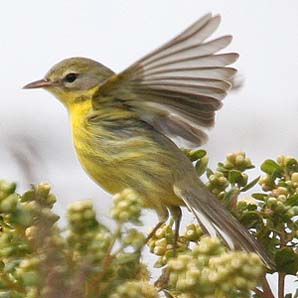 Landbird vagrants in September were frustrating few and far between. The best were a Great Crested Flycatcher at Moonglow Dairy on 15 Sep (Rick & Cheryl Fournier) and a White-eyed Vireo at Big Sur R. mouth on 16 Sep (Mike Tyner). Lesser rarities were few, but did include two Northern Waterthrush at Carmel River mouth (m.ob.), a Magnolia in Pebble Beach 21 Sep (Brian Sullivan) and this Prairie Warbler at Big Sur R. mouth 27 Sep (right © Scott & Linda Terrill).
The latter added a species to Monterey County's total over the Luke Cole Memorial Weekend 26-27 Sep. This was a statewide effort to honor the late, great birder Luke Cole, and raise funds for the environmental justice organization he founded. The full story of Monterey's effort is on a separate web page.
September 2009 brought a good flight of waders. Pectoral Sandpipers (above left, 1 Sep © D. Roberson) were present in high numbers, with up to 52 at one site on 27 Sep (K. Van Vuren). Much more impressive was a 'shoot-from-the-hip' photo of a flying wader over Monterey Bay on 20 Sep, some 1.59 nmi NW of Pt. Pinos (above right © Jeff Poklen) that proved to be a Sharp-tailed Sandpiper! It is the only offshore record for the county. On shore there were a smattering of Solitary Sandpipers, the Fourniers had a Buff-breasted Sandpiper along Molera Road near Moss Landing in mid September, and both golden-plovers were found: a juv American Golden-Plover was on Salinas River SB 7 Sep (© R.J. Adams), and another was later near Salinas (O. Johnson), while a half-dozen or so Pacifics were scattered about, mostly along the coast. This molting adult Pacific Golden-Plover (below right) was near Salinas 26-30 Sep (ph © D. Roberson).