These highlights chronicle the year 2013. Created incrementally as new photos were available, the year runs generally "backwards" on this page. The abbreviation "MTY" means "Monterey County" in the text below. Text by Don Roberson. Photos on this page are copyrighted by the photographers to whom they are attributed, and may not be reproduced in any form (including other web sites) without the express consent of the photographer.

In late May and June, as usual, a few 'eastern' vagrants appeared at the Big Sur R. mouth, including a singing male American Redstart 28 May-2 June (above left © Rick Fournier), two more redstarts in June (male 9 June, Mike Stake +; female 27-28 June, David Weber +); a Northern Parula on 14 June (above middle © Rick Fournier), a male Indigo Bunting 28 May-25 June (B.T. Matheson, D. Roberson +), a male Rose-breasted Grosbeak 22 June (Bill Hill, the Roses), and female Blue Grosbeak and Baltimore Oriole on 2 June (John Garrett, Alex Rinkert). These were overshadowed by a singing Bell's Vireo there 21-22 June (Rick Fournier +; alas, not photo'd). Finally, a summering Greater White-fronted Goose was present from 22 June into August (above right © Rick Fournier).

A nice mid-May surprise in a Marina yard was this male Rose-breasted Grosbeak 18-19 May (left © Steve Rovell). Early May had some post-birdathon migrants (including another Solitary Sandpiper at Moonglow on 9 May, Brandt Bates) but the best bird then was a singing male Yellow-throated Warbler in the eucalyptus grove at Moonglow Dairy on 9-10 May (photo right © Brandt Bates).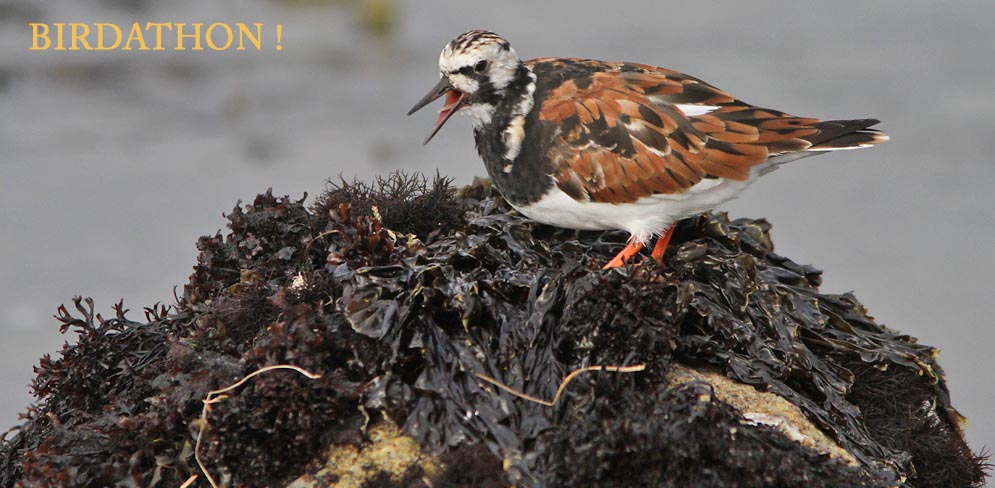 Our annual Monterey Audubon Birdathon occurred over the final weekend of April: 4 pm on Friday, 26 April to 4 pm on Saturday, 27 April. Teams of observers scattered throughout Monterey County, and the weather was good — possibly too good! It seemed that wintering waterbirds had left the week or two before, and the diversity of ducks, gulls, seabirds and waders was well down (excepting this colorful Ruddy Turnstone (above) at Pebble Beach © D. Roberson). The final group total for the 24 hours was 226 species — just one more than our lowest birdathon total ever (225 in 2012). Yet the team effort raised funds for Monterey Audubon's May Gong Tenney Scholarship Fund — and the first and second place winner's in this year's essay contest stopped by to receive their scholarships: Max Paris (first place) and Jessica Bullington (second place), both from Pacific Grove High School and both hoping to undertake environmental studies in college. As always, the Wild Bird Haven in Del Monte Center hosted the countdown & awards event (many thanks Jill Himonas and staff!) while Whole Foods Market served a delicious meal.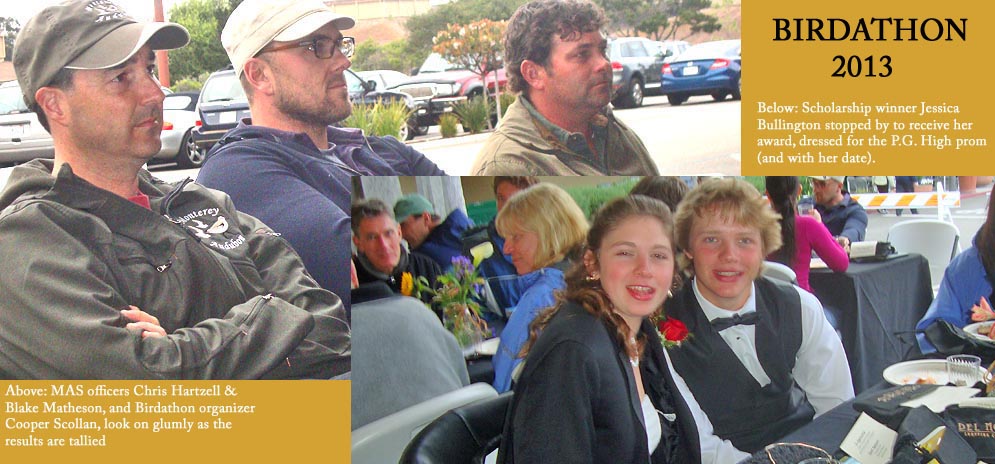 A few exceptional birds were found during the birdathon on 27 Apr: Chris Tenney had a White-winged Dove along Paloma Creek near its intersection with the Arroyo Seco River, and Blake Matheson observed 3 Cassin's Finch at the summit of the Nacimiento-Ferguson Road. Other good finds were a pair of Redhead at Zmudowski plus a Ridgway's Cackling Goose, a Cattle Egret and 9 Yellow-headed Blackbirds at Moonglow Dairy (Rick & Cheryl Fournier), a White-faced Ibis at Castroville (Don Roberson), 3 Swainson's Hawks overhead at Ft. Hunter-Liggett (David Suddjian, on 26 Apr), and a Gray Flycatcher on the MTY side of Fremont Peak (Tim Amaral and team). Only a single Lesser Yellowlegs (R. Fournier, near Kirby Park) and a single Wandering Tattler (D. Roberson, in Pebble Beach) were tallied. [A Solitary Sandpiper at Carr Lake, Salinas (Paul Fenwick +) had departed by birdathon weekend.]
Birdathoners had to work rather hard for some our our scarcer breeders, including Wood Duck and Long-eared Owl (Mission Creek, D.L. Suddjian); Bald Eagle (Lone Oak Rd., Don Glasco); Lesser Nighthawk (San Lorenzo River, Don Glasco); Costa's Hummingbird (Arroyo Seco Gorge, Chris Tenney & team); Lewis's Woodpecker (Parkfield, Clay Kempf); Phainopepla (just one, Hunter-Liggett, D.L. Suddjian); and Sage Sparrow (Ft. Ord, David & Jane Styer). There were several reports of Black-chinned Hummingbird (and several migrant Rufous), Greater Roadrunner, Vaux's Swift, and Yellow-breasted Chat. Bank Swallows were not seen during the birdathon at colonies, but migrants were encountered at three locations: Salinas R. mouth, Roberts Lake, and Salinas wastewater ponds (Rita Carratello, D. Roberson).
Many thanks again to all the participants, to organizer Cooper Scollan, to the Wild Bird Haven and Whole Foods Markets, and to the Scholarship Fund committee who reviewed the submitted essays and chose the winners (Jan Scott, Brian Weed, Rita Carratello, and Bob & Rosemary Tintle).
| | | |
| --- | --- | --- |
| Photos of a male sapsucker at Hacienda Carmel on 12 Mar (near right) hinted that it had characters of Red-naped Sapsucker, but further shots on 20 Mar (far right) appear to show a white, unmarked nape and less ambiguous throat pattern: a male Yellow-bellied Sapsucker (© Chuck Bancroft). Another Yellow-bellied was in Carmel Valley town from late November 2012 into March 2013 (Al Jaramillo, Christina Fischer). | | |

Among wintering birds lingering through March was this Pacific Golden-Plover, shown here with a Black-bellied Plover. This single golden-plover frequented a lengthy stretch of rocky shore, from Asilomar SB, Pacific Grove, in January to Seal Rock beach, Pebble Beach, in March (photo from near China Rock, Pebble Beach, 31 Mar; © D. Roberson).
The Terrill family (Scott, Linda, Ryan) spotted a Brown Booby heading past Pt. Pinos on 30 Mar. The next day it was two large Orca (Killer Whale) just off the Point (photos below © D. Roberson). These were the first Orcas I'd ever seen from the Point!


Two rarities that were first discovered in Dec 2012 continued to delight birders into March 2013: two Nelson's Sparrow at the east pond, Moonglow Dairy (photo of one shown here at near right, 10 Mar © D. Roberson), and the young Sandhill Crane at Moss Landing (far right, early Mar © Rick Fournier).

Both the Arctic Loon and Vermilion Flycatcher (see below) also lingered into March. Two vagrants discovered in March were in bottlebrush in Monterey: an Orchard Oriole (Blake Matheson) and a spring male Tennessee Warbler (Rita Carratello).
What a January it has been! The year 2013 served up one of the best Januaries in memory. The prime highlight, seen virtually every day in Monterey Harbor after its discovery by Brian Sullivan on 5 Jan, was an Arctic Loon — the first for our county (below, photo 8 Jan © D. Roberson). The are many photographs on the web as it attracted hundreds of birders from throughout California and beyond. I have a full page of details and photos on this site. Remarkably, there was a Yellow-billed Loon off Wharf #2, Monterey, from 30 Dec 2012–3 Jan 2013 (Blake T. Matheson et al.), so observers just missed a chance for the "5 loon day" by just two days!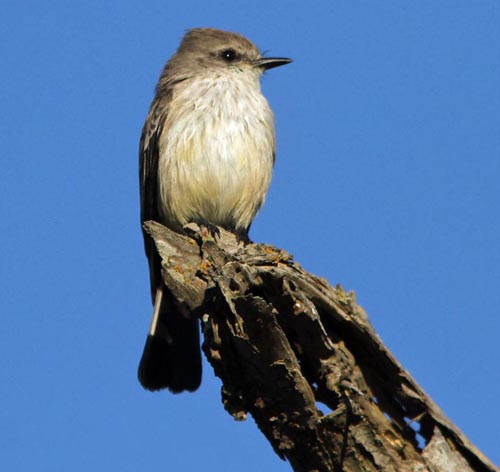 Not only was the Arctic Loon easily 'chaseable,' but so was this female Vermilion Flycatcher at Crespi Pond, Pt. Pinos, first found by Bill Hill on 11 Nov 2012 (and photographed here on 24 Nov 12, left © D. Roberson). It has so far survived huge storms, serious cold snaps, and clumsy golfers, and enjoys sitting on the equipment at the driving range next to Crespi.
But that was not all. An Eastern Phoebe was found there — sometimes in the same field of view as the Vermilion — in late December and remained for the Monterey Peninsula CBC and just into early January (see photo in 2012 highlights). Another Eastern Phoebe near Carmel was present to at least 19 Jan.
A young Sandhill Crane began hanging out at the gull roost in Moss Landing harbor on 19 Dec 2012 (first reported by Bob Blevy) and it has been there off-and-on for more than a month (photo below 6 Jan © D. Roberson). MTY has not had a 'chaseable' Sandhill Crane in many years, and never one before on a tidal mudflat!

An American Bittern at Zmudowski SB pond is not a surprise (below left, 12 Jan © D. Roberson) — after all they nest there from time to time — but this mostly resident species has become so scarce in MTY that it seems a miracle to get a close photo in this county. But another resident bird was a huge surprise because of its location. A first-winter American Dipper showed up along the small stream in Laguna Grande park, Seaside, in early January and remained into February (photo below 4 Jan © D. Roberson). This is a substantial distance from the nearest resident populations (upper Carmel River may be the closest one) and represents the first record anywhere in the coastal lowlands of north MTY. Anyone keeping a park list for Laguna Grande needs to see this bird, as there may never be another one here . . .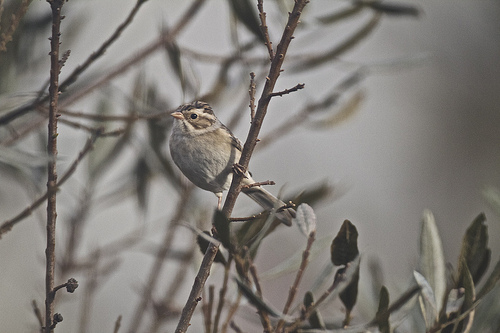 Another species of interest was this Clay-colored Sparrow (left, photo 27 Jan © Blake T. Matheson) wintering in a Pacific Grove yard. Although Clay-colored Sparrow is regular as a vagrant in fall migration, there is only one prior winter record for MTY (20 Feb 1999 Toro Reg. Park), and never have we had one documented as present daily from December well into winter.
There was also a Chipping Sparrow at Laguna Grande park from late December into mid-January, when it was seen almost daily. Yet the last date I have is 15 January — and if that holds up, what I wrote in Monterey Birds, 2d ed., is still true: "there does not yet appear to be a February record (for MTY) or any known individual that spent the winter at any single site." All our Dec-Jan Chipping Sparrows appear to be simply very late migrants, and not wintering birds. [Obviously, if anyone sees the Chipping Sparrow at Laguna Grande again, please let me know).
We also had our usual wintering contingent of a few Swamp Sparrows, Nashville Warblers, and assorted western orioles and tanagers.
| | | |
| --- | --- | --- |
| | | Late in January, two nice vagrants appeared around Bird Rock/Seal Rock beach in Pebble Beach: a first-cycle Glaucous Gull from at least 26-30 Jan (B.T. Matheson et al., photo far left 28 Jan © D. Roberson) and a Tropical Kingbird from 27 Jan into February, found by Sarah Lane, D. Roberson, and Rita Carratello (photo near left 27 Jan © D. Roberson). A potential first well-documented record of Iceland Gull in MTY, at Seal Rock beach on 26 Jan(B.T. Matheson), got flushed away by tourists without being photographed. |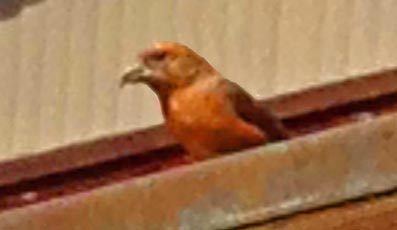 Meanwhile, small flocks of Red Crossbill continue to winter in the Monterey pine forests of the Monterey Peninsula,. All the documented birds have so far been our more regular "type 2" crossbills, rather than the far-distant "type 3s" that invaded briefly back in Sep 2012. Here's an iPhone snap of one of the "type 2" Red Crossbill (a male) at Asilomar Conference Grounds this winter (right, photo 6 Feb © Rita Carratello).