These highlights chronicle the year 2013. Created incrementally as new photos were available, the year runs generally "backwards" on this page. The abbreviation "MTY" means "Monterey County" in the text below. Text by Don Roberson. Photos on this page are copyrighted by the photographers to whom they are attributed, and may not be reproduced in any form (including other web sites) without the express consent of the photographer.


Depicted below in sequence is "The Battle at the Point," witnessed at Pt. Pinos on 8 October — a King of the Hill game featuring one Blue-footed Booby and a horde of bullying Brandt's Cormorant. Start the panel below and go clockwise around the perimeter. You are just a wayward Booby who has discovered a nice high point on which to rest and, hopefully, get a nice long nap. . . But no, every few moments you are bombarded by cormorants wanting 'your' spot. Some even grapple with you beak to beak. You do manage about an hour's nap (albeit interrupted) when a particularly loathsome beast lands right atop you and forces you into the air! You circle the Point looking for a new spot — finally finding another spot on the next rock over — but then a look behind you reveals a phalanx of cormorants all approaching, and up into the air you go again . . . this flying off south, looking for a much quieter rock to enjoy . . .

Offshore — some 6.4 miles west of Hurricane Point on 5 Oct — a boatload of birders on a Shearwater Journeys trip (Tom Johnson, John Garrett, et al.) located an obliging Great Shearwater (right © Scott B. Terrill). This represents just the 5th or 6th record for MTY, with a couple of others from the SCZ side of Monterey Bay.
A (possibly imm female) Prothonotary Warbler was beautifully photographed at Laguna Grande Park on 26 Sep (above left © Beth Hamel). The rich yellow color contrasts nicely with the deep blues of this male Blue Grosbeak found by Paul Fenwick at Carmel SB (just below 'Cross Hill') on 29 Sep (photo above right © D. Roberson). The grosbeak did not stay long, but fortunately the Prothonotary did linger, especially around an alder tree at the 'gray bridge' at the east end of the lake, and it was seen by many well into October. On its final date, Gary Woods managed this truly stunning shot (below 6 Oct © Gary Woods). This gorgeous vagrant had remained fully 12 days — much longer than most fall migrants.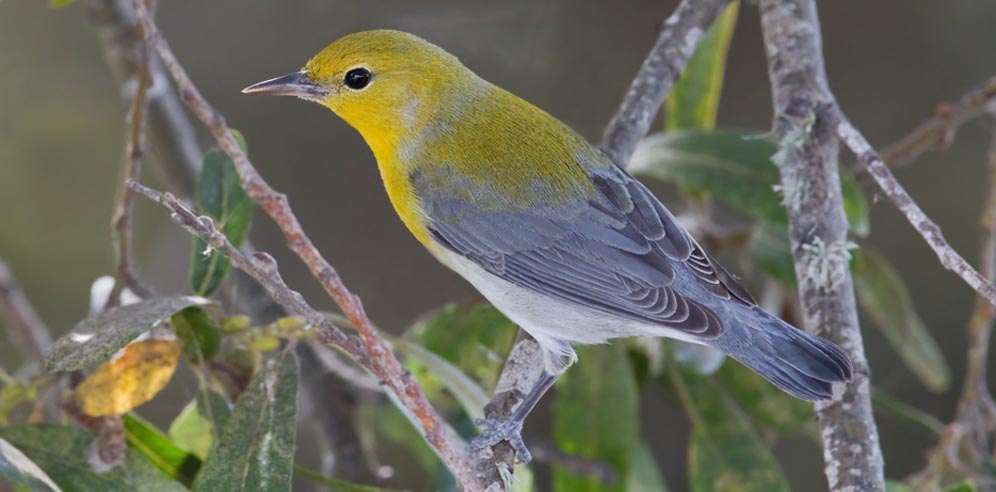 Meanwhile, shorebird activity at a permit-only site near Salinas produced a couple of fine rarities in late September: Buff-breasted Sandpiper (below left) and Sharp-tailed Sandpiper (below right), both found by Paul Fenwick and Gary Woods on 26 Sep. Up to 60 Pectoral Sandpipers were also present, with 48 counted in a single pond. [Both photos below are from 26 Sep; © Gary Woods]. Fortunately, Rick Fournier found another Sharp-tailed Sandpiper at Moonglow Dairy on 5 Oct — a site open to the public — and that bird remained well into October.
The ten days between 15-24 Sep were as exciting a period of birding time as we have seen in decades — and all because of an 'invasion' of Blue-footed Boobies into coastal northern California. The only prior invasion that brought this booby to MTY was in October 1971 (4 birds together on 16 Oct, 2 present the next day — both in feeding flocks off Lovers Pt.). Now, 42 years later, an incursion in southern California had begun during the second week of September. The northward movement of these birds would bring them to Monterey Bay.

On 15 Sep, Brian Sullivan went sea-watching at Pt. Pinos — looking for boobies arriving here — and at 5:15 p.m. he scoped one plunge-diving among a feeding frenzy of pelicans in Monterey Bay. Within 5 minutes it had drifted out of sight. Santa Cruz Co. had a flurry of observations that week, but MTY sightings were absent until 18 Sep, when Cooper Scollan had 3 fly past him in Monterey Harbor and out to sea. At this point some birders began long "booby watches"at Pt. Pinos; one observer logged 26 hours over the week. Blake Matheson had a young Blue-foot fly past him at Pt. Pinos just after 7 p.m. sunset on 18 Sep. Paul Fenwick had an immature flying north past the Point at 11:23 a.m. on 19 Sep. Larry Rose spotted one for 4 observers there at 7:11 p.m. on 20 Sep. On 21 Sep a whale-watching trip had one and alerted Richard Ternullo, who saw it fly past the Point 20 minutes later. It was not until mid-day on 24 Sep when Paul Fenwick spotted one sitting on the north jetty at Moss Landing (all photos surrounding this text) that a Blue-footed Booby was seen perched in MTY. It was present for about an hour.

[Photo above digiscoped © D. Roberson, right © Paul Fenwick, the two below © Rick Fournier — the latter shot shows it taking off at 12:24 p.m. after a large wave crashed into the jetty. The booby shows some post-juvenal wing molt, so would appear to be about a year old.]

It is hard to determine how many Blue-foots have been in MTY over these 10 days. Photos of Sullivan's Pt. Pinos bird on eBird show an older booby than those passing the Point later that week. Three together in Monterey Harbor could be the same or different birds, as could the Moss Landing bird. It is a minimum of 3 but could be as many as 6 or more.
| | |
| --- | --- |
| | |
| The final Blue-footed Booby observation in September was by Paul Fenwick again — one flew south past Pt. Pinos on 27 Sep with a flight of Brown Pelicans, and Paul got this photo (right © Paul Fenwick). This was his 3rd observation of a booby during the span, while many other birders are still hoping for their first ! | |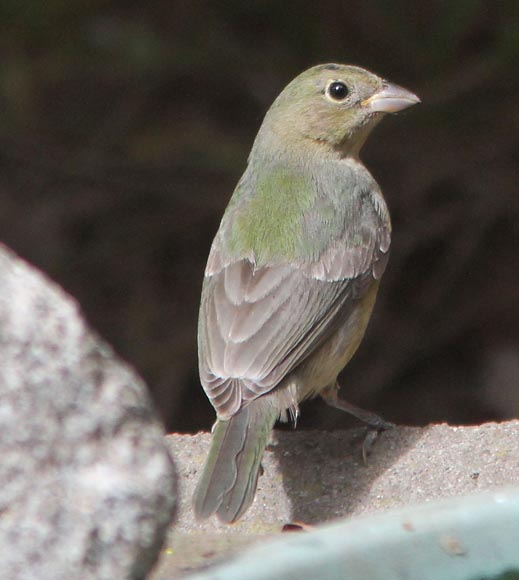 While not as impressive of a booby, an imm female Painted Bunting that frequented a backyard in Pacific Grove 22-23 Sep was an outstanding yard bird (photo left © Don Roberson).
This same yard attracted a young American Redstart to the bird bath on 1 Oct (photo below © D. Roberson).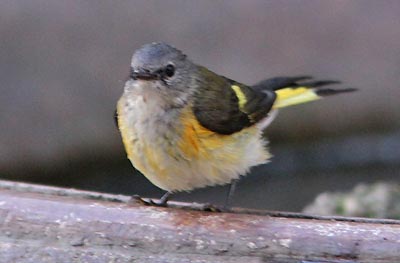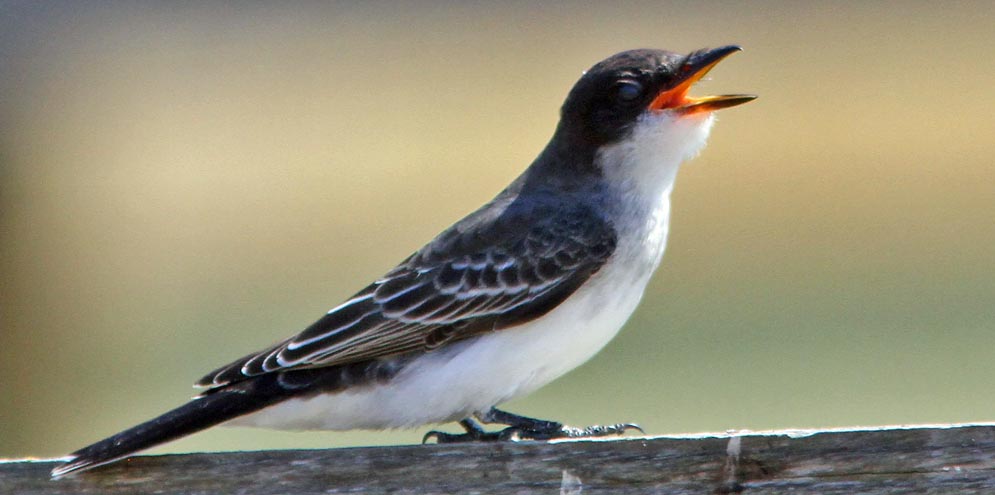 This young Eastern Kingbird (above) along South Bank Trail in lower Carmel Valley was a snappy start to September. Found 9 Sep by Chuck Bancroft, it was still swallowing flies around the stables on 12 Sep (this photo © D. Roberson). As is typical, one to three Northern Waterthrush were along the Carmel River mouth, foraging at the riparian edge of shaded pools, during the first 3 weeks of September, but rarely is one so well-photographed as this one that ventured into sunshine on 15 Sep (below © Catherine Webb).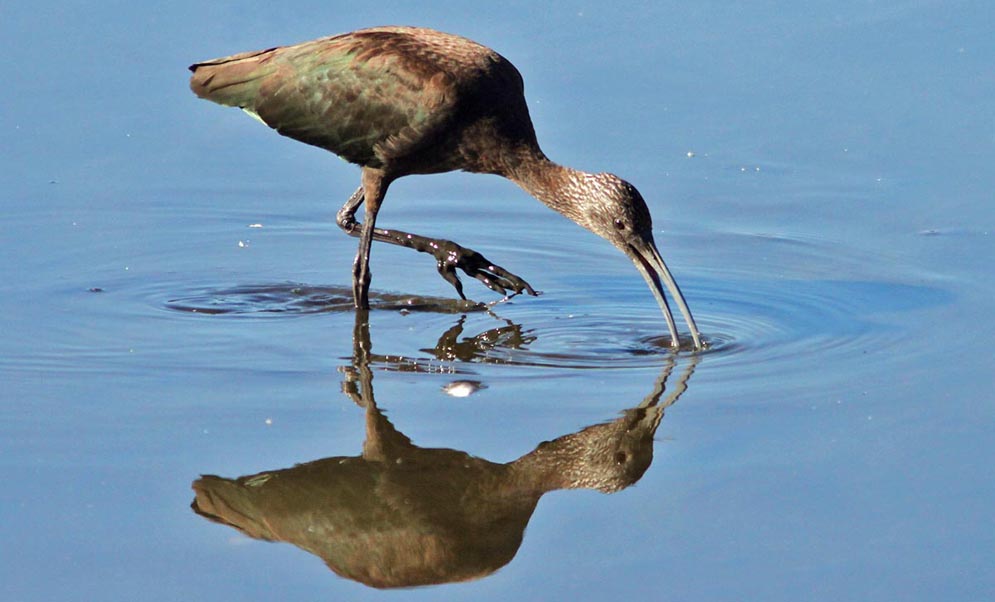 Crespi Pond, on the Pacific Grove golf course right near Pt. Pinos, has hosted many rarities over the years. In August-September this fall, water levels in the pond fell and it attracted some local rarities, including a young White-faced Ibis from 6 Sep (photo above © D. Roberson), and a juvenal-plumaged Semipalmated Sandpiper from 21-22 August (Blake Matheson; photos below 22 Aug © Blake Matheson [left] and © Gary Woods right]— note webbing between toes on latter shot). While a tiny handful of juv "Semis" appear annually in the Moss Landing and Salinas vicinities each autumn, this was a first record for Crespi Pond.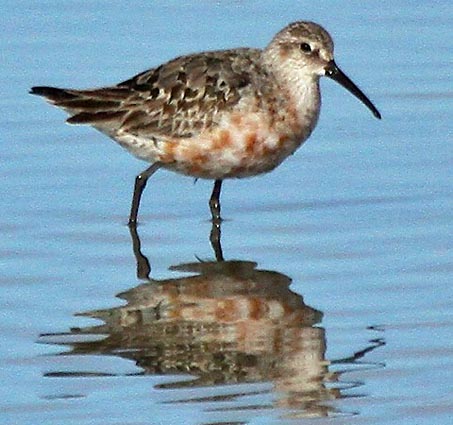 Undoubtedly the highlight of the shorebird season in 2013 was this adult Curlew Sandpiper (left and below) found by Rick Fournier on 15 August at a wetland near Salinas that is not open to the public (pre-existing permit holders only). This was only the second record for MTY and one of very few for California. It remained to 20 August. The bird was an adult in pre-basic molt, showing remnants of breeding plumage (reddish patches below, dark feathers above) as fresh pale-gray basic plumage feathers were starting to dominate the upper back. Photos here are from 15 Aug © Rick Fournier (left) & © Bill Hill (below left), and from 18 Aug © Brian L. Sullivan (below right, showing white rump).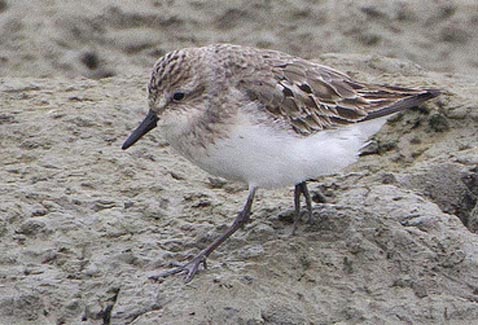 This permit-only wetland near Salinas also hosted other rarities this fall, including a rare adult (or first-summer?) Semipalmated Sandpiper on 19 July that was already well into pre-basic body molt (photo right © Brian L. Sullivan), a young Franklin's Gull molting from juvenal to first-basic plumage from 13-22 August (found by Rick Fournier; photo below left 18 Aug © D. Roberson), and a subadult (second-summer?) Parasitic Jaeger on 18 Aug (found by Rita Carratello; photo below right © D. Roberson). This is the 4th time that a jaeger has appeared 7 miles inland at these ponds. Three have been Parasitic and one was a Long-tailed (back in Sep 1990).
Another excellent wader in early fall came from just across the MTY/SCZ border at the Pajaro River mouth. An adult Lesser Sand-Plover appeared each morning on the beach in front of the Pajaro Dunes Colony, Santa Cruz Co., from 2–4 August. Each morning before 9 a.m. it flew towards Monterey County but disappeared before it reached the county line, and could not be relocated the rest of the day. There are three prior records of this species in MTY (Sep 1980, Aug 1989, Sep 1992) but this was a first for SCZ; photo (below) 4 Aug © D. Roberson.