These highlights chronicle the year 2016. Created incrementally as new photos were available, the year runs generally "backwards" on this page. The abbreviation "MTY" means "Monterey County" in the text below. Text by Don Roberson. Photos on this page are copyrighted by the photographers to whom they are attributed, and may not be reproduced in any form (including other web sites) without the express consent of the photographer.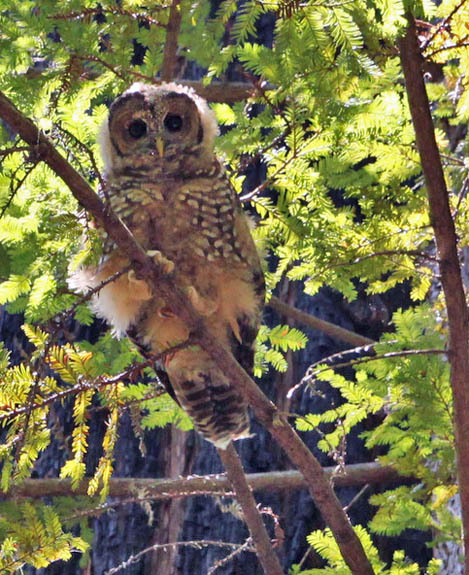 Since it began on 22 July in Garrapata SP, the Soberanes fire has dominated the news and many of the lives of Monterey County residents. As of this writing (20 Aug) it has burned 84,000 acres and is only 60% contained. It is cutting a huge swathe across the Ventana Wilderness. Fortunately, most canyons along the Big Sur coast have escaped its path. This fledgling Spotted Owl was found along the Cruikshank Trail, south of Gorda, on 28 July (photo © Bill Bradlee), well south and close to the San Luis Obispo Co. border. Spotted Owls hold resident territories throughout the Big Sur area but are rarely seen or photographed.
While summer temperatures soar in the interior, in north coastal MTY the summer fog as been omnipresent throughout July and August. With the loss of the Salinas WTP as habitat, waders have been slim.
Some of the best coastal birding has been at the Pajaro River mouth where it runs into the sea not far south of the Santa Cruz County border. The best birds found there in August were two juv Least Tern on 6 Aug (Brian L. Sullivan, Paul Fenwick, photo © Cooper Scollan, below).
Later, a first-summer Franklin's Gull made appearances in the vicinity on 13 & 18 Aug (Rick Fournier, Jeff Poklen). There have also been summering Brant, a couple Common Merganser, and a summering Long-tailed Duck in the vicinity.


0n 16 July, a 12-hour combo bird-and-whale watching trip aboard the Pt. Sur Clipper was idling over the middle of Monterey Bay
at the mouth of Soquel Canyon among thousands of migrating Red-necked Phalaropes and 120 Humpback Whales (above; one whale,
lots of phalaropes © D. Roberson), not far from the Blackfin, a much larger whale-watching catamaran. About 4 p.m., suddenly ....

| | | |
| --- | --- | --- |
| | ... an adult Nazca Booby sailed over the Blackfin (above, ph D. Roberson). First spotted by Cooper Scollan (his shot upper right), the booby was documented by Chris Hartzell (2 phs at left), Beth Hamel (below), & others as it flew steadily south (ph lower right, D. Roberson) until lost from view. | |

Nazca Booby Sula granti was split from the worldwide pan-tropical Masked Booby S. dactylatra about a decade ago based on genetics, assortative mating where ranges meet, and plumage and structural differences. Nazca Booby breeds mostly on the Galapagos Islands but a few pairs breed as far north as Islas Revillagigedos, Mexico, and Clipperton Is. Adult Nazca differs from Masked primarily by bill color. For Nazca, the bill is bright orange in males, rosy-orange to coral red in females. For Masked, bill color is the same in both sexes and ranges from bright yellow to yellow-green. The bill is deeper-based in Nazca and has a dip along the culmen about two-thirds of the way to the tip (the tip itself is often yellow). Also, some adult Nazca are unique in having white central rectrices, but many have all-black tails (Masked only has all-black tail). These points are discussed with text and color photos in my 1998 article "Sulids Unmasked: which large booby reaches California" in Field Notes 52: 276-287 (the predecessor of North American Birds magazine). The identification of juvenal and subadults is complicated until bill color changes. [A pdf of my article, including the cover photo, is on-line but unfortunately only some of the photos are shown in color.] Our Monterey Bay booby has a conspicuous thick-based pink-orange bill (possibly a female?). There are no good shots of the tail but the tail appears to be in molt, with missing feathers in the center of tail (see just above), which are possibly growing in as white feathers (the small 'going-away' photo), but hard to be certain on that point.
The first fully confirmed record of Nazca Booby for California (and the ABA area) was found dead on McGrath SB, Ventura Co., on 23 July 2013 [identified later by DNA analysis; see Yang, et al., W. Birds 47: 58-66]. An earlier record from 27 May 2001 — a first-cycle booby that rode on a boat from Mexican to U.S. waters, and also later identified by DNA — was not fully accepted by the CBRC because it arrived on a boat. That's silly because boobies routinely rest on ships at sea; they also rest on floating logs, kelp, driftwood, and sea-turtles. Two more recent records off southern California — 27 June 2014 and 20 May 2015 — were adults that were photographed. Finally, a subadult perched for a time at Pt. Pinos, MTY, on 1 Feb 2016 [see highlights from earlier this year]. Some wonder if this July bird could be the same booby as on Pt. Pinos but 6 months have passed and the plumage is now quite different — so it is anyone's guess. The CBRC has accepted 16 records of young boobies as "Nazca/Masked" because identification of immatures remains difficult and controversial.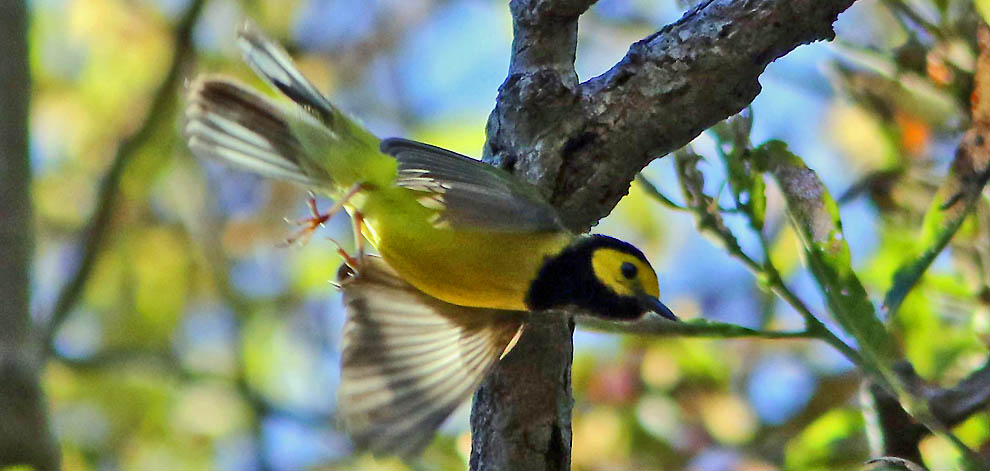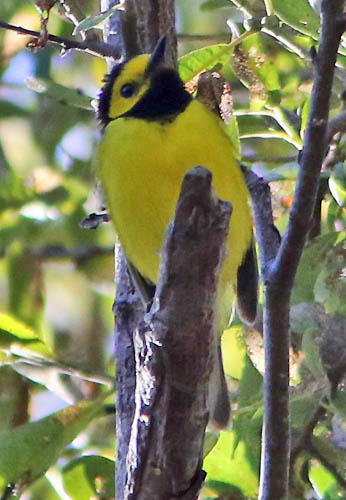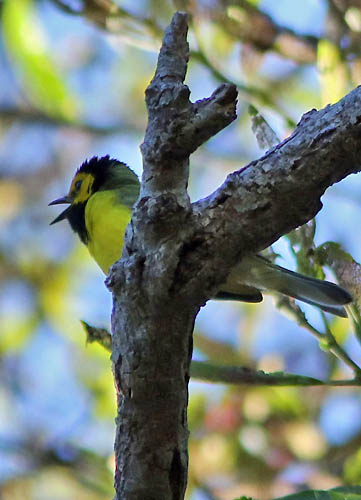 A male Hooded Warbler dropped into downtown Monterey in July, where it sang up a storm (photos above and right all from 9 July © D. Roberson). Found by its song by Michael Rieser on 8 July at the intersection of El Dorado and Munras, it frequented the deep ravine in Don Dahvee Park that day and thereafter. It could be very difficult to see in the thick willow understory above abundant Poison Oak, but its song carried for distances [see Brian Sullivan's eBird checklist for 8 July to listen to its song and its 'chip' note call]. Hooded is a colorful warbler, but also note the large white tail spots visible in flight.
There are now at least 39 Hooded Warbler records in MTY, but this is the first since 2009, some 7 years ago. Most have occurred between May and July, and there have been years (1992, 1993, 1994, 2001) when we've had 4-6 birds during those spring-summer dates. Multiple birds have oversummered at Big Sur R. mouth and also (once) at Carmel R. mouth. A pair was confirmed nesting at Big Sur R. mouth (fledgling seen 6 Aug 2004), one of the very few breeding records for all of California. Over-summering males have lingered as late as September or even October.
Before this current male, the previous records were from 2009. A young male was banded at BSOL in Aug 2009 but different females were in our Pacific Grove birdbath on 28 May 2009 and in fall on 20 Oct 2009 (Rita Carratello, Don Roberson).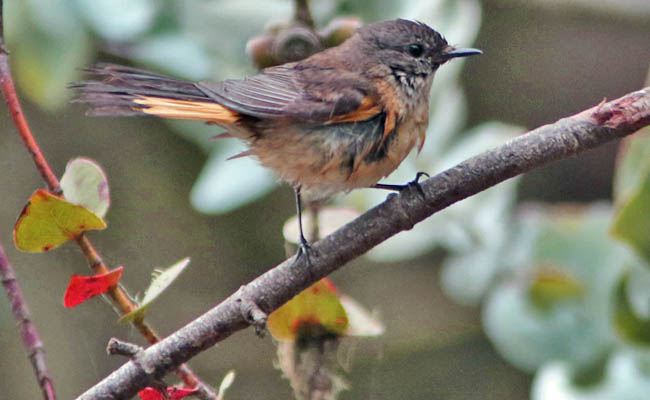 The 4th of July weekend was cold and dreary but this first–summer male American Redstart dropped into a Pacific Grove backyard 2 July for a quick bath — and then was gone (photo © D. Roberson).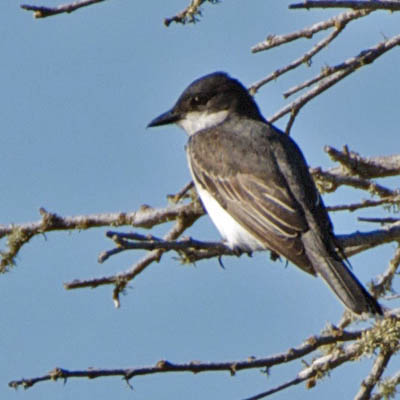 The best eastern vagrant in June was an Eastern Kingbird at Big Sur River lagoon on 17 June (Brian L. Sullivan, photo left © Cooper Scollan).
Meanwhile, at Zmudowski SB, where hordes of birders descended with "bittern fever" (see below), up to 5 White-faced Ibis were present throughout June, as was a summering female Redhead (D. Roberson et al.). On 28 June, Michael Bolte photographed an adult Pectoral Sandpiper there, which we treat as the first returning fall migrant of this species. It represents the earliest fall migrant Pectoral ever in MTY.
An adult female Brown Booby was seen from Pt. Pinos on 15 and 24 June; it was photographed from the Point by Brian Sullivan on 15 June (below; © BL Sullivan).

Bitterns were the lead story in June 2016. On 12 June, Cooper Scollan made two impressive discoveries in the reedy edges of the freshwater pond at Zmudowski SP. First, he heard a singing Least Bittern. It has been 17 years since there had been a Least Bittern in MTY, and this was the first to be singing [a soft, fast, "coo-coo-coo-coo" song, there are tape-recordings on several eBird lists] on territory in this county.

For several days the Least Bittern was only heard singing or occasionally giving other calls, but then some lucky observers saw it briefly in flight. Janet Leonard was the first to photograph the male [on 19 June, near left © J. Leonard]; later, Carole Rose caught this nice flight photo [on 23 June, far right, © C. Rose].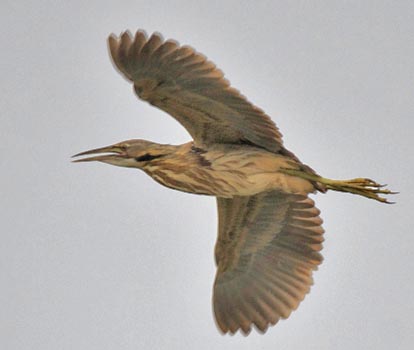 The prior records of MTY Least Bitterns include a prior record from Zmudowski in fall migration [22 Sep 1994] and two August records of fall migrants [Carmel R. mouth and Salinas R. mouth]. There are only 3 prior records of spring migrants, all in May or early June, from Calera Canyon, from Pt. Sur [31 May–4 June 1999], and two were in the reeds at Crespi Pond between 4–18 June 1988.
The second discovery was to confirm breeding of American Bittern this year. During the drought of the last few years, bitterns seemed to have abandoned Zmudowski pond, which had been the only known resident pair. There loomed the possibility we had lost a breeding species in MTY. This June, Cooper confirmed not only the presence of a pair — one in flight on 12 June, right, © C. Scollan — he found half-grown young! With many observers chasing the Least Bittern throughout June, three youngsters were confirmed as the pair took turns feeding them in the reeds. By 14 June, when this photo of two of them together was taken (below, © Lisa Larson), they were growing larger but still maintained clumps of wispy down-feathers on their crowns.