These highlights chronicle the year 2016. Created incrementally as new photos were available, the year runs generally "backwards" on this page. The abbreviation "MTY" means "Monterey County" in the text below. Text by Don Roberson. Photos on this page are copyrighted by the photographers to whom they are attributed, and may not be reproduced in any form (including other web sites) without the express consent of the photographer.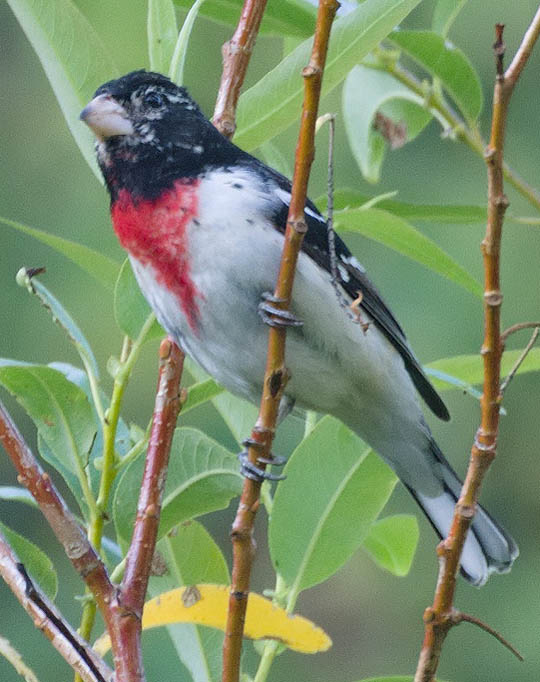 While spring migration was pleasant enough in 2016, it did not have the impact as did spring 2015. Back then there were two first MTY records in May — at opposite ends of the county — but neither was seen by local birders. However, in May and early June 2016, vagrants were mostly limited to those we almost "expect" in May, a, such as Rose-breasted Grosbeak. This one (right, photo © Michael Rieser) was along Soberanes Creek in Garrapata SP on 8 June; another was at Big Sur R. mouth 30 May (D. Roberson +). Additional species at Big Sur R. mouth in May included a Chimney Swift 7 May (Blake Matheson), a singing Northern Parula from 30 May (D. Roberson, R. Carratello +), and several Indigo Buntings and hybrids. The only exceptional rarity was found by a visitor along Soberanes Creek on 4 June: a singing male Canada Warbler, only briefly seen and not photographed (Brian Turner).
The best shorebird this spring was surely this late Pectoral Sandpiper near Salinas on 24 May (photo © Kent Van Vuren).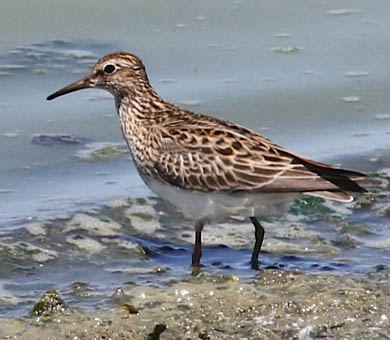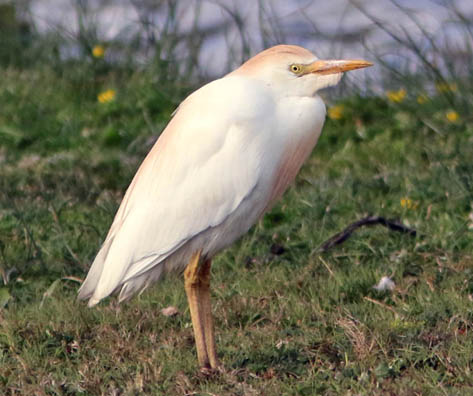 Other interesting birds were of local interest, including several Cattle Egret. This one (left, photo © Don Roberson) visited Crespi Pond at Pt. Pinos briefly on 20 May; two days earlier another was at Laguna Grande (B.J. Weed +). That latter egret was sitting in the same tree that had a Double-crested Cormorant nest this spring — a first for that location. Another 15 or so pairs nested at Del Monte Lake on the grounds of the Naval Postgraduate School (restricted access).
There were also unexpected appearances of Redhead. A male at the Frog Pond Natural Area, starting 12 May (D. Roberson +), was a first for that site. These Redheads (below, photo © D. Roberson) were a first for Laguna Grande when discovered on 27 May (Rita Carratello, Michael Rieser). There were 11 of them together, which almost set a "high count" record for MTY [there is one old record of 12 Redheads together].

Otherwise spring migration in April and May was fairly routine, but it always includes a smorgasbord of lovely birds. For fun I put together this collage (below, © D. Roberson) of various landbirds that visited a birdbath in our Pacific Grove back yard in early May. It is entitled "Bathing Beauties;" how many can you identify? [Answer at the bottom of this web page] [artwork by Snick Farkas]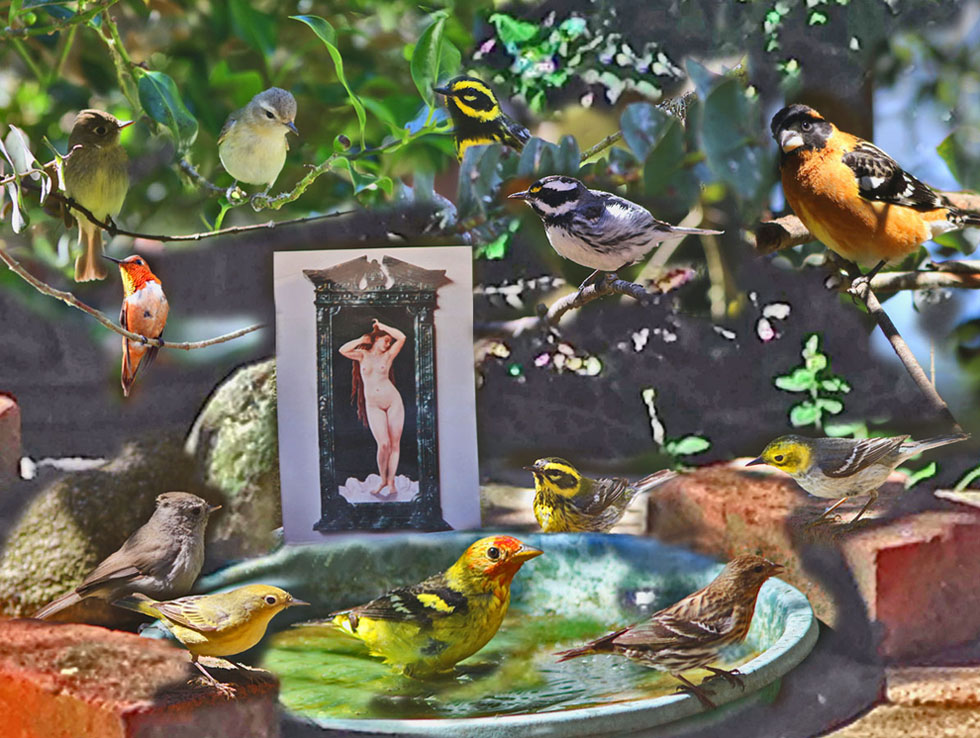 Is this a portent of the End?

Until 22 Apr 2016, there had never been a pair of Common Raven on the Monterey Peninsula. But that afternoon, after the rain, there they were, dominating the American Crows in a pull-out just south of Pt. Pinos itself (above, lefthand bird is a crow; all raven photos © Don Roberson). A guy in an RV was feeding the squirrels, gulls and crows, and these two monsters homed right in. I don't think I've gotten this close to a raven before (right). Note the huge bill, the long throat feathers, the long wedge-shaped tail (especially noticeable in flight, below right), and vocalizations. In fact, I heard one call [guttural 'cronk'] over Crespi before I saw either of them, but had given up spotting it until these suddenly appeared.

It has never been clear why the coast of Monterey County did not host ravens in historical time. To the north they occur along the California coast from Santa Cruz all the way to the Oregon border, but there is only one mention of them along the southern Big Sur coast in the 1800s. There were only a half-dozen Big Sur coastal records until a pair took up residence near Pt. Sur in 1997. Now pairs are regular along the coast south of Garrapata SP. In northern MTY, the first ravens at Moss Landing were in 1990; several pairs now breed there and south to Marina.

But the Monterey Peninsula and vicinity has entirely lacked ravens in recorded history until recently. First record was 19 Oct 1996 over Jacks Peak, and then one the next day at Esplanade, Pacific Grove. A pair appeared at Carmel River mouth about 1997, but has been very sporadic. The first Pt. Pinos raven was 7 Aug 1999, and the only other before now was one photographed by Brian Sullivan at the Point on 6 Feb 2010 (he'd heard another — or the same? — over Funston Ave., P.G., that morning). The first in Pebble Beach was 20 Jan 2007 (Pt. Joe). And that's it for all documented claims. [Of course there are a slew of misidentified crows, called "ravens," by tourists, but none with any details or photos.]

So what is this pair doing here? (pair drinking from a rain puddle at the Pt. Pinos pull-out, below). The bird I presume was the female (slightly smaller) was actually fooling around with twigs in a wind-blown cypress just across in the street. Do they have breeding in mind?

Only time will tell. But please do document each and every raven on the Monterey Peninsula with photos or persuasive details.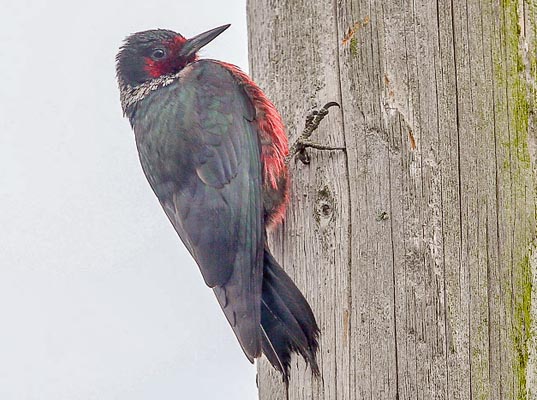 The local excitement in April was a small incursion of Lewis's Woodpecker around Elkhorn Slough. Two were first reported along Empire Road, near Elkhorn Slough Reserve, by ESNERR personnel, and then a few more at various locations nearby, including along heavily-trafficked Dolan Road. One took up residence on telephone poles and isolated oaks along Dolan Road near Dolan Place (I liked this photo, left, from 9 Apr © Andy Knorr).
There has been a history of erratic and widely separated small influxes into northern coastal MTY previously, but none in the Elkhorn Slough area. I know of small movements at eastern Ft. Ord or into oaks below Jacks Peak in Oct 1980 into Apr 1981, in Apr 1991 (ten years later), and from Dec 1993 into May 1994 (two years after that). Almost no coastal movements have occurred since then. The few single coastal vagrants are very scarce.
Three bird taxa provided truly impressive highlights in early 2016, and together they appear in the 4-box gallery just below.
The first occurred on 1 January, during the Moss Landing CBC, when a dark-morph adult "Harlan's" Red-tailed Hawk was seen and photographed near Aromas — but just over the county line in San Benito County (below left, © John Garrett). This was the first SBT record and presaged things to come in Monterey County.
On 23 Jan 2016, Elkhorn Slough Reserve ranger Jane Rudebusch discovered an unusual dark-morph Buteo near Reserve headquarters. It was a first-winter dark-morph hawk, but its identify was not sorted out until studied on 13 Feb by Brian L. Sullivan, who identified it as an unusual dark-morph "Harlan's" Hawk (photo below right © B.L. Sullivan; see his eBird list for details). Sullivan has published several papers on the i.d. of this population of Red-tailed Hawk, which was once split as a separate species. The Elkhorn Slough Reserve hawk was seen and photographed by many through at least 20 Feb, so it was present a month. It represents the second MTY record and the first to be photographed. The first record was of another dark-morph bird that was present near Castroville from 11 Dec 1976-9 Jan 1977 (Rich Stallcup, L.C. Binford, R.A. Erickson et al.).
The final major highlights for early 2016 were in February, and appear as the bottom two photos in the box above:
On 1 Feb a roosting immature Nazca Booby was briefly at Pt. Pinos, where spotted by Brian Sullivan and Paul Fenwick, and photographed here (above left, © Alfred Hochstaedter). The booby is well into post-juvenal body molt (although retained juv outer primaries and secondaries) and seems likely to be in its second year, as it now had a mostly white body. The orange color to much of the bill, setting off the yellow tip, is a feature of Nazca Booby. California's first accepted record was found dead in Ventura Co. on 23 July 2013 — and identified through DNA analysis! — but another half-dozen records have accumulated since, perhaps in response to El Niño. If accepted by CBRC, this would be the first MTY record. There were a couple of juvenal boobies during earlier El Niños that might have been Nazcas, but i.d. in full juvenal plumage (before bill color changes) is controversial. CBRC relegated them to "Masked/Nazca" Boobies.
On 9 Feb, visiting Swedish birder Staffan Rodebrand photographed a crisply-plumaged and very pale first-cycle gull flying past the entrance to Moss Landing harbor (above right, © Staffan Rodebrand). It appears to show all the features of a "Kumlien's" Iceland Gull, including bill size and color, 'gentle' head shape, pale whitish plumage and remiges, much reduced secondary bar, mottled tertials, and a mottled tail (rather than a tail band). The photos have been submitted to CBRC but I believe this represents the 2nd MTY record of Iceland Gull. Another first-cycle individual was at Moss Landing 15-20 Feb 1998 (Rich Stallcup et al.) but not accepted by CBRC during a very conservative period of treatment of this taxon. It was accepted in Monterey Birds, 2d ed.
The worst of our local five year drought was finally ended with torrential El Niño rains in January and March, with a mostly dry February sandwiched between. This was such a different winter than last year, when intrepid local birders ventured high in the Santa Lucia Mountains and discovered the local winter grounds of "Thick-billed" Fox Sparrow (see those highlights). No one could venture into the highlands during this wet winter.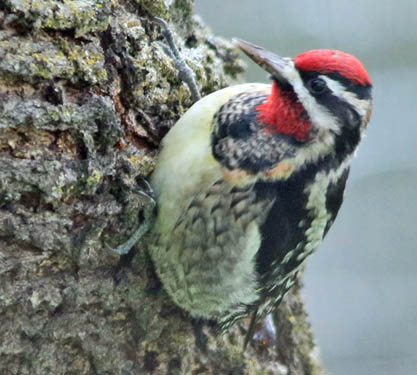 While dirt roads were impassable, Blake Matheson discovered a male Red-naped Sapsucker along paved Shirttail Canyon Road, enroute to Pinnacles NP. The sapsucker lingered to the end of January (right, photo 30 Jan © D. Roberson).
Bald Eagles have been nesting again in MTY for several decades, but an adult over El Estero in Monterey on 16 March was a big surprise (below © Sarah Lane). Bald Eagle remains very rare on the Monterey Peninsula.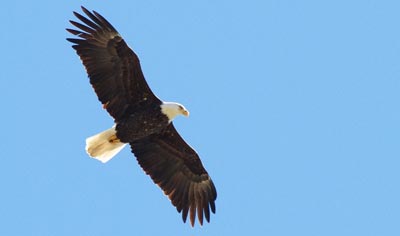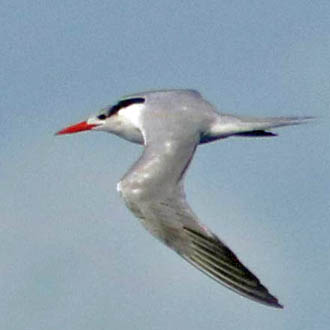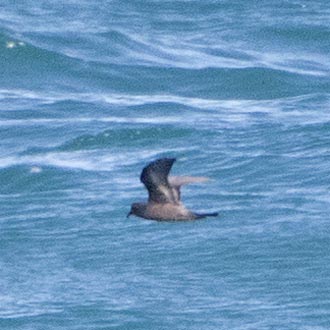 Sea-watching continued to be good from Pt. Pinos in early 2016, especially during strong NW winds. As during the excitement of the MAS Seawatch in 2015 (see those highlights), we continued to find unexpected Royal Terns. Four more were seen from the Point in January, including this one on 31 Jan (far left, © D. Roberson). A few storm-petrels were also seen on 31 January but the real event was during high winds the next day, 1 February. Observers [B.L. Sullivan, Paul Fenwick, Cooper Scollan and others] recorded up to 14 Fork-tailed, 6 white-rumped Leach's, and 8 Ashy Storm-Petrels. These are very impressive numbers from shore, particularly in February. The presence of Ashy Storm-Petrel in winter, such as this one photographed (near left, 1 Feb © Brian L. Sullivan), seems likely due to unprecedented warm El Niño waters in Monterey Bay into winter. That surely accounts for the dark-rumped "Chapman's" Leach's Storm-Petrel seen on 1 Feb (B.L. Sullivan), the first in winter for all of California.
Between storms it was a good winter in Pacific Grove. Almost unprecedented was the discovery of this female Costa's Hummingbird along the P.G. hiking trail near Pico, from at least 3-15 January. It was discovered by Brian Sullivan by its vocalizations but was mostly shy and hard to see in the crowns of live oaks (this nice photo from 3 Jan, above left, is © Paul Fenwick). Although there are a very few prior claims in Pacific Grove in December (mostly males) this is the first female to be documented in January anywhere in MTY. Brian Sullivan has posted recordings of the calls on eBird.
A striking contrast in plumage from the unobtrusive female hummingbird was this gorgeous male Summer Tanager that wintered in Pacific Grove for its third consecutive winter (above right, photo 6 March © Paul Fenwick). Local birders discovered it had a wide ranging route from Asilomar north to the Monarch Grove Sanctuary, often stopping in the same eucalyptus groves and the same back yards in its flights. One favored spot was a dead tree with a bee-hive near the P.G. ballpark, and Paul's photo shows the tanager about to grab one of those bees!
A mild incursion of Evening Grosbeak continued into January (below left, 2 January © D. Roberson). A more widespread movement of Red Crossbill continued throughout the winter, including the Monterey Peninsula, Jacks Peak, and the northern Santa Lucias. This male (below right © D. Roberson) was with a flock of a dozen males and females in Pacific Grove on 27 Feb. As in the incursion of September 2012 (see those highlights), recordings and observations confirmed that the movement was of "type 3", sometimes called "Western Hemlock" Red Crossbills from far to the north of us. Crossbills occur erratically in MTY, but the "usual" incursion is of "type 2", or "Ponderosa Pine" Red Crossbills.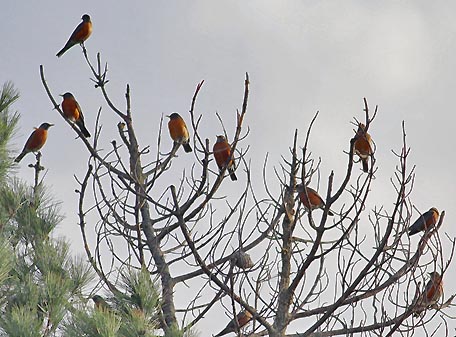 A very impressive night roost of American Robins was studied this winter in Carmel Valley Village (Brian L. Sullivan et al.; photo, left, © Paul Fenwick). Five observers spread out along Holman Road on 7 January and tallied over 90,000 robins coming in to roost the hour and a half before dusk. Even more impressive was an estimated count of over 245,000 leaving the roost within 1.5 hour after dawn on 20 January. Although we've had 'invasion' winters for robins before, no one has ever made careful estimates at roosts before. Robins were widespread this winter but these huge numbers seemed confined to Carmel Valley Village.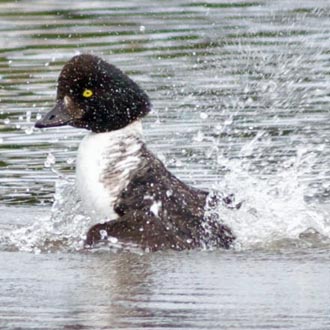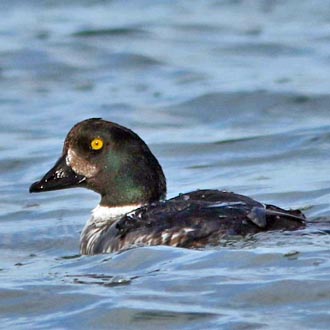 Rarities that lingered from the Monterey Peninsula CBC in late December were successfully chased into early 2016. Included among them were up to 3, maybe even 4, Barrow's Goldeneye off Del Monte Beach, Monterey — a young male and 2-3 females scattered over a 2-mile stretch. The young male was interesting to follow over the winter. When first discovered on the CBC on 27 Dec 2015 (Don Roberson), it had no white patch at all on the left side of its face and was identified by head shape. When it made an appearance on adjacent fresh water at El Estero on 11 Jan 2016, the first spot of white was appearing in front of the eye (far right, © Sarah Lane). By the end of January, when photographed back on salt water just across the street from El Estero, its full crescent was present (near right, 27 Jan © D. Roberson). We've never been able to watch this type of molt in local Barrow's previously
Rarities lingering from Dec 2015 brightened the Moss Landing CBC on 1 Jan 2016 — as they often do — including in the Styer yard in Moss Landing: a White-winged Dove (below left) and an adult Orchard Oriole (below right, both © D. Roberson).
Answer to "Bathing Beauties" collage (near the top, above):
A female Townsend's Warbler is just behind the bird bath dish and next to the photo of Snick Farkas's painting. The remaining birds are then listed clockwise from extreme upper left: Pacific-slope Flycatcher, Warbling Vireo, male Townsend's Warbler. male Black-throated Gray Warbler, male Black-headed Grosbeak, female Hermit Warbler, Pine Siskin, male Western Tanager, Yellow Warbler, Oak Titmouse, and male Rufous Hummingbird.