These highlights chronicle the year 2020. The year runs generally "backwards" on this page.
The abbreviation "MTY" means "Monterey County" in the text below. Text by Don Roberson. Photos on this page are copyrighted by the photographers to whom they are attributed, and may not be reproduced in any form (including other web sites) without the express consent of the photographer.
The 12-story Embassy Suites hotel in Seaside was built in 1995. The words "Embassy Suites" appeared atop all sides of the hotel in large block letters, jutting outwards to form aerial perches that soon were used by Peregrine Falcons. The hotel became well-known in the birding world as a place to spot a Peregrine (Bill Hill took this photo, right, in March 2005 when he got permission to get to the roof and look down on one of the letters). Sometime in the 1990s, hotel management installed a box above the letters atop the south side of the hotel with hopes that Peregrines might nest there, as they had in boxes atop skyscrapers in New York City or on the Golden Gate Bridge in San Francisco.

A problem with those hopes was the fact that the populations of Peregrines that used the Embassy Suites signs were migrants from much farther north or east. These were gray-and-white Peregrines — as shown in Bill Hill's 2005 photo — and they arrived to winter each fall and then departed each spring for their nesting grounds far to the north.

Our local nesting Peregrines tend to be washed below with variable amounts of orange. That population had been in danger of local extirpation. By 1992, Monterey County peregrine populations had been reduced to just 6-9 pairs along the wild Big Sur coast, after almost disappearing completely because of the use of DDT, which created thin eggshells that broke. Only a huge large-scale effort by the Santa Cruz Predatory Bird Research Group and others, who removed fragile eggs from wild nests and replaced them with eggs laid in captivity, saved California peregrines from extinction between 1977-1992 (see more of the story in the Breeding Bird Atlas of Monterey County, Roberson & Tenney, eds., 1993).



By 2012, at least one Peregrine from the local population was summering atop Embassy Suites. By 2016 there was a resident pair throughout both winter and summer. Some courtship activities were noted in spring 2018 and spring 2019, and sometimes one would roost in the box. But it was not until 21 May that Jeff Barnum noted and then photographed 3 recent downy-white fledglings in the box. This is the first confirmed nest near the shores of Monterey Bay. The photos below show (a) a long-distance shot of an adult (left) and the nest box with fledgling, (b) the breeding pair atop the sign; female has prey (both 22 May © D. Roberson); and (c) a close-up of the fledglings (21 Apr © Jeff Barnum).



We don't know the genetics of our 2020 breeding pair, but the larger female looked a fair bit darker than the smaller male. One of them is delivering food to the nest box in this shot (left, 22 May © Rick Parsons).

The downy chicks on 22 May looked to have nothing but white down (3 weeks old?) but in less than a week they had facial feathers (4 weeks old?). Per Birds of North America and our Breeding Bird Atlas, eggs usually hatch about 33 days after they are laid, so that would suggest the eggs in this box were laid in very late March or early April, and might have hatched during the final week of April and perhaps into early May.

Presumably the oldest of the youngsters had clambered to the top of the box and was taking short flights by 1 June (photo left © Bill Hill). According to Birds of North America, fully feathered chicks may begin to flap wings, clamber about, or even take short flights at 40 days.

The standard texts say that most chicks fledge at about 35-45 days old, so if all goes well, this might be anticipated in early June. Fledglings are then attended by their parents for another six weeks.

The nearest breeding pair of Peregrines is at Pt. Lobos, where young have been fledged several times in the last decade. The actual nesting site is not known. It could be on the ocean side of islets just off Pt. Lobos.
Perhaps the best spring migrant so far has been this striking male Baltimore Oriole in a yard near Carmel Highlands on 7 May (right © Karen Kreiger).

At months end on 30-31 May 2020, an Eastern Phoebe appeared at Hastings Natural History Reservation in upper Carmel Valley (photo below, taken 31 May © Russell Winter). Most Eastern Phoebes in California are rare vagrants in fall and winter, with perhaps just a dozen late May or June records in all of northern California. In MTY, we previously had only a smattering of fall-winter phoebes, some of which returned for multiple winters. This is our first ever spring record that was later than March.

A wintering White-throated Sparrow at a feeder in Aromas stayed to at least 17 May (photo below right, taken 15 Apr © R.J. Adams). The previous late date for a known wintering bird was 11 May 1999 in King City, so that is another new record set.
This Hammond's Flycatcher was on Skyline Forest, Monterey, 23 April (above left, © Carole Rose). Our few Hammond's are usually inland as spring migrants, so this Peninsula record was quite unusual. Almost inexplicable was an adult "Gray-headed" Dark-eyed Junco on the MTY side of the Pajaro River on 25 Apr (above right, © Terence Degan). It was just the 7th record for MTY and by far the latest in spring by over a month!

A Tropical Kingbird at Laguna Grande Park, Seaside, that arrived 4 Dec 2019, was last seen 29 Apr (Juan Govea & Jean-Luc Cardenas; photo left, taken 1 Apr © Terence Degan). The only wintering Tropical Kingbird to remain later was on 13 May 1967 in Pacific Grove (Ted Chandik, Dave DeSante).

Our wintering adult male Summer Tanager survived for its seventh winter in Pacific Grove. Its full date span this winter was 6 Dec 2019-19 Apr 2020.
Of great local interest was the unprecedented occurrences of spectacular male Calliope and Black-chinned Hummingbirds in northwestern MTY. At least 13 Calliope Hummingbirds were scattered from Carmel Valley Village and northwest, including males at Pt. Lobos, four in Pacific Grove, and north to Elkhorn Slough and Zmudowski SB, during the period 2-19 April. Likewise, about 10 Black-chinned Hummingbirds were in Carmel Valley Village, and north and west to Pacific Grove and Elkhorn Slough, between 1-29 April. Black-chins breed in southern MTY but Calliopes are scarce spring migrants, usually confined to the Santa Lucia Mt. foothills. Almost all of these beauties were photographed, including these four (counter-clockwise from top right): Calliopes on 16 Apr Carmel Valley Village (© Paul Fenwick), 9 Apr Washington Park, Pacific Grove (© Terence Degan), 16 Apr Washington Park, P.G. (probably different male; © Jeff Barnum), and Black-chinned on 15 Apr Washington Park, P.G. (© Don Roberson):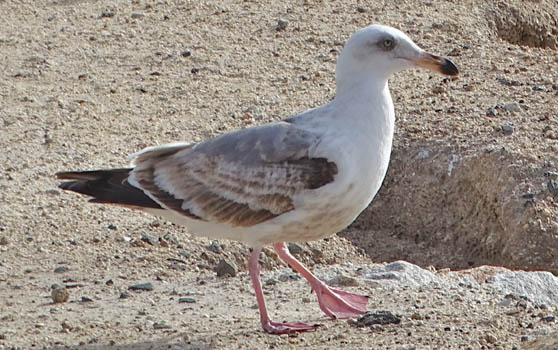 The one really great gull this half-year was a second-cycle Slaty-backed Gull at Pt. Pinos on 27 March (B.T. Matheson) and again 15 April (photo right, © Mark Kudrav).
As this page is running backwards in time, all the birds to this point down the page occurred during the Covid-19 Pandemic. California went into a State lockdown and "shelter in place" that began on 20 March.
The lockdown evolved over time, until most every one, including birders, looked like bandits and were standing miles apart (below)

Before the Pandemic, California was a different place. People would attend gatherings. Mobs of birders would crowd together on a pelagic trip or at rarities. Hard to believe. It was during that era when these two seabirds were of interest: a first-year Short-tailed Albatross on a Monterey Bay Whalewatch boat on 28 Feb (below left, photo © Scottie Schmidt & Monterey Bay Seabirds), and a young Brown Booby that often roosted on the Coast Guard pier at Monterey Harbor, and was seen at sea during pelagic trips or in flight passing Pt. Pinos from January to at least 18 March (below right; digiscoped at Monterey Harbor 26 Jan © D. Roberson).
The year 2020 began with an exciting bird: a first-winer male Scissor-tailed Flycatcher at the Rancho Cañada unit of Palo Corona Regional Park in lower Carmel Valley. It was discovered by Rita Carratello on 29 Dec 2019, and soon documented by Don Roberson and Joan Tisdale at the pond there, and stayed until 6 Jan 2020. It was seen by at least the 49 birders who entered checklists in eBird. The photo is from 2020 (below, 2 Jan © D. Roberson).