These highlights chronicle the year 2019. The year runs generally "backwards" on this page. Unlike earlier years, this update includes fewer highlights over a longer period. The abbreviation "MTY" means "Monterey County" in the text below. Text by Don Roberson. Photos on this page are copyrighted by the photographers to whom they are attributed, and may not be reproduced in any form (including other web sites) without the express consent of the photographer.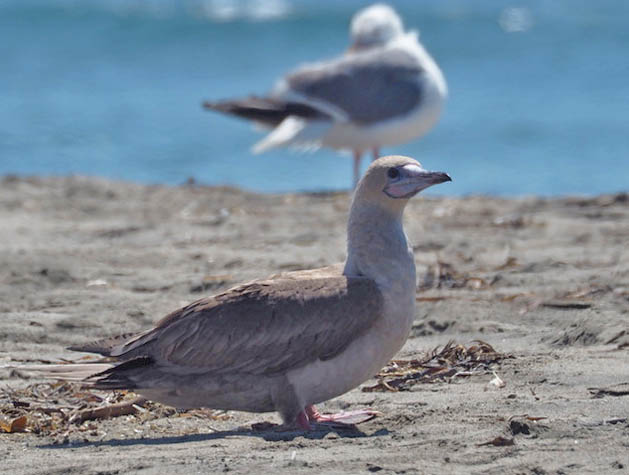 Last year (2018), MTY had its first Red-footed Boobies since the fall of 1987, at a time when an unprecedented incursion to central and southern California occurred. Starting last summer, four more Red-foots were added to the MTY total, both dead and alive, as set out in the summer 2018 highlights and the fall 2018 highlights.
As detailed in those fall highlights, yet another Red-footed Booby started roosting at Seacliff SB, Santa Cruz Co., beginning on 1 Nov 2018 and continuing to mid-January 2019, when it disappeared. After a several month delay, that same booby returned to Seacliff SB, beginning on 28 May 2019 and continuing off-and-on to mid-August, with an occasional appearance at other State Parks around Santa Cruz. We presume it was this same Red-footed Booby that James Maughn found sitting on Zmudowski State Beach on 20 August (photo left, © James Maughn). Alas, it was shortly thereafter flushed by an off-leash dog and flew north, back into SCZ.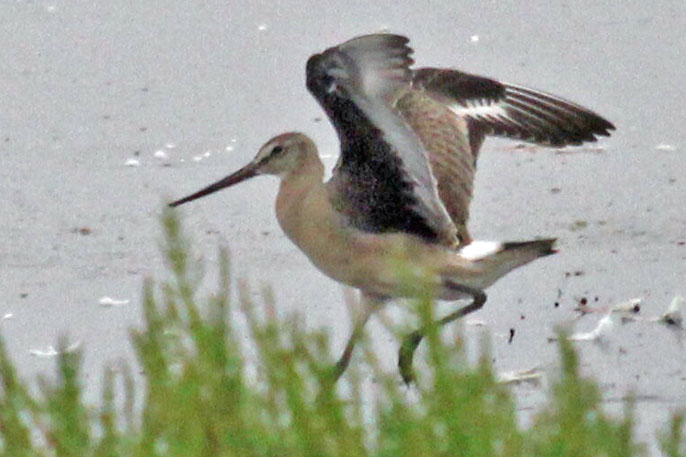 Shorebird migration started with some real excitement on 1 August. Rita Carratello, leading her adult education bird class, discovered this juvenal-plumaged Hudsonian Godwit at the shallow pond at the Salinas River NWR. It remained to 7 August, the photos here are from 2 Aug (right, © Rita Carratello) and 7 Aug (below, © Don Roberson).
Hudsonian Godwit is a CBRC review species, and their most recent postings suggest this is the 51st record for the State of California. It is the earliest juvenal-plumaged Hudsonian ever in California (how fast can you say "global warming"?
It is just the 3d record for MTY. The CBRC considers one at Carmel River mouth on 28 Aug 1988 to be the same bird that settled in at Salinas River mouth a few days later and remained to 3 Oct 1988. The second record was at the Salinas WTP from 8-20 Sep 2007.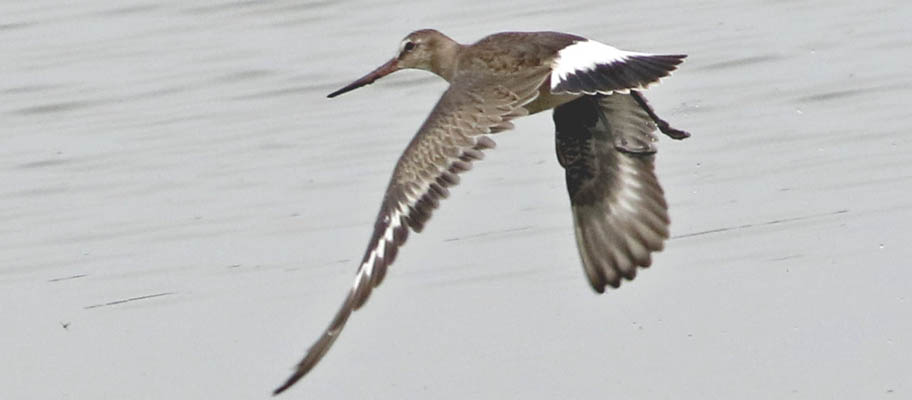 We had two scarce terns visit MTY over the summer months. Three of them were Black Tern: an adult in breeding plumage on 1-2 June at Zmudowski, a juv at Salinas R. NWR on 6 Aug (above right, photo © Lee-Hong Chang, courtesy of Earl Lebow), and a juv over Estrada Marsh, next to Elkhorn Slough, on 11-13 August. A handful visit MTY during this date span annually, but one has to be at the right place at the right time. The other species was Least Tern. An adult was Zmudowski State Beach pond from 18-19 Aug (photo above left, from 18 Aug, © Paul Fenwick). Note that Paul's nice photo shows this adult to be banded on its right leg.
There has been a colony of breeding California Least Tern in San Francisco Bay. This west coast breeder, the subspecies called "California Least Tern" and formally known as Sterna antillarum browni, is an endangered species. Least Terns have been nesting on a runway at the old Alameda Naval Air Station since the 1970s. The Air Station was decommissioned in 1994 and the tern colony continued to increase. It received formal protection in 2012. Since 2002, the Alameda colony has become one of the most important California Least Tern breeding sites in the world. It has consistently produced more fledglings than other colonies four or five times its size in Southern California because the unique features of the runway and lack of human disturbance make the site more manageable. In many years it has 300 or more pairs nesting. The Alameda colony is the anchor for the Northern California population of California Least Terns and has been seeding other, smaller colonies in the Bay Area (info from Golden Gate Audubon). California Least Terns winter in Central America. Therefore, we believe the entire colony migrates to and from Alameda via the coast of MTY. Yet the overall numbers are so small, and their journey so determined, that they don't linger long here and a birder is quite lucky to see even one a year in our county dring spring or fall migration. Presumably the band on this year's Zmudowski bird was placed by researchers at Alameda when it was a nestling there.
The second half of 2019 started with Michael Rieser's discovery of a singing Red-eyed Vireo near the Carmel River mouth on 7 July. Michael recorded the song but initially the vireo could not be seen in thick riparian woods with a heavy understory of poison oak. In subsequent days, though, Michael refound it and obtained photos, as did others. The photo above highlights the bright red eye of this adult (photo 10 July © Carole Rose), and the photo right shows the bird in full song (photo 11 July © Bill Hill). It was still present to at least 20 July.
Red-eyed Vireo is an eastern vagrant to California — and always rare here — but there are several prior records of these vireos attempting to summer locally. There were July records along the Big Sur or Carmel Rivers in 1993, 1994, 1997, and 2000, and birds in mid-August in 2004 and 2012. It is possible that all of these individuals were attempting to summer locally. Summer vireos are quite unexpected; most of our Red-eyed Vireos are vagrants in spring or fall migration.