The five subspecies** in the Thick-billed Fox Sparrow group breed mostly within California. This map from Grinnell & Miller (1944) illustrates the approximate ranges of these five subspecies [races indicated by purple stars in the legend and breeding west or south of the purple line on the map] as well as the approximate breeding ranges of the one subspecies within the Slate-colored group that nests in California [east of the purple line; indicated by green stars in the legend]. Small details of this map may be slightly different now, but the overall picture is reasonably accurate.
I've indicated by orange arrows or stars four locales, dealing with 3 different subspecies, that will be discussed on this page.
** Note: few authorities agree on the specific subspecies within each group. I mostly follow Weckstein et al. (2002) but there are problems. Although Weckstein et al. (2002) lists mariposae among the Thick-billed races, but they note that both Zink (1986) and Rising (1996) synonymized it with megarhyncha, so they really don't really recognize it at all.
Weckstein et al. (2002) does recognize fulva (breeds e. Oregon/Warner Mts. CA) and monoensis (breeds eastern Sierra in Alpine & Mono counties, and in Mineral Co., NV, as Thick-billed subspecies, but Zink (1986), Pyle (1987), and Unitt (2002) merge both into megarhyncha. Rising (1996) does not. Rising (1986) and Weckstein et al. (2002) note that both monoensis and fulva have bills that are intermediate in size between the primary Thick-billed populations and the smaller-billed birds in the Slate-colored group. Thus the populations in the Warner Mts and on the east flank of the Sierra in Alpine & Mono counties are a bit mysterious and remain little known and taxonomically controversial.
The identification of most Thick-billed Fox Sparrow is well illustrated with the bird shown below [P. [m.] brevicauda; photo 18 June 2006 near Plaskett Meadow, Glenn Co. © D. Roberson]. It has a huge bill, both thick and deep, and the color of the lower mandible is gray or olivey-gray (not bright yellow-orange). The face is very plain. The back head and back are grayish, and contrast with rusty-red tail and wings. The underparts are rather lightly spotted for a Fox Sparrow. And the call is a loud chink!, recalling California Towhee (Garrett et al. 2000).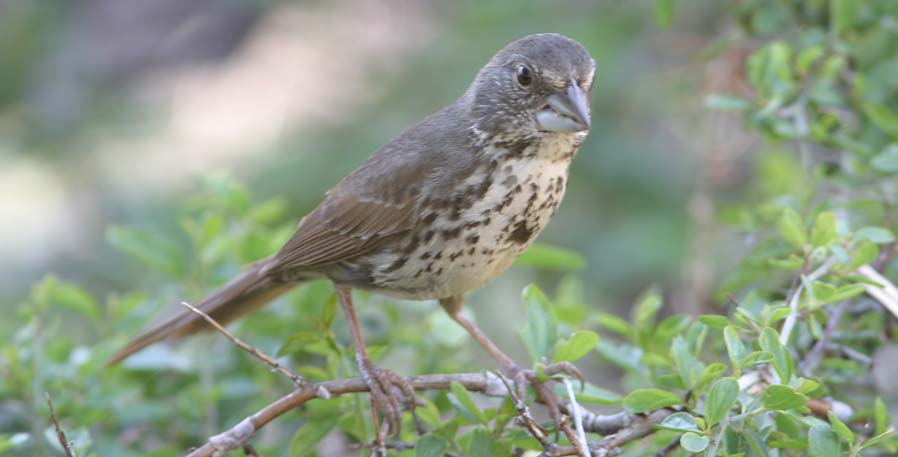 Three subspecies that breed west of the Sierran divide are shown in this photo grid, and key to the numbers of the map:

P. [m.] brevicauda (above), which breeds from Yollo Bolla Mts., Trinity Co., south to Snow Mt., Colusa Co. Photo 18 June 2006 near Plaskett Meadow, Glenn Co. [© D. Roberson]
P. [m.] megarhyncha (above right), which breeds from sw. Oregon through the Siskiyous and s. Cascades, and down the western flank of Sierra Nevada to near Kearsarge Pass, Fresno Co. Photo 25 June 2009 at Yuba Pass, Sierra Co. [© Tom Grey]
P. [m.] stephensi (right), which breeds on western flank of Sierra Nevada from Hume Meadow, Fresno Co. through Tulare Co., and then at high elevation on Mt. Pinos, through the San Gabriel Mts., San Bernardino Mts., and San Jacinto Mts. to n. Baja California. Photo 12 May 2002 near Grant Grove, Kings Canyon NP, Tulare Co. [© D. Roberson]

Not shown are P. [m.] fulva, which nests in e. Oregon & Warner Mts., CA, and P. [m.] monoensis, which nests along the eastern flank of the Sierra Nevada from Woodfords, Alpine Co., to Mammoth and Benton, Mono Co.



As you can see, these three primary subspecies are rather similar. Each has a big gray bill, plain gray head and back, and rusty wings and tail. Unitt (2002) provided evidence that brevicauda and stephensi have the biggest bills (and synonymized them; more on that below), but megarhyncha is still very big-billed. It is apparently the races monoensis and fulva that have bills intermediate in size between the Thick-billed and Slate-colored groups, and may represent intergrade populations [the race canescens in the White Mountains, sometimes synonymized with schistacea in the Slate-colored group, is also said to be a bit intermediate; Rising (1996)]. There are still some areas that are unsettled. Birds in Onion Valley, Inyo Co., for example, are near Kearsarge Pass (said to be megarhyncha; Weckstein et al. 2002) but I've been told that they are actually stephensi (T. Heindel, pers. com.).

In Monterey County there are at least four specimens that have been assigned to the Thick-billed group, including this one (left) at Museum of Vertebrate Zoology, taken at 2700' elevation at the head of Turner Creek on 15 Sep 1934. It shows the big bill, gray back and red tail so typical of Thick-billed Fox Sparrows. Alden H. Miller assigned it to race brevicauda. Another similar specimen was collected on 15 Oct 1940 in Carmel Valley.
Thick-billed Fox Sparrows are notoriously early migrants (Garrett et al. 2000), so the Sep-Oct dates for MTY records — earlier than the arrival of the bulk of our Sooty Fox Sparrows — is consistent with known migratory patterns. No Fox Sparrow is known to move north in winter, so assignment to brevicauda from northwestern California also makes geographic sense.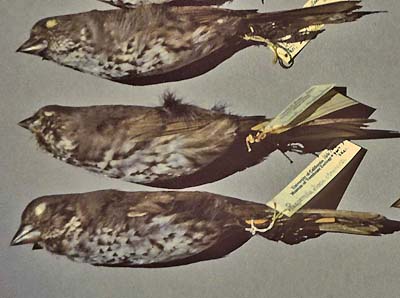 There are two other specimens at MVZ, labeled "megarhyncha" and collected in late December, which suggests the birds were wintering. One is from Seaside, the other from Monterey. The latter specimen, collected 19 Dec 1940, is the middle one at right, between the MTY brevicauda specimen (above it) and a stephensi specimen (below it). Maybe it is just me, but the bill of that middle specimen just looks way too small to be megarhyncha, although the rest of the plumage seems okay. In general, it looks more like a schistacea Slate-colored Fox Sparrow to me in this photo.
These specimens have not been reviewed in detail in person; I took this photo years ago to use as a study tool. But I do think that the two specimens attributed to Monterey County in winter, and labeled megarhyncha, need further review.

Most intriguing is a record of a singing Fox Sparrow, atop Junipero Serra Peak (above; photo 1 May 2004 © D. Roberson), found by Chris Tenney on 20 June 1989 during the Breeding Bird Atlas project (Roberson & Tenney 1993). This location is shown on the map above and labeled #4. At this elevation — above 5000' — the habitat is not dissimilar to stephensi Fox Sparrow breeding habitat on Mt. Pinos. It is possible that Fox Sparrows may attempt to breed in Monterey County occasionally, and if they do, we suspect they would be stephensi Thick-billed Fox Sparrows.
Opinionated commentary
: Unitt (2004) lumps brevicauda into stephensi on the grounds that he could not diagnose specimens. P. i. brevicauda is said to be a bit browner and shorter-tailed the stephensi, but Unitt states that specimens change color in museums, so the color tone is not useful, and that tails are too ragged in summer to accurately measure them. These statements may be true enough, but I don't see how anyone can logically merge brevicauda from nw. California into stephensi of s. California, and leave megarhyncha, which covers most of the range between them, as a different subspecies, but Unitt (2004) does just that. No one has done the DNA analysis, but just looking at the map it seems apparent to me that brevicauda and stephensi are not each other's closest relatives; stephensi merges into megarhyncha in the southern Sierra, and seems surely more closely related to it than to the isolated Fox Sparrow populations in extreme northwest California. Under any semblance of taxonomic rules, the choices are to split the three groups or merge them all, but the one thing that is not possible is to merge brevicauda and stephensi and leave megarhyncha as a different taxa.
Photos: All photos © Don Roberson, except as otherwise indicated; all rights reserved.
Literature cited:
Garrett, K.L., J.L. Dunn, and R. Righter. 2000. Call note and winter distribution in the Fox Sparrow complex. Birding 32: 412-417.
Grinnell, J., and A.H. Miller. 1944. The distribution of the birds of California. Pac. Coast Avifauna 27.
Pyle, P., S.N.G. Howell, R.P. Yunick, M. Gustafson, and D. DeSante. 1997. Identification Guide to North American Passerines. Slate Creek Press, Bolinas CA.
Rising, J.D. 1996. A Guide to the Identification and Natural History of the Sparrows of the United States and Canada. Academic Press, New York.
Roberson, D. 2002. Monterey Birds, 2d ed. Monterey Pen. Audubon Soc., Carmel, CA.
Roberson, D., and C. Tenney. 1993. Atlas of the Breeding Birds of Monterey County, California. Monterey Pen. Audubon Soc., Carmel.
Unitt, P. 2004. San Diego County Bird Atlas. San Diego Nat. Hist. Mus., San Diego.
Weckstein, J.D., D.E. Kroodsma, and R.C. Faucett. 2002. Fox Sparrow (Passerella iliaca) in The Birds of North America, No. 715 (A. Poole & F. Gill, eds.). The Birds of North America, Inc., Philadelphia, PA.
Zink, R.M. 1986. Patterns and evolutionary significance of geographic variation in the schistacea group of the Fox Sparrow (Passerella iliaca). Ornithol. Monogr. no. 40.