In June 2007 Rita and I, along with our friends Marylee Bomboy & John Van de Graaff, visited Machias Seal Island — a famed seabird colony off the coast of Maine. We reserved spots with Captain Andrew Patterson's boat out of Cutler, Maine, long in advance. There are only a limited number of permits to land on Machias Seal Island — indeed, during my prior visit in 1981 the boat just circled the island — so we wanted to assure a spot on a day when landing was permitted [one cannot predict the weather six months in advance, so nothing is guaranteed; a fair number of trips with permits still cannot land due to weather]. We elected to stay at Little River Inn, a bed & breakfast hotel with a view of the harbor (above), and within walking distance of the boat launch.
As one leaves the Cutler harbor, you pass the lighthouse (below left; now deactivated but a potential bed & breakfast opportunity) and such birds as Common Eider (below right).

Machias Seal Island is ten miles offshore in the vast Atlantic. Much of the ocean on the way out was birdless, but one could tell the island was near when Atlantic Puffins (above) began passing our ship.
Finally the headlands of the island are reached (below left, with a colony of Common Murre). It is no easy feat to land. Rather, one is transferred to small skiff and rowed ashore, landing on the rock among slippery kelp with the assistance of well-anchored rope railings.
Finally, our entire boatload is ashore on this carefully managed wildlife refuge. Although the United States and Canada dispute ownership, it is the Canadian Wildlife Service than operates the refuge with scientists from both nations.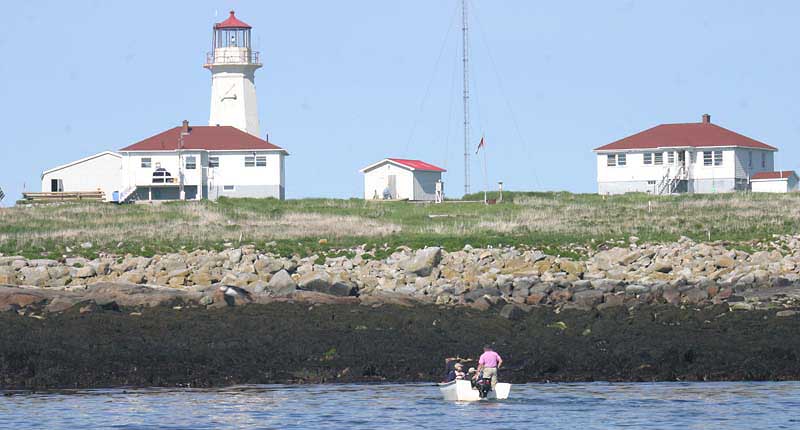 The alcids are suddenly all around, zipping by the lighthouse or sun-bathing on the rocks (above). Despite their seeming tameness, though, they are sensitive to humans coming too close and will scatter upon approach. Therefore, visitors are restricted to central research centre when not engaged in viewing or photography from one of four designated blinds. It is the views from those blinds that are spectacular. One can watch the birds arriving and departing, scuttling into breeding burrows under the rocks, engaging in preening or courtship — and all with a backdrop of the sea and (in lower right) a view of the murre colony in the distance.