MONTEREY BAY BALEEN WHALES I: Blue, Fin, Sei, and Minke whales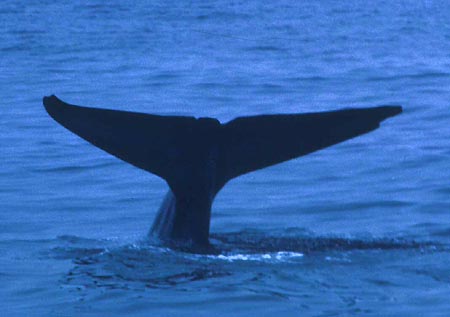 "Thar she blows!" There is nothing quite like that shout to wake up a boatload of nodding sea-goers. In Monterey Bay in late summer and early fall, that blow is often a Blue Whale Balaenoptera musculus. The largest mammal ever to exist on earth, large Blue Whales can run up to a hundred feet in length (although the average is about 80-90 feet long). Their spout is powerful and can be seen for miles. Although still endangered world-wide, here in Monterey Bay there is a regular summer and fall passage that brings these huge mammals close to shore, and, given decent weather, one can almost be guaranteed an observation from a whale-watching trip. A fine experience may begin with the blow on the horizon (above) and end with close views of a tail fluke of a shallow diving giant (right).

The Blue Whale, like all the other whales discussed on this page, is a baleen whale with a dorsal fin (a second page, linked at the bottom, discusses the two local baleens without dorsal fins ? Humpback and Gray). Baleen whales have many strands of baleen instead of teeth which they use to strain out tons of plankton from sea water. Expandable grooves on the throat allow them to take in huge amounts of water to be processed. The largest of these baleen whales — the Blue, Fin, and Sei — are collectively known as roquals.

All the roquals on this page have proportionately small dorsal fins (another roqual — Humpback Whale — has only a dorsal bump). The the tiniest dorsal fin belong to the Blue Whale. It is set 3/4 of the way back along the body. When a Blue Whale is surfacing, it often seems like the back just keeps going and going and going and going until the tiny fin finally appears.

| | |
| --- | --- |
| | At close distances, one can see the huge double blowholes near the tip of the snout (left). The snout of Blue Whale is broad and rounded, unlike the more pointed snouts of Fin and Sei Whales. |
| | |
| --- | --- |
| Blue Whales really are a blue-gray color, but lighting can effect how they look. Compare one photographed on a bright sunny day (above) with one on an overcast day (right). The body is mottled with lighter patches among the gun-blue color. | |

While Blue Whales are regular in Monterey Bay, the slightly smaller Fin Whale Balaenoptera physalus (left) is erratic in very small numbers. There are other places on earth (e.g., off eastern Canada) where Fin Whale is the expected roqual, but not here. They can be large whales — averaging 60-65 feet in length — but are more streamlined with a pointed snout and less powerful blow. The recurved dorsal fin is much more prominent that on Blue Whale, and the entire whale is usually quite slaty-gray in color; they often look black at a distance. I once was aboard a boat that found a Fin Whale feeding in Monterey Bay. It would sink below the surface below a patch of plankton, blow a circular "net" of bubbles around them to hold them in place, and then come charging up to the surface, mouth agape, to take in as many as possible. Very impressive!
| | |
| --- | --- |
| As this Fin Whale (right) arches up to dive, note how blackish the body color is, and note the relative proportions of the dorsal fin. This angle precludes estimating the angle of the dorsal fin, but in the photo of the same whale (above) note that the angle of the fin is less than 45° from the body. | |
| Compare the body color and dorsal fin proportions of the Sei Whale Balaenoptera borealis (right). It is slightly smaller than Fin Whale, and averages about 45-50 feet in length. It has a slightly larger and often more upright dorsal fin (making a 45° angle or more with back), and its body color tends to run to the brownish side of gray. It is by far the rarest roqual locally and tends to be found farther offshore. In 30 years of sea-birding on Monterey Bay, I have only seen 2 Sei Whales (and one more off Morro Bay). My observations are between October-February. | |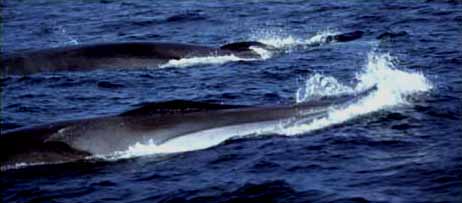 Separating Fin Whale from Sei Whale can be difficult unless one gets a good view of the right jaw. Both species have white to the lower jaw but on Fin Whale that white expands to include the entire lower jaw and part of the upper jaw, making an obvious white patch on the right side of the face as the whale surfaces. This is seen very nicely in Richard Ternullo's fine shot of two Fin Whales (left). It is important to get the view of the whale emerging, as the white patch is soon lost below the surface after the blow is completed (note the back whale in Richard's shot). On the Sei Whale (above) that Richard and I identified in October 2002, we could see no white on the right side of the jaw when Richard positioned the boat to give us those critical views.


The smallest of the baleen whales is the Minke Whale Balaenoptera acutorostrata. It is quite small — only 21-28 feet in length — and surfaces only briefly (right, in a video cap in Aug 2000 by Vladimir Dinets). It often hugs the shoreline; Pt. Pinos is a particularly good spot to see one, especially in summer and fall. Minke Whale is a fast-moving roqual and surfaces only briefly — the light blow and dorsal fin are seen simultaneously. Note that its dorsal fin is much larger in proportion to its size than in the large roquals. Minke Whale — like the other species on this page — are found in temperate and tropical oceans around the world.


PHOTOS: All photos on this page are © 2002 Don Roberson, and were taken over the last 20 years, except the Fin Whale duo © Richard Ternullo (he took that photo in late 1997) and the Minke Whale video-cap by Vladimir Dinets. All photos are from Monterey Bay or offshore Monterey County.

MORE INFORMATION: More details about Monterey Bay's large whales is on the Monterey Bay Whale Watch site. Vladirmir Dinets' web site also has more information on worldwide whales.

Click on the links below to bring up the photo-intensive pages which feature:


BACK TO HOME PAGE

Page created 2-13 Nov 2002