Over the years Congress has elevated at least 30 National Monuments to National Park status, has divided one National Park into two National Parks, and has designated other Federal lands a National Park [for example, Theodore Roosevelt National Memorial Park, a unique park unit designated in 1947, became a National Park in 1978]. At least 23 of these were after the lapse of more than 9 years — and for the majority a lapse of 30 to 50 years — and it is the best of these that I celebrate here. Below are my choices for the "top ten" National Monuments (or other protected units) that became National Parks after the passage of many years (at least 9 years or more). In short, these were established National Monuments or other protected areas that were elevated to National Parks by Congress because of their enduring significance. One of these — Arches National Park, established as a National Monument in 1929 but elevated to a National Park in 1971 — was chosen straight out as among my favorite ten National Parks — my top category —so it is not included here.
1

Death Valley NP

California / Nevada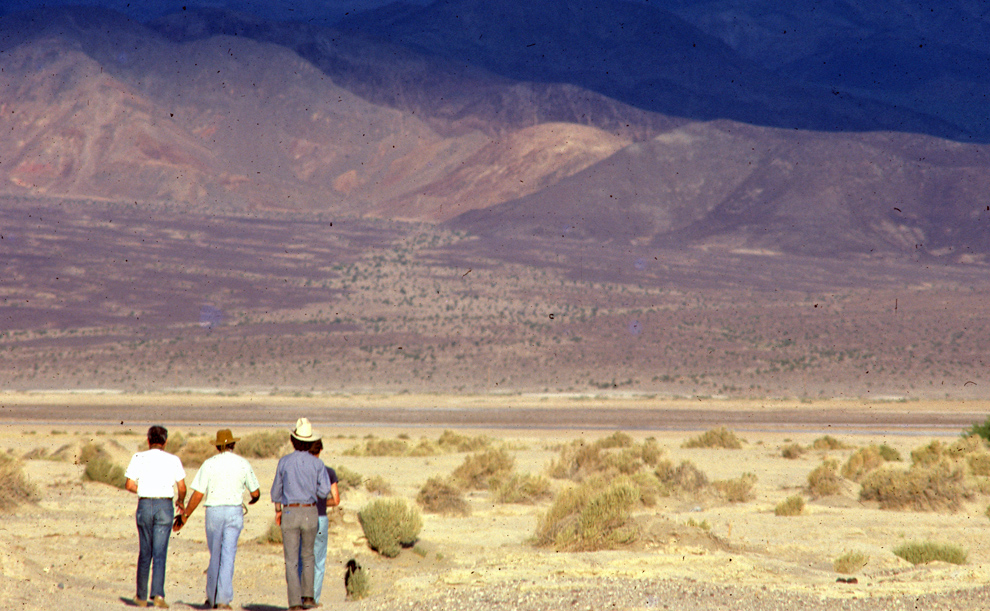 Death Valley is the lowest and hottest spot in North America. I've mostly known it as a National Monument, when my visits focused on vagrant birds in spring and fall migrations in the 1970s & 1980s (above). It is a huge and desolate land, yet full of color (below; Artist's Drive). Very occasionally the 'right' pattern of rain will produce an abundance of spring wildflowers, as in spring 2005 (left and right; a Black-throated Sparrow set against a backdrop of orange-flowering firebush).

Created as a National Monument in 1933, it became a National Park in 1994. I've been to almost every corner in search of birds — remote springs, a meteor crater, isolated mesquite patches, and the eccentric Scotty's Castle.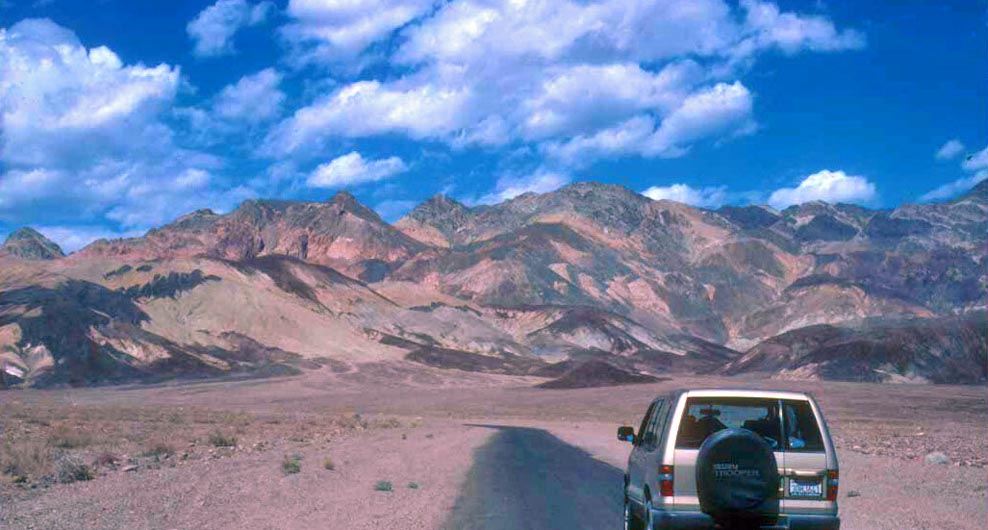 2

Lassen Volcanic NP

California

Lassen Peak Forest Reserve was designated in 1905 but in 1907 Congress created Lassen Peak and Cinder Cone National Monuments. In 1914, Mt. Lassen began a series of eruptions that peaked in 1915. All lands were merged into an expanded Lassen Volcanic NP in 1916 (right).

Today, Lassen is a sleeping volcano, appearing benign when reflected in Reflection Lake (left) or calm at lovely Manzanita Lake (above). In winter the highlands are covered with snow until the parasitic Snow Plant (Sarcodes sanguinea, below) emerges in spring. Yet traces of the underground turmoil exist in sulphuric geothermal sites, such as Bumpass Hell, with bubbling mud pots and steaming fumaroles.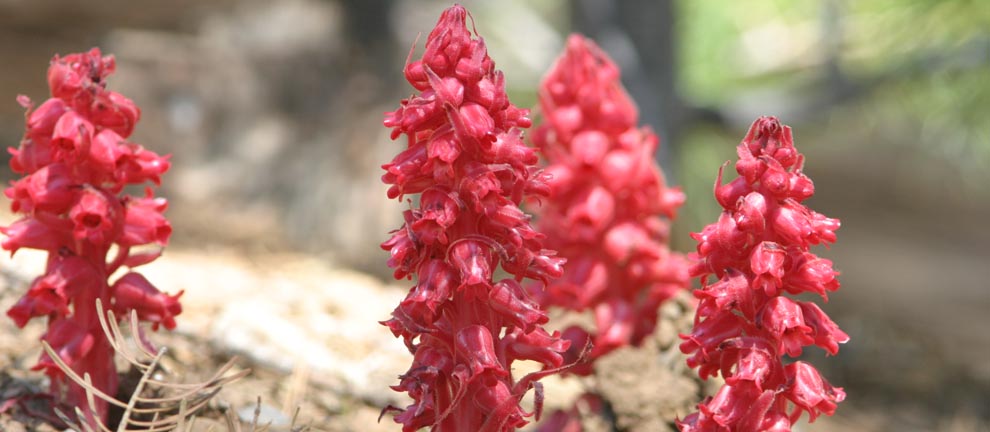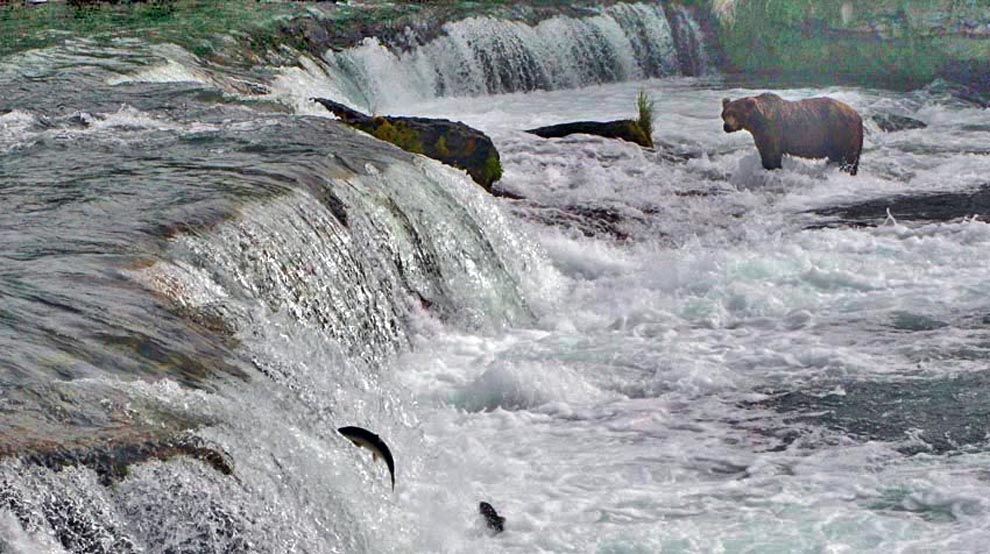 Katmai is known for its Brown Bears during the salmon run at Brooks Falls(above). This happens for just 6 weeks in mid-summer but the experience is superb.

The only access is by float plane to a rustic lodge, and then a hike through the woods (below). Visitors eat fresh salmon, just like the bears, in this boreal forest wilderness.

Katmai, designated a National Monument in 1933, became a National Park in 1994.


Haleakala is the dormant volcano that dominates the eastern end of Maui. It last erupted 400-500 years ago, creating a giant crater 7 miles wide (above). One can drive to the lip of the crater at 10,000' elev. to watch the sunrise or, later, to view the swirling clouds and fog. Endemic silverswords (left) may live for 90 years, but flower only once.

The clouds that cover the mountain most days created a thick rain forest on the windward side (below) that is the habitat of some of the world's most endangered birds, including the Maui Parrotbill and the 'A'kohekohe (aka crested honeycreeper, right). These are very elusive; it took me multiple tries, with permits and guides scattered over 26 years, to find those species.

Haleakala was initially included within Hawaii Volcanoes NP in 1916 but became a separate National Park in 1961.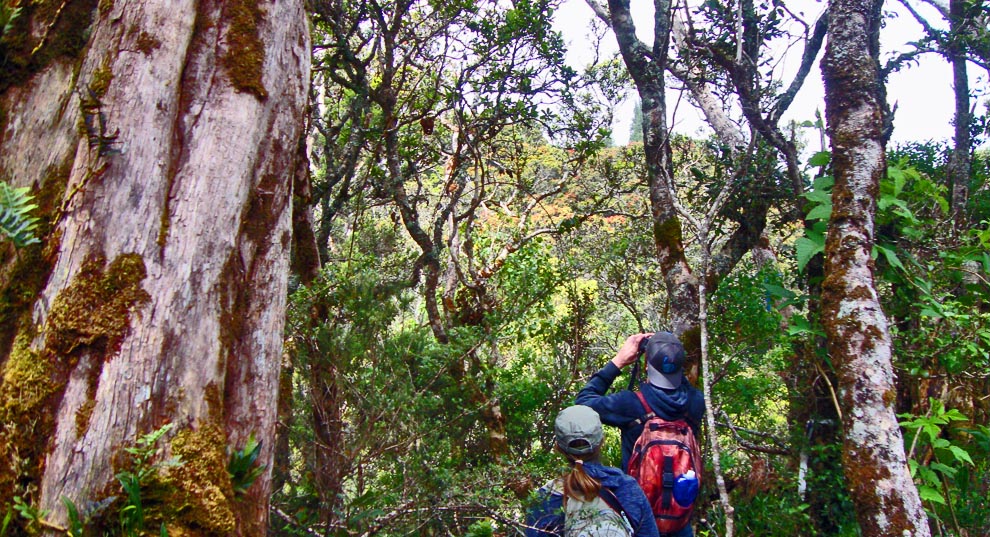 5

Dry Tortugas NP

Florida

Dry Tortugas NP lies 70 miles west of Key West, Florida. The park is mostly open water with seven small islands, accessible only by boat or seaplane. The well-preserved 19th century Fort Jefferson (above and below), notable for its history and its attraction to migrants birds, is the centerpiece. Islets offshore host breeding colonies of terns that sometimes attract a vagrant Black Noddy (right).

Underwater coral reefs swarm with fish (left, Schoolmaster Grunt). The shallow warm waters are good for snorkeling, and one sees rays and sea-turtles from the float plane enroute to the park.

Fort Jefferson was designated a National Monument in 1933, and became part of Dry Tortugas National Park in 1994.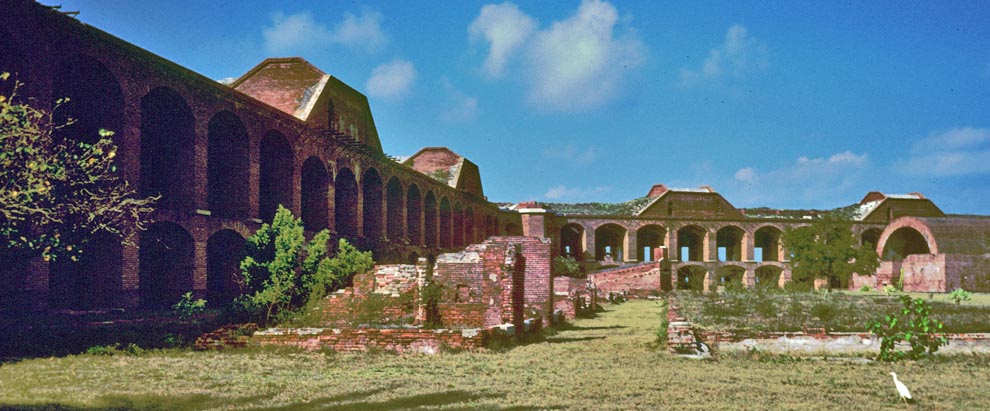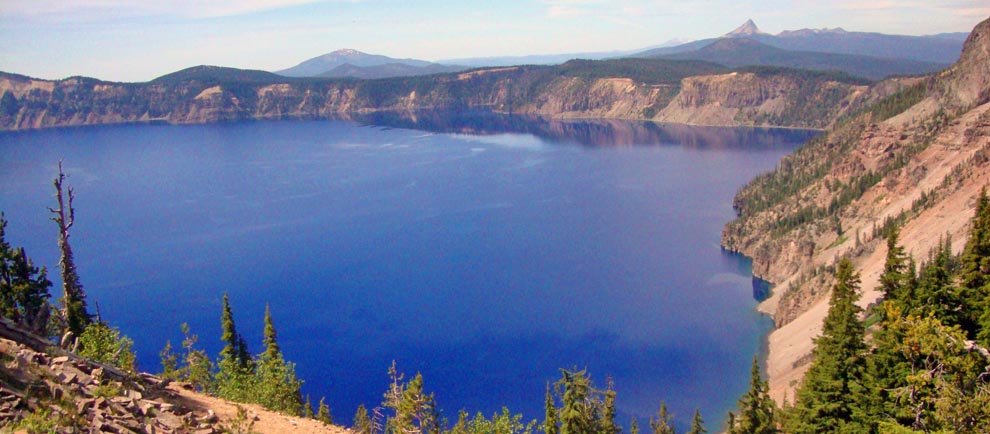 Crater Lake (above) exits within the caldera of ancient Mt. Mazama, which erupted 7,700 years ago. It filled with snow-melt and rain over eons creating a deep blue lake whose waters are unmatched in color and clarity. At 1,943 feet deep, it is the deepest lake in the U.S. (9th deepest in the world).

After a 1885 visit, William Gladstone Steel sought to protect Crater Lake. Initial protection came in 1893within Cascade Forest Range (Presidency of Grover Cleveland) but Steel continued to lobby. In 1902, 9 years later, Congress created Crater Lake NP.

Two islands in the lake are Wizard I. (below), a cinder cone that erupted 7300 years ago, and a chunk of erosion-resistant lava called Phantom Ship (left). On the slopes of Mt. Mazama, strange volcanic spires ("pinnacles") point skyward (right).

7

Pinnacles NP

California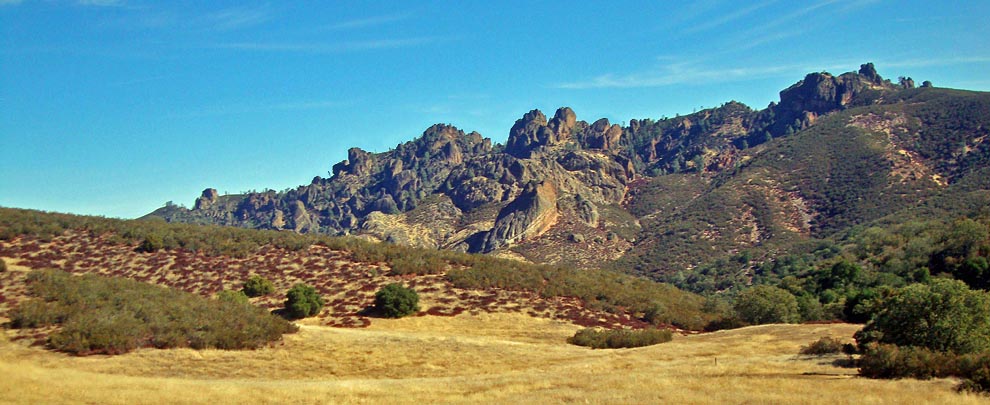 Pinnacles, designated a National Monument in 1908, became a National Park in 2013. It took 108 years for this NPS unit to become a National Park, and I've known it as a National Monument most of my life.

The Park exists to protect and celebrate the unique Pinnacles rock formations, part of an ancient volcano, that straddle the San Andreas Fault (above). Trails bring visitors to the high county (such as the Balconies, below) where there is a chance to see the reintroduced California Condor (above left). Jumbles of rocks on the west side have created caves used as roosting spots for a variety of bats (including the threatened Townsend's Big-eared Bat, right). In spring, colorful California Poppies brighten the chaparral and oak woodland habitat.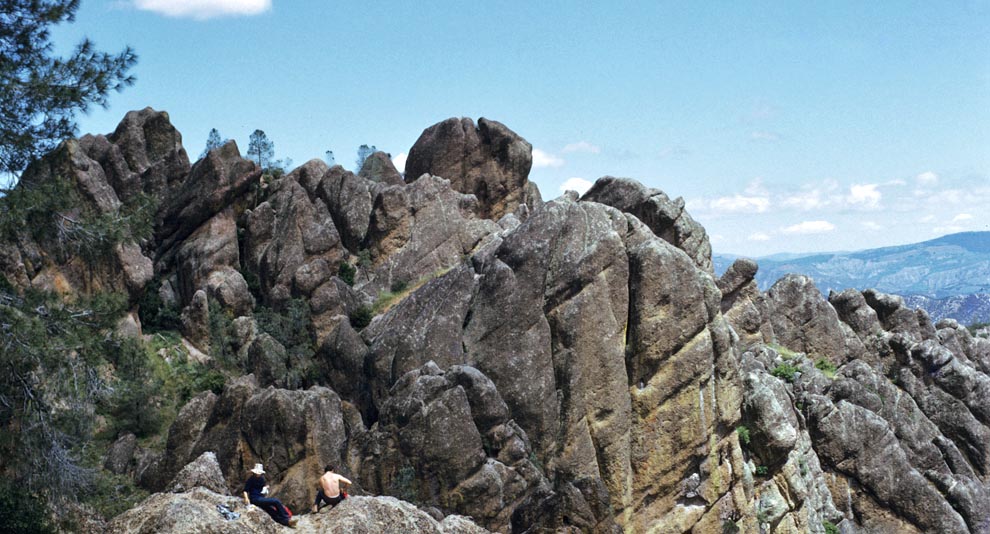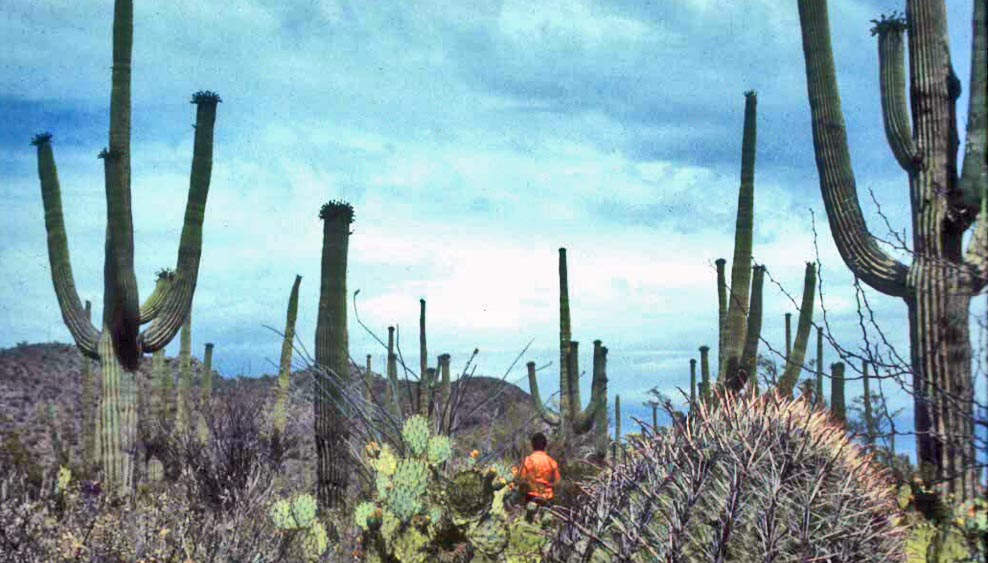 Saguaro National Monument, designated a in 1933, became a National Park in 1994. It has two sections — one west of Tucson, the more rugged mountain section to the east (below, sunset over the Rincon Mts.) — but each preserves large areas of Sonoran desert, dominated by the Giant Saguaro cactus (above). Cholla, prickly-pear, and barrel cacti often provide the understory in this unique landscape. Common birds and mammals include Gambel's Quail (left) and Black-eared Jackrabbit (right).

The Arizona-Sonoran Desert Museum, with zoo and botanical garden, is adjacent to the western section of Saguaro NP, and provides a fine introduction to the ecosystem.

9

Theodore Roosevelt NP

North Dakota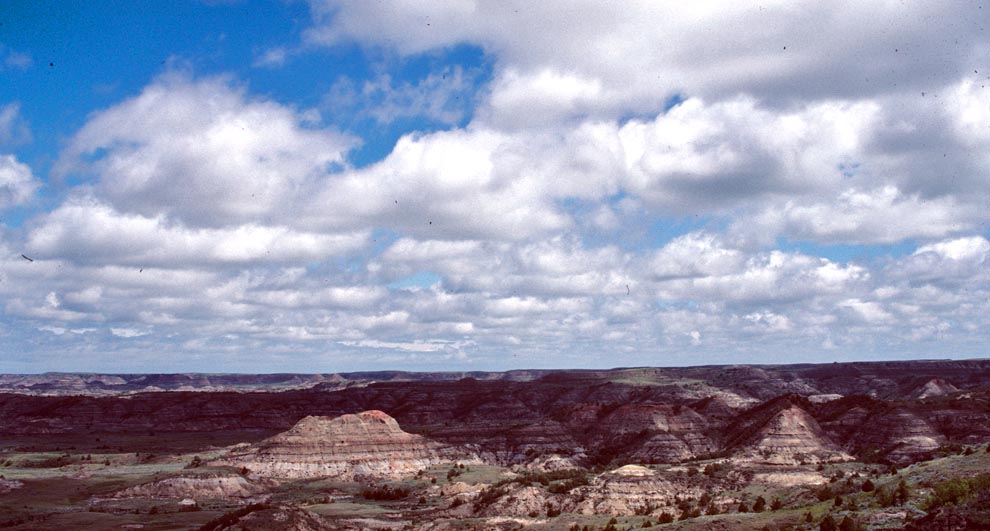 Theodore Roosevelt National Memorial Park, designated as such in 1947, became a National Park in 1978. It celebrates a stretch of Dakota badlands (above) that were influential in the life of our eventual 26th President. Teddy Roosevelt (right) first came in 1883 and joined as a partner in the Maltese Cross Ranch (left). He took up residence here in 1884 after the death of his wife Alice in childbirth, and remained into 1887. His experiences in this wild country molded his views on conservation. Later, as president, he used the Antiquities Act to proclaim 18 National Monuments, and he obtained Congressional approval to establish five National Park, 51 National Wildlife Refuges, and other National Forest lands.

The National Park has two units, both , cut by the Little Missouri River, and substantial herds of American Bison (below).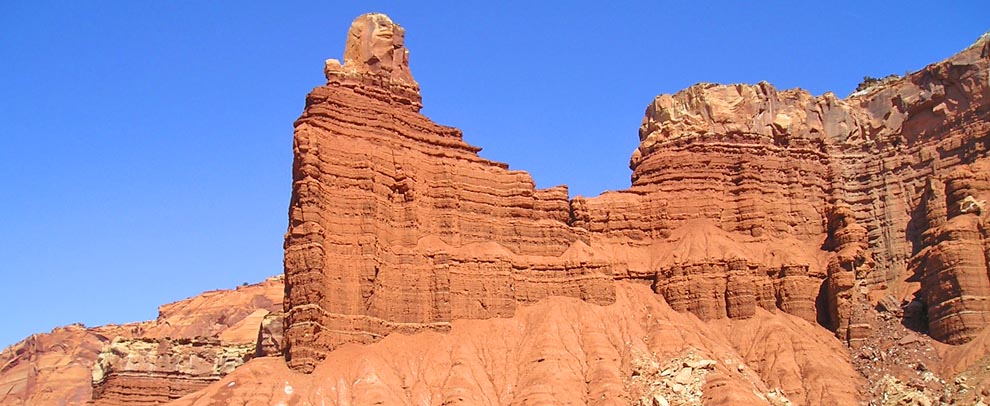 A giant buckling of rock, forming a sinuous wrinkle in the earth's surface for 100 miles across south-central Utah, is called the Waterpocket Fold (a portion seen in the photo below). The most impressive section of colorful cliffs (like Chimney Rock, above), soaring monoliths, and graceful arches (like Hickman Bridge, right), were preserved within Capital Reef National Monument, designated in 1937, which became a National Park in 1971.

Some of the Park's highlights are along the main road, such as the petroglyphs at the base of Petroglyph Cliff (left), but others (such as Hickman Bridge) are reachable only after a vigorous hike. The Park is long and narrow, and most visitors see the sites along Utah Rte 24, but side roads extend north and south to much more remote country. We will enjoy a second visit some day.

CREDITS
— photos & text © Don Roberson
except as otherwise indicated