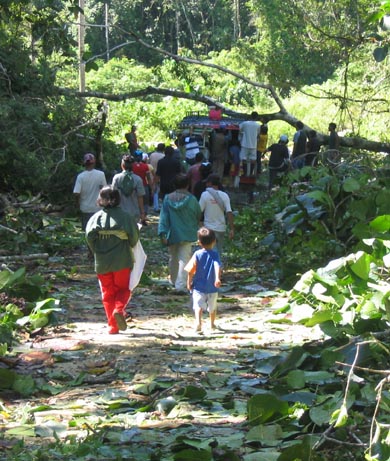 26—28 Dec (PICOP forest, Mindanao): PICOP stands for "Paper Industries Corporation of the Philippines." It is a huge logging concession in the eastern lowlands around Bislig, Mindanao. Legal logging was heavily underway when I was there in 1990; today, most of the legal logging has ended. Instead, illegal logging and slash-and-burn agriculture is overwhelming the remaining forest. Tim says it gets worse every time he visits. We bird along the logging roads (above left) but now there are many spots that are almost clear-cut (above right; photos © Jon & Anne King).
Several times our way was blocked by parked logging trucks, and once (right; photo © Jon & Anne King) by a tree that had just been felled. It took about a half-hour for the locals to chop through the trunk with axes so that we could continue on our way.
We had with us a local guide (Zardo) who worked in the security division of PICOP. He said that while PICOP did license some local lumbering here and there, virtually all the logging we saw was illegal. The larger efforts — like the logging truck full of recently cut trees shown below (left) — were actually undertaken by the rebel "New People's Army." While this insurgent group has not targeted foreigners, they engage in a running battle with the local military and PICOP security forces. The NPA essentially rules the rural areas. Their illegal logging used to be undertaken at night, said Zardo, but now they brazenly cut timber throughout the day.
Illegal immigrants have also penetrated the forest and are cutting and burning everywhere. We passed through small village after small village of squatters. PICOP tries to control this, but is losing. The forest is rapidly disappearing. This is all inconsolably sad . . . and yet there were humorous moments as well, such as this family of "seven on a bike" (below right; photos © Anne & Jon King).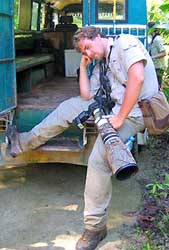 We birded PICOP forest for three-and-half days. We were up before dawn and almost always returned after dark. It was usually a 2 hour ride in our jeepney, over bumpy, often muddy, roads, to reach our birding locales. Road 1-4 is a traditional site, and we spent a lot of time there, but it is now very chopped up. Still — it was not unusual to see a flight of Rufous Hornbill (above; one of a flight of six overhead). We spent even more time on Roads 4 and 4A — even farther out in the forest — because they still retained larger patches of jungle.
This is tiring work. Each good bird was a significant effort. Over two hours effort to see Red-bellied Pitta. Another two hours on another day to see a male Celestial Monarch, not including the many hours 'trolling' for it with tape before that. A solid hour trying to get decent views of Short-crested Monarch. But the birds did come eventually. We also visited the Bislig marsh for a variety of waterfowl and, at dusk, Philippine Nightjar.
We were now into the fourth week of the trip, and the pace is catching up with some of us. Throughout it all, Blake lugged around his big lens (right; photo © Jon & Anne King). But his effort was rewarded. Here's a short gallery of some of Blake's PICOP photos:
Philippine Coucal
© Blake Matheson
Yellow-wattled Bulbul
© Blake Matheson
Philippine Oriole
© Blake Matheson
One day in PICOP, near mid-day, our group was strung out along road 4, well into the limestone hilly country. Tim was in the lead, far ahead, and most others had remained with a small flock well behind. Don was between, traversing a downslope that crossed a small gully, when suddenly a pair of Wattled Broadbill appeared to his left (Don's photo of the female is to the left). Don writes:

This was by far the most exciting moment of the trip. The broadbill and the two endemic pittas were my 'most wanted' birds of the trip, and the pittas could be taped. The broadbill was just a matter of luck — and suddenly here they were! It was breath-taking. They were so close, so obliging, so photographable .... but how to tell the others without frightening them? While slowly raising my camera I tried to get Tim's attention in a stage whisper that wouldn't scare the birds, and after a few long seconds I did get through to him. He shouted for the others and came hustling back. Fortunately, the cooperative pair remained next to the road, and eventually crossed it moving uphill, slowly and deliberately. We all got great views and both Blake & I were able to take photos.

PICOP added quite a number of other species as well: mixed species flocks that including Rufous Paradise-Flycatcher; several Philippine Trogon; an evening roost of Pompadour Green Pigeon; and good views of single Yellow-breasted Fruit-Dove and, early one morning, a calling Pink-bellied Imperial Pigeon. We also stayed into the night to see such owls as Mindanao Hawk-Owl, the recently split Chocolate Hawk-Owl, and Philippine Scops-Owl.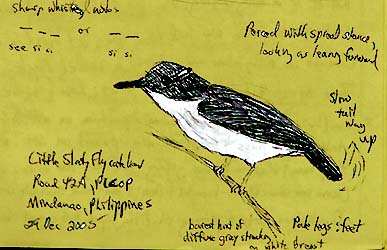 29 Dec: This was our travel day to get back to Manila, but we did have the morning (if needed) to search for missing species. There was one: Little Slaty Flycatcher. We had tried a 'stake-out' spot well out Road 4A previously, and had no response to the tape. But that had been at mid-day. So we got up a 3 am and were on the road by 3:30 to give it one last try. Enroute we tried for owls on Road 4, and actually heard a Giant Scops-Owl not too distant, but again couldn't see it.
We finally reach the flycatcher spot again. Besides the long drive, it required scrambling down a steep gully to a quiet little dale that looks like a Hobbit's garden. We tried Tim's tape again — and this time a very engaging male responded! He was still shy and usually hard-to-see but he circled our group several times, always in thickets within a meter of the ground. We eventually had stunning views of this great little bird, an impressive enough experience to make it into several of our personal 'top ten' birds-of-the-trip lists. It impressed me enough to do a little field sketch (right or above; color added in PhotoShop afterwards).
Then it was the long 5 hour drive back to Davao for the 6 pm flight to Manila. Back in our Manila hotel by 9 pm.
30 Dec (to Banaue, Luzon): Despite the late night arrival, we are up early for a 5 am departure — it is critical to beat Manila traffic in getting out of town. This will be a long day's drive to Banaue in northern Luzon. Traffic through the interior is dense anyway, and we won't arrive at our hotel until after dark. To break up the drive, we elect to stop 'briefly' at Candaba Marsh. When I was here in 1990 there still were reed beds with wintering Streaked Reed-Warblers, but today Candaba Marsh is all wet rice paddies and muddy roads (below; photo © Jon & Anne King). Yet among the ag fields are ponds and wet mud, and lots and lots of shorebirds and waterfowl.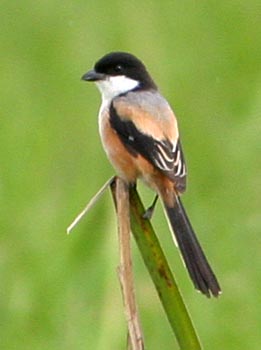 Since it was supposed to be just a brief stop, Don chose to hang around the vehicle and work on photography of common open-country birds, like Zitting Cisticola (near right) and Long-tailed Shrike (far right). The others tromped off in the mud to scope rice paddies — and the brief stop turned into two hours as they found ponds full of ducks (including a locally rare Common Pochard) and reams of waders. Jon & Volker saw an American dowitcher, either Long-billed or Short-billed, fly past them silently. The search for that bird on the ground took up an hour: there is no confirmed record of either dowitcher in the Philippines. Again — like the mystery starling on Palawan — a major rarity "got away."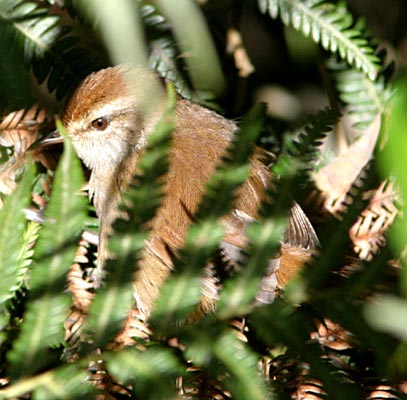 31 Dec (Mt. Polis, Luzon): We had one full day of birding on Mt. Polis. Often the weather here is foggy or drizzle; in contrast with the first four weeks of the trip, now we had a beautiful, sunny day (and it would remain sunny throughout the rest of our trip). We birded the road from the highest pass at 1890m (=6300' elev; view of habitat from pass is top photo, above) down to the little village of Bay-yo and its terraces at 1290m (4230' elev; lower photo, above, both © Anne & Jon King). The latter rice terraces were all we saw of the famed terraces around Banaue, as we were only in and around the town of Banaue itself when it was dark. Bay-yo overlooks a rushing river that hosts pairs of Luzon Water-Redstart. We had scope views from a far distance.
Most of the important birds are in the mossy cloud forest up near the pass. Some are exceptionally secretive in the thick undergrowth, like Luzon Bush-Warbler (right; Don got this shot when the warbler sun-bathed in a tiny beam of sunshine). Some species were so secretive (e.g., Long-tailed Ground-Warbler, Benguet's Bush-Warbler) that we never got views despite being close of vocalizing birds responding half-heartedly to the page (the same can be said for several Luzon Scops-Owls that night). But we did well with more cooperative species, such as Metallic-winged Sunbird (photo top of page as the title shot), Mountain Tailorbird, Chestnut-faced Babbler, and Green-backed Whistler.
We had three highlight species here: Whitehead's Swiftlet [3 flew up-canyon shortly after dawn and were encountered at the pass several times thereafter; see the annotated list for more details]; an impressive Grand Rhabdornis that Volker first picked up in flight but that landed closer and closer for stunning views; photo © Blake Matheson, below left]; and Mountain Shrike, a lone bird that perched upslope in the mossy mid-canopy [photo © D. Roberson, below right].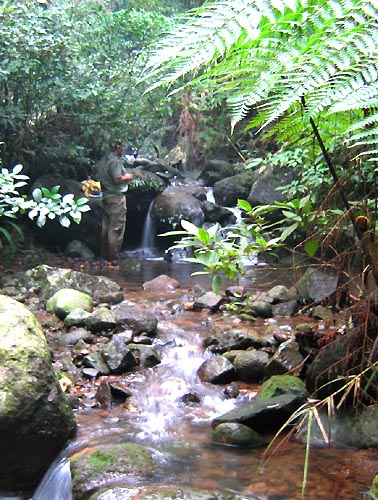 1—5 Jan (the Hamut hike, Luzon): There still is extensive forest in the Sierra Madre of northeastern Luzon. To reach it, an expedition must be mounted. The hike to Hamut — a pig-hunters camping site at 900m (~3000' elev.) on the slopes of Mt. Dos Carneros — was pioneered by Danish ornithologists in the 1990s, and Tim has brought parties here several times. since. The good forest here was selectively logged several decades ago, and all the northern Luzon mid-elevation specialty birds are still here. One starts from the city of Tugergarao. Then it is an hour's jeepney ride straight east, on muddy roads that is was a wonder the jeepney could manage (it had been raining for a week straight before we arrived), to the tiny village of Baliwag.
Here one collects porters and guides. There are six of us: we need 12 porters and 2 guides to stay in the forest for 4 nights. Baliwag is at only 80m (260') elev., so it will be a long, hard hike to the ridge at 1000m (3300'; photo above right) to drop into the watershed to our upper camp. That is a two-day hike for us, broken at "camp 1" in a deserted village at the edge of the forest. The first day's hike is primarily upwards throughout denuded grasslands (photo above left shows that habitat and some of our porters at rest; © Jon & Anne King). That first day is a 4.5 hour hike for us (much faster for the porters, though). As it took so long to pack all our gear and food into waterproof bags that porters could carry, we got a late start (2 pm) and the last hour of the hike is in the dark. What slows us down considerably is the exceptionally muddy trail — essentially a buffalo wallow much of the way — with thick, sticky muddy that is calf-deep unless one carefully skirts the edges. It is frustrating and maddening.
The second day's hike is on a better trail, inside the forest much of the time, but the altitude gain is substantial. We leave Camp 1 at 6:15 am and don't reach Camp 2 until 4 pm. Camp 2 — Hamut itself — is set in a lovely forested canyon next to a running brook (right). It is safe to drink from the stream (or at least Tim does) when others aren't using it to wash dishes or bathe. The porters and guides efficiently set up a 'dining room & kitchen" (below left), including fashioning a table and benches out of limbs and vines, and they will use the area around the fire to sleep together at night (some sit around the fire in photo, below right; all these shots © Jon & Anne King). They also set up our individual tents, complete with rain flies, which prove to be very comfortable.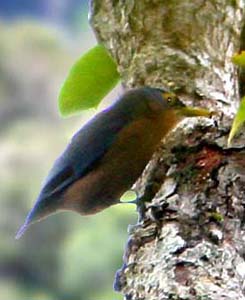 Despite good weather and fine forest, the birding here is slow. Of course, much of days 1 & 2 is taken up hiking to Hamut, as will much of days 4 & 5 hiking down, but there is plenty of time to bird in the forest. We are at Camp for two nights, so all of day 3 is birding along a ridge above Hamut, eventually reaching 1200m (~3300' elev.). We often have hour-long stretches with no birds, and then suddenly there will be a mixed species flock in the canopy. This recalls tropical montane birding elsewhere. The mixed flocks have warblers, flycatchers, sometimes Sulphur-billed Nuthatch (left), and occasionally the endemic babblers: Luzon Striped & Golden-crowned Babblers. We are not high enough for most of the montane specialties of Mt. Polis, but we twice have Grand Rhabdornis in flocks (which also have Stripe-headed Rhabdornis). The pigeons and fruit-doves we need are very scarce and skittish (only a couple of us see Flame-breasted or Cream-bellied Fruit-Doves). We do get Blackish Cuckoo-Shrike, Sooty Woodpecker (responsive pair to Tim's tape), Philippine Tailorbird, and a foggy, early morning encounter with Rufous Coucal, but there is quite a list of goodies that we miss: Rabor's Wren-Babbler (heard by some), Furtive Flycatcher (heard only by a couple), White-fronted Tit, and White-lored Oriole, among others.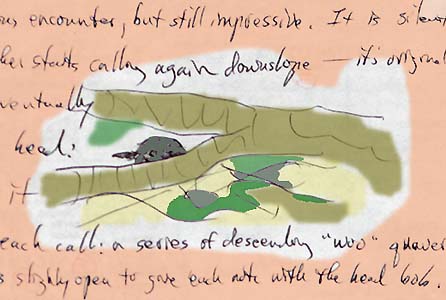 For most of us, the most important bird here is Whiskered Pitta. We do hear a few calling each day we are inside the forest (days 2, 3, 4 of the hike) but each time the bird is too distant, often well downslope in exceedingly thick and impenetrable undergrowth. Efforts at taping sometimes bring half-hearted responses, but no movement toward us. By Day 4 we are beginning to think we are too early in the season for any responsive pitta (most prior trips have been here in March-May). We are just about getting below their elevational zone on the hike down on Day 4 when we hear our final pitta. But this one responds! It is on a steep hillside with abundant ferns and dense thickets, and it takes an hour of work, but eventually almost all of us get views (AK unfortunately missed it). More details are in the annotated list; I did a sketch in my field notes of my view of the pitta's head — which it bobbed in rhythm to its quavering, dove-like series of calls — through thick branches (right; the color was added in PhotoShop much later). Actual photos of Whiskered Pitta in the wild were published by Morris (1997).
Don writes:

For me, the Whiskered Pitta was the perfect conclusion to the trip. I really didn't care if I saw any more birds after that — it had been a long, exhausting experience and I missed my wife and home. It was past time to leave. ... but the Whiskered Pitta was a great capper. Before the trip I had chosen the two endemic pittas (Whiskered & Azure-breasted), the two broadbills (Mindanao & Visayan), and Palawan Peacock-Pheasant, as my five 'most-wanted' birds of the trip. Each is very special and each is extremely missable. We did miss Visayan Broadbill, but the exceptional experience with the Mindanao Wattled Broadbill basically made up for that. From a birder's standpoint, this was a very successful trip.

It took ony half the time to hike down from Camp 1 as it did to hike up to it, and we were finally back to roads and vehicles. A mid-day flight from Tugergarao takes us back to Manila; the next day most of us fly home.
We enjoyed a farewell dinner at a Japanese seafood restaurant, and each of us picked out "top ten experiences" of the trip. The Philippine Eagle just edges out Wattled Broadbill for the top spot, but only the Flame-templed Babbler appeared on all five of our "top ten" lists. Sometimes it seemed as we were all on different trips . . . Then it's good-bye to Tim and all his good work. May his many successes continue!
PHOTOS: All photos on this page are © 2006 Don Roberson, except those © Blake Matheson, © Anne & Jon King, or © Volker Schmidt, and so indicated; all rights reserved. Many other shots from this trip are scattered about this web site.

Literature cited:
Morris, P. 1997. Photospot: Whiskered Pitta. Oriental Bird Club Bulletin 25: 56-57.
TOP
TO TRIP REPORT PORTAL