TRIP REPORTS: BIRDING THE WORLD
UGANDA July 2002: itinerary & daily log
by Don Roberson & Rita Carratello
DETAILED ITINERARY & DAILY LOG
15-17 July: accounting for the time change, it took almost 30 hours for us to fly from Monterey, California, to Uganda. We left at 3:30 p.m. on Monday, 15 July, and after flying via San Francisco and London with United and British Air, we arrived in Entebbe at 8 a.m. on Wednesday, 17 July. All the connections were smooth, and we even were able to have all still and video film hand-checked to avoid each xray machine (Don 100 rolls of unexposed film; Rita had her new video camera). [This precaution would not work on the return flights, with the security in London being particularly obnoxious in refusing to hand-check film.] But because Hassan Mutebi, our guide/driver, expected us to arrive after 9 a.m. (somehow our email communications on timing got garbled), we were left ungreeted and confused outside the airport early that first morning, standing there with all our luggage at the curb. All was fine when Hassan, his fiancée Jaria, and his brother Moses arrived within the hour.
Rita says: When we landed at Entebbe Airport at 8 a.m., I expected crowds of con artists and street urchins ready to rob us blind. Surprisingly, the place was empty. I don't know if this was post Sept. 11 security or some new pro-tourist friendly policy. On the other hand, our guide wasn't there to meet us. For one hour I was mentally preparing for the possibility that we may have been robbed on a grander scale and that we would have to figure out Plan B. But Hassan then showed up, and it turned out that it was Don's last email that had the wrong flight arrival time.
As it turned out, another birding group (from Belgium and Holland; Jan Vermeulen, Eric Wille, Vital Van Gorp and two wives) was due to arrive shortly and they were using Hassan's company as their travel arranger also. Hassan's brother Moses would be their guide/driver — we would later run into this group in Queen Elizabeth II National Park. [They we doing a counter-clockwise loop to the main birding sites in Uganda while we had planned a clockwise loop.] We were all taken to a nearby hotel for mid-morning tea, and it took some time to sort out the two groups and get going. Rita and I used the time to learn some of the common birds on the grounds, and I even got a lifer (Little Weaver). We finally left at 10:30, stopping in Entebbe to change money at a bank which took until noon.
Our initial plans had us going to Lake Mburo that first day, only 4 hours away, but we had to change them to book Alfred Twinomunjuni as our bird guide in the Rwenzoris. Alfred was said to be the best local birder in Uganda, and booking him for the Albertine Rift endemics and montane specialties was considered critical. Because he was booked with another bird tour on the dates we had initially planned to visit Ruhiza and Buhoma, we changed our itinerary so we could have him 18-21 July. [Foreshadow: on 21 July this would become a problem.] This meant we needed to get all the way to Ruhiza today, and that was an 8+ hour drive from Entebbe. Given our late start, and our self-imposed rule to avoid driving after dark in third world countries, it was apparent we were not going to reach Ruhiza that day. So we juggled plans and decided to stay at Kabale — at the base of the Rwenzori Mountains — and go up to Ruhiza early the next morning. Hassan used his cell phone to call Alfred, and asked him to book us a room in Kabale. Consequently, this reduced the pressure of the exceptionally long drive, and meant we had time for a quick stop at Kaaku Swamp.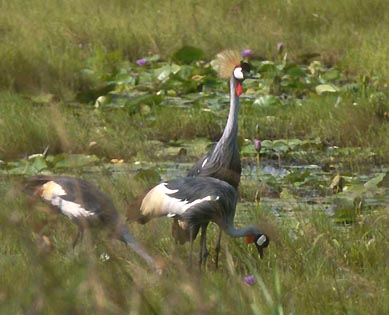 Kaaku Swamp is a shallow wetland several hours west of Entebbe. A dirt road skirts the shore, and Hassan knew a spot to follow a short cattle trail into the swamp to view the birdiest part. We almost immediately flushed a Rufous-bellied Heron — a prime target here. We had small groups of both White-faced and Fulvous Whistling-Ducks, the latter a rarity in Uganda. There had been a vagrant Shoebill here recently, so Hassan stopped a fisherman to ask about it, but it hadn't been seen in a week. Thus, it became the bird stop in an otherwise rushed travel day, and was capped off with a family of Gray Crowned-Cranes (right), Uganda's national bird.
We arrived at the city of Kabale in extreme southwestern Uganda at dusk, only to learn that a large conference had booked all the hotel rooms in town! We met Alfred, and together he and Hassan scrambled for lodging. We ended up driving 15 km out of town to a resort on the shores of Lake Bunyoni, the second deepest lake in all of Africa. We never got to see it, though, since we arrived well after dark and left before dawn the next morning. The resort had no electricity at that time of night (generator was off) but our little bungalow did have hot water (very thankful for that after 3 days travels!).

18 July: we were up at 5 a.m. and after a breakfast was brought to our room, left for Ruhiza in the mountains at 6 a.m., arriving about 8:30. Ruhiza is at 7500' (2300 m) elevation in Bwindi-Impenetrable Forest national park. The only facilities are a research station with concrete-floored main room attached to a room of bunks, and a ranger base. Today the park rangers were undergoing Army training with guns and formations. Since the murder of 8 tourists in Bwindi in March 1999 — an incursion by Hutu rebels from Rwanda that was intended to and did devastate tourism in Uganda for years (it is still not fully recovered) — the Uganda government has all the gorilla parks patrolled by the Army and park rangers. Tourists must travel with armed guards on all forays into the forest. The guards proved to be unobtrusive, and certainly did give us a feeling of security.
There is spectacular montane forest at Bwindi. We headed out on what is called the "short trail" to Mubwindi Swamp. This is actually an exceptionally steep and difficult hike! First we climbed up and up ridges into the forest, and had our first Albertine Rift endemics [Red-faced Woodland Warbler, Montane Masked (or Black-faced) and Collared Apalises, Rwenzori Batis, Regal and Blue-headed Sunbirds]. The humid forest hike at this elevation was exhausting, and by the time we reached the highest ridge, we were quite exhausted. Because we would have to plunge way down into a valley from there, and then climb back up on the return trip, it was apparent that this was going to be a very hard day.
Rita says: I already knew that the trial into Mubwindi Swamp was too steep for my knees so I turned back at the ridge, with Hassan as escort, here. We would see several birds around Ruhiza the rest of the day that Don would miss, must notably Sharpe's and Stuhlman's Starlings. I was able to spend time sitting on my folding chair, blending into the scenery, and watching the bird life move around me. It's very satisfying for me to have time to find my own birds.
Alfred and I continued down into Mubwindi Swamp, eventually reaching the beautiful wooded valley at noon. Alfred showed me the tree where a pair of African Green Broadbills had nested and fledged young the month before, but all efforts to relocate them this day were unsuccessful. We had much better luck with the rare and local Grauer's Rush-Warbler in the swamp itself, flushing one from the edge almost immediately, and it sat up nicely for good views. We had good luck with other endemics: Yellow-eyed Black Flycatcher, Stripe-breasted Tit, Strange Weaver. Our guard flushed a Handsome Francolin for us by accident. Albert used his tapes to call in birds like Mountain Yellow Warbler and, after much effort, a fine Archer's Robin-Chat (a prized high-altitude endemic) and a Black-billed Turaco (a widespread but very elusive montane species). Most ingeniously, he used a tape of Western Green Tinkerbird (which we never got) to bring in a pair Dwarf Honeyguides! Alfred told me that they parasitize the tinkerbird.
The hike back up from Mubwindi Swamp was very steep and tiring. For a 50-year-old white guy who sits around a computer all day, it was right at my physical limits of endurance. My right knee almost gave out, and I was totally exhausted when we reached the Ruhiza bunkhouse (our "honeymoon suite" as this trip was our honeymoon) at 5:30 p.m. after the 9 hour roundtrip hike. The facilities were very primitive: no running water, outhouse with simple hole in the floor and nothing else, rickety bunk beds, and it got quite cold at night. On the plus side, our hired cook made a very tasty vegetarian meal of beans, rice, potatoes, cauliflower, and lots of sauces. There was even cold beer.
Rita says: Our cook, Valentine, let me videotape him in his kitchen: a hut with no standing room and two fire rings fueled with wood. I was able to stop him just as he was about to add onions and peppers to the pot. These are digestive no-nos for both Don and me. True to African ingenuity, Hassan produced cold beers for the boys. I got to taste test Uganda tea; it rates a "C."
After dinner we went out with Hassan's searchlight and Alfred's tape for nightjars and owls. Heard quite a few Rwenzori Nightjars although none came close enough to see, but we did call up an African Wood-Owl for excellent views.

19 July: Rita and I woke up before dawn (jet lag, no doubt) and decided to try for the nightjar ourselves. We heard one constantly calling down by the nearby small village and, at dawn, the bird itself flew right over us several times. We didn't have a tape, and whether it came in to my whistled imitation is uncertain.
After this nice success, we spent the morning slowly birding the roadside forest below Ruhiza, down to about 6800' elevation (2100 m.). We'd walk for a while with Alfred and his tapes, and then Hassan would drive the 4-wheel drive jeep past us, and park farther downhill, allowing us to survey a lot of forest. We got some fine birds with this leapfrogging method, including Doherty's and Luhder's Bush-Shrikes, White-tailed Blue Flycatcher, White-starred Robin, Mountain Illadopsis, Cabinis' Greenbul, and lots of Black-faced and Chestnut-throated Apalises. We also tramped through grasslands and weedy patches in search of seedeaters, and Alfred eventually found a family of Dusky Twinspots with two fledglings. He also found what appeared to be a male Rwenzori Double-collared Sunbird — only the second record for Bwindi park (details in bird list).
As the road descends the mountain toward Buhoma (the site were there is gorilla tracking), it leaves the park for awhile and traverses cultivated country, which presents a real contrast to the montane forest. It is imperative that the forest remain. One enters that forest again at "The Neck" — a spot where a thin strip of forest along a ridge provides a corridor between the larger blocks of forest up at Ruhiza, and the block of forest that is protected down below at Buhoma (at 5000' elev. = 1550 m). It was now mid-day and hot, so we didn't find many birds active at "The Neck," a locally-famous spot for bird tours. We did have Cassin's Flycatcher foraging just over the river at the bridge.
We reached our lodging (Pearl Homestead bungalows) in Buhoma at 2 p.m. Here there was electricity and hot water (neither up at Ruhiza), and I was very glad that we were doing our Ugandan loop in this direction, staying at the most primitive places and doing the hardest hikes first, and working our way "up" in lodging quality. [It was our honeymoon, after all!] The fruiting tree right outside our bungalow was full of birds (esp. nice were Bronze and Green-headed Sunbirds) and Rita found a scarce and local Magpie Mannikin nest-building in a tree right above the road next to our lodge. We finally got nice long showers, and I was able to catch up on my notes. We were almost the only people staying at the Pearl Homestead. Two sisters, Carmen & Mary Rose, one who lived in Uganda doing peace corp work and the other in Mozambique, were the only other guests.

20 July: this was our long-planned Gorilla day! It was a lovely sunny morning with curls of the famous mist drifting up around the hills (above). We checked in at 8 a.m. and learned we had been assigned to "M" (=Mubare) group, which yesterday had been in the valley over the ridge behind the check-in point and a couple hours away. Another set of trekkers were heading to the "H" group, about the same distance away but in a different direction. We waited for the three other tourists who had paid for reservations ($275/person) but one guy decided to go to the "H" group (there was one spot available in that group) and the other two decided not to go (they'd done the hike the day before). So we had the trek to ourselves! Just us and our guide (Joseph), three guards, and we hired a porter (Saul) to carry lunch. In addition, three trackers had gone out early to locate the gorillas and radio in their location.
The Mubare group is led by 30-year-old silverback male Ruhondiza (the names means "the lazy one who sleeps all the time"). There are ten Mountain Gorillas in this group: 4 adult females, 2 subadult males, 2 "teenagers", and a 14 mo. old baby. We would see all of them except 2 of the adult females.
It was a long two-hour hike up the switchbacks to the top of the ridge, and then another hour cross-country down the back side to where the trackers had located the Gorillas. The trackers had cut a nice path with machetes through thickets to a large tree where the group was sprawled out around it. The silverback was sleeping and refused to look at us; about 45 minutes later he suddenly awoke and stormed off to punish a young male who had done something inappropriate. When order was restored, the silverback got up and led the group straight away into the gloom. During our first 45 minutes, though, there was a three-ring circus of activity. Females and subadult males climbed in trees or munched on stems; the two "teenagers" romped and wrestled — often preceded by chest-thumping mock charges — and the baby entertained by pestering the others, swinging from branches, and coming within five feet of us to look us over. We and our entourage remained quiet throughout, shooting up several rolls of film and video. Rita had brought her travel chair so had a comfortable front-row seat. What a treat to enjoy the Gorillas without having the jostle for position with other tourists!
When our allotted hour with the Gorillas was up, we traipsed back to the ridge for lunch, and then hiked slowly for two hours back down the switchbacks. In all it was hot, steamy work at a steady pace, with no time for birding. I wore some expired contact lenses that meant I avoided constant glasses-fogging, but since we didn't really do any birding I was unaware how poorly I was seeing things in the forest. [Foreshadow: this would make a big difference the next day when I basically couldn't spot anything the whole morning.]
We were back to our lodging by mid-afternoon, and found most of the Uganda Bird Guides Club lounging in front: Hassan, Alfred, Richard and two others. Rita took an amusing video as they explained who they were. After a brief rest, and with rain clouds threatening, Rita opted to explore the small adjacent village with its few tourist shops while Alfred, another guide, and I took a late afternoon bird walk along the river. Alfred spotted a most unexpected Shining Blue Kingfisher, and I even took a photo while wedged up against a tree at 1/8 sec. shutter-speed. Then the heavens opened up with heavy rain... but Hassan saved the day by driving up to where the trail met the road and driving us back, picking up Rita in the downpour as well.
This was both an exhausting and exhilarating day. We celebrated with a bottle of French red wine that my ever-resourceful wife had saved from the airplane. The bad news came after dinner. For reasons that have never been explained, Alfred was double-booked the next day, and was committed to a Birdquest tour. That day had been planned as our only birding day in the forest here at Buhoma, and we still were short many endemics, some of which are only found at this elevation. He said he would try to get Richard as our guide the next morning.
21 July: no guides showed up at the appointed hour, nor were Hassan or the guards there. We waited an hour and finally Rita and I walked a bit into the Buhoma forest to a big sign informing us that we were permitted to go no further without a guard and guide. Right at that point we ran into the tour group — with Alfred — and they were very focused on birding. Indeed, a White-bellied Robin-Chat was in a scope as we walked up. Rita found an Elliott's Woodpecker, which some of their group came over to see, but while we waited for our guide and Hassan, their group moved off into the forest. As we learned much later after returning home, the Birdquest leader (Nik Borrow) was unaware of Alfred's double-booking and our leaderless plight. They were unaware we were "stranded" while we had been led to believe they knew what was going on.
Eventually, Hassan and our two guards arrived. Hassan explained he'd had to go to see the warden to get us a new guide (a guide is required) but that the warden refused to allow Richard to enter the park (he had recently been banned; we heard different stories as to why). Hassan was able to get Levi, who had been with the Birdquest group, to come with us and thus meet bureaucratic regulations. I had made the mistake of wearing the contacts that no longer corrected my eyes sufficiently, and I was finding that I couldn't spot anything. We did have the mini-disc recorder and tapes I had made, plus the ability to do tape-playback with a shotgun microphone, but I was also having troubles seeing the controls and reading the tape legends. It was an extremely poor start to this important day.
Without Alfred and his detailed knowledge of where the birds were in this forest, our success at Buhoma was quite limited. He and I had worked really hard to see birds up at Ruhiza. Alfred had explained that in July — the peak of the dry season — singing was much reduced and undergrowth and canopy species much less responsive. The nesting season was just over and birds were in the least territorial phase of the annual cycle. I taped several long-tailed cuckoos, for example, both Olive and Dusky, but it took us well over a half-hour of work with one Dusky Long-tailed Cuckoo to get a good view of any of them. Levi knew spots for Short-tailed (Neumann's) Warbler — the primary specialty here — and we taped in two of them, but I just couldn't spot the beasts. Rita had nice views (she also saw Fuelleborn's Boubou that I missed). It was all very frustrating.
Rita says: I saw a Short-tailed Warbler walk along a low horizontal branch, stop, throw its head up and sing! I had no idea why Don couldn't get on it with my directions.
In the late afternoon, Hassan drove us to us cultivated fields outside the little town of Buhoma itself to look for Compact Weaver. We found a recently used nest but not the bird itself. We did add a few new species not seen elsewhere, including Jacobin (Pied) Cuckoo.

22 July: we were packed and ready to leave at 7:30 a.m. when Alfred showed up unexpectedly. The Birdquest tour had gone on their gorilla hike, so he had a morning free. Given the distance that we had to travel today, we didn't have the time to go back into the forest after the endemics we had missed yesterday (e.g., Kivu Ground-Thrush, Red-throated Alethe, Grauer's Warbler). But we did have an hour to give one more shot for the Compact Weaver in the fields opposite Alfred's home office in Buhoma, and this time I did see one non-breeding-plumaged Compact Weaver. Rita opted to bird the roadside near the village, where she had Snowy-crowned Robin-Chat. Fortunately for me, these proved to be reasonably common during the drive through the foothills today as they dashed across the track from bush to tangle. The road was absolutely awful, and we did not reach Lake Mburo National Park until 4 p.m. (stopping only for lunch in Mbarara enroute).
Before entering the park itself, we tried various short-grass and burned areas for Brown-chested Plovers that are scarce migrants here. We had dipped out, and were ready to leave, when
we came upon a local resident driving some long-horned Ankole cattle. Hassan knew the man, and knew he was tuned into nature, and stopped to ask if he knew where those plovers were. Seemed like a real long-shot to us — here's this local guy walking barefoot with his cows, and we're going to ask about a specific difficult bird. But the guy knew the bird, and he knew that the small flock had moved from its usual haunts to a newly-burned patch of grass not visible for the road. So we drove back to the spot, walked inland until we found the burn, and found 7 Brown-chested Plovers!
We arrived at Lake Mburo's "luxury tented camp" near dusk. The tents, built on platforms in thorn-scrub woods, were nice enough, but "luxury" is a misnomer. The outhouse was well back of the tent and again just a hole in the cement floor. There was no water, nor any electricity. Instead, the staff brings jerry-cans of hot water that you pour into plastic bowls for washing, and they bring kerosene lanterns. [There was an outdoor shower stall but one couldn't use that very well in the dark.] But I found it pleasant to listen to the night sounds, and one nightjar was close enough and steady enough that I got up, put on shoes only, and crept out to see it... a calling Black-shouldered Nightjar.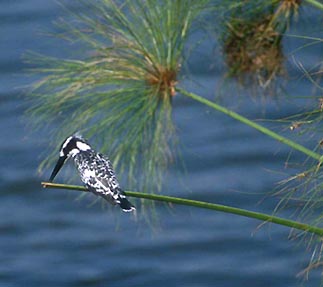 23 July: we spent most of the day in Lake Mburo National Park. Lake Mburo itself is a huge lake rimmed with patches of dense papyrus (Pied Kingfisher on one papyrus patch is at right). The surrounding habitat is of rolling hills with thick thorn-scrub. We saw many ungulates during morning and afternoon game drives — the only place in Uganda with Impalas and Zebra, plus lots of buffalo, waterbuck, Kongoni, and a skittish herd of Eland. We were permitted, with an armed guard, to walk to the lakeshore at one point and bird the papyrus edges. It was a treat to get outside the car and walk. Even more exiting was the Spotted Hyena that came loping out of the brush oblivious to our presence until we were practically face-to-face. We were short of luck in our goat to see the rare and local Red-faced Barbet (this is possibly the best spot in the world for it). We made do with some more widespread species that were lifers for us (e.g., Trilling Cisticola, Purple-banded Sunbird) and, at lake's edge, another Rufous-bellied Heron. Much of the late morning was a loss because Hassan had been having some trouble with the fuel lines in the jeep; he got that problem fixed in the park's mechanic shop.
The day's highlight was a boat ride on Lake Mburo, which we shared with a team of American researchers working on African Fish Eagle. They were surveying the lakeshore for trees that they could climb to draw blood from young in nests; this for a study of pesticide contamination of these fish eagles to compare with Bald Eagles in North America. Our goal was African Finfoot — and Rita spotted one under low-hanging branches early in the trip.
In late afternoon we drove west to the city of Mbarara. Rita was not keen to spend another night without water or electricity, so instead Hassan juggled arrangements and put us up in a nice upscale hotel (the Lakeview Regency) on the outskirts of town.
24 July: we left Mbarara early, and reached the Kazinga Channel at the edge of Queen Elizabeth II National Park (QEII park hereafter) by 9:30 a.m. This wide, slow-moving channel connects Lake George and Lake Edward. It is thickly fringed with papyrus, and at the bridge we got right next to the habitat. With the use of my minidisc recorder, we were able to call up Papyrus Gonoleks for great views; also Lesser Swamp-Warbler. Then we headed west along the "Channel Track," through dry scrub-thorn habitat in QEII park, to Mweya Lodge. This is a very fancy lodge with charming rooms, an outdoor restaurant attended by flocks of weavers, and, as it is at the tip of a peninsula, a panoramic vista of the surrounding waterways and wild country. A pair of lion were seen across the way; many herds of buffalo, hippo, and waterbuck in view.
Hassan had arranged for us to have a "honeymoon suite" with a great view, a nice touch. Each room seemed to have a very approachable warthog out front, grazing on the lawn. And then we came upon a band of Banded Mongooses that were grooming lounging warthogs! We'd never heard of anything like this before. I laid down on the grass to take photos — and the mongoose tribe came over to groom me (i.e., search for insects, ticks, and mites)! Rita got one-of-a-kind video footage. We joined the Dutch-Belgian birding group for our Kazinga Channel boat ride (2-4 p.m.). Not many new birds but great for photography. We were able to relax and do a little honeymooning in the late afternoon.
25 July: we were up early for a long drive out to the eastern reaches of QEII park to look for grassland birds, especially buttonquail. We eventually had good looks at a Little Buttonquail in the dirt track, but word came as we were on that search that the vehicle with the Dutch-Belgian birders had a mother lion and cubs. We delayed charging over to them while we looked at the buttonquail, not realizing that the mother had a fresh kill. By the time we got there, she had dragged the antelope under a bush, and Rita lost a good video op. On our drive back to Mweya Lodge for lunch and check-out, we came upon a party of Giant Forest Hogs — a much-wanted specialty mammal of this park — and were able to obtain gripping photos and video.
After lunch we left for Fort Portal, a bumpy 3-hour ride away. We checked into the Rwenzori View Guesthouse, an interesting bed-and-breakfast run by a German and a Brit. We had fine home-cooked meals aplenty (they made special "no meat, no onions" dishes for us in addition to everything else they served), and meals were served "family style" around a large dining table.
I was anxious to get to Bigodi Swamp — an hour's drive away on a very bad road — in hopes of various papyrus specialties, so Hassan drove us out there in late afternoon. This swamp is now a community-run local reserve near Kibale Forest, and we hired a local guide (Jose) who Knew the basics of local birds. We had fine experiences with a mixed troop of Black-and-white and Red Colobus Monkeys before reaching the boardwalk across the papyrus swamp. It turned out that the boardwalk was heavily used by local residents — making it noisy at times — but it was good access to the swamp. We had both White-winged Warbler and White-spotted Flufftail very close — but could not see either of them. Verrrry frustrating. We finally got nice looks at White-collared Oliveback, though.
26 July: this was our day in Kibale Forest. We arrived by 8 a.m. at headquarters after having seen both White-tailed Ant-Thrush and Crested Guineafowl on the road through the forest enroute. It took about an hour to sort out our permit and obtain our guide, Ronald. He proved to be a very fine local guide; he obviously knew the monkeys extremely well, and was quite good with local bird calls. We chose to do a birding-and-chimpanzees walk — working slowly through the exceptionally fine forest — rather than the usual tourist chase to the chimps first. In part, this was because no one knew where the chimps were at the moment — they had been missed by all the groups searching the day before.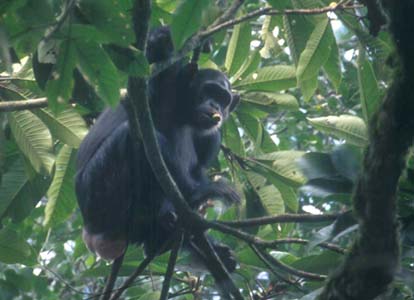 Within the first hour, Ronald heard chimps not too far away, and we followed him cross-country off-trail until we reached the site. There were a small party here: an alpha male, an older female, several younger females (one of whom had lost a hand to a poacher's snare; left), a young male who hung around the periphery, and several youngsters. We had incredible views of the foraging group. The alpha male was high in a tree eating fruit, and this permitted the older female to sneak down from the branches and have a tryst with the young outsider male. Explicit chimpanzee sex! Upon a quick conclusion, the pair began mutual grooming. A bit later the alpha male wised up to that "inappropriate" setting — he came charging down, chased off the interloper, and took his place to be groomed by the female. She, of course, pretended nothing had happened..... Quite an eventful hour of observation. Ronald told us he'd never had better views with tourists before.
After our hour with the chimps, we tried various sites with my tape for Green-breasted Pitta — including a spot it had been seen just weeks ago with a British bird group — but no luck. We then had to be back to headquarters by noon for Ronald's next tour. Hassan, Rita and I had lunch at headquarters — they had a small cafe there, much to our surprise. We then had the mid-day to kill, as we were not permitted back into the forest without a tour and it was too hot to go to Bigodi Swamp. We used the time to find and photograph a nest-building pair of Red-bellied Paradise-Flycatchers on the grounds, and to watch a fruiting fig tree that was attracting barbets, including a lifer Hairy-breasted Barbet.
In late afternoon we went back to Bigodi Swamp, obtained Jose as our guide again, and tried — unsuccessfully — for White-winged Warbler. Did have a few new species there, plus a large clawless otter crossed the road in front of us enroute. We were back to Ft. Portal by dusk.
27 July: this was a very long day of driving from Fort Portal north to Murchison Falls National Park. Our rather luxurious lodge (Paara Tourist Lodge) was on the north side of the Albert Nile, meaning that we had to catch the ferry across the Nile to reach it. The ferry ran once an hour, and the last ferry was at 6 p.m. The need to catch this ferry kept us moving all day, and precluded all but the briefest of stops for lunch and a couple birding spots. We did make the ferry — but it was a grinding day to get there.
We crossed a series of papyrus swamps north of Ft. Portal, and stopped briefly in each in hopes of White-winged Swamp-Warbler. We heard several, and finally I was able to get a snippet of recording of its song on the minidisc (this vocalization was not on the otherwise outstanding "Uganda Forest Birds" tape). At about the 4th swamp, we were able to use this short snatch of tape to lure a White-winged Warbler into view. What a relief for a frustratingly difficult species. We had numerous views of Papyrus Gonoleks while making these efforts.
The other significant stop today was atop the Butiaba Escarpment. The Escarpment itself is a dramatic vertical drop from the rolling uplands with scattered woods down into a flat plain thick with thorn-scrub, and dominated by Lake Albert to the northeast. Various raptors were riding thermals here, including Wahlberg's Eagle and African Hawk-Eagle. Road construction crews and detours, though, made it impossible to bird mid-day at the cliffs themselves. However, shortly before reaching the cliffs we had stopped and walked a kilometer or so through the broken woods and grass, and had great views of the much-wanted Foxy Cisticola, plus an unexpected African Moustached Warbler, among a nice variety of birds. This was during the heat of the mid-afternoon — it must really be birdy here in the morning.
Paara Lodge was almost empty of tourists beyond the two of us, and a British birding group of four (John Clark, John Eyre, Brian Foster, Mike Shaw). We were told that the lodge had been empty during the week. This was because both the American and British state departments had issued warnings about travel to Murchison Falls National Park because of the insurgency of the Lord's Resistance Army to the north. This ragtag militia had been committing atrocities, all in the name of Jesus, in small villages near the Sudanese border over the past month. Uganda finally had permission from Sudan to chase them out of their Sudanese sanctuaries, and the LRA was definitely on the run. The state department warnings were entirely overreaching. Murchison Falls area was never involved; the LRA never got closer than 70 km. away. The Uganda army was very much in evidence at the ferry. We felt (and were) perfectly safe. But Hassan had changed our plan for the remainder of the trip due to the insurgency risks in traveling to the north or directly east. We had planned to drive from Murchison to Lake Bisina directly, and then loop back to Jinja and Mabira Forest. Now, instead, we had to drive south to Entebbe, then turn east to Jinja and Lake Bisina. This would add a lot of driving, but avoided all risks of the insurgency.
28 July: a very long but extremely successful day in Murchison Falls National Park. We were on the road as early as is permitted for a game drive in grasslands north of the Nile, heading out to the delta formed by the junction of the Albert Nile and Victoria Nile. This area was full of wildlife — big herds of buffalo, Uganda Kob, and waterbuck. We found a small party of Abyssinian Ground-Hornbills, lots of Black-winged Red and Northern Red Bishops, and various raptors. Hassan spotted a roosting Spotted Eagle-Owl (now split by some as Grayish Eagle-Owl). There was just too much to see.
But we had limited time, and diverted to the delta. Here both our vehicle, and that of the British bird group, skirted the papyrus edges in search of Shoebill. And eventually a nice male was located. We had good distant views, and then were able to maneuver to a much closer spot for photos. I shot over a roll of film although the Shoebill didn't do much other than look around, and preen its back a little. Still .... just fabulous. Did a "life family" dance (just five more to go!). Blue-breasted Bee-eaters and other species were also at the swamp's edge.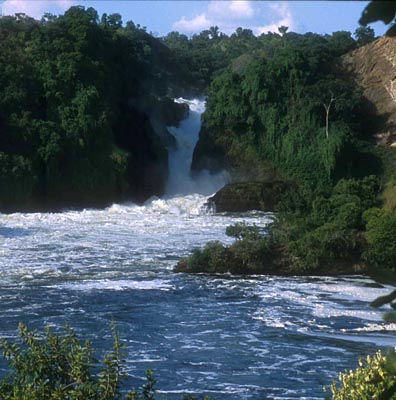 We took a different route back through the grasslands, and our local guard spotted a lioness for us, resting under a tree in the mid-day heat. Also a fine pair of Black-headed Plovers, plus both Swallow-tailed and N. Carmine Bee-eaters.
We arrived back at the Lodge just in time for a quick lunch before heading off on our boat ride up the Albert Nile to Murchison Falls itself. We shared this ride with the British group, which made for many eyes spotting birds enroute. Red-throated Bee-eaters were a highlight, as were many close views of hippos. Working our way up from distant views of the thundering falls to close-range was also dramatic (right). The boat dropped us off near the base of the falls where a path climbs the escarpment. The plan was to hike up and be met at the top of the falls by our vehicles.
But before that hike, all of us except Rita went on a side excursion down into a deep ravine with thick woods where Hassan had seen Pel's Fish-Owl before. It was a steep descent (and later ascent) to this site, but we were rewarded well when Hassan found us a roosting owl! I got off one backlit photo — and had a nice view — before it flushed.
Joining with Rita again, we trudged up the trail to the top of the falls, enjoying many superb views enroute. At the top we waited until dusk in hopes of Bat Hawk. Some of us got a view of Red-winged Gray Warbler in adjacent woods while waiting for the day to close. Just before dusk a few lonely bats appeared from the famed "Bat Cliff" and suddenly they were chased by a single Bat Hawk. We had fine views of it flying and then resting on a bare snag. Fifteen minutes after the sun set, the cliffs exploded with what seemed to be millions of bats, streaming off up the Nile in endless clouds. A true spectacle of nature.
But that was not yet the end. There was the long drive in the dark back to the ferry. And during that drive we flushed 15 Pennant-winged Nightjars from the road, 13 of them males that dazzled in the headlight beams. We spotted a few before they flushed, and were able to view with our bins a couple of them sitting on the road. Worn out from the day's excursions, we still had to get across the river. The ferry had stopped running back at 6 p.m., so Hassan had arranged for a private boat to take all of us back across to the Lodge. It took awhile to round up the boat driver, but we did find him, and we did manage to get a lift on the north side back up to Paara Lodge. It was a very full day, indeed.
29 July: this was yet another long day of driving. As explained above, we had to change our route due to the insurgency in the north. This meant an all-day drive south to Entebbe, and then east to Jinja on the shore of Lake Victoria. We had a self-imposed plan to avoid driving at night so knew that we had little time to stop. The new route took us through a corner of Budongo Forest where Puvel's Illadopsis occurs at Kaniyo Pabidi, so our choice was to either stop and search for it or to give ourselves a couple stops in unexplored thornscrub east and southeast of Masindi. We chose the latter option, partly because my minidisc recorder had died (and a tape is required to see the skulking illadopsis), partly because Puvel's can be seen in west Africa, and partly because it would be more fun to look in spots that were not already well known.
We made two 45-minute stops in likely habitat (one was open thornscrub, the other an overgrown orchard) that yielded several unexpected treats: Western Banded Snake-Eagle, Bruce's Green-Pigeon, Brown Babbler, Yellow-billed Shrike, and Zebra Waxbill among the most impressive. Finally reached a fast paved road going south towards Entebbe. Traffic was fast and it was hard to stop and turn around for anything. We stopped once enroute to try to rescue a Leopard Tortoise crossing the road, but a truck crushed it before we could accomplish that. I could scream! (and did). Later, Hassan spotted two White-crested Turacos, a much-desired species we had missed to that point. It took another 45 minutes to relocate them, but we did. It proved to be an adult feeding a youngster as they foraged tree to tree. A really lovely species.
This last unplanned delay put us behind schedule, and we reached Entebbe at rush hour. Even though Hassan used shortcuts to avoid the worst of it, it took 1.5 hours to get through the capital city and head east to Jinja. Now it was dark, and our hotel was still 1.5 hours away. The road was good, which meant traffic was very fast. But they don't use headlights until it is impossible to see without them, so it was a very trying drive. Halfway there a huge truck headed the opposite way passed us too closely, and snapped off Hassan's driver's side rear-view mirror with a loud crash. This near-escape from a fatal auto accident — adding to the stress from the dead tortoise — was unnerving. I was never more relieved to arrive safely at a hotel. And even then there was trouble with the rooms reserved, but after Hassan took Rita's cue to tell them he'd never book tourists there again, they did give us a room. Bottom line again: don't drive after dark.
30 July: our trip to Lake Bisina in east-central Uganda took the entire day; it was a four hour drive to the Lake and four hours back, not counting the time to have a very pleasant lunch in Mbale at a hotel at the base of Mt. Elgon. In contrast to terribly rutted roads in western Uganda, the roads here were often newly paved and traffic moved right along. Schoolchildren walking along the curb brighten the drive — each school has its own colorful uniform, so a gaggle of school kids looks like a flock of brightly-colored birds at a distance.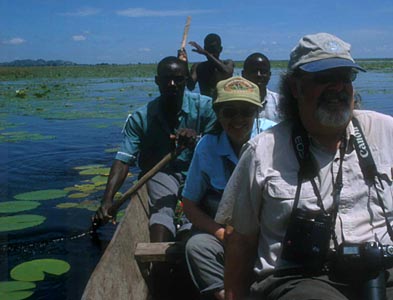 Lake Bisina is a large shallow lake surrounded by dense reedbeds and with various permanent and floating islands scattered throughout its center. It and one other nearby lake are listed as the only breeding grounds for Uganda's single endemic bird: Fox's Weaver. I really wanted to see this specialty, partly because it is well off the beaten track used by most bird tours. We arrived at the lake mid-morning, after wending our way from the fast paved road through narrow dirt bike-paths that made driving a car along them difficult. At one spot on the shore of the lake a channel was cut through the reeds to permit boatman to carry passengers across the lake. There were 3-4 canoes awaiting passengers in the otherwise god-forsaken remote spot, much to my surprise. Hassan arranged for us to rent one with three paddlers, and the six of us set off through the reeds and into the lake (left). Large expanses of lily pads cover much of the lake, making going rather slow from time to time. On the lily pads we found African Jaçana and then, joy of joys, several Lesser Jaçana! On the lake itself were small parties of African Pygmy-Geese, and a few Whiskered Terns cruising just over the surface. Finally we reached the reedy islets where the weavers nest in loose colonies, building large round balls from dried stems. We drifted nearby until an actual weaver appeared: a nice male in alternate plumage! Breeding season was over, so we felt lucky to see the bird; in all we viewed 3 males and 2 females, all of them rather flighty. After the 8-hour roundtrip, we arrived back in Jinja just in time to take a few photos around the hotel, especially of the noisy Pipiacs and the fruit bats crowded the palms around the entrance.
[My notes for this day include descriptions of the weavers, and start by saying "we were surprised how different they looked then the field guides." Prophetic words, alas. We learned in August 2001, from African expert Nik Borrow, that the photos we took were not of Fox's Weaver but, instead, Northern Brown-throated Weaver. Nik says he has been taken to the "Fox's Weaver colony" three times and has never seen the weaver there — instead, he always sees N. Brown-throated, a very common reed-bed colony weaver. He says that there is not reason to believe Fox's Weaver is an aquatic nester and, in fact, very little is currently known about the bird or its status. So we were bamboozled on this point.]
31 July: our final morning of birding Uganda was spent in Mabira Forest, a nice lowland patch not far from Jinja. It is a reserve where one hires a local guide; we obtained Ibraham, who is the best bird guide there. He certainly knew bird calls well, and during our walk with him in the forest his knowledge got us great looks at two Scaly Francolin, a Toro Olive Greenbul, several Rufous Flycatcher-Thrushes, and a pair of White-spotted Flufftails. All were seen without using tapes (my minidisc recorder was dead anyway), and this was especially thrilling with the flufftails, which Ibraham spotted because he heard them walking through the underbrush. We also tried a spot on the other side of the forest from headquarters, known as "the lake," but it was dry and not much was happening thereabouts. During our first visit there, it started to rain and that continued for about an hour, definitely dampening the morning. We continued to bird under umbrellas, and were rewarded with totally unexpected views of an African Civet walking down the dirt road at mid-morning. Normally this is a very hard-to-see nocturnal beast.
We had set aside the afternoon for tourist shopping in Kampala, and Hassan took us to a spot with numerous vendors after a lunch of pizza very much like an American pizza hut. The center of Kampala proved to be very cosmopolitan with new high-rises, traffic, and a well-dressed crowd. Like everywhere we visited in Uganda, everyone seemed friendly and helpful. After buying various tourist trinkets and office gifts, we drove out to Entebbe so we had a hotel right next to the airport. We left for Nairobi, our gateway to the rest of the vacation in northern Tanzania, early the next morning.
Overall impressions: Uganda was a fine country to visit, with friendly people, spectacular wildlife, an expansive park system, and it was mostly uncrowded. Prices for almost everything were very cheap compared to the high-priced tourist parks in Kenya and Tanzania. Offsetting those major attractions are some very bad roads with few road signs, and some bureaucratic problems with park guides and guards in Buhoma, and problems in having reservations held at some hotels. We would not recommend driving on one's own during a first visit — finding the way could be tough, and driving at night very dangerous. We really benefited from the professional guide service provided by Hassan, and his work in securing all our transportation and hotels was essential.
We had only 15 days, and stuffed as much as we could into that time. This made for a lot of long drives and much-too-short visits to many spots. And we had the problem with losing our prepaid bird guide at Buhoma, which costs us a dozen key birds. In all I was very pleased with our choice of routes and places, but we really needed an additional day at Buhoma, another day at QEII park, and another day in the grasslands north of the Nile at Murchison Falls. Plus we skipped Budongo Forest entirely — most groups spend two days here. Thus a three-week (20 or 21 day) trip is really needed to experience Uganda properly. Our 15-day trip was a grand success, but very rushed.
My other thought is that July is probably not the best time for a one-shot visit. We had chosen July because (a) it fit Rita's schedule as a teacher, and (b) it was the dry season and most tours visit then. But late May and June are not usually too wet, and they would be much better for birding in the Rwenzoris as nesting is then at its peak. By July, numerous birds have fledged young and quit vocalizing. December-January would also be good months, between the "short" rains of late fall and the "long rains" from February through early May. In those northern winter months, many Eurasian migrants are also present, adding substantially to the length of one's list (e.g., Stefan Lagerblad's group in late December 2001-January 2002 recorded 579 species in 20 days).
In terms of traveling about, having a private guide-driver was the best of all worlds for us. We are pleased to recommend Hassan Mutebi and his Access Uganda Tours company to other interested birders.

PHOTOS: All photos on this page are © 2002 Don Roberson; all rights reserved. Many other shots from this trip are scattered about the web site. Check particularly bird families, mammals, and herps listings.
Literature cited:
Keith, S., E. M. Urban, and C. Fry. 1992. The Birds of Africa. Vol. IV. Academic Press, London.

Rossouw, J., and M. Sacchi. 1998. Where to Watch Birds in Uganda. Uganda Tourist Board, Kampala.

Stevenson, T., and J. Fanshawe. 2002. Field Guide to the Birds of East Africa. T. & A.D. Poyser, London.

Zimmerman, D. A., D. A. Turner, and D. J. Pearson. 1996. Birds of Kenya and Northern Tanzania. Christopher Helm, London.
TOP
GO TO TRIP REPORT PORTAL
Page created 1-16 Oct 2002, slightly updated 10 Sep 2011