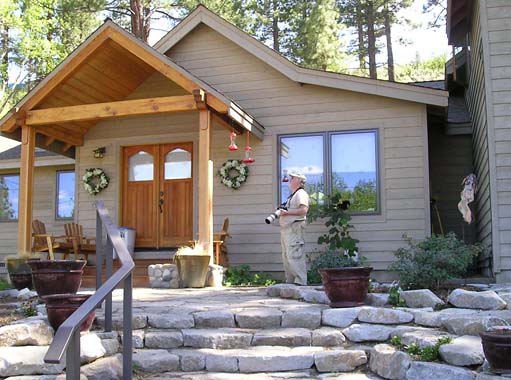 On a late May visit to Markleeville, Alpine Co., California, Rita and I came upon a home with bird-feeders, including two hummingbird feeders (right). The nice residents were just packing for a trip but gave us permission to watch the feeders. So I stood nearby, focusing at the hummingbird feeders, and took all the images on this page as handheld, natural light shots.
It was early afternoon, with sun on one of the two feeders, and over the course of an hour we had four species, which is a lot for one locale at 6260 ft. elevation on the east side of the Sierra. Most promising was the fact that a male Broad-tailed Hummingbird — quite scarce and local in California — was visiting the feeders (above).
The common species was the same as at my own feeders in Pacific Grove: Anna's Hummingbird (below: female left, male right). At least 20 different Anna's were judged to have appeared during the hour, and it could have been more.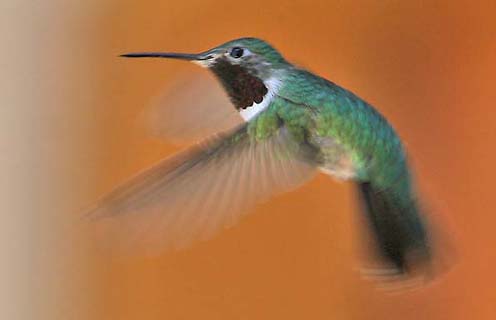 There was both a male (right) and female (above left & below) Broad-tailed Hummingbird at the feeders. The male flew with a loud wing buzz in flight, and a backlit shot (above right) shows the broad tail pattern.
The flight shot of the female Broad-tailed (below) shows a number of field characters cited by Howell (2002): longish bill; 'cold' face (lacking cinnamon tones as do Rufous/Allen's) with pale eye-ring; finely flecked throat; lack of obvious rufous in the tail (she did have rufous inner webs at the base of the outer three rectrices, which can be seen above left); lack of contrasting white forecollar; and pale cinnamon wash to flanks.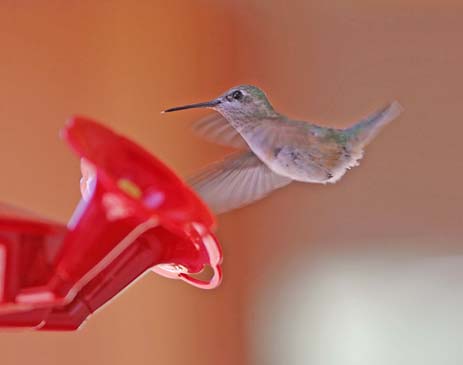 There was also a female Calliope Hummingbird (right and close-up above) which showed this suite of characters: tiny size, short bill, 'pot-bellied' look, cinnamon sides, heavily spotted throat, and white loral stripe above black 'lip' (see best in close-up, above).
Female Calliope tail pattern is a short, squarish black tail with no obvious rufous (there can be a very thin rufous edge to the base of R1-R4; Howell 2002), and broad white tips to R4-5, smaller white tip to R3 (below).
Finally, there was both a male and female Black-chinned Hummingbird, but I only got a shot of the female (below right).
Four species of hummingbirds is a good number for any California feeder on the same day.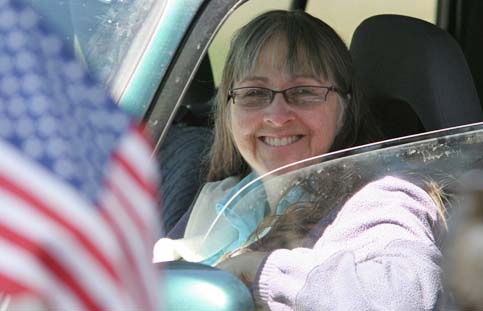 We left the Alpine feeders quite pleased (Rita; right).
We learned later that Markleeville is named for Jacob Marklee who came here in 1861 and built a toll bridge across a tributary of the Carson River. He staked a land claim in 1862 in what he thought was Nevada, but was later determined to be in California. When the Comstock Lode was discovered, the town was built on his land claim. His hopes of striking it rich in both the mines and by supplying freight to miners were dashed when he was killed in 1863 during a gunfight. The town later became the county seat for Alpine County. The courthouse is located on his cabin site.
Literature cited:
Howell, S.N.G. 2002. Hummingbirds of North America: The Photographic Guide. Academic Press, San Diego, CA.
Photos: All photos © Don Roberson, all rights reserved.