MISIDENTIFICATION #4: "BLACK SCOTER"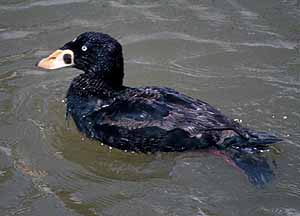 Unfortunately this particular photo does not illustrate well what is a real problem. This young male Surf Scoter (left) already has a classic Surf Scoter bill, so is not likely to be misidentified, but I use this photo because its the best I have so far, and it does show that young male Surf Scoters may lack any hint of white on the nape well into spring (this photo in April). Every fall and winter "Black Scoters" are reported in Monterey Bay that are young male Surf Scoters just getting yellow or orange color to the base of the bill, and often are compared to more obvious male Surf Scoters. These birds are usually seen with a scope at a fair distance. Way too much emphasis is placed on color and pattern by beginning & intermediate observers to the exclusion of the much better clues provided by shape. The bill of Surf Scoter is always broad and expansive and merges into the forehead without much demarcation. The forehead itself is sloping and the head shape blocky.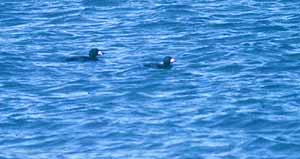 Two real Black Scoters (adult males) are shown at right. They have small, thin bills with a big yellow bulb at the base of the upper mandible (not a bulbous whole bill). It is easy to distinguish bill from crown, and the forehead and entire head is very round in shape. All these points are shown in standard field guides, yet observers may this error every year.
Females are also sometimes misidentified. There is variation in the extent of white on the faces of female Surf Scoters, and sometimes white patches seem to "merge" into a white cheek patch, suggesting the pattern of female Black Scoter. Again, bill and head shapes are critical, but rarely noted.
Surf Scoters are very common in winter around Monterey Bay, and some non-breeders remain to summer each year. Black Scoter is quite scarce, especially in recent decades. Usually just 2-5 birds are found each winter, typically inside Moss Landing harbor, around the wharves in Monterey harbor, or in the big scoter flocks off Ft. Ord. Monterey Bay seems to be at about the southern edge of regular winter distribution in Black Scoter. More birds were present during "cold water" years in the 1960s and 1970s, but in the "warm water" 1980s and 1990s, they became scarcer. If "cold water" regimes return, we may see more again, but beware the problem of young male Surf Scoters.
PHOTOS: The immature male Surf Scoter was at Moss Landing, Monterey Co., in Apr 1998; the male Black Scoters were photographed by J. Van Remsen, Jr., off Pt. Reyes, Marin Co., in Nov 1973. Photos © D. Roberson and J. Van Remsen, Jr., respectively.