MISIDENTIFICATION #7: "SEMIPALMATED SANDPIPER"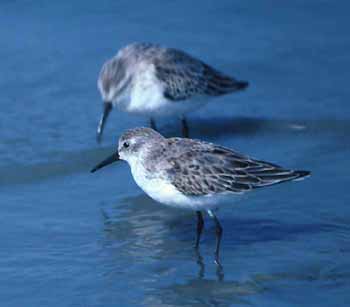 This mistake is most often made by birders "chasing" someone else's find that was reported on the Rare Bird Alert. These observers "find" the stake-out, thus apparently adding to the dates of occurrence, but often it has been shown that these later claims were erroneous. This one involves a failure to understand sexual dimorphism and plumage changes in Western Sandpiper (both top photos). When a "Semipalmated Sandpiper" (a rare but regular fall vagrant) is reported, birders may look for a "short-billed" bird (like the front bird in the upper left photo) among "long-billed" Westerns (like the obvious Western in upper-right photo). But both are Western Sandpipers; females have decidedly longer bills than males (and some males are even shorter-billed than the one I show here). Or birders may look for the more "uniform" upperparts among the brightly-colored juvenal-plumaged Westerns (the upper right bird is a bright, fresh August juvenal Western). What some fail to realize is the the Westerns that are going to winter locally begin post-juvenal molt rapidly and can be into a basic plumage (upper left) quite early in autumn. This plumage is characterized by plain gray feathers with a single black shaft streak. In contrast, juvenal plumage is characterized by dark-colored centers and colored edges (which are white, buff, or red in Western Sandpiper, depending on which feather is involved).
Real Semipalmated Sandpipers (both juvs) are shown below. Even though there is much variation in the upperpart coloration of this species (a "bright" juv is lower left, a more typical "plain" juv is lower right), the pattern is always of a "scaly" appearance with the back, scapulars, and upperwing coverts being rather uniformly dark-centered and whitish-edged, forming the "scales." In contrast, juvenal Western Sandpipers look "zoned": white-edged back, red-edged scapulars, and buff-edged coverts, giving a contrasty look even at a great distance. Even as basic coverts or back feathers replace juvenal feathers, the red-edged scapulars are often retained quite late into the fall.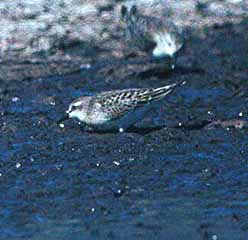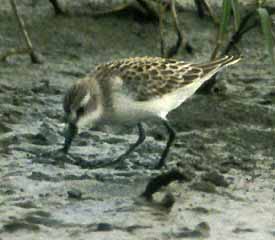 Real Semipalmated Sandpipers do have short bills -- shorter even than male Westerns -- and the bill tip is blunt, almost bulbous-appearing. Western Sandpipers always have bills that narrow down to fine points at the tip (but only females have a "droop"). There are also structural differences. The classic i.d. papers on juvenal stints are Jonsson & Grant's 1984 "Identification of stints and peeps," British Birds 77: 293-315; and Veit & Jonsson's 1987 "Field identification of smaller sandpipers within the genus Calidris,"Amer. Birds 41: 212-236 (same great color plates in both papers).
Birders have been getting better at this problem in recent years, and here in Monterey there seem to be fewer bogus claims of "Semipalmated Sandpipers" than there were a decade ago.
PHOTOS: The basic-plumaged Western Sandpiper was at Elkhorn Slough, Monterey Co., on 12 October 1982, and the juvenal Western was at the Carmel R. mouth 9 Aug 1981; the "bright" juv. Semipalmated Sandpiper (lower left) was at Elkhorn Slough on 1 Sep 1990; the "plainer" juv. Semipalmated (lower right) was photographed by Linda Terrill at Imperial Beach, San Diego Co., on 10 Sep 1978. Photos © D. Roberson, except the last one is © Linda Terrill.
BACK TO TEN MOST MISIDENTIFIED PAGE