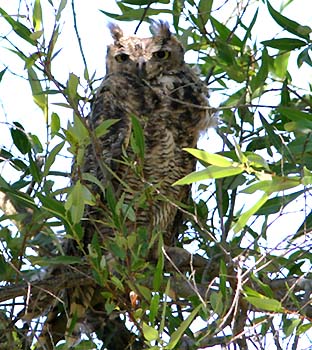 Steve Rovell had told Rita and me that the Arroyo Seco River was a good places for dragonflies in mid-summer in Monterey County. In particular he told us there were a lot of American Rubyspots along the river. This sure looks like one great damsel in Tim's book, so on 15 July 2006 we headed inland from the foggy coast to the very hot Arroyo Seco campground area. But we were blocked at the entrance kiosk, and told that the park was completely full-up, with not even a parking spot available to provide access for a mid-afternoon walk. No amount of whining helped. What a bust!

I knew that there was a bridge about 10 miles downstream that the Soledad/Greenfield locals use as a swimming hole, so we tried there. It was, as expected on a hot afternoon, full of Mexican families and their kids splashing and playing. But we decided to try to walk upstream a bit after accessing the river on the rough trail directly below the bridge. As we scuffled our way upstream, Rita spotted this young Great Horned Owl in a streamside willow (right; photo © Rita Carratello).
| | |
| --- | --- |
| | We first tried several almost-dry pools back from the river, and encountered the wonderful Flame Skimmer Libellula saturata (left & below), actively defending the wet spot. Better to be a big dragon in a small pond, they say, then a little fish in a big pond . . . And what a face! |
| | |
| --- | --- |
| Then we worked our way over to the Arroyo Seco River itself, upstream of most of the bathers, and Rita spotted the subject of our quest. Sitting out there on a rock in the river was the American Rubyspot Hetaerina americana! It took a little wading and a bit of effort, but eventually we found there were, indeed, "lots" of rubyspots along the river. And when you get close-up, well. wow! (below). This is one impressive damselfly. | |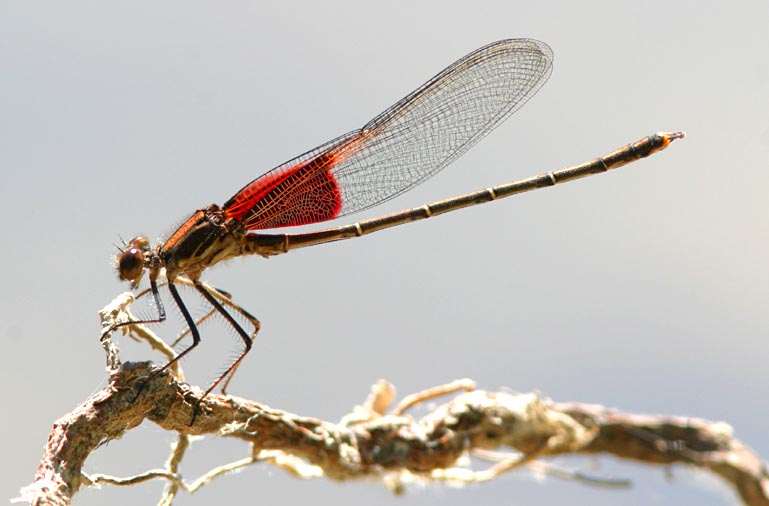 | | |
| --- | --- |
| I spotted another apparent dragonfly on another rock (right) but, on closer inspection, it proved to be the odonate exuvia — the cast-off larval exoskeleton of an emerged adult dragonfly. Perhaps someone can identify it to genus? Manolis (2003) says this often can be done. In the upper of the two shots (right) it is next to an ordinary-sized house fly or similar fly. [We don't do flies.] | |
Vivid Dancer Argia vivida appeared to be very common here, as it is in a number of Monterey County locales so far this summer [or at least that's what we think they are based on the 'teardrops' along the sides of the abdomen, between the black rings, on both males and females]. We spotted two interesting tandem pairs in the midst of ovipositing (below). On the left-hand pair, the male delicately holds onto a blade of grass while the female deposits her eggs directly into the water at river's edge. On the right-hand pair, though, the male is getting an entirely free ride. He is just balanced above her — without any wing movements at all — while he assures himself that 'his' eggs are being deposited below.
Literature cited:
Manolis, T. 2003. Dragonflies and Damselflies of California. Calif. Natural Hist. Guide 72. Univ. of Calif., Berkeley, CA.

PHOTOS: All photos are © 2006 Don Roberson; all rights reserved.