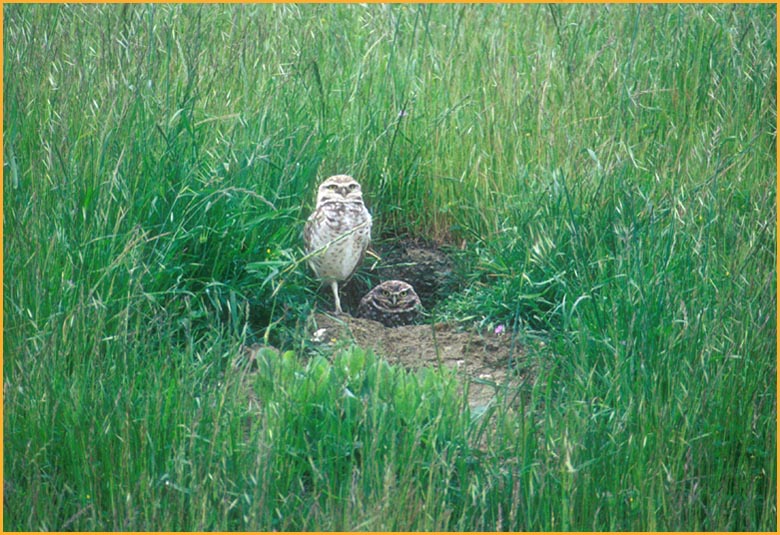 Burrowing Owl
11 Apr 1998 nr Clifton Court Forebay

Contra Costs County is rapidly urbanizing county east of San Francisco Bay. It was one of the original counties in 1850 but lost over half of its size when Alameda County was created in 1853. Today it includes a portion of the northeast part of the Bay, around Richmond, and then extends east to the Central Valley bottomlands. It includes the rapidly growing cities of Concord, Pleasant Hill, Walnut Creek, and Danville, and the sprawl farther east. But it also has parkland in the Berkeley hills (Tilden Park was one of my favorites when I lived in the East Bay) and the towering presence of Mt. Diablo. There are marshes along the San Joaquin River delta and on Suisun Bay.
County birding statistics and links are on Joe Morlan's site. A breeding bird atlas project has been completed but not yet published.
For Contra Costa County the prime photo is of a pair of Burrowing Owl at the entrance to their burrow during work on the breeding bird atlas project. Rita & I volunteered for this block in the southeast corner of the county. This shot illustrates how the male (standing tall) is bleached, as he stands guard in the sun, while the female has much less sun-bleaching. Burrowing Owls are on the decline here and elsewhere where suburban sprawl is taking over grasslands.
I had to search my old files to find any other photos from the county. These two flight shots were taken long ago (3 Feb 1979) at the Martinez wastewater ponds: adult Thayer's Gull and Great Egret.
When I lived in Berkeley in the 1970s, one of my favorite local birding spots was Tilden Park in the Berkeley hills, just over the Contra Costa line. A boardwalk was built during that decade through the riparian habitat near Jewel Lake (below; Jan 1976). In winter (as shown) the trees were bare; in spring and summer this was a rich riot of green foliage.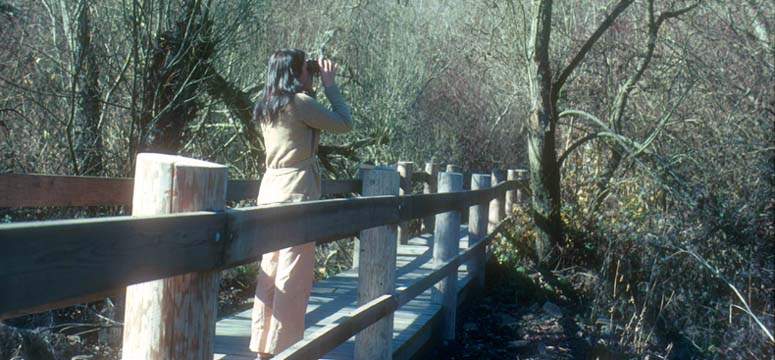 All photos & text © 2006 Don Roberson; all rights reserved.
TO NEXT COUNTY
TO CALIFORNIA COUNTIES PORTAL PAGE
TO CREAGRUS CALIFORNIA LIST PORTAL PAGE