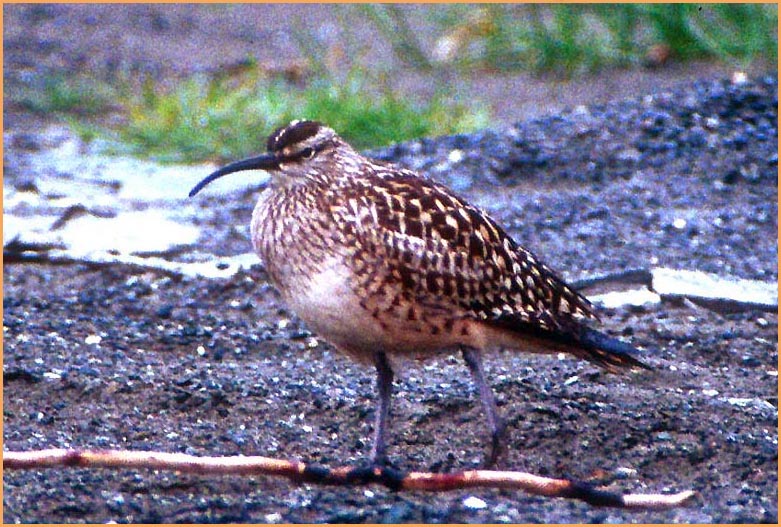 Bristle-thighed Curlew
16 May 1998 at Crescent City

Del Norte County is the extreme northwestern patch of California. The interior is heavily forested, and there are some incredibly scenic rivers (like the Smith River) that run through the woods. The rocky coast is dotted with islets, many of which are important seabird colonies, and there is a fine bay at Crescent City. Marshy bottomlands attract waders in migration. Because of its location, the county has been the locale for several important first state records, some of which are shown on this page.
County birding statistics and links are on Joe Morlan's site. There is a good published site guide for this county, with good bar graphs and a complete checklist: Alan Barron's 2001 A Birdfinding Guide to Del Norte County.
For Del Norte County the featured bird is California's first Bristle-thighed Curlew. Rita & I undertook the long trek north to promptly chase this vagrant, and I obtained the photo above and below (left). There were a smattering of these long-distance vagrants along the west coast of North America that May, propelled by unusual weather conditions. Otherwise this species migrates between its Alaskan breeding grounds and its mid-Pacific wintering islands across the open ocean. The photos are with fast film in dingy overcast (a common weather condition here) and are thus somewhat grainy. Oh well, at least I have them. Rita & I also chased California's first Common Eider — a remarkable alternate-plumaged male in mid-summer that ranged between Crescent City and Pt. St. George — in July 2004. My digiscoped photo of the male in mid-flap (below right) is extremely distant . . . but identifiable.
The coastline of Del Norte County is dotted with offshore islets; the upper photo (below) is looking south from Pt. St. George and shows the vicinity where the Common Eider made its appearance. Castle Rock (bottom photo below) is used as a major seabird colony during the breeding season, and as a primary staging ground for Aleutian Cackling Geese in migration. Both photos 9 July 2004.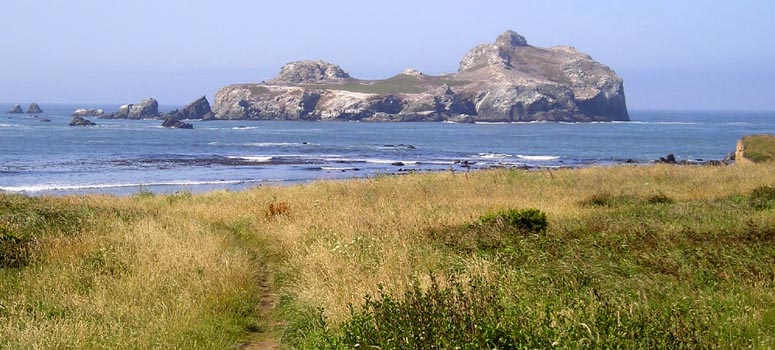 All photos & text © 2006 Don Roberson; all rights reserved.
TO NEXT COUNTY
TO CALIFORNIA COUNTIES PORTAL PAGE
TO CREAGRUS CALIFORNIA LIST PORTAL PAGE