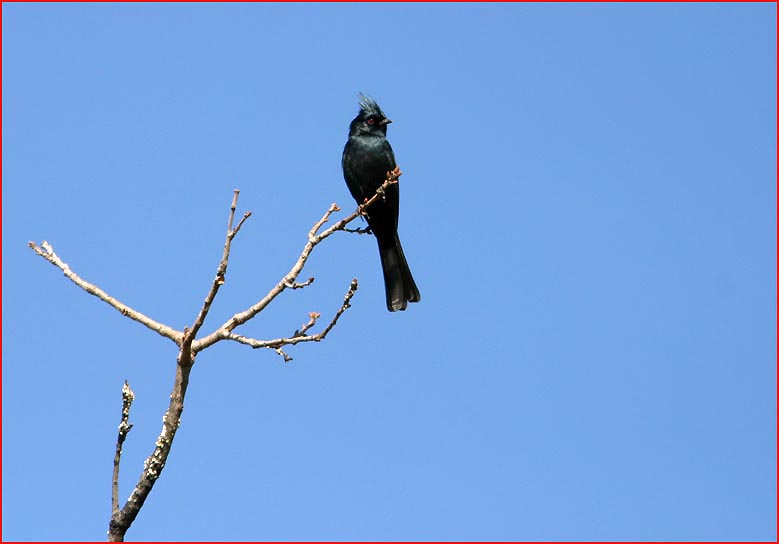 Phainopepla
6 Feb 2005 along Hunt Rd., w. CLV

Calaveras County is one of the small Gold Rush counties in the central Sierran foothills. It was one of the 27 original counties and was once larger. In 1854, Amador County was created from it and Alpine County took much of its northeastern part. In 1861, Mono County took everything else east of the Sierran divide. Today, Calaveras County stretches from Central Valley grassland edge to montane forests, and includes a Sequoia grove (the Calaveras Big Trees), but much of the county is gray pine and oak woodland. It was famed as the locale for Mark Twain's mythical 'jumping frog' contest; today the foothills are under significant development pressure. Most of the little birding that is done here tends to be around reservoirs, where there is a chance of county rarities, and the remainder of the county is rather unexplored. There are several reservoirs in the foothills, like Salt Springs Valley Reservoir and New Hogan Reservoir, that attract waterfowl in season.
County statistics and links are on Joe Morlan's site.
For Calaveras County the photo is of a male Phainopepla, sitting atop a bare tree in February that has not yet leafed out. He surveys his domain regally in the crisp winter air (or, at least, that's how I remember it). There were still no leaves in the oak woodlands on this date, making it easy to spot the patches of mistletoe so favored by this species. This is a county that we've rarely visited, so I'm pleased to have at least one decent shot from there in my files. Actually, I have two other okay photos. First, the same day as the Phainopepla (6 Feb 2005), I got a snap of a soaring adult Ferruginous Hawk over Salt Springs Valley (below left). Then, back in Sep 1976, I chased the rarest bird ever to appear in Calaveras County — a Blue-footed Booby on New Hogan Reservoir that remained for a month. I got a friend to snap this shot of me and the booby with my camera (below right).
The view below is of New Hogan Reservoir in winter, more than two decades after the booby (12 Dec 1998):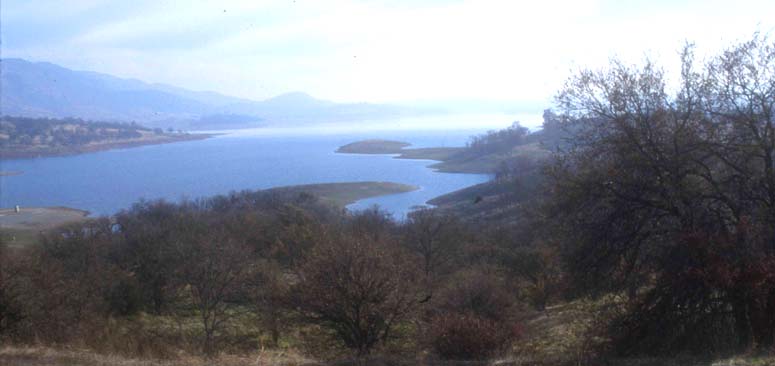 All photos & text © 2006 Don Roberson; all rights reserved.
TO NEXT COUNTY
TO CALIFORNIA COUNTIES PORTAL PAGE
TO CREAGRUS CALIFORNIA LIST PORTAL PAGE