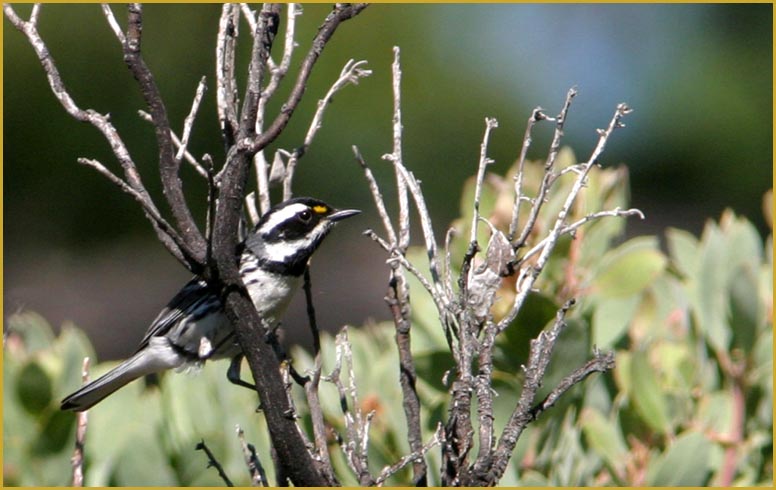 Black-throated Gray Warbler
18 June 2006 below Goat Mt.

Colusa County is a small county in the Sacramento Valley and stretching west to the Coast Range. It was unorganized territory, attached to Butte County, when California became a State in 1850 but was organized into an official county by 1851. Its original name was Colusi County; this was changed in 1855. The county was once more than double in size, but was reduced in 1891 when Glenn County was created from its northern half. Today it is mostly Valley bottomlands devoted to agriculture, but it does have a portion of the Coast Range and parts of the county are over 7000' elev (Snow Mt. on the Lake County line is 7040' elev = 2146 m). In good weather birders can reach Goat Mountain lookout at 6121' elev (1866 m) in a 2-wheel drive car and thus pass through chaparral and oak woodlands to montane conifers. In the lowlands, Colusa NWR protects extensive marsh habitat in the Colusa Sink, and the Sacramento River runs through its eastern section (or forms the border at places), providing riparian habitats.
County birding statistics and links are on Joe Moral's site.
For Colusa County the headline photo is a Black-throated Gray Warbler, up in the oak woodland/pine forest interface along Goat Mt. Road. The male was singing before enticed into closer view by 'pishing.' Two other oak woodland species were encountered at lower elevations that same day: a foraging feamle Nuttall's Woodpecker at Williams (left), and a female Wild Turkey with brood (right). This is the habitat in which Wild Turkeys were once native in California — back in the Pleistocene! All current populations arise from introduced stock, but are of the same species. [A different species occurred in the Los Angeles Basin before the Ice Ages.]
Here's a view (below) of Goat Moutain — the highest hill in the distance on the Lake-Colusa border — looking west from Goat Mt. Road. You can see that the chaparral at this elevation gives way to live-oak woodlands and then, higher up, to yellow pine forests.

All photos & text © 2006 Don Roberson; all rights reserved.
TO NEXT COUNTY
TO CALIFORNIA COUNTIES PORTAL PAGE
TO CREAGRUS CALIFORNIA LIST PORTAL PAGE