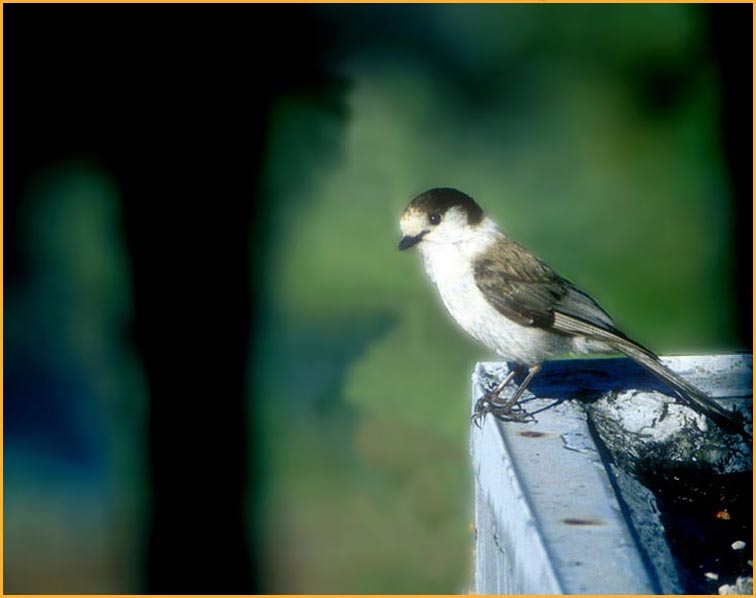 Gray Jay
1 July 2001 at Little River

Mendocino County is a large county on the northwestern coast of California. It has a long but mostly rocky coastline with many islets offshore that serve as seabird breeding colonies. The coastal ridges and mountains are heavily forested but the interior is mostly hot and dry oak woodlands. There are many small but nice coastal river mouths along the coast that serve as vagrant traps; many of them are under-birded. Most birders see Mendocino only from Hwy 101 on the drive north to Humboldt County. It seems that all the roads to the coast wind through innumerable curves. There are dramatic viewsheds and lots of wild country in this thinly-populated jurisdiction.
County birding statistics and links are on Joe Morlan's site.
For Mendocino County the highlight bird is Gray Jay. This elusive jay is resident locally in northwestern and northeastern California, but is generally difficult to find. Around some campgrounds they can be quite tame but the population is spread thinly throughout its habitat. I've spent many fruitless hours searching for Gray Jays here and there. On a mid-summer trip to Mendocino County in 2001, Rita and I stayed at the quaint and lovely Seafoam Lodge in Little River. We had missed the jays the day before at Van Damme SP, and we got up early the next morning to scope Tufted Puffins at their burrows on Goat I., off the Mendocino headlands. We succeeded in that goal and came back to the lodge to back, when all of a sudden 3 Gray Jays appeared on the porch to our room! I took the shot above; even though it has a man-made structure in it (which I usually try to avoid) I like the look of the gray jay against the deep green forest background. The Lodge had made cranberry muffins for breakfast, so we tossed one out and the jay came in to grab it (below left). They weren't around long — but it was memorable. A famed bird in the county is this Laysan Albatross (below right) that returned to the cove at Pt. Arena for many years, apparently prospecting for a breeding site (the flat tablelands at the sea-edge look suitable), if a mate were encountered (24 Feb 1995).
There are many beautiful spots in Mendocino County; the Mendocino Headlands is one of them. Here's a view of Goat Island -- a signficiant seabird colony that includes Tufted Puffin -- from those headlands.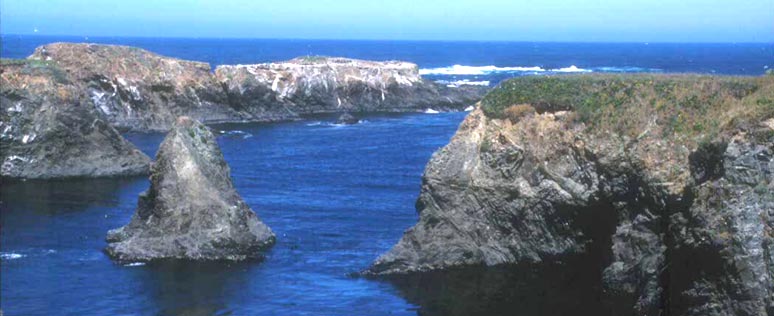 All photos & text © 2006 Don Roberson; all rights reserved.
TO NEXT COUNTY
TO CALIFORNIA COUNTIES PORTAL PAGE
TO CREAGRUS CALIFORNIA LIST PORTAL PAGE