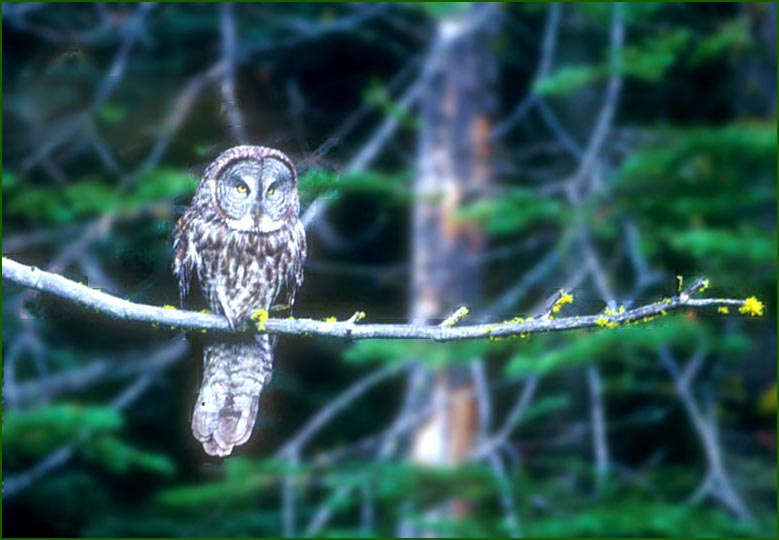 Great Gray Owl
27 May 1987 at Crane Flat

Mariposa County is synonymous in the minds of many birders with Yosemite National Park. While a good portion of Yosemite is in adjacent Tuolumne County, all the major tourist sites are in Mariposa County: Yosemite Valley, Olmstead Point, Wawona Big Trees. The Tioga Pass Road winds in and out of Mariposa, but again the famed birding sites — like Crane Flat — are within Mariposa County. The county actually stretches from the foothill grasslands of the Central Valley to the ridgeline of the Sierra Nevada, and encompasses all the "life zones" that some of learned as children. Mariposa was one of the original 27 counties in 1850, and at that time it was huge, encompassing almost all of the land east of the coastal counties from Monterey to Santa Barbara. A dozen or more counties were subsequently created out of this large area. Mariposa County was reduced to about its current boundaries by 1860.
County birding statistics and links are on Joe Morlan's site. A wonderful book that covers Yosemite's birds, and thus most of Mariposa County, is David Gaines' 1988 Birds of Yosemite and the East Slope.
For Mariposa County my favorite photo is this portrait of a Great Gray Owl at Crane Flat. My luck with this wonderful and often elusive owl has been pretty good over the years — almost half the time I've tried I've seen it. Getting photos, though, is another thing altogether — I've had just this one chance so far. Another montane bird that can be found in the Yosemite high country is the often hard-to-see Dusky Grouse (female, below left). This adult Barn Swallow (below right) represented the earliest spring arrival to the county at the time (24 Mar 1978 at El Portal).
I could fill pages with scenics from Yosemite National Park. Here are three, all within Mariposa County: Tenaya Lake in the high Sierra (that's me with the guitar back in June 1971 in a self portrait by timer), 'Chevron Meadow' at Crane Flat -- famed locale for Great Gray Owl (late May 1974), and the famous 'Valley View' of Yosemite Valley in winter (March 1978).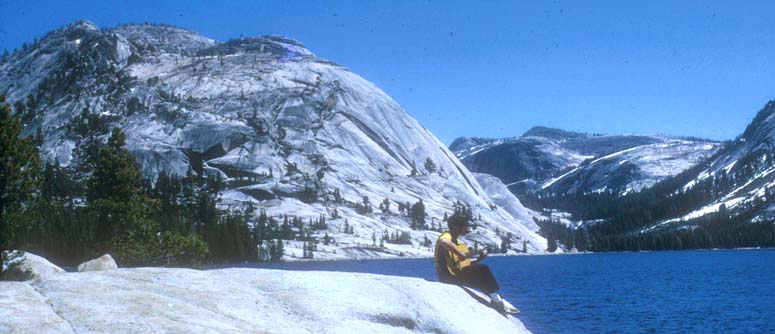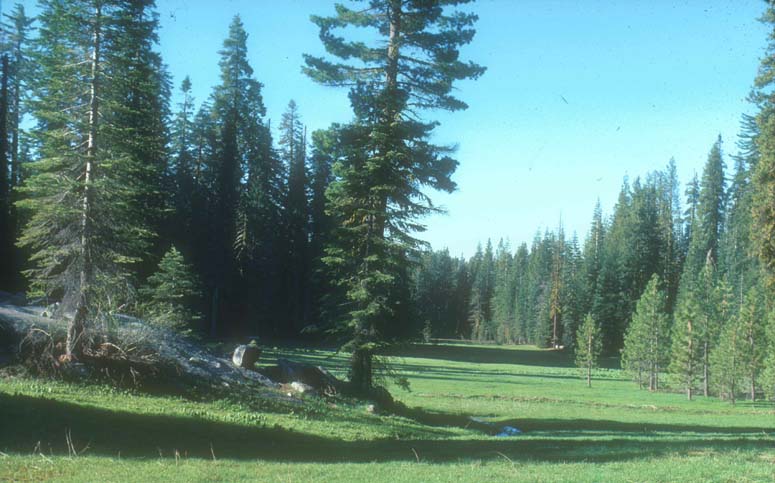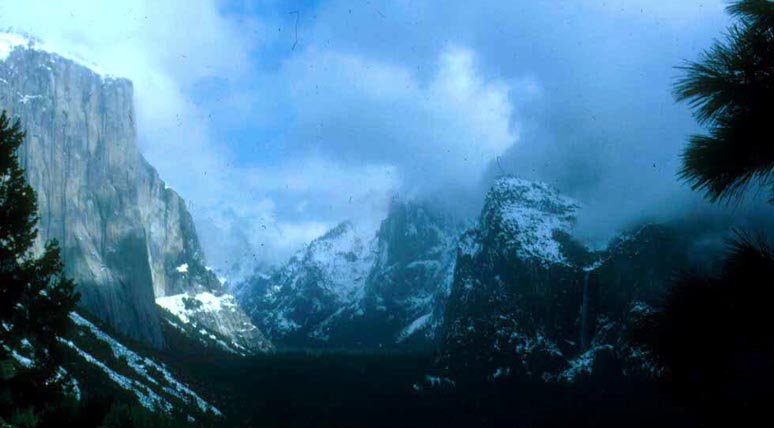 All photos & text © 2006 Don Roberson; all rights reserved.
TO NEXT COUNTY
TO CALIFORNIA COUNTIES PORTAL PAGE
TO CREAGRUS CALIFORNIA LIST PORTAL PAGE