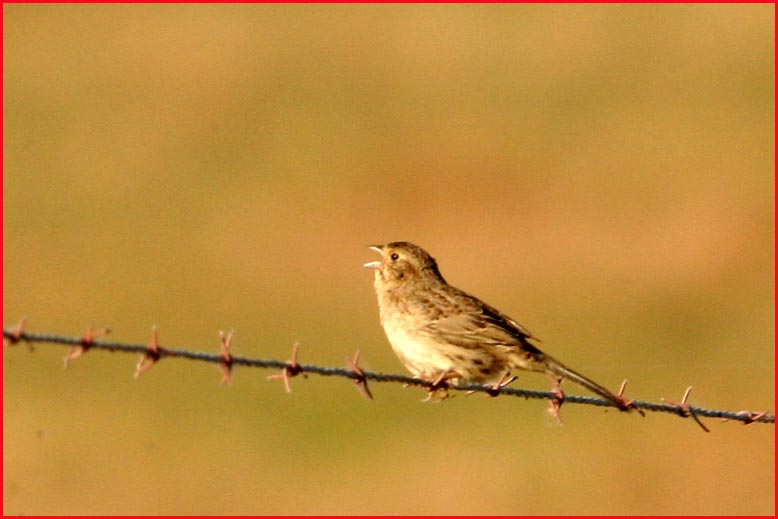 Cassin's Sparrow
30 May 2005 along Latrobe Road

Sacramento County is a fairly small county in the middle of the Central Valley, and centered around the State's capital city, Sacramento. The county was one of the original 27 counties and is unusual in that its borders have not significantly changed throughout its history. A long southwestern arm reaches down to the Sacramento-San Joaquin Delta bottomlands. There is much agriculture south of the City of Sacramento, but to the east are mostly grazing lands, including some extensive grasslands. Purple Martins still nest in "Old Town," in downtown Sacramento. The Cosumnes River Preserve in the south part of the county has extensive marshes and riparian corridors, some of which is now open to the public.
County birding statistics and links are on Joe Morlan's site.
For Sacramento County the headline shot is of an amazing vagrant: a singing Cassin's Sparrow in the eastern grasslands of this Central Valley county. It was present for about two weeks, and was the first really 'chaseable' Cassin's in all of northern California; elsewhere on this web site I have more details about this bird. These same grasslands along the eastern edge of the county have nesting Grasshopper Sparrows annually; one of them is shown below (left; 23 May 1999 along Meiss Road). I have a number of long-time birding friends who live in Sacramento. I think it was Ed Harper who told me about this roosting Western Screech-Owl (below right) near the American River near downtown (4 Apr 1980).
All photos & text © 2006 Don Roberson; all rights reserved.
TO NEXT COUNTY
TO CALIFORNIA COUNTIES PORTAL PAGE
TO CREAGRUS CALIFORNIA LIST PORTAL PAGE