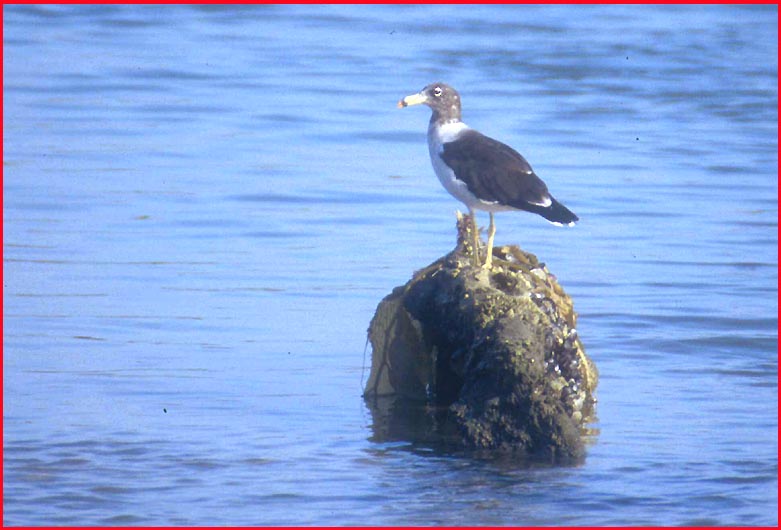 Belcher's Gull
22 Aug 1997 at Tijuana R. mouth

San Diego County is a large coastal county at the southwest corner of California. When California became a State in 1850, this was by far the largest county, stretching from the coast to the Colorado River and north to Death Valley. But this large territory was rather quickly lost. By 1852, Los Angeles County had taken much of the northern two-thirds (and later L.A. lost much of those pieces to new counties), and in 1893 the creation of Riverside County reduced San Diego to its current size. It is still an extreme diverse county. It has coast, foothills, high mountains (Mt. Palomar reaches 1871 m = 6137 ft), and desert. Indeed, the eastern third of the county is desert, much of it in Anza-Borrego State Park. San Diego Bay, and smaller salt-water lagoons along the coast farther north, attract a myriad of waterbirds. San Diego has famed vagrant traps in the Tijuana River valley and on Pt. Loma. Its proximity to Mexico make it a prime spot to find vagrants from the south; yet, it has its share of Siberian vagrants as well (e.g., the State's first Little Bunting). Indeed, San Diego County is so diverse, and has been so well birded by Guy McCaskie and disciples that it continues to have the highest county list (as of this writing, both Los Angeles and Monterey counties are a couple of birds behind).
County birding statistics and links are on Joe Morlan's site. Joe's page has links to numerous on-line resources for San Diego County; I have particularly like the site details (directions and photos) provided on Mary Beth Stowe's web pages. San Diego County has completed both a breeding bird atlas and a winter atlas, and the results were published in Philip Unitt's 2004 San Diego County Bird Atlas, published by the San Diego Society of Natural History.
Although I have birded San Diego County many times, I have only recently taken photos there. In the past I was always in a hurry to get to the next rarity. Shown above is California's first Belcher's (Band-tailed) Gull, a South American species that made it this far north and remained for a fair bit of time. It was doing amazing things while we watched it, like diving head-first into the shallow stream of water to grab mussels and then drop then on the hard shore, trying to get them to crack. The two birds below are from a visit in Apr 2006: the Thick-billed Kingbird (left) was a vagrant that had wintered at Lake Hodges (Del Dios 10 Apr 2006) but the Verdin (right) is a resident in the desert (Anza-Borrego State Park 13 Apr 2006).
San Diego is an amazingly diverse county. Three distinctive aspects are shown in the photos below, all taken in Apr 2006: desert habitat at 'Mesquite Bosque' near Borrego Springs; extensive waterbird/shorebird habitat at the south end of San Diego Bay; and sunset over the Pacific Ocean and Pt. Loma (viewed from Coronado).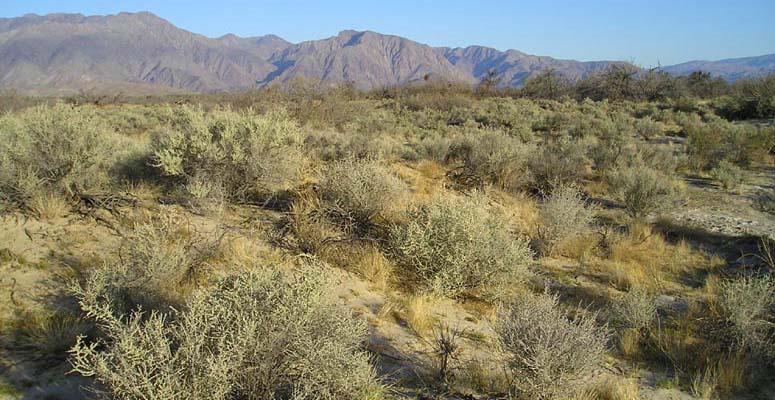 All photos & text © 2006 Don Roberson; all rights reserved.
TO NEXT COUNTY
TO CALIFORNIA COUNTIES PORTAL PAGE
TO CREAGRUS CALIFORNIA LIST PORTAL PAGE