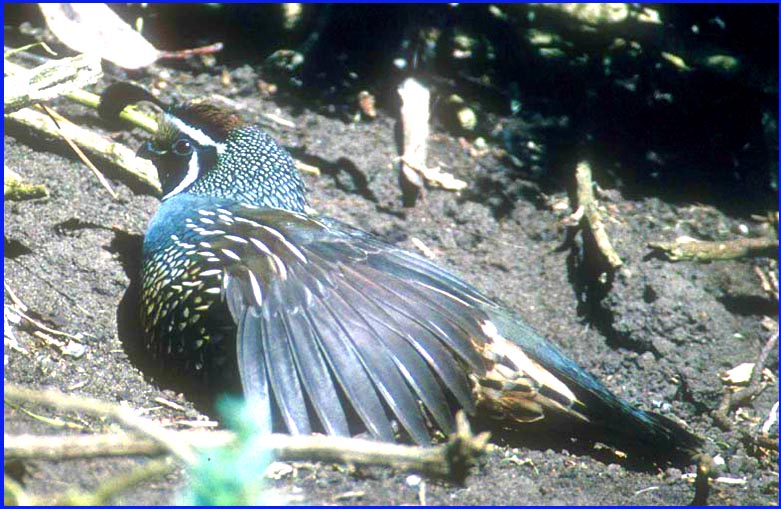 California Quail
25 Mar 1995 in Golden Gate Park

The City and County of San Francisco is the only unified county/city government in California. The county and city limits are exactly the same, and both of them include the Farallon Islands (which is on another page of this project). San Francisco has a population of about 745,000 but is part of the Greater Bay Area with millions of people. The City itself is often considered one of the most lovely cities in the world. It is, however, still a city. Birding locales are often small urban parks and scattered here and there, except for the much larger Golden Gate Park and the rather extensive lands of the Presidio, now protected by the National Park Service. New wetlands near Crissy Field have become a productive spot, and there still is much good birding along the Pacific Coast (Ocean Beach), around Lake Merced, and at Candlestick Pt.
County birding statistics and links are on Joe Morlan's site. Details about local birding spots are on the San Francisco Field Ornithologists' web site. A Breeding Bird Atlas project has been completed, but has not yet been published.
For San Francisco City & County, I feature a dust-bathing California Quail. It's a nice male; the species is our State Bird. Quail were once common in Golden Gate Park, but populations have declined seriously in the past decade, in part because of feral cats. Some were reintroduced in 2006 [and the entire episode has been featured in the Farley cartoon in the S.F. Chronicle]. Golden Gate Park is one of the prime birding spots in The CIty; my other two photos are also from there: a just-fledged Anna's Hummingbird (note the really short bill it has at this age; 25 Mar 1995) and some American Coots jostling for position at one of the ponds (20 Dec 1983). Note that the left-hand coot has an entirely white shield, a character once thought to identify Caribbean Coots in North America. The late Luis Baptista and I published a paper [Roberson & Baptista, 1988, White-shielded coots in North America: a critical evaluation. Am. Birds 42: 1241-1246] debunking this theory and all U.S. claims of "Caribbean Coot." Rather, male American Coots with excess testosterone may possess the all-white, high shields that match Caribbean coots. The San Francisco coot was one of the ones we featured in our article.
All photos & text © 2006 Don Roberson; all rights reserved.
TO NEXT COUNTY
TO CALIFORNIA COUNTIES PORTAL PAGE
TO CREAGRUS CALIFORNIA LIST PORTAL PAGE