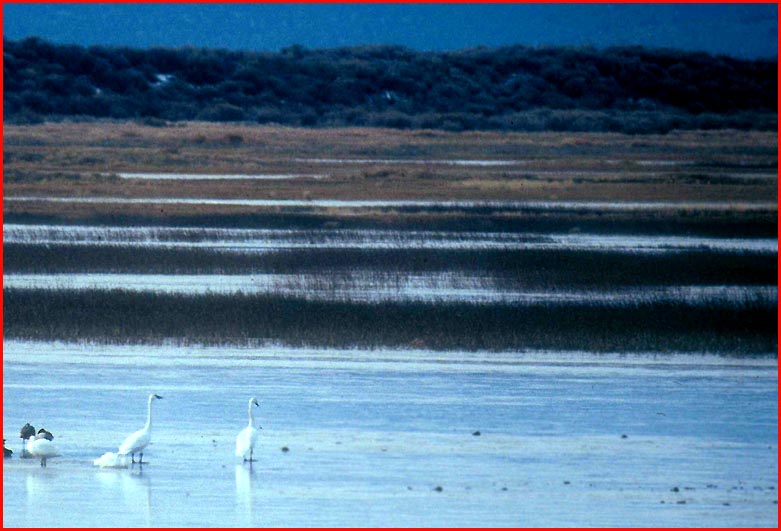 Trumpeter Swan pair
30 Nov 1991 at Lower Klamath NWR

Siskiyou County covers a good portion of the northern tier of California along the Oregon border. It is famed for the waterfowl refuges in the Klamath Basin that it shares with Oregon — Lower Klamath and Tule Lake NWRs. So the county is best known for its wintering ducks, geese, and swans. However, large numbers of Bald Eagle are also present, and the refuges have attracted vagrants like Gyrfalcon and Common Redpoll. Siskiyou is much less birded in the summer but has a wide variety of mountain, sage, and grassland habitats. Mt. Shasta, in the south near its border with Shasta County, dominates the landscape in much of the county.
County birding statistics and links are on Joe Morlan's site.
For Siskiyou County the scene is an overcast, freezing day at Lower Klamath refuge. The lakes are frozen solid, and the waterfowl are standing on the ice. Most of the waterfowl are sleeping, like the left-most swan (a Tundra Swan). But the two awake swans are Trumpeter Swans — a great vagrant to California and one of my better finds in the State. We were up chasing a Whooper Swan (which we saw) but these Trumpeters were new arrivals. As Rita & I watched them, they suddenly began honking to each other with diagnostic trumpet-like notes, bobbing their heads, and then at the crescendo flying off together in loud voice. It was thrilling!
My camera equipment at the time was less than perfect, and this was shot with high-speed (and thus grainy) film, but still it does evoke the scene. An enlargement of the photo shows the two Trumpeters (below left); another shot — from Tule Lake refuge — shows a young Rough-legged Hawk (below right).
Siskiyou County is interesting throughout the year. In winter, when it is freezing cold and the lakes are all frozen, Lower Klamath NWR (below) is filled with swans, geese, ducks, and raptors (4 Jan 1986). In summer, the open sage plains can be colorful with flowers and cinder cones from volcanic eruptions eons ago dot the landscape. The middle photo shows a cinder cone in Lava Beds National Monument, right near the Modoc County border (13 Aug 2000). Mt. Shasta is the dominant feature throughout much of the southern part of the county; the bottom shot is a view from the east (Aug 2000):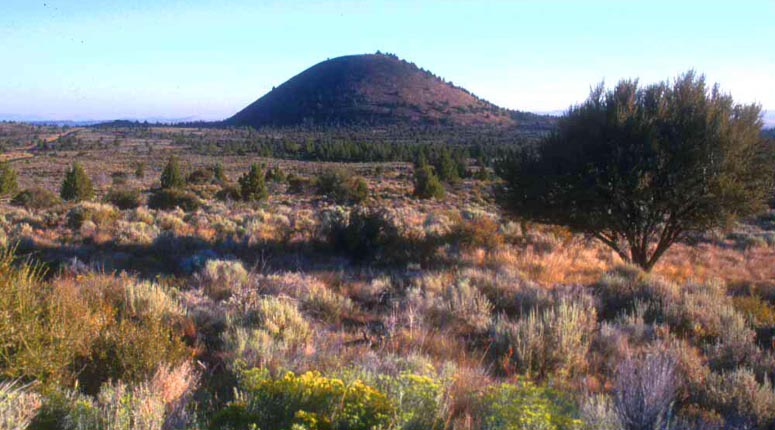 All photos & text © 2006 Don Roberson; all rights reserved.
TO NEXT COUNTY
TO CALIFORNIA COUNTIES PORTAL PAGE
TO CREAGRUS CALIFORNIA LIST PORTAL PAGE