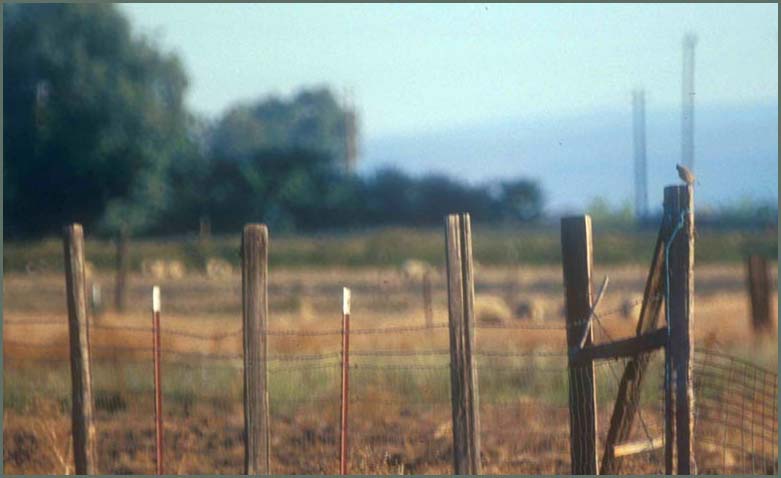 Northern Wheatear
15 Oct 1988 in farmyard north of Orland

Tehama County is a large county at the north end of the Sacramento Valley. It was created in 1856 out of then much-larger Butte & Colusa counties; its primary town is Red Bluff. It stretches from the eastern slope of the Coast Ranges in the Yollo Bolly Wilderness, across the Sacramento Valley, and then up the slopes of a series of mountains at the north end of the Sierra Nevada Range. A part of Lassen National Park covers the northeasternmost corner. It thus has a wide variety of habitats from valley grasslands to fir forests, but has been rather little birded in the big scheme of State birding. The State's only chaseable Northern Wheatear to date appeared on an anonymous ranch in the lowlands, north of Orland, in Oct 1988.
County birding statistics and links are on Joe Morlan's site.
The sad fact is that I have only one bird photo from Tehama County so far, and it is among my worst photos ever. It is a major rarity — California's first chaseable Northern Wheatear back in fall 1988 — but you can barely tell it's a bird in the picture [it is sitting on the righthand post in the shot above]. I've blown the shot up (below left) and maybe you can see some white in the tail (and a black inverted "T"), and in another shot (below) right a buffy breast on an upright perched bird, but jeez, these are awful. Something better will come along some day....
In my only scenic shot, along Route 36 west of Red Bluff, we see oak woodlands stretching west toward the mountains (19 June 2006). Those distant ridges are in Trinity County.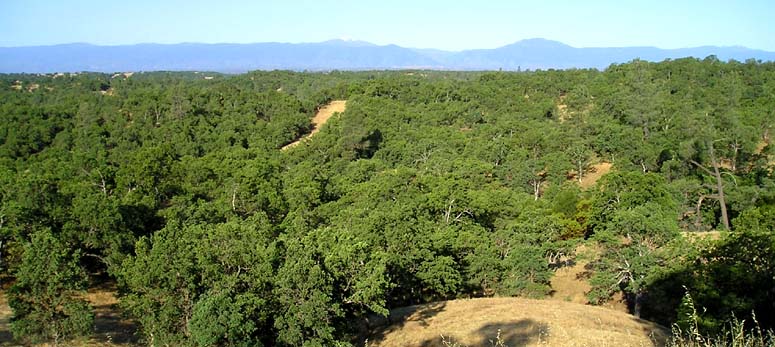 All photos & text © 2006 Don Roberson; all rights reserved.
TO NEXT COUNTY
TO CALIFORNIA COUNTIES PORTAL PAGE
TO CREAGRUS CALIFORNIA LIST PORTAL PAGE