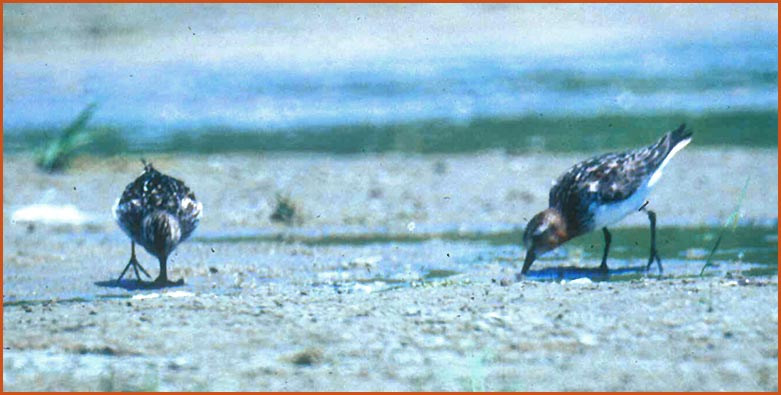 Least Sandpiper and Red-necked Stint
13 July 1981 at Santa Clara River mouth

Ventura County is medium-sized county along the southern California coast. It was created in 1872 from the eastern portions of Santa Barbara County, and at this division Ventura County was assigned Anacapa and San Nicolas islands [see my separate Channel Islands page]. There are a number of coastal lagoons, but the best is the mouth of the Santa Clara River within McGrath State Park. Various vagrant traps exist along the coast, including sod farms that attract rare waders in fall. The county stretches north and east up the flanks of the Transverse Range, all the way to the top of Mt. Pinos ( 8830' elev = 2692m). The county border with Kern County runs through the peak here, among the high elevation pines. Much of the Sespe Condor Sanctuary is wilderness within the northern half of the county.
County birding statistics and links are on Joe Morlan's site.
For Ventura County the headline photo shows one of the better vagrants: a Red-necked Stint (next to a Least Sandpiper) at McGrath State Beach. Geographically, this is at the mouth of the Santa Clara River, and we generally use geographic terms in assigning locales to specific bird records, but birders are likely to call the spot "McGrath." The Red-necked Stint was an adult still in full (but worn) alternate plumage. I took a series of shots but like this one, as it shows the lack of webbing between the toes of both species illustrated. Mid-July is the prime time for the migration of adult shorebirds. I took the shot (below left) of an adult Western Sandpiper on the same day. My other photo (below right) is a rather poor photo of Ventura's supreme vagrant: a female Xantus's Hummingbird at a backyard feeder (31 Jan 1988 at Ventura); alas, its bill is obscured in this shot. This unexpected vagrant from the tip of Baja California actually built a nest during her two-month visit.
All photos & text © 2006 Don Roberson; all rights reserved.
TO NEXT COUNTY
TO CALIFORNIA COUNTIES PORTAL PAGE
TO CREAGRUS CALIFORNIA LIST PORTAL PAGE