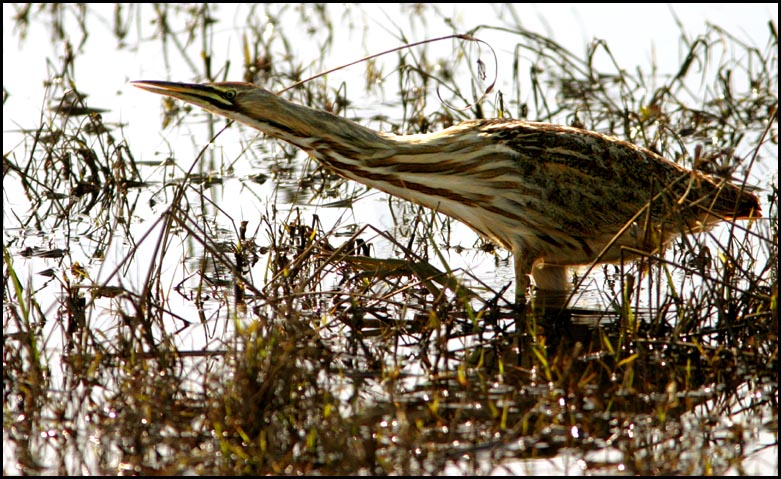 American Bittern
6 Mar 2005 at Vic Fazio Yolo Bypass Wildlife Area

Yolo County is a small county combining Central Valley marshes and foothill habitats, just west of Sacramento. It was one of the original 27 counties but it lost most of its northern territory to Lake and Colusa counties within its first 5 years of existence. One of the larger towns is Davis, home to U.C. Davis, and thus there have long been a string of active college-aged birders here. The Yolo Bypass holds winter overflows of the Sacramento River, and has extensive marshes and open grazing bottomlands. It is rich in winter waterfowl and raptors, and has hosted such rarities as Gyrfalcon and Snowy Owl. At its west end, the county borders on Putah Creek and Lake Solano, with rich riparian and foothill habitats. Less often checked is Cache Creek, with perhaps even greater potential. There are birdy ponds scattered about, including wastewater ponds at Woodland. Swainson's Hawk, once on the decline, has rebounded locally and now nests is some suburban neighborhoods.
County birding statistics and links are on Joe Morlan's site. This site also features Steve Hampton's on-line guide to birding Yolo County.
For Yolo County an American Bittern is featured, in mid-stride in the wetlands of the Yolo Bypass. The entire Yolo Bypass can be great for winter birding. A major rarity that most of us chased 25 years ago was a Gyrfalcon in the Yolo Bypass (below left, 23 Jan 1982). Lake Solano forms part of the border between Yolo and Solano counties. Sometimes there are rare ducks here; shown (below right) is a male Barrow's Goldeneye on the lake, swimming from the Yolo side toward Solano (6 Mar 2005)
The photo below shows a packet of birders scoping the Gyrfalcon in the Yolo Bypass bottomlands in Jan 1982. It is very flat country, and can be cold and gloomy in winter (as in this picture).

All photos & text © 2006 Don Roberson; all rights reserved.
TO NEXT COUNTY
TO CALIFORNIA COUNTIES PORTAL PAGE
TO CREAGRUS CALIFORNIA LIST PORTAL PAGE