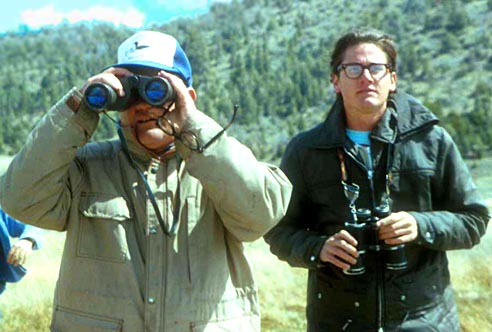 Mike Parmeter (with binoculars up; shown here with his son John) is best known as an active Sonoma County birder who served as the third Secretary of the California Bird Records Committee (CBRC). Although his standard AFN/AB initials are "BDP," mirroring the initials of his full name, everyone calls him "Mike." Mike served a term as a CBRC member (1978-1980) before becoming Secretary in 1982. During his four years as Secretary, the standard CBRC report format was adopted, and formal bylaws were adopted that remain more-or-less the same to this day.

During our era (1965-1989), Mike was an affable country doctor in Napa County. As Napa Valley grew in population density and vineyards dominated the landscape, Mike became a very active birder in adjacent Sonoma County — which also boast a coastline and the marvelous habitats around Bodega Bay — and has become the premier birder for that county. He and Gordon Bolander published the standard work on the status and distribution of birds in Sonoma County (Bolander & Parmeter 1978).

Mike, along with his son John, who would become an outstanding birder in his own right, were members of the record-tying California Big Day in 1983, and then the record-setting California Big Day team in 1984. Mike enjoyed Big Days, and participated in a good many of them in northern California, as well as the Statewide efforts. Mike was a keen observer but also had a laid-back sense of humor to leaven the tension of a Big Day. His standard phrase as the day wore on — "oh, my aching butt!" — would capture the anxiety and exhaustion of it all.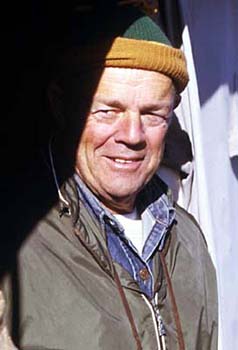 Mike's birding mentor and close friend was Gordon Bolander (photo right). Bolander lived on a wooded knoll outside of Santa Rosa that he called "Timber Hill;" this property would host, among other birds, northern California's first Painted Bunting (24 June 1966). Mike and Gordon were very active in birding Bodega Bay and Pt. Reyes, and Mike organized the first serious pelagic trips out of Bodega Bay. By the 1980s they had begun to bird outside of California on birding trips, and it was at the start of one of those that Gordon would suffer a heart attack and die with Mike by his side.

Mike was also very close to Laurie Binford as a birding mentor and partner, and in the late '70s and '80s if you ran into one of them at Pt. Reyes or Bodega Bay or some rarity somewhere in northern California, the other would be there also. Often Mike's son, John, would also be along; John would eventually get a PhD and move to New Mexico, where he has been of that state's most active and respected observers.

Mike is now a retired doctor, but continues to live in Napa County. He was an important participant in both the Sonoma County (published 1995) and Napa County (published 2003) breeding bird atlases, and he co-authored the Foreword for the Sonoma atlas.

Photo of Gordon Bolander (right), Mike Parmeter's mentor & friend, aboard a boat on Monterey Bay 26 Jan 1974 © Van Remsen

Photo (below) includes Mike Parmeter (left) and John Parmeter (right) with Laurie Binford (center) at Big Bear Lake © B.B. Roberson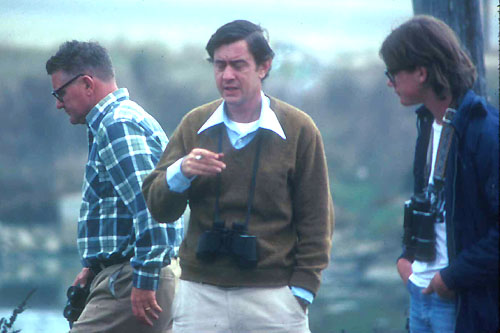 Significant bird records:
Lesser Black-backed Gull 14 Jan 1978 Roberts Lake, Seaside MTY — first CA record [co-finder]
Selected publications 1978-1989:
Bolander, G.L., and Parmeter, B.D. 1978. Birds of Sonoma County, California: an annotated checklist and birding gazetteer. B.D. Parmeter, Napa, CA.