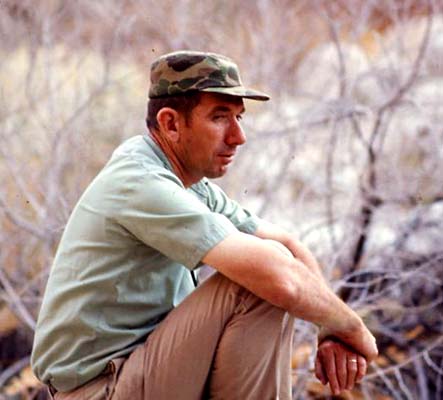 Gene Cardiff is a California example of the local community supported naturalist. Gene grew up in Bloomington, San Bernardino County, not far distant from the San Bernardino County Museum where he served as the museum's curator and director until his retirement. He held that position throughout our period of review (1965-1989). Gene was also an original member of the California Bird Records Committee and served for the first six years of its existence.

While growing up, he and his brother Bruce were often out-of-doors and regularly camped at the Salton Sea, where they enjoyed hunting and fishing. It was at such a campsite — a grove of cottonwoods at the mouth of the Alamo River on the southeast edge of the Sea — on 1 Oct 1947 "when a strange warbler was collected." They took it to W.C. Hanna, a local ornithologists, who keyed it out as California's first Cerulean Warbler (Hanna & Cardiff 1947). [Incidentally, Guy McCaskie tells me that this grove of cottonwoods in now drowned under the rising Sea. When the CBRC reviewed this record many years later, via photos of the specimen, they suggested it had been mis-sexed when prepared because the bluish cast to the upperparts and the blackish scapular streaks are characteristics of first-year males.]

This was, of course, nearly 20 years before the period under review, but Gene's roots are local and reach that far back. On 4 Oct 1952, he and his brother heard an unfamiliar call from a row of tamarisks along the edge of the Salton Sea, located the bird, and shot it. It proved to be the State's first Greater Pewee (then called "Coues Flycatcher;" Cardiff & Cardiff 1953). The next day, "while watching a wave of migrating warblers in a tamarisk thicket . . . near Niland, [they] observed a warbler that was quite different from the commoner species. At first glance we took it for a gnatcatcher, but when it turned its side to us, we could see two yellowish wing bars and a greenish back. It was collected and proved to be a female Chestnut-sided Warbler," the second for California (ibid.).

Today the Greater Pewee is on public display as a "life mount" in the San Bernardino County Museum. Gene was the museum's primary collector and was particularly active in San Bernardino and adjacent Riverside County in securing specimens that were missing from that collection. Many of his most important finds (see "significant records," below) became specimens at the museum (e.g., Northern Shrike from Deep Springs, Heermann's Gull from Salton Sea, Little Stint from Harper Dry Lake). Collecting specimens as documentation was standard practice in the 1950s and early 1960s, but in many ways was replaced by peer-reviewed sight records (via the CBRC or AFN/AB editors) in the 1970s and later. Gene considered specimens to be better documentation than written details of sight records; indeed, this was such the standard approach that he did not write field notes on a Rustic Bunting he found near Upland, Riverside Co., in Nov 1965. He had been unable to collect it; therefore, it was a "good bird that got away."

Gene continued to bird San Bernardino County and the Salton Sea throughout our 25 year period of review. He found the State's first Little Gull at Mecca, Riverside Co., in Nov 1968 that graced the cover of Audubon Field Notes. He and Guy McCaskie banded birds regularly at the Sea that winter (winter 1968-69). His son, Steve Cardiff, became interested in birds. Together they documented what was thought to be the State's first Red-headed Woodpecker, a bird that Al Driscoll had found near Niland, Imperial County. Steve took photos and Gene prepared the published note (Cardiff & Driscoll 1972; in retrospect, a specimen from 1962 was eventually accepted in 1994 as the first official State record). Steve Cardiff became a very active San Bernardino County birder in the 1970s. Steve eventually teamed with Donna Dittmann and they moved together to Louisiana in the 1980s, where each became employed by the bird department at Louisiana State University, and each has served many years on the Louisiana Bird Records Committee.

As the local professional naturalist for San Bernardino County, Gene gave innumerable public talks on the birds of this region, and led many field trips for San Bernardino Audubon Society and for the Museum. Some of these went as far as Mexico, where Gene (and Steve) conducted many ornithological surveys. As a teacher and trip leader, Gene dedicated mentoring helped create many a new naturalist in California's high deserts.

Photo (left or above) Feb 1973 at Anza Borrego State Park, SD © Brian G. Prescott

Significant bird records: the collecting California's first Cerulean Warbler and Greater Pewee is mentioned above, but those occurred before our period of review. During 1965-1989, Gene found numerous birds of local interest, both in San Bernardino County and around the Salton Sea. Those of Statewide interest, excluding the Rustic Bunting discussed above, include
Little Gull 16 Nov 1968 Mecca RIV — first CA record
Little Stint 21 Nov 1988 Harper Dry Lake SBE — 3rd CA record [collected]
Northern Shrike 15 Nov 1969 Deep Springs INY — first southern CA rec [collected]
Heermann's Gull summer 1967 Salton Sea — first interior record in CA [collected]
Yellow-throated Vireo 5 Dec 1969 into Mar 1970 Riverside RIV — first to winter in CA
Pectoral Sandpiper Feb-Mar 1982 south end Salton Sea — first to winter in CA [co-finder]
Lark Bunting 27 May 1978 Lanfair Valley SBE — discovered actual nest, the first CA nest [with son Steve; confirmed breeding evidence had been observed the day before but the Cardiffs found the actual nest]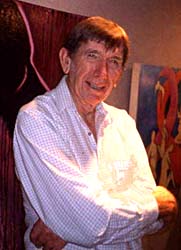 Selected publications 1947-1989:
Hanna, W. C., and Cardiff, E. E. 1947. Cerulean Warbler in California. Condor 49: 245.
Cardiff, E., and Cardiff, B. 1953. Records of the Coues' Flycatcher and Chestnut-sided Warbler for California. Condor 55: 217.
Cardiff, E. A. 1961. Two new species of birds for California and notes on species of the Imperial Valley and Salton Sea area of California. Condor 63:183.
Cardiff, E. A., and Driscoll, A. T. 1972. Red-headed Woodpecker in the Imperial Valley of California. Calif. Birds 3: 23-24.
Recent photo `2002 © Brian G. Prescott