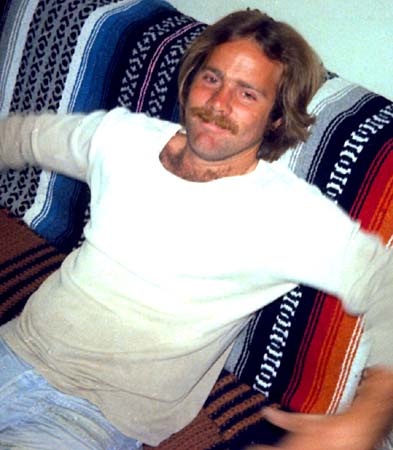 Kimball Garrett is one of southern California's most accomplished birders. He, like his friend Jon Dunn, grew up in Los Angeles and was birding at an early age. He first appears in the southern California region of American Birds in spring 1970 (under the name Kim Garrett; a Virgina's Warbler in Hollywood on 20 May). Although Kimball attended U.C. Berkeley for a time, he has otherwise remained in the Los Angeles area. He is now the foremost authority on the birds of Los Angeles County, and has the highest county list. Since 1982 he has been the ornithology collections manager at Los Angeles Natural History Museum.

Kimball has been known as a sharp field birder since his early days. Stories of his "legendary ears" are, well, the stuff of legend [i.e., his ability to pick out and i.d. distant bird calls]. That acute hearing was a significant asset to the record-setting Big Day team on 29 Apr 1978 [with J.L. Dunn, J.V. Remsen, and R.E. Webster]. Their 231 species remains the non-airplane California record.

Kimball is exceptionally well known for his work as co-author (with Jon Dunn) of two major books: the Birds of Southern California (1981), published by the Los Angeles Audubon Society but now an out-of-print classic, and the Field Guide to Warblers of North America, published in the Peterson series in 1997 (after the close of our period of review). The latter is considered the definitive work on that identification topic. Throughout the '70s and '80s, Kimball authored a series of identification papers in the Western Tanager, the LAAS newsletter, and published widely read i.d. papers in Birding magazine (e.g., Dunn & Garrett 1990, Dunn et al. 1995). It seems like Kimball has done just about everything one can do for the Los Angeles Audubon Society; he is a frequent author in the newsletter, editing the seasonal records for years, lead field trips, been their premier speaker, organized Christmas Bird Counts, and much more.

Kimball has also had a major impact on the California Bird Records Committee. He served as a member for 11 of the 12 years between 1978-1989, sitting out one year as required by the bylaws, but continues to be a presence there to this day. Kimball has also long been the Los Angeles County subregional editor for American Birds but, since the close of our period, has become the co-editor (with Guy McCaskie) for the entire Southern Pacific Coast region.

Photo (above) at the Big Day celebration party at Kimball's apartment in Westwood, L.A., 30Apr 1978 © Barry Clark

Kimball may be the most clever writer I know. He doesn't allow this to spill over into his published scientific papers, but otherwise a cleverly devious line may appear anywhere. There are several in the tongue-in-cheek classic "In search of the Ringed Turtle-Dove" that he wrote with Van Remsen in 1976, just in time for an ABA convention in southern California. I recall a time when we both were on the CBRC. I had heatedly argued for some position in the previous round of voting. In the next round, Kimball began to deal with my poubt this way — "With typical hyperbole, Roberson says that . . ." — and destroyed my pitch in his opening phrase.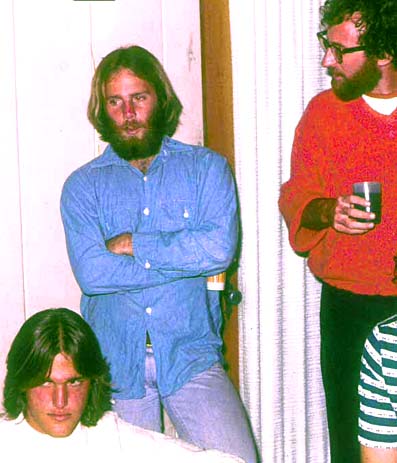 The best examples are his birder parodies on classic rock-and-roll songs. Kimball plays the guitar and sings, but it is the clever lines that one recalls decades later. Here is a snippet to the tune of Jimmy Buffet's Margaritaville (1977):


Ticked off a motmot
Felt like a hot shot, and
Look there's a mockingbird that's blue.
It's a real beauty
A Mexican cutie
How it got that color I haven't a clue . . .

Birding away again in Margaritaville,
Looking for my lost Red-breasted Chat
Some people say that Peter Alden's to blame
But I know
It's my own damn fault.

If you remember Peter Alden's (1969) book Finding the Birds in Western Mexico, then you are older than you look.

More timeless is Kimball's classic, sung to The Eagles' Hotel California (1976): "Birder's California." The only clue you need is that the movie "Ten," with Bo Derek, was a hit just before this parody was written. Using the same concept, a "nine" is one hot bird! [in birder lingo, a "ten" would be a first record to science; a "nine" a first California record, etc.] Everything else you should understand, or you are not the hotshot birder you think you are: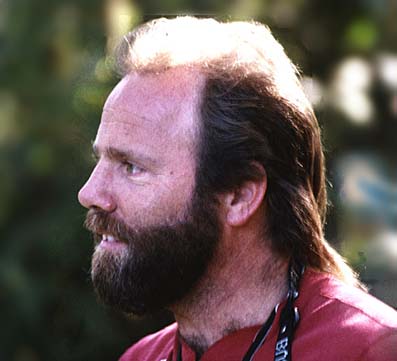 There it sat in the cypress
Wingbars and eye-line,
I was saying to myself,
"This ain't no Blackpoll,
It could be a Pine!"
Then it flit down beside me
And it showed me its streaks,
It was then that I had to stop,
I hadn't quit for weeks.
So I called up the bird tape, saying
"Please bring me my nine,"
I haven't had a State bird
Since 1969.
"Relax" said the bird tape
We are programmed to deceive,
We can stake out any bird you like
But it will always leave!

Welcome to the Birders' California
Such a crazy place, such a frantic pace,
Plenty of room at the Birders' California,
Any time of day
You can list away.
Photo (above right): Kimball hangs out at a birder party in July 1976, with Fred Heath (upper right) and Louis Bevier (lower left) © B.B. Roberson
Photo (below right): Kimball at Oceano, SLO, 1 Oct 1989 © Brad Schram

Kimball was given the name Poor-will, and although the naming committee did not divulge reasons, perhaps this (apocryphal?) story provides a clue. There was a year in the late 1970s when a lot of Horned Puffins were being seen around the Channel Islands. Kimball was aboard a boat trip passing right through the prime area, and for hours he whined that they'd probably miss it. Then, outside of Santa Rosa Island, they saw their first Horned Puffin of the trip. Kimball's reaction? "Geez, now we'll see them all day and they'll get boring."

On the web site for the Los Angeles Natural History Museum, where Kimball is the Collections Manager, short vignettes about staff members are posted. The one about Kimball concludes with this happy thought: "Birds are Kimball's life; if he were to die happy, he would be out birding."

nothing on this page has been made up
it is all strange but true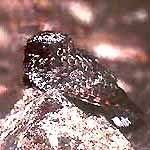 Official Bird Name: Common Poorwill


Significant bird records: many records of local interest, especially in Los Angeles County, and numerous vagrants; those records of Statewide interest include:
Zone-tailed Hawk 9 May 1970 — 6th CA record but first since 1932, so 1st modern record
Red-faced Warbler 14 Jun 1973 San Gabriel Mts. LA — 2nd CA record [co-finder]
Kentucky Warbler 1 Jun 1973 Santa Barbara I. SBA — 4th CA record
Grace's Warbler 15 Jun 1975 Arrastre Creek SBE — 4th CA record
Cerulean Warbler 12 Oct 1981 Yosemite Valley MRP — 8th CA record but first for Sierra Nevada, and perhaps the "most unexpected vagrant seen at the most gorgeous spot" ever
Selected publications 1976-1989:
Remsen, V., and Garrett, K. 1976. In search of the Ringed Turtle Dove. Birding 8: 149-151.
Garrett, K., and Dunn, J. 1981. Birds of Southern California: Status and Distribution. Los Angeles Audubon Soc., Los Angeles.
Remsen, J. V., Garrett, K. L., and Erickson, R. A. 1982. Vocal copying in Lawrence's and Lesser Goldfinches. W. Birds 13: 29-33.
Selected publications since 1989:
Dunn, J. L., and Garrett, K. L. 1990. Identification of Ruddy and Common Ground-Doves. Birding 22:138-145.
Dunn, J. L., K. L. Garrett, and J. Alderfer. 1995. White-crowned Sparrow subspecies: identification and distribution. Birding 27: 182-201.
Dunn, J. L., and K. L. Garrett. 1997. A Field Guide to Warblers of North America. Houghton Mifflin, New York.
Garrett, K. L., and Molina, K. C. 1998. First record of the Black-tailed Gull for Mexico. West. Birds 29:49-54.
Garrett, K. L., and Singer, D. S. 1998. Annual report of the California Bird Records Committee: 1995 records. West. Birds 29:133-156.