Lesser Yellowlegs (below; same bird as above) in full juvenal plumage
No hint of molt. All the rows of upperwing coverts (greater, median, lessers) show fresh feathers with clean white notches densely packed along each edge. Note how the apparent bill color changes between these two shots, based just on the angle of lighting.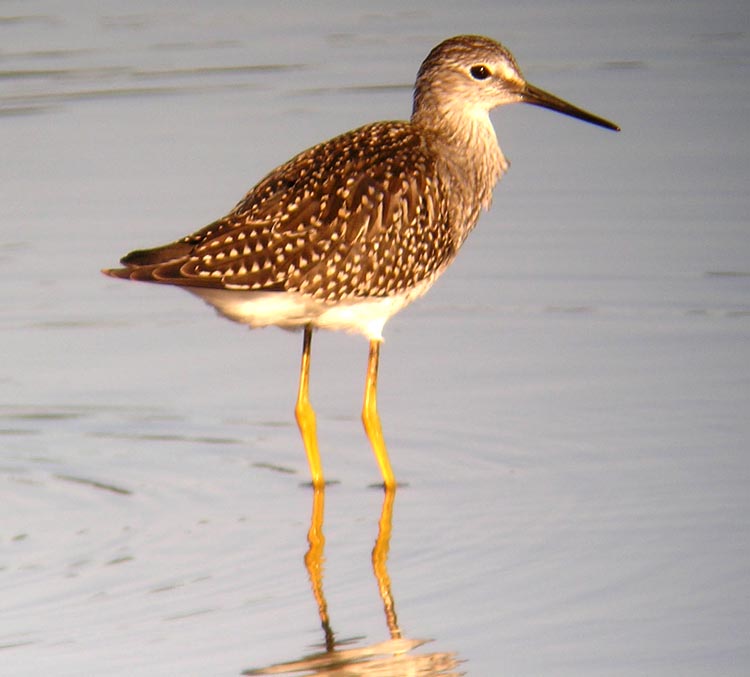 Least Sandpiper in juvenal plumage
Not only are all the rows of upperwing coverts crisp and fresh (the key to ageing this as a juvenal) but there is no molt as yet on the crown, back, or scaps. This is a good photo for looking at the details of each individual juvenal feather.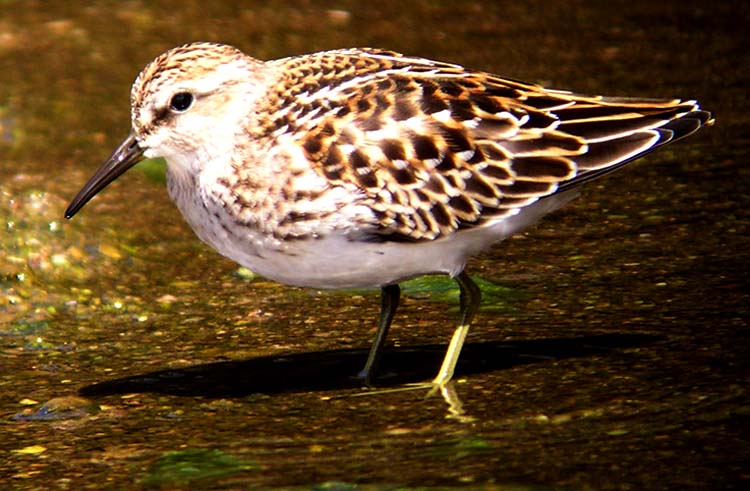 Western Sandpiper in juvenal plumage [same day & locale as next photo]
This bird still has crisp juvenal coverts, back, scaps, and tertials. The only signs of molt are on the head; it looks like at least the nape, and possibly the cheeks and crown, have been replaced already. Other than that, this is a bright crisp bird.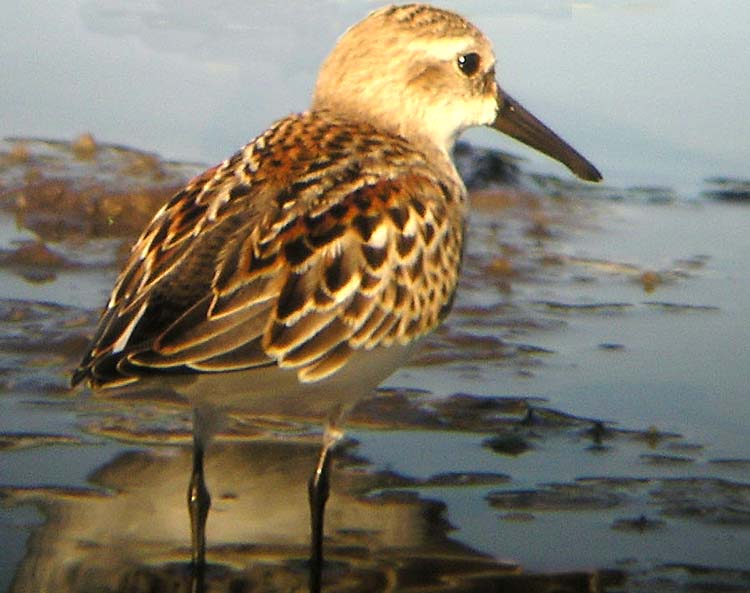 Western Sandpiper in juvenal plumage [same day & locale as the photo above = 1 Sep at Crespi Pond]
This juvenal Western is now well into body molt. Note that the upperwing coverts have not been replaced — they still have broad white fringes. The new feathers are the pale gray feathers with thin black shaft streaks appearing on the back and in the scapulars. There are a mixture of new first-basic feathers and retained black-centered juvenal feathers in the scapulars, and the innermost row of scaps still has the rusty-edged juvenal feathers which is so characteristic of hatch-year Westerns in Sep-Oct.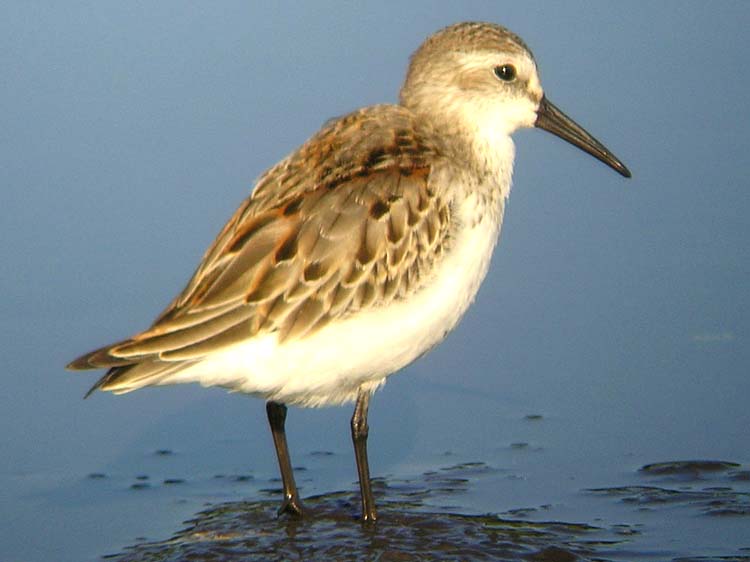 Black Turnstone; probably a juvenal in body molt
I've never tried ageing this species before, but to me the coverts look very fresh; we can even see the short lesser coverts with broad white tips up near the bend of the wing. However, the back, head, and breast all seem a lot browner. This could be either (a) exposure to sun bleaches the blackish color browner quickly or (b) these are new first-basic feathers. I was not able to entirely resolve this in Prater et al. (1977). Comments would be welcome.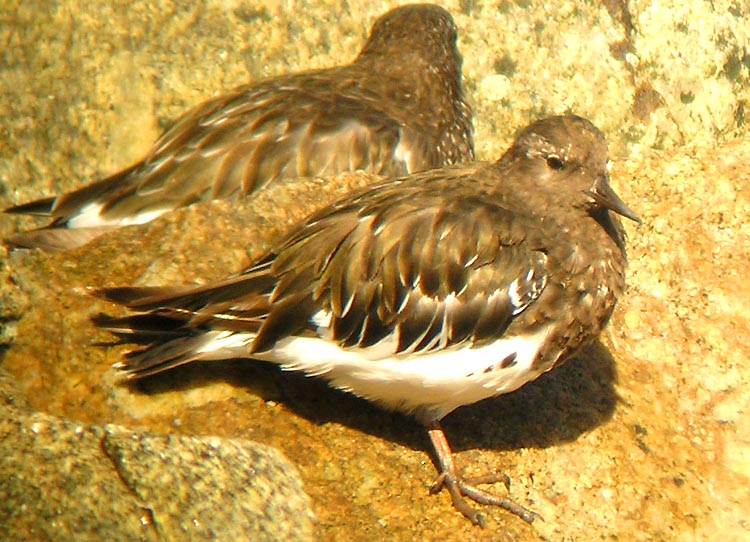 Wandering Tattler in juvenal plumage
This is clearly a juvenal; see all the thin buff tips to the coverts. It also nicely illustrates wear in juvenal feathers. The tertials have thin white edges but they are almost worn off — and this bird couldn't have been present for more than a couple of weeks. Some of the longer scapular feathers are already heavily worn; it looks like all the little buffy spots (similar to what remains on the coverts) have already worn off.
I spent a long time studying this bird because I thought the nasal groove was shortish [Gray-tailed Tattler has a shorter nasal groove than Wandering] but I eventually learned that the nasal groove is in front of the nasal gap (which is obvious) and is, rather, the much shallower groove that goes forward more than half the length of the bill.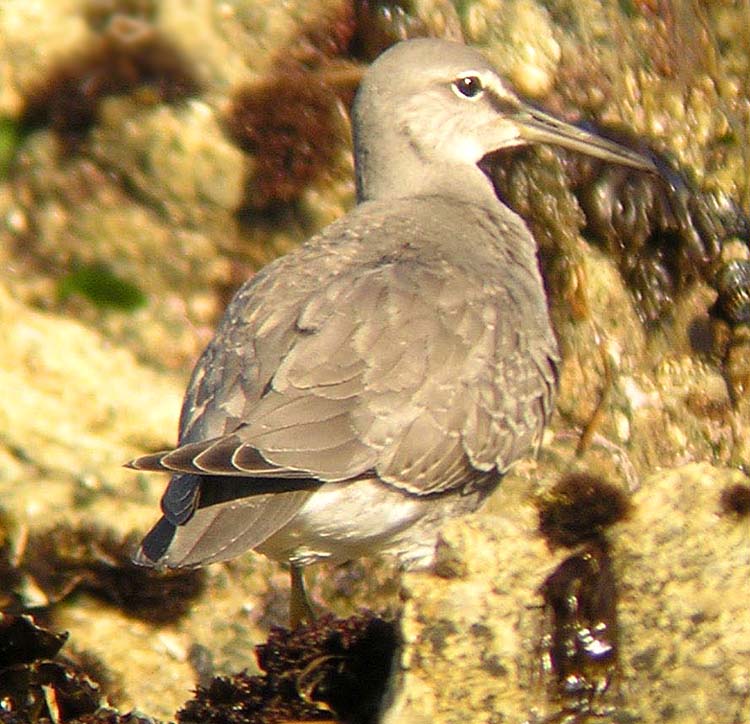 Literature cited:
Prater, A.J., J.H. Marchant, and J. Vuorinen. 1977. Guide to the identification and ageing of Holarctic waders. BTO Guide 17. British Trust for Ornithol., Tring, UK.