MONTEREY COUNTY HIGHLIGHTS: 2004 [part 2]

by Don Roberson

These highlights chronicle the second half of year 2004 (August-December). Created incrementally as new photos were available, the year runs generally "backwards" on this page. The abbreviation "MTY" means "Monterey County" in the text below. Text by Don Roberson. Photos on this page are copyrighted by the photographers to whom they are attributed, and may not be reproduced in any form (including other web sites) without the express consent of the photographer.

For the second year in a row, the major Monterey area Christmas Bird Counts (CBC) were hampered by storms and bad weather. The Big Sur CBC on 19 Dec has gorgeous conditions but just an average species total [138], but highlights included several pelagics from Pt. Sur (Manx Shearwater, Xantus's Murrelet; details at this link). The Monterey Peninsula CBC on 27 Dec, and the Moss Landing CBC on 1 Jan, had rain. The worst weather was on the Monterey Peninsula CBC; this photo (right) shows a storm and rainbow off Pt. Pinos before the real deluge hit a few minutes later. The species total (170) was low; best birds were a Prairie Falcon at Ft. Ord (Bill Reese) and a different Red-naped Sapsucker in Del Monte Forest (Mary Rydell). The Moss Landing CBC had a solid total (~195), and highlights in the MTY portion of the count circle included one of the lingering Vermilion Flycatchers at Moonglow and a Fork-tailed Storm-Petrel offshore (Josh Adams et al.).
In December, an interesting white goose appeared on Crespi Pond 4 Dec (below left); was it a small Snow Goose or, perhaps, a hybrid Snow X Ross's? A discussion of this problem is on a separate page. On 11 Dec, Brian Weed found a first-winter female Red-naped Sapsucker next to the Monterey library in downtown Monterey. This excellent photo (below right) was obtained by John Sorensen. Alas, both the goose and this sapsucker would disappear before the Monterey Peninsula CBC.
Goose photo 7 Dec 2004 © D. Roberson
Sapsucker photo 11 Dec 2004 © John Sorensen
The return of wintering Harlequin Ducks highlight November 2004. A male (left) and a female both returned to the Monterey harbor. Meanwhile, a juv Long-tailed Duck in adjacent San Benito County (below; Hollister wtp) represented a first record there.

HADU 16 Nov 2004 & LTDU 11 Nov 2004 © D. Roberson

In late autumn each year, flocks of larks in the Salinas Valley east of Gonzales should be searched for longspurs. Three species have been recorded since 1995, when observers first made searches in fields along Gloria-Camphora Road (top). This can be hard and frustrating work, and photographing is even worse. On 28 Oct, Don Roberson found a Chestnut-collared Longspur there and managed these three truly awful photos (just above) which are the first photos for this species in the county. But perhaps you can see the outlined cheek patch, the finely streaked breast, the short primary projection and a bit of the tail pattern. Others working the fields over the following weekend had up to 6 Chestnut-collared and one Lapland Longspur (David Vander Pluym, Matt Brady). At least one Chestnut-collared remained into January 2005 (Blake Matheson).
Flycatchers from more southern climes made news in October. As we have come to expect each fall, a few Tropical Kingbirds appeared along the coast. This Tropical Kingbird (below left) was beautifully photographed in the afternoon sun at Carmel River State Beach 1 Oct [© John Sorensen]. Even rarer was a young male Vermilion Flycatcher discovered at Moonglow Dairy, Moss Landing, by Michael Getty 10 Oct and refound later that day by Rick Fournier (below right; photo © D. Roberson). This is only the 6th MTY record but is now the 4th from mid-October. More photos and a complete set of MTY records are on a new Vermilion Flycatcher page. The bird lingered and joined by a second young male in late October, and both were seen off and on through mid-December. At least one was present into January 2005.
The Big Sur Ornithology Lab (BSOL) did it again! On 2 October, Jessica Griffiths and the interns captured a Dusky Warbler! [photos below; © BSOL] This is another first county record, and just the 7th for California, all of them between late September and early November. The bird arrived without any fat, exhausted and stressed. It was released after it was banded but it was recovered dead within the hour (specimen to be deposited in a museum collection). The long 'wrong-way' flight was, unfortunately, just too much for this Siberian vagrant.
The third week of September was highlighted by an interesting Empidonax flycatcher in the cypresses next to Crespi Pond on 21 Sep. Careful study, numerous photos, and expert comments established this as MTY's first Yellow-bellied Flycatcher (right). Click on the above link for details, discussion, and many more photos (some PhotoShop adjusted and others not). Alas, the flycatcher was a 'one-day wonder.'
Photo © D. Roberson.

Some of those searching for the flycatcher at Pt. Pinos on 22 Sep found a Plumbeous Vireo (Bill Hill, Rick Fournier; photo left © Bill Hill) while others watched a Red-throated Pipit fly over as it called (Scott Terrill, Don Roberson).

Meanwhile, a sparrow flock at the campground at Big Sur R. mouth during the week had one Chipping, one Clay-colored, and two Brewer's for several days (Matt Brady +) but on 25 Sep was down to a Lark Sparrow & a Clay-colored Sparrow, both vagrants at that spot (photos below; © D. Roberson).
| | |
| --- | --- |
| Of local interest in mid-September was a Solitary Sandpiper on Crespi Pond (right), found by Rick Fournier, on 17 Sep. This is only the 3rd record for Crespi and the first here in 28 years! [5 May 1974, 11 Aug 1976]. It was still there 20 Sep (this photo). In the gull roost at Carmel R. mouth on 16 Sep was a juv. Ring-billed Gull (below; with Western & California Gulls left & right, respectively). This is the second-earliest fall record in the MTY database [a juv on 2 Sep 2001 was earlier]. Photos © D. Roberson | |
Rarely has any vagrant Spizella sparrow been better documented than this Brewer's Sparrow that was feeding on fennel at Dolan Pt., Big Sur coast, on 13 Sep 2004. Photos © Mike Tyner. Immature Clay-colored Sparrow lacks the evenly streaked crown of Brewer's, is brighter and more contrasting in facial and malar patterns, and generally has a buffy wash to the breast. Note the pale lores and complete white eye-ring that helps rule out hatch-year Chipping Sparrow.
Monterey County is world famous for its pelagic trips, and particularly those during autumn (Aug-Oct). One never knows the weather and winds that might prevail, but Monterey Seabirds trip on 22 Aug 2004 had exceptionally fine conditions: flat calm seas under high overcast skies that turned much color photography in black-and-white artistries. The short gallery that follows presents highlights mostly the digital photography of Les Chibana, with a few of my own film examples here and there.
| | |
| --- | --- |
| The 22 August trip was a 12-hour trip out to the warmer waters of the 'albacore grounds;' we reached an eventual point some 36 nmi W of Pt. Sur. The route crossed the migration path of Long-tailed Jaeger (right), and adults dominated in mid-August. © Les Chibana | |
| | |
| --- | --- |
| | Sabine's Gulls are common migrants well offshore in August, with adults arriving first (left; a photo taken 8 Aug 2004). Small flocks are often encountered throughout the course of a day's voyage. © Les Chibana |
The dead-flat conditions of 22 August permitted migrant terns to rest on floating bits of bull kelp, even far offshore. I've never seen so many perched terns offshore in 35 years of sea-birding. The piece below has two such terns: which species are they? © Don Roberson


If you said Arctic Tern (left) and Common Tern (right), you are correct. In the field, only Dan Singer figured out both of them before they flushed. © Don Roberson

Les Chibana's shot of the adult Common Tern in flight is below (left), as well as a different Arctic Tern encountered later, this one with a complete dark crown (below right). © Les Chibana
The superb water conditions also made in possible to study the two similar species of Synthliboramphus murrelets that often frequent water waters offshore in Aug-Oct: Xantus's and Craveri's Murrelets. With luck and a fine skipper (like Richard Ternullo), a boatload of observers might approach them on the water. Can you identify the swimming birds shown in the three panels below? Both species are illustrated.
Note that both species cock their tails up at times, showing bright white undertail coverts. And further note how the overcast conditions have turned these color photos into black-and-white portraits, reducing the usefulness of things like the generally grayer cast to Xantus's, browner cast to Craveri's. Rather, when murrelets are on the water, I try to focus on relative bill shape (Xantus's slightly thicker and shorter; Craveri's thinner and a tad longer) and on the extent of white on the face (Xantus's has more white coming up the face and approaching the eye, including a white chin; Craveri's has less white and the dark crown extends well down past the eye and includes the chin). Ergo, here we have two different Xantus's Murrelet (right-hand two birds; note the slight differences in facial pattern) and two Craveri's Murrelet together (left-hand photo). All photos above & below © Les Chibana

Murrelet identification becomes a lot easier if one can get a decent look at the underwing coverts in flight: white in Xantus's, dark in Craveri's. The latter species also tends to show a partial dark collar in flight. Note how well you can see these characters — in addition to bill shape and facial pattern — in this exceptional Chibana shot (below):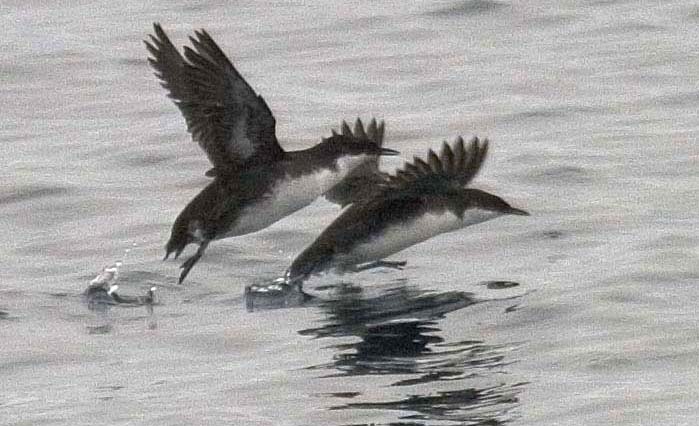 The best bird of the 22 August trip was a Manx Shearwater (right & below), found with a flock of Sooty, Pink-footed, and Buller's Shearwaters ~ 22 nmi W of Yankee Pt.

Manx has apparently colonized the north Pacific in the last two decades but its nesting site has not yet been found, and just a few are seen on migration off Monterey. Note the stark black-and-white pattern, small size, short tail, entirely white undertail coverts, and facial pattern. The standard i.d. paper is Roberson (1996) "Identifying Manx Shearwaters in the northeastern Pacific," Birding 28: 18-33.

photos above & right, © D. Roberson
photo below, © L. Chibana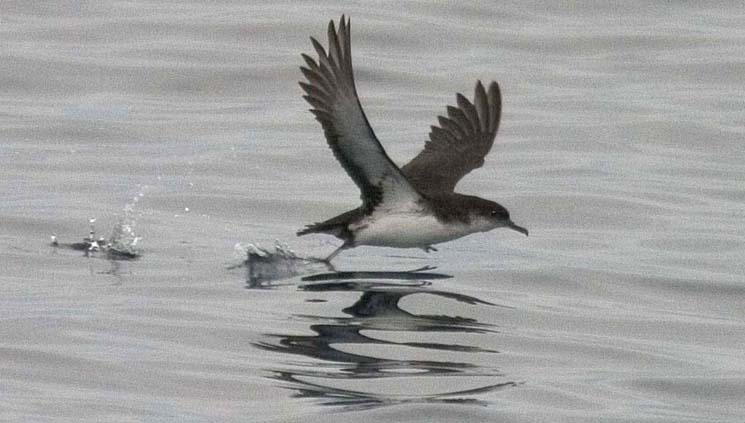 More highlights will be posted as they arise and are documented with photos.

TO HIGHLIGHTS FROM FIRST HALF OF 2004

Page last updated 13 Dec 2004