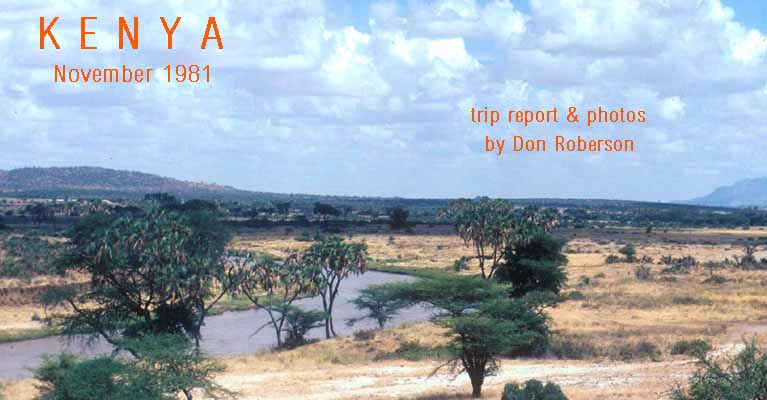 In the fall of 1981, my father Dr. B.B. Roberson planned to attend a continuing education seminar on underwater medicine at the SCUBA diving resort at Sharm-el-sheik at the tip of the Sinai Peninsula. The Sinai -- normally Egyptian territory -- was then occupied by Israel. My sister and I were invited along to turn it into a family diving vacation, and the while they joined a tour of Israel before the diving program, I rented my own car and just went birding.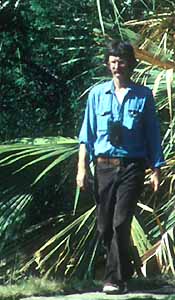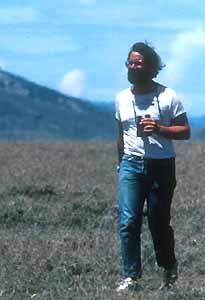 Since I was already halfway around the world, I used the opportunity to extend my trip and visit Africa for my first time. I chose Kenya to see the big game and the myriad birdlife (that's me at near right back in 1981; photo by Steve Wilson). My Bay Area friend Steve Wilson (a dentist; pictured far right) flew over to join me in early November. We rented a small car and undertook a three-week trip to Kenya.
I must have met Dale A. Zimmerman at the American Birding Association convention in 1977 at Beaumont, Texas; he gave a show there on east African birds. He was a good friend of one of my primary birding mentors, Dr. Laurence C. Binford, curator at Cal. Academy of Sciences in San Francisco. So in the summer of 1981, I wrote Dale for suggestions on how to go about birding Kenya, referring to his Birding article on the Kakamega and picking out other spots mentioned in the just-published Alden & Gooders (1981) as starting points. I don't quite know why, but Dale went far beyond any expected response to the request. On a manual typewriter he typed out four long letters providing extensive details on where to go, where to stay, and what to look for throughout the country. He sent me numerous identification papers, many of them hand-prepared handouts (he may have used these on tours), and directed me to others. He sent many boxes of extra slides covering a vast array of Kenya species. It was like having my own private expert tour guide. And his wife Marian proofed all the material and added more practical comments.
Thus our 1981 trip to Kenya was essentially a Dale & Marian Zimmerman trip. Dale had just returned from his 12th visit to Kenya and was already famous for his knowledge of East Africa. He published a variety of papers on status, distribution and identification topics including such classics as his Kakamega avifauna (Zimmerman 1972). He also wrote a popularized bird-finding article to that forest in Birding; Zimmerman 1978) and co-authored the avifauna of the Sokoke Forest on the Kenyan coast (Britton & Zimmerman 1979). We did not know then that Dale would go on to paint the plates and write the text for the classic field guide for Kenya (Zimmerman et al. 1996). Back in 1981, of course, we used then-new Williams & Arlott (1980). It was a major improvement over the first east Africa guide (Williams 1963) that covered only the common birds. One could supplement that early field guide with another (Williams 1967) which covered a few more local species. Despite the improvement, our 1981 field guide still portrayed only about half of the birds; the others were briefly mentioned in footnotes. I extensively annotatde my copy of Williams & Arlott by drawing in pencil portraits of the unportrayed species by copying the line drawings in Macworth-Praed & Grant (1957) or from Friedmann (1955).
Dale & Marian had led a series of tours of Kenya. They had just returned from such a tour -- a 28 day trip through the interior that netted about 570 species (his longer tours often saw over 600 birds). Knowing we had just three weeks, he proposed an itinerary that we followed closely. We used the hotels and lodges he suggested wherever possible. Our only significant variance was my decision to also visit the Kenya coast where we tacked on three-and-a-half days at the end. In retrospect this made the trip quite hurried, and we ended up doing a lot of driving, but thanks for Marian's suggestion we flew back to Nairobi from the coast. We ended up having just about 22 days of birding out of the 24 day trip on this summarized itinerary:
Day 1-2 Travel to Kenya; afternoon day 2 in NAIROBI
Day 3 NAIROBI N.P.
Day 4 MOUNTAIN LODGE & NARO MARO
Day 5 Siriman Track, MT. KENYA & SAMBURU N.P.
Day 6 SAMBURU N.P.
Day 7 SAMBURU N.P.
Day 8 SAMBURU N.P. to LAKE BARINGO
Day 9 LAKES BARINGO & BOGORIA
Day 10 LAKES BARINGO & NAKURU
Day 11 KAKAMEGA FOREST
Day 12 KAKAMEGA FOREST
Day 13 KAKAMEGA FOREST & LAKE VICTORIA, KISUMU
Day 14 LAKE VICTORIA, KISUMU to MASAI MARA
Day 15 MASAI MARA
Day 16 MASAI MARA
Day 17 LAKE NAIVASHA, HELLS GATE & LIMURU POND
Day 18 AMBOSELI N.P. & TSAVO WEST N.P.
Day 19 LAKE JIPE
Day 20 TSAVO EAST N.P. to coast
Day 21 SOKOKE FOREST
Day 22 SOKOKE FOREST
Day 23 SOKOKE FOREST & Turtle Bay
Day 24 Return to Nairobi by air & homeward
This was the first trip to Africa for both Steve Wilson and me. I had some prior experience in Europe, India, and just recently the Middle East with Eurasian species, but this was Steve's first foreign bird trip. Except for a morning with Terry Stevenson at Lake Baringo, we were entirely on our own. Yet I was well prepared, knew the literature, and had some useful tapes. During the 22 days of birding Kenya, I recorded 560 species. Steve Wilson had a handful of others that I did not see. Some 486 were life birds for me (87%), an overwhelming experience. Yet in many ways I remember this trip better than any other. Perhaps it was the fact that I was so well studied and prepared, and took more copious notes daily than I do now. Instead of checking off species or writing in daily counts on a pre-printed checklist, I wrote a complete list every day (or nearly so; some long days I just did highlights & lifers), often with short descriptions of interesting species. Or perhaps it is the fact we spent so much time taking photos in the parks from the car windows, and therefore I have seen those photos over and over again. This latter fact has added a life bird or corrected an identification even 20 years later. Examples include my only Somali Fiscal & Red-winged Lark that were identified from the good photos just recently after the publication of Zimmerman's field guide (1996); both were misidentified in the field. My Somali Crombec was identified from good field notes just this year (it had been considered only "tentative" using the old field guide).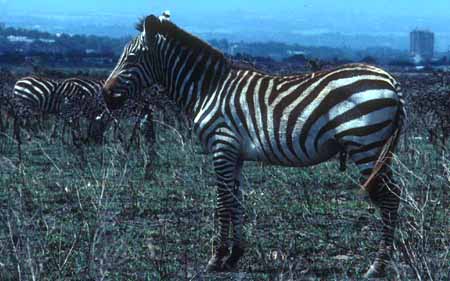 And of course the mammals were fabulous, starting with the herds of Common Zebra in Nairobi Nat'l Park our first day (right; notice the skyline of Nairobi itself in the background).

On returning from the trip I began a formal trip report in the format of a booklet with various slides-turned-into-prints pasted throughout the text. It was quite a project on a manual typewriter, and I only got up to the doves before becoming overwhelmed with other projects or other trips. It has lain dormant ever since.

It is now November 2001 -- twenty years later -- and I am preparing for my first return visit to East Africa in summer 2002. This will be with Rita Carratello on our honeymoon trip; by then we will be married. I have picked up the old project and completed it using computers, slide scanners, and html design. The most astonishing part to me was rereading Dale Zimmerman's letters -- so vibrant and pithy still today. In a more leisurely recitation of our itinerary (below), I have taken the liberty to insert large portions of Dale's comments about the sites -- followed by my own comments on how we fared, given his directions. The prefix "DAZ comments" precedes quotes from his 1981 letters.

DETAILED ITINERARY

8-9 Nov 1981
Lots of travel: bus from Sharm-el-sheik at tip of Sinai Peninsula to Eilat, Israel (4-7 a.m.), fly to Tel Aviv (9-9:30 a.m.) where I'm interviewed on the local T.V. station about an airline strike but manage to get aboard the Nephrititi flight to Cairo (11 a.m.-1:30 p.m.). A very long wait in the Cairo airport until the 11:45 p.m. flight to Nairobi, arriving 6:30 a.m. Rent the car and go to Safari Park Hotel, collapsing in sleep for much of the day. Steve Wilson arrived that morning after his all-day and all-night flight to join me for the Kenya trip.

9 Nov (late afternoon) 1981
After waking up we birded the grounds of Safari Park Hotel, Nairobi, seeing 35 species (29 lifers). Overnight Safari Park Hotel.
DAZ comments, 10 Aug 1981: "You should spend one of your first days on the Magadi Road. This introduces you to typical bush birds in the best possible way, and it's one of the birdiest roads in the world. It goes down the west side of Nairobi Nat'l Park, down into the Rift Valley and eventually to Lake Magadi -- itself great for birds at times. You can, if you wish, enter Nairobi via the Mombasa Road entrance, drive through the park and out the main gate or one of the two which are right on the Magadi Rd. You simply turn left thereon and you're on your way. If you've done your homework before the trip you should get well over 100, perhaps over 150 species on the Magadi Road. I now take all my tours there and to Nairobi Park during the first day or two days. We usually leave the Nairobi area with 175-200 species!"
10 Nov 1981
Our shortened itinerary did not permit us the luxury of a "get acquainted" day and so we did not visit the Magadi Road. We did, however, go to Nairobi Nat'l Park until 1 p.m. and began to learn the common birds and mammals.
DAZ comments: "Mountain Lodge is very good now. Go up to the roof for the dawn activities. You'll be up with the Hartlaub's Turacos, Oriole Finch, Slender-billed Greenbul, Tacazze Sunbird, Fine-banded Woodpecker, Brown-capped Weaver, Chestnut-throated Apalis and good goodies. Step en route to Mt. Lodge in any forest remnants you see (sadly, not many left). You should get some of the above birds, maybe White-headed Wood-Hoopoe, Brown-backed Scrub Robin (tough anywhere else), Silvery-cheeked Hornbill, Red-headed Parrot, etc. Good mammals at the lodge are Mt. Genet, White-tailed Mongoose, Bush Pig, Giant Forest Hog, Tree Hyrax (ungodly calls at night), plus Elephant and if you're very lucky, a rhino. Watch under night lights for Verreaux's Eagle Owl coming in to feed on bats and on the Harlequin Quail."
We then drove north, crossing Tana River in late afternoon, to Mountain Lodge on the flanks of Mt. Kenya as Dale had suggested. We did not have time to bird the remnant forests enroute; we arrived near dusk as it was. We overnighted at Mountain Lodge. The hotel overlooks a waterhole and salt lick. The pond was mostly mud as we were in the dry season. The overview photo (below left) was taken from the balcony; it also shows the forest around the edges. Elephants, Waterbucks, and others visit all night long (Steve Wilson's late afternoon shot, below right, has elephants casting long shadows; this again is the view from the lodge). Floodlights allow observation throughout the night, and there is a small hide connected by narrow hall that allows one to get very close to the animals.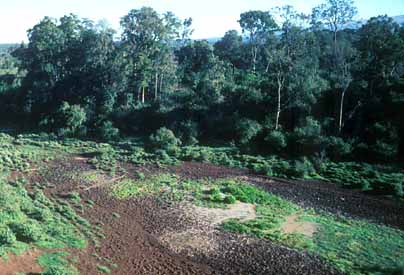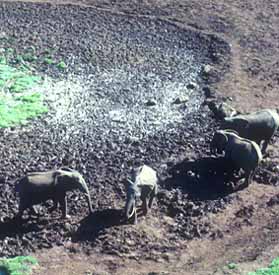 11 Nov 1981
We birded the grounds of Mountain Lodge (7200' elev.) in the sunny morning, mostly from the balcony around thewaterhole. Of the birds Dale specifically mentioned, we found only the Slender-billed Greenbul and Chestnut-throated Apalis. We were still working out the common species and were not ready to focus on the unique ones. We ended up seeing all of the others elsewhere, however, except three (Oriole Finch, Fine-banded Woodpecker & Brown-backed Scrub-Robin were missed on our trip). We did not see any of the rare mammals. We certainly needed a longer stay here.
Following a tip from Dale (see below) we visited grasslands near Naro Moru at midday, and spent the late afternoon on the grounds of Naro Moru Lodge and around the river out back. Overnight Naro Moru Lodge.
DAZ comments: "On the way north, stop at Naro Moru River Lodge (good to stay a night, bird along the river there). This is just before Nanyuki, not far from Mt. Lodge. Best chance (almost only chance) for Afr. Black Duck (a dandy bird) and Mountain Wagtail. (You may get Cape Wagtail at Mt. Lodge; don't confuse with young Afr. Pied.) Also Abyssinian Hill Babbler, Green-throated Sunbird, Northern Double-collared Sunbird (the one with the very wide red band; the common Eastern D-c S which you'll have seen at Mt. Lodge has a narrower red band). Most of the robin-chats there are Ruppell's, incidentally, although apparently there are some heuglini (White-browed) as well. Latter you can get for sure in the Mara and elsewhere. A confusing little brown bird in the forest at Naro Moru is Brown Woodland Warbler. It's sometimes right at the lodge. There's only a thin fringe of trees here, but a nice patch goes upstream (watch for Clawless Otter) and you can follow it for a couple of miles. Not many species here, but some good things."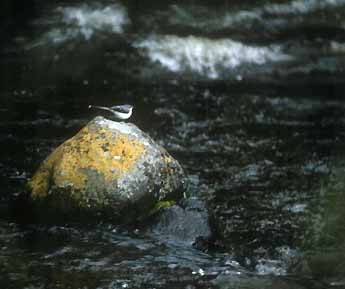 12 Nov 1981
Early a.m. around Naro Moru Lodge. We did better here. We photographed the African Black Duck and Mountain Wagtail (left), saw all the sunbirds and the hill babbler, but missed the White-browed Robin-Chat (we caught up with it later in the Masai Mara). As to the Brown Woodland Warbler, we found it along the Sirimon Track up the side of Mt. Kenya (below; the peak of Mt. Kenya from the Sirimon Track). We took the Sirimon Track up to 9000' elev. until noon, reaching elevations high enough to find Alpine Chat and Slender-billed Chestnut-winged Starling. Since we did not have Dale's directions for this spot, we felt very much "on our own."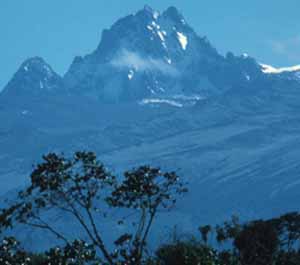 In the afternoon we drove north to Samburu Nat'l Park because Dale had strongly encouraged us to go there....
DAZ comments: "I certainly suggest Samburu and I'd do this instead of Meru N.P. Everything at Meru is at Samburu, plus lots more, and chances of Pringle's Puff-back, Pale Prinia, Somali Long-billed Crombec -- Somali Arid Region species you'll not otherwise find. Also the endemic Donaldson-Smith's Sparrow Weaver. Meru was largely burned over two years ago and is not much good these days.... In the Nanyuki-Naro Moro vicinity, especially north of Nanyuki, along the highway, watch for both Long-tailed and Jackson's Widowbirds. There are plenty of them this year. They too, by November, may all be molted. As you north from Nanyuki toward Isiolo & Samburu, you come to a big junction where a road branches off to Meru and Meru NP. Right at this junction -- maybe 50 metres or so toward Isiolo, park and get off into the brush. Here live the rare Cisticola bodessa, Boran Cisticola -- one of the very few localities. They sing from quite high -- much higher than the similar (and abundant ) C. chiniana[Rattling Cisticola]; also, I've not seen chiniana right, there but I've found bodessa regularly. Got it from the road this year. by the time you get there you'll have seen many chiniana, I expect. Learn its song and that of C. cantans [Singing Cisticola] and you'll be provided with a basis for tackling the other species."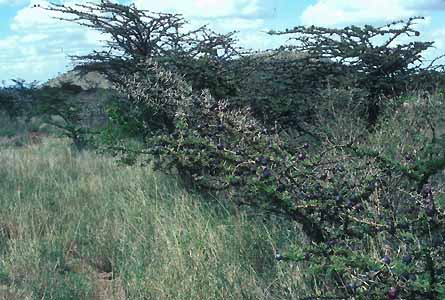 Thus we stopped at the Isiolo-Meru junction on the Nanyuki-Isiola Hwy for Boran Cisticola. I was very impressed that we found it so readily, and were able to take photos of the habitat (above left) and the bird (above right). We also had displaying Long-tailed Widowbirds but no Jackson's. Perhaps they had molted or migrated? We arrived in Samburu NP in time for an afternoon game drive out to Buffalo Springs Reserve. Overnight Samburu Lodge. Of the "Somali Arid Region" specialties Dale mentioned, we were to find all of them either in Samburu or on the road to Lake Baringo from Samburu which passed through fine arid thornscrub.
DAZ comments: "Samburu Lodge is often booked solid. It's the best place up there for birds. The new River Lodge is very nice (Water Thicknee and Spur-winged Plovers in front) and you can stay there, perhaps, and drive the few kilometers to Samburu Lodge for birding. Latter has good riverine brush within the compound and you can walk around along the river, etc., for a few hundred meters and spend a full half-day. Lots of good photographic opportunities. Got Gray-headed Bush-shrike and Pearl-spotted Owlet (3) there a few weeks ago. Golden Palm Weavers, Common Bulbuls, White-headed Buffalo-weavers, etc. all tame as chickens. Best chance here for Crocodile pictures. Three years ago got good photos of Small-spotted Genet at night. (They come in to feed on the meat put out for the crocs. Can see Ratel here sometimes too -- rarely even leopard.) Driving around Samburu Reserve is great. Heuglin's Courser, Vulturine Guineafowl, Martial Eagle, all manner of wonderful birds. We spend three nights there on our tours, allowing two full days for birding and photographing. It's a good amount of time; anything less is frustrating. If you don't see Donaldson-Smith's S-w around Samburu itself, drive to nearby Buffalo Springs. They'll probably make you take a local guide with you since you'll be driving around on your own -- a nuisance, but he'll be able to tell you where the mammals are, and may know of the bigger birds. Watch for Guenter's Dik-dik. It's there along with the common Kirk's. Bat Hawk at 7:00 p.m. over river at Samburu Lodge. Many of the best small birds at Samburu are in the dry bush on the low hills or uneven terrain. There's little in the saltbush flats. You must remain in your car, of course, but this is little problem. When you find a group of birds, stop and pish or squeak to beat hell and everything will come out. Another good bird up there is Pygmy Batis; also Mouse-colored Penduline Tit."
13 & 14 Nov 1981
We were able to book into Samburu Lodge, a great spot. Each day we did morning & afternoon game drives through both Samburu & Buffalo Springs parks, and birding around Samburu Lodge in late afternoon. We were not required to have a guide so we felt like we had the park to ourselves. With one of us driving and the other in back, we each could have all our camera gear next to us. Although not allowed out of the vehicle, we could slide across the seats to either window easily since there were just the two of us. We did a lot of photographing. The scenery was spectacular. Views of Samburu are shown on my title photo (at the top of this report), and below (with our rental car and a typical Samburu road).
Every evening we enjoyed Tusker Premium beers at the "crocodile bar" overlooking the Uaso Nyiro River. There we ogled Nile Crocodiles munch on the leftovers of dinner (below), and at dusk watched the Bat Hawk chasing bats.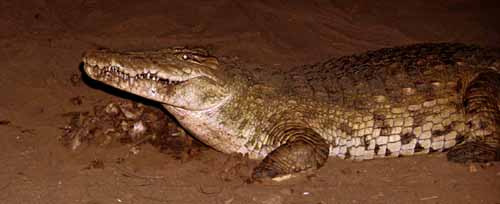 Overnight Samburu Lodge. One had to make sure the rooms were secure to avoid invasions by baboons. One evening a guest encountered a lion in the pathway to dinner. A wild place.... Of the birds Dale mentions specifically for Samburu, we were to see all of them except Pearl-spotted Owlet. Those not actually found in Samburu were encountered elsewhere.
15 Nov 1981
Took quite a bit of time mucking about trying to find the way out of Samburu Park to Archers Post. The road through Kisima and Lokua to the Baringo Rd. was fairly awful. Three random stops in thorn-scrub habitat added a lot of new species, including quite a number of the arid country specialties never seen again. We reached Baringo Lodge in late afternoon in a heavy downpour. At the Lodge we met Terry Stevenson, the "resident ornithologist" (listed that way on the welcome board at the front desk). He cleared up some of our "mystery birds" to date. Overnight Baringo Lodge.
DAZ comments: "Lake Baringo is one of my favorite places. Road construction and new camps have disrupted things, but you can still find most birds. Ask if Terry Stevenson is at Baringo Lodge (I assume you'll be staying there.) Terry is a very good birder; he can help you a great deal. Just in case he's not there, concentrate on the big cliffs across the highway from the lodge. You'll see them as you approach the area. This is where Hemprich's Hornbill lives. There are Crowned Hornbills, too, so check the tail patterns particularly. Hemprich's is rare and sometimes missed. In fig trees near the cliff base you might find White-crested Turaco, depending on fruit, etc. An obscure bird you'll only get here is Brown-tailed Rock Chat; most people never see this one. It's right among the rocks as are the handsome Cliffchats. You'll see a different Hyrax here -- one of those lumped under Rock Hyrax, but apparently a different species from those you might see elsewhere. Sometimes African Golden Oriole, usually the local race of Common Kestrel, Verreaux's Eagle, African Cuckoo (by November perhaps European cuckoos will be there too; canoris and gularis are now split, remember), Red-fronted Barbets and Red-fronted Tinkerbirds are about the lodge (in acacias), I think Spotted-flanked Barbets too. Tame Pin-tailed Whydahs and Gray-backed Fiscals. At night (early) go beyond the swimming pool toward the end of the lodge grounds -- your left as you face the lake -- and between the last building and the first tent, I think, watch for a Spotted Eagle Owl. He's usually there, and you'll probably not otherwise see this species."
16 Nov 1981
Early a.m. bird walk with Terry Stevenson through acacia thornscrub to the cliffs nearby. He showed us both hornbills, sorted through the weavers, and located the Brown-tailed Rock Chat. He also showed us the fig tree out back with the barbets and tinkerbirds, and another tree that was the day roost of the Spotted Eagle Owl. Of the species Dale mentioned, we found them all except White-crested Turaco and African Golden Oriole. Both were missed during the entire trip.
DAZ comments: "From Baringo go to Lake Borgoria. This now replaces Nakuru as the flamingo spot. In fact, don't worry much about Nakuru. The lake level is up and that plus pollution has reduced its appeal to both birds and birders. Borgoria had about 1,000,000 Lesser Flamingos on it recently. Also Black-headed Plovers (nifty) and Violet Wood-Hoopoe. Latter is rarely identified, but is apparently more common around Baringo than the Green. Greens you'll see everywhere. We also had Pygmy Kingfisher at Borgoria (back from the lake along some mostly dry stream beds.) Missed them at Samburu this year for the first time ever. Terry should be able to help you up there, so I'll say no more about Baringo, except that we had hundreds of breeding Northern Red Bishops and Yellow-crowned Bishops a month back. I fear they'll be molted into non-breeding dress by the time you get there."

Mid-day drive to Lake Bogoria where we did see 50,000 flamingos, but didn't really have time to work on photography; the nice photo (above) was taken by my father, B.B. Roberson, a week earlier on his Kenya visit. Terry Stevenson took us to stake-out breeding pairs of Black-headed Plover and Heuglin's Courser, both absolutely spectacular birds. We then returned to the grounds of Baringo Lodge and the shores of Lake Baringo. Overnight Baringo Lodge. Both Steve and I had brought Bushnell Spacemaster scopes, and Terry needed a scope. He couldn't order one because expensive items had a high risk of being stolen in the Kenyan mails. So I sold him mine, and I understand he took that on tours he led for a number of years. We also acquired his recently published status & distribution text for Lake Baringo (Stevenson 1980).

17 Nov 1981
Final early a.m. check around Lake Baringo, then drive to Lake Nakuru (arriving mid-day) and had lunch on the Baboon Cliffs. We wanted to see the famous Lake Nakuru despite Dale's negative comments. There were only about 500 flamingos and only one hippo (photo below), but we did have time for photography. The swift flocks over the Baboon Cliffs were nice. We then spent the rest of the day driving west to Kakamega Forest Hotel in the town of Kakamega, arriving near dusk (had to change a tire that went flat).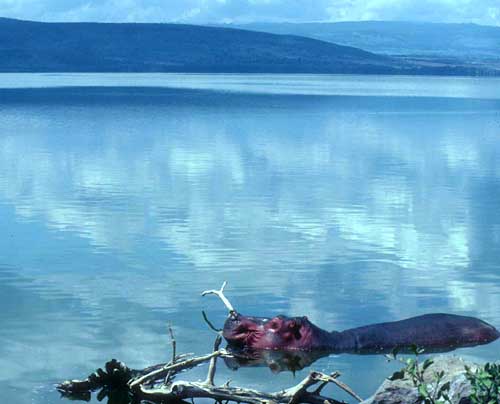 18 & 19 Nov 1981
Both days in the Kakamega Forest and nearby Ikuywa River bridge. Dale had not needed to write us about Kakamega because his bird-finding article in Birding was excellent, and I had obtained a copy of his Kakamega book. Overnight each night at Kakamega Forest Hotel, a very basic motel but they arranged early breakfasts for us since it was a fair distance to the forest.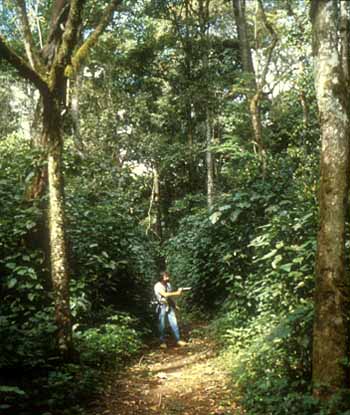 Kakamega Forest was wonderful. A set of fine trails criss-cross the dense jungle and we worked it very slowly, sometimes using tape play-back (as I am doing in the photo, right, taken by Steve Wilson). We had the place to ourselves and just delighted in figuring out the greenbuls and being dazzled by neon wattle-eyes, big Yellow-billed Barbets, and even bigger Great Blue Turacos. Although we saw essentially no waterbirds, we recorded 104 species in our three days birding here.

20 Nov 1981
A final morning in Kakamega Forest. In the afternoon drove to Lake Victoria and checked some shoreline papyrus but were hindered by late afternoon rains and ended up scoping from our hotel balcony at the Sunset Hotel, Kisumu. There was an absolutely spectacular sunset from the balcony that evening (photo below).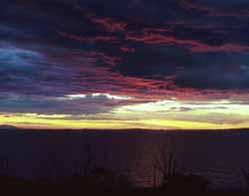 DAZ comments: "Spend your time in west Kenya at Kakamega. Should you have an extra day in the west, you should try Kisumu and some of the papyrus remnants close to town, plus the bits of bush remaining to the east of Kisumu. Black-billed Barbet, Black-headed Gonolek, Yellow-billed Shrike, etc. Papyrus areas should yield Swamp Flycatcher, Great Reed Warbler, Red-chested Sunbird, perhaps Black-lored Babbler, Black-winged Red Bishop, Compact Weaver, maybe African Hobby, etc. [follow-up 26 Aug 1981] Probably the best place to visit on a quick trip would be the papyrus remnants just beyond the Hippo Point nightclub. Anyone can direct you to Hippo Point, I expect. I don't think it is more than 3-4 miles beyond Kisumu (i.e., beyond the hotel area)."
21 Nov 1981
Morning check of remnant papyrus beds on Lake Victoria where we made a dent in the papyrus & Lake Victoria basin specialties. We missed many of the species Dale had mentioned -- just not enough time and the habitat we found was very limited -- but did have Swamp Flycatcher, Red-chested Sunbird and Black-lored Babbler, plus Greater Swamp & Sedge Warblers and Caruther's Cisticola. We then drive to Masai Mara Reserve via Sotek & Ngorengore, arriving Cottar's Camp at 5:30 p.m. Overnight Cottar's Camp is a luxury tented camp with great food. Awakened by a loud gunshot in the middle of the night -- this was the guards scaring off marauding elephants, we were told.
DAZ comments: "Masai Mara: if you can, stay at Governor's Camp. Expensive, perhaps hard to book this late, but well worth it unless you don't want to see Livingstone's and Ross' Turacos -- two of my favorite birds. They're almost a certainty there. Ditto for Double-toothed Barbet, another one of my favorites. Also Bat Hawk, Blue-spotted Wood Dove, Gray Cuckoo-shrike, Purple-throated Cuckoo-shrike (both of these latter at Mt. Lodge, incidentally), your only chance of Red-necked Spurfowl, probably Coqui Francolin. Maybe Narina's Trogon, Little Spotted Woodpecker. Be sure to specify the main Governor's Camp, not "Little Governor's" across the river nearby. Latter is good, too, but you'll never get a small car in there. It will be tricky enough getting to Governor's Camp, I expect. In acacia scrub with tall grass near Governors one can sometimes find the rare Tabora Cisticola -- looks more like a prinia at first glance. On the short grass plains where it looks badly overgrazed, there is the tiny Desert Cisticola (aridula) with brighter rump than the common brunnescens which is ubiquitous in the taller grass country. Sometimes right near Governors Camp one can see Wattled Plover, Ground Hornbill and Saddle-billed Stork from the road. Cisticola erythrops at ferry between Little Governors and Governors Camp. Lots of other good things, too. Masses of Topi, Wildebeest, Tommies, Grant's Gazelles, etc."
22 Nov 1981
All day in Masai Mara park, including the "Hippo Pools" and Keekorok Lodge vicinity. Overnight Cottar's Camp. We were not able to book Governor's Camp but did see most of the other species Dale mentions by driving about, except the two rare cisticolas and Red-necked Spurfowl. The highlight of this day was a Leopard in a lone tree near Keekoorok Lodge (right).

23 Nov 1981
Morning in Masai Mara, going to Governor's Camp and birding around it mid-morning along a riverine strip of forest. Focusing on Dale's suggested highlights, we did dig up the fabulous Ross's Turaco and the equally wonderful Double-toothed Barbet. Also nice views of Livingstone's Turacos, and a pair of Bat Fox. Long drive on bad roads to Lake Naivasha (11 a.m.-4 p.m.), and birded around the lake. Overnight Safariland Hotel, Lake Naivasha.

DAZ comments: "If you approach Naivasha from the Mara via Narok (as many do), you'll go through the Kedong Valley -- a long, largely grassy valley nearer the Naivasha end of the route. Watch near the satellite tracking stations (several miles each way therefrom) for southern Kenya's only pair of Swallow-tailed Kites, here well south of their usual haunts in the Northern Frontier. They're very rare even at Samburu. We've seen one two times out of the last three. It's a lovely, dainty, tern-like bird."

We looked for these enroute but had no luck. We did find, however, a Denham's Bustard just outside the Mara reserve. According to our literature, this might have been our rarest species on the trip.
DAZ comments: "Lake Naivasha, like Nakuru, is hardly worth a visit anymore. Naivasha is a dying lake. It makes one weep for it was once one of the world's top birding areas. It's barely worth a half-day now. Watch for Black-lored Babblers if you stay at the Safariland Hotel (the one we use). Also, Pearl-spotted Owlets and Yellow-collared Lovebirds nesting thereabouts, plus Black-throated Honeyguide. Of course, drive the short distance to Hell's Gate [photo below]. Be careful there; watch for people and avoid them. It can be dangerous. Now a curfew there; you must be out by 6:00 p.m. and you must sign in as you enter the privately owned area. Just tell the guard you're looking for birds. good for Malachite Sunbird (in the orange-flowered Leonotis -- a mint), Mourning (Schalow's) Wheatear, Anteater Chat, masses of Brown (Nyanza) Swifts, and if you are lucky a few big Mottled Swifts. These swifts nest and roost in the cliffs. The big attraction is Lammergeier, but we've now missed it on our last two tries. Should be Lanners, Ruppell's Griffons and maybe a few White-backs. Also Egyptian Vulture frequently.
Hells Gate cisticolas: the one to get here is C. (lais) distincta, which I believe to be specifically distinct from the South African Wailing Cisticola C. lais. Anyway it'll be new to you. It's another chiniana-like one, but redder-faced, etc. No chiniana there. It lives just at the base of the cliffs on the brushy slopes. Usually its among the scrubs and rocks. On the valley floor in the tall grass with scattered shrubs you can find Stout Cisticola (robusta) and the smaller, drab, confusing little brachyptera (Siffling Cisticola). Rarely seen at Hells Gate is Little Rock Thrush, but it's crepuscular and as one has to be out by six there's almost no chance. It lives way up in the rocks -- tough climbing and dangerous owing to grass-concealed holes (quite deep) and numerous cobras -- to say nothing of angry Olive Baboons. You may get Secretarybirds at Hells Gate, too."
24 Nov 1981
Early a.m. around Lake Naivasha; it was very disappointing. Then a very careful check of the gorge at nearby Hells Gate (above). No Lammergeier, of course, and only a handful of Ruppell's Griffons, but we did find the Wailing Cisticola and a few Mottled Swifts among the hordes of Nyanza Swifts. We felt more time was needed here but we were glad to leave given all the warnings and precautions. We had no trouble, though.
DAZ comments, 9 Sep: "Another spot I should mention is for a few higher altitude species you'd not otherwise encounter. Should you return to Nairobi from the Naivasha area (i.e., from the north) don't go by the old road. Instead get the new road from Naivasha town to Limuru. It's a MUCH better, vastly safer road, and good for some highland species. It may be foggy (often is) but it's all tarmac now. I don't have mileages, but as you climb up from Naivasha and begin to head south more than southeast, watch for the overpass which you take you to Thika (I'd guess 8 miles from Naivasha but possibly more). This may be the first major overpass you encounter but I can't remember (they're not many). If you stay on your road to Limuru and go just beyond the overpass, stop within the first 100 metres or so and get out on the left side of the road. There is a ditch, as I recall, and a slightly elevated area parallel to the highway -- all between the tarmac and the fence. Get up on this area and walk along it so you can see into the short-grass, semi-marshy vegetation adjacent. Here is where you find Sharpe's Longclaw (and more Red-capped Larks). They're quite local and this is the only sure place I know.
If you have time to spend driving around on some of the dirt roads within a half-mile or a mile of this overpass -- along the Thika Road mostly -- you'll find some wet or soggy-looking spots which might appear good for Sedge Wren. Some of these have been planted with small pines or gums. In the places without the pines, look for Cisticola ayresii, the Wing-snapping Cisticola. It's the highland counterpart of C. brunnescens which you see all over down below. It's usually tough to locate but it's there. In the process you'll perhaps find the bigger brighter C. tinniens in the taller vegetation. Also Sharpe's Longclaw and Long-tailed Widowbird here and there, plus Black-winged Plover. Not many species up there but some rather good ones. On the way up from Naivasha you should get Malachite and Golden-winged Sunbirds, Stonechats, etc.
Just beyond Limuru (i.e., on the Nairobi side) is a small pond near the railroad. They're building beside it and grazing the once fine rushes, so you may see little or nothing. This has been our only spot for Maccoa Duck and we're sick over its demise. 'Progress' again. It just might be worth a visit, however; it's only 2-3 km from Limuru. They've been re-doing the roads hereabout and I don't now remember if we have to go under the RR tracks or not. This pond has also been the best place for African (=Southern) Pochard, Lesser Moorhen and similar marsh birds. However, be watchful. It can be somewhat dangerous as the people are not as trustworthy as down in Masailand."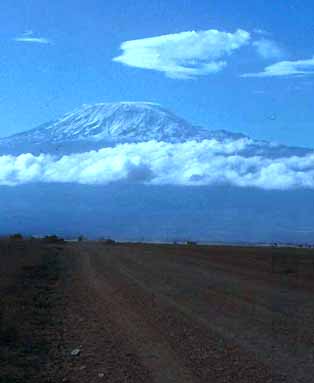 We headed south towards Amboseli Nat'l Park with mid-day stops at Limuru pond and the grasslands at the Thika overpass on the Nakuru-Nairobi Rd. As advertised, the Limuru pond had Maccoa Duck & Southern Pochard (but no Lesser Gallinule) and the Thika overpass spot had the promised & very local Sharpe's Longclaw, and we found both Wing-snapping C. ayresii & Tinkling C. tinniens Cisticolas. [But we did not find Malachite Sunbird the entire trip.] In Amboseli Park we stopped at various spots for specialties, such as Taveta Golden Weaver at Amboseli Lodge, and had nice view of Mt. Kilamanjaro in the distance (left). We arrived at Namanga near dusk. Overnight River Hotel, Namanga.

DAZ comments, 10 Aug: "My suggestion, if you can manage it, is to stay at Salt Lick Lodge near the Taita Hills. This is outside the park. You would then drive into the park and go to Lake Jipe -- now the best freshwater lake since Naivasha has been polluted and "nutriad" into decay. Forget the Taita Hills, now a waste of time in terms of birding. If you go to Salt Lick and L. Jipe, you'd go first to Taita Hills Lodge (where Salt Lick Lodge visitors check in), but this is not in the hills themselves (now deforested almost 100%). Near the car park at T. H. Lodge you may get your only Bare-eyed Thrush. One usually lives there, in some planted shrubs near a little seep or wet spot. Other birds there, too. From Jipe we return to Salt Lick for the night. You could go to Kilaguni or some other place in Tsavo West instead. Then drive across the Park toward Amboseli NP. It, too, is great for birds. We stay the first night at Kimana Lodge, outside the park and not very high class (but perfectly o.k.). We stay there primarily for White-headed Mousebird (the only other place being Samburu for this one), Taveta Golden Weaver, Red-throated Tit, and at night on the airstrip nearby, Spring-hares. Amboseli Park itself is very good for game and birds. From there it is an easy drive back to Nairobi, largely on tarmac."

25 Nov 1981
We did take Dale's suggestion and headed toward Salt Lick Lodge outside Tsavo West N.P. A long day of driving through Amboseli Nat'l Park (7-9 a.m.), fixing a flat tire (9-10:30), then to Kilaguni & Mzima Springs in West Tsavo Nat'l Park (10:30 a.m.-2 p.m.) and on to Salt Lick Lodge near the Taita Hills. Given the distances, we spent a lot more time driving than birding. We did have our only Bare-eyed Thrush while checking in at Taita Hills Lodge, just as promised. We never got to bird Amboseli, though, and only learned later that it was our best hope for Black Rhino on the entire trip. We did not see any rhinos and this surprised us. The older literature spoke of how regular they were to see, and we did not then understand the impact poaching was having on all rhinos. Overnight Salt Lick Lodge. There is another great bar here overlooking a pond that is floodlit at night. One morning we had our only Saddle-billed Stork of the trip on the pond (photo below by Steve Wilson). Each room is in a turret that looks out on the pond. You can leave a message at the front desk as to what species you want them to awaken you by telephone. We put down "leopard" and "rhino" but got no calls from them.

DAZ comments, continued: "Tsavo West/Lake Jipe: It's a 45-mile drive, I'd say, from Salt Lick Lodge to the lake, but the best part of Tsavo in these days of poaching. You may see hundreds of elephant. I've even seen Aardwolf down there, also Lion, Leopard once, Cheetah once. Thousands of sandgrouse (mostly Black-faced), many other birds. Once near the lake you turn left, heading toward the Tanzanian border (don't go that far!). In grassy flats within 100-200 m. of the lake edge you should get Two-banded Coursers and that feathered gem known as the Golden Pipit. Also at the lake edge itself are many waterbirds. You can watch the Black Herons fishing under their cloaks, sometimes chased off by Palm-nut vultures and Fish Eagles, African Skimmers, maybe Pygmy Geese, Allen's Gallinule and various kindred marsh species you won't otherwise find, including Open-billed Storks. It's really a fine place. Going to and from will take most of a day, assuming you spend 3-5 hours at the lake. Don't bother with the boathouse or taking a boat out. You can see more from shore. Be careful of hippos. Especially on cloudy days they're out of the water, and they can hide in the tall grass. Never get between a hippo and the water. They're deadly, should they decide to move in your direction. Also, there are buffalo and elephant about. You can get out of you car here, but be watchful. Don't drive too near the lake edge. What looks like solid ground can sink, and it's a long way from any sort of assistance."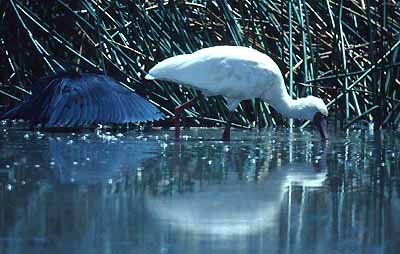 26 Nov 1981
Birded around Salt Lick & Taita Hills lodges and drove to Lake Jipe on the Tanzania border. As Dale said, it was a great place and remote from people. Tons of waterbirds, including Long-toed Lapwing & Two-banded Courser, plus Black Herons "fishing under their cloaks." All posed for photos (Black Heron fishing, right, next to an African Spoonbill). We did decide to take the boat ride on Lake Jipe (11:30 a.m.-2 p.m.), which worked out as we had a male Pygmy Goose. Also saw what we think was a Green Mamba at the boat house. Overnight Salt Lick Lodge.
DAZ comments: "If you do go to the coast (a long haul, especially trying to work it into a three-week trip), I think I'd forget the Shimba Hills since they're south of Mombasa and everything else is north. Shimba would get you Green-headed Oriole but perhaps little else new. Senegal Plovers possible there, and good chance at Sable Antelope. North of Kilifi, toward Malinde, lies Mida Creek of Crab-plover fame (and should be good for these, Terek Sandpipers, etc. in Nov.; but be careful of quicksand), and what's left of the Sokoke Forest. November is a good time for Clarke's Weaver. You'd need three days minimum to make a coast trip worthwhile, I think. Probably you'd get 50 species there you'd not get up-country. However, on the other side of coin, its the considerable additional expense of driving to and from the coast, costly hotels there, and reduced up-country time which might easily yield as many birds new to you as the trip of the coast. You can, however, fly from Mombasa to Nairobi if you build that into your international ticket; it doesn't cost anything extra."
27 Nov 1981
A very long drive from Salt Lick Lodge through Tsavo East Nat'l Park to Watamu on the coast, stopping around Aruba Lodge, Tsavo, and Malinde enroute. Hot & dry & few birds; a sandy difficult road in places. Overnight Turtle Bay Hotel, Watamu. It was a "long haul" and a very trying day of driving. We did take Marian's tip and had arranged to fly back to Nairobi from Malinde, dropping the car behind.
DAZ comments, 21 Sep: "Remember in the Sokoke that the forest consists of two major types -- the dense jungly stuff on red soil (Afazelia) and the open Brachystegia woodland on white soil. The two vegetation types have different birds; they overlap in places, of course. Birding is very slow but certainly rewarding. Sokoke plus Mida, and the Sabaki River mouth, should provide you with a very good cross section of Kenya coastal birds. I enclose a sketch map of the Sokoke-Mida area, and the Sabeki River mouth (I found Malindi Pipit as shown on the map a couple years ago)."
28 Nov 1981
Morning in Sokoke Forest, 80% of time in Brachystegia forest & rest in Afazelia forest. Birding in the forest was indeed slow. We did not find many of the super-endemics [missed Sokoke & Malindi Pipits, Sokoke Owl, Clarke's Weaver]. We did have a good selection of species, however, including the endemic Amani Sunbird and some slightly more widespread coastal specialties (e.g., East Coast Batis). Other highlights over the three days in the forest were African Wood Owl, Narina's Trogon, and possibly the first Red-chested Cuckoo for the Sokoke Forest. Afternoon visit to Mida Creek for Crab Plovers at low tide, and then to the ruins at Gedi near dusk. Overnight Turtle Bay Hotel, Watamu.

29 Nov 1981
Morning in Sokoke Forest, 40% of time in Afazelia forest & 60% in Brachystegia. Afternoon walk to Sabeki R. mouth until dusk. The Sabeki River mouth was full of waders, including a lifer Broad-billed Sandpiper, and the adjacent scrub added more new landbirds. Overnight Turtle Bay Hotel, Watamu. Below are scenes from the coast: the Sabeki River mouth full of White-faced Whistling-Ducks & waders (top), a Crowned Hornbill in the canopy of the Sokoke Forest (below left), and Steve Wilson walking on the mudflats at Mida Creek (below right).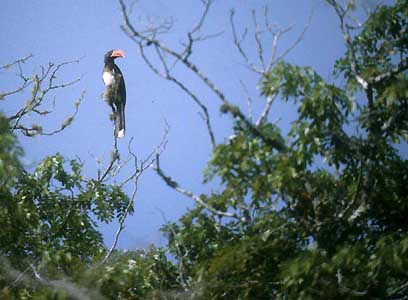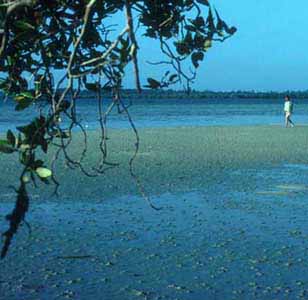 30 Nov 1981
Morning in Sokoke Forest, 40% of time in Afazelia forest & 60% in Brachystegia. Afternoon snorkeling on reef off Turtle Bay Hotel was a nice break -- after three weeks of intense birding, we were getting a bit burned out. Late afternoon visit w. of Ganda, near Malinde, until after dark. Overnight Turtle Bay Hotel, Watamu.
1 Dec 1981
Early morning final visit to Brachystegia habitat in Sokoke Forest. Mid-day flight Malinde to Nairobi and then fly home to California.
PHOTOS: All photos on this page are © 1981, 2001 Don Roberson, except those attributed to Steve Wilson who holds those copyrights; all rights reserved. Many other shots from this trip are scattered about the web site. Check particularly bird families, mammals, and herps listings.
Literature cited:
Alden, P., and J. Gooders. 1981. Finding Birds around the World. Houghton Mifflin, Boston.

Britton, P. L., and D. A. Zimmerman. 1979. The avifauna of Sokoke Forest, Kenya. Journal East Africa Nat. Hist. Soc. 169: 1-15.

Clancey, P. A. 1990. A review of the indigenous pipits (genus Anthus) of the Afrotropics. Durban Mus. Novitates 15: 42-72.

Dowsett-Lemaire, F., and R. J. Dowsett. 1978. The Boran Cisticola Cisticola bodessa in Kenya, and its possible affinities. Scopus 2: 29-33.

Forbes-Watson, A. D. Notes of field identification of East African honeyguides (Indicatoridae). 1976. Ngulia 76/77: 17-20.

Friedmann, H. 1955. The Honey-Guides. Bull. U. S. Nat. Mus. 208.

Keith, S., E. M. Urban, and C. Fry. 1992. The Birds of Africa. Vol. IV. Academic Press, London.

Mackworth-Praed, C. W., and C. H. B. Grant. 1957. The Bird of East and Northeastern Africa. 2 vols., 2d. ed. Longman, London.

Stevenson, T. 1980. The Birds of Lake Baringo. Terry Stevenson, Nairobi.

Turner, D. A., and D. A. Zimmerman. 1979. Field identification of Kenya greenbuls. Scopus 3: 33-47.

Williams, J. G. 1963. A Field Guide to the Birds of East and Central Africa. Collins, London.

Williams, J. G. 1967. A Field Guide to the National Parks of East Africa. Collins, London.

Williams, J. G., and N. Arlott. 1980. A Field Guide to the Birds of East Africa. Collins, London.

Zimmerman, D. A. 1972. The avifauna of the Kakamega Forest, western Kenya, including a bird population study. Bull. Amer. Mus. Nat. Hist. 149: 255-340.

Zimmerman, D. A. 1978. Birding Kenya's Kakamega Forest. Birding 10: 241-249.

Zimmerman, D. A., D. A. Turner, and D. J. Pearson. 1996. Birds of Kenya and Northern Tanzania. Christopher Helm, London.
TOP

GO TO TRIP REPORT PORTAL

Page created 2-12 Nov 2001