MONTEREY COUNTY HIGHLIGHTS: 2003 [part 1]
These highlights chronicle the year 2003. Created incrementally as new photos were available, the year runs generally "backwards" on this page. The abbreviation "MTY" means "Monterey County" in the text below. Text by Don Roberson. Photos on this page are copyrighted by the photographers to whom they are attributed, and may not be reproduced in any form (including other web sites) without the express consent of the photographer.
THIS PAGE HAS THE HIGHLIGHTS
OF THE FIRST HALF ON 2003 (through May)
CLICK HERE
FOR SECOND HALF HIGHLIGHTS
| | |
| --- | --- |
| | 30 May: banders at Big Sur Ornithology Lab captured a Louisiana Waterthrush, a first record for Monterey County. [It was only the second record for northern California, and about the 9th for the State. The only prior n. CA record was 2-3 Jun 1991 on Southeast Farallon I.] A gallery of photos, banding details, and a field description of the bird when it was refound 3 hours after its release are on a separate Louisiana Waterthrush at BSOL page. |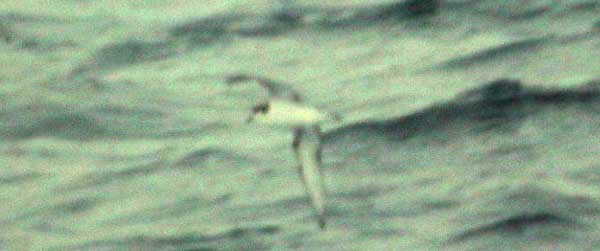 | | | |
| --- | --- | --- |
| | 4 May: a Dark-rumped Petrel was found just 2 miles off Moss Landing by Richard Ternullo and photographed by Nancy Black (© N. Black above, below, left & right) during a Monterey Bay Whalewatch trip. Richard refound it later that day 3 miles off Salinas R. mouth as it was headed for Pt. Pinos. These 3 shots (the one left is simply a larger blow-up of the above photo) show an apparently small-billed and comparatively short-tailed bird consistent with Hawaiian Petrel Pterodroma sandwichensis. See my i.d. discussion elsewhere on this web site on California records of this group. The 4 May date nearly matches the early date of 3 May 1992 (off SE Farallon I.). This is the 2nd MTY record, and the 12th for California, all between May-August. | |

2-3 May: Birders in Monterey County competed in "America's Birdiest County" event using 14 teams and about 50 observers over 24-hour periods centered around 4 p.m. 2 May through 4 p.m. 3 May. Although the event coincided with a major unseasonable storm, there were numerous surprises, including this early Willow Flycatcher (left; video cap © David VanderPluym), the earliest ever in MTY by a week.

Our event total was 248 species, eventually winning us the title of "America's Birdiest County." Full details and more graphics about the event are elsewhere on this web site, including a complete event species list.
| | | |
| --- | --- | --- |
| April: This month, after an absence of more than two weeks, the male Indigo Bunting that had first appeared in a Carmel Valley yard in molt in March (below), returned after a 3 week absence in full alternate plumage (two right shots; video captures © Rusty Kunz ). It was present in the Kunz' yard 8-9 April, disappeared again, and then returned 22-28 April. In the interim, an adult male appeared in a Carmel Valley yard about 5 miles away from 13-19 April (Charles & Susan Baxter fide Alan Baldridge). Given the dates (with no overlap), plumage, and the species' scarcity at this season, I think it must be this same bird, and illustrates the distances a local feeder bird may travel during its local visits. | | |
| March: The first week brought a most unexpected molting male Indigo Bunting (right and below) to a private yard in Carmel Valley. These video captures (© Rusty Kunz 2 Mar 2003) show a plumage state never before seen in MTY. This is just the 3rd winter record of Indigo Bunting for the county. The bunting was initially present 1-13 March. | | |
| | | |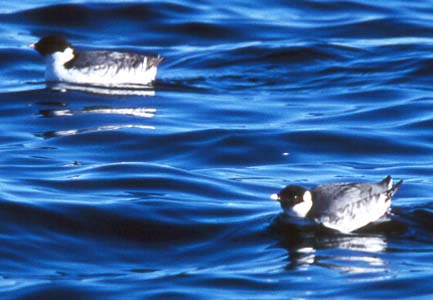 February: Lingering wintering species continued to make news. The bluebird, warbler, and flycatcher that were highlighted in January (below) continued into February, but the Summer Tanager was rarely reported and the Emperor Goose seems likely to have been shot by hunters on Elkhorn Slough about 7 January. Bill Hill (© 2003) took some great shots, though, of wintering species such as two of the several Ancient Murrelets that were frequenting the inshore waters just off the Coast Guard pier (right). The Green-tailed Towhee wintering in Rita Carratello & Don Roberson's Pacific Grove yard (below left; © Bill Hill in Feb., below right, © Don Roberson in March) began singing from time to time — both on sunny days and mornings when rain showers stopped.... He finally left on 22 April. A male Williamson's Sapsucker also continued to winter (into early March); photos of it and the towhee back in autumn are on the 2002 highlight page.
| | | |
| --- | --- | --- |
| Poorly photographed, but capturing much attention, was an adult Zone-tailed Hawk in lower Carmel Valley (all photos © Don Roberson). It had been discovered on 3 Nov 2002 at Carmel R. mouth by Mike Tyner, and refound over Carmel Middle School on 25 Nov by Craig Hohenberger. It was seen again in early December but then was missed for a month until refound in January — flying again over Carmel Middle School. At that site it was observed off and on (including 7 Feb when the near right shot was taken), but it was also seen at various other sites in Carmel Valley (the two right-hand shots were taken 8 Mar at Rancho Rio Vista, just across the road and upslope from Carmel Middle School). You can see the classic dihedral flight profile (near right) as the lower hawk is dive-bombed by a crow (top bird), and even at this distance it is apparent that the head is feathered, not bare like a Turkey Vulture. The overhead shots show the prominent single tail band (making this a male, we believe) and the finely barred remiges with a wide, dark trailing edge. This is only the second Zone-tailed Hawk for Monterey County, and just the third for all of northern California. Update: very unexpectedly, the Zone-tailed was seen over Carmel R. mouth again on 28 May (Ericka Lindgren). | | |
| | |
| --- | --- |
| | |
| | An exceptional feature of the winter was the presence of six Harlequin Ducks, 5 males and a female. Four males and the female routinely roosted on a rock inside Monterey harbor (above left); by February the female was also accompanied by one of the males (above; top shots © D. Roberson). Most males were in spectacular alternate plumage (left; © Bill Hill). These numbers double the previous single season high counts for the county. |
Another duck setting new high counts was Eurasian Wigeon. A single pond on Quail Lodge, lower Carmel Valley, hosted three Eurasian Wigeon from late Dec 2002 into Feb 2003: two different males (left and right, below) and a female (center below). The latter represents the first female Eurasian Wigeon ever to be found in Monterey County. Additional male Eurasian Wigeons wintered near Kirby Park on Elkhorn Slough, and at the Castroville wastewater ponds. The three photos below were taken 11 Jan 2003 (© Don Roberson).

January: A plethora of rarities at the turn of the year brightened the central California coast. Most were actually discovered in the final days of 2002 but, oddly enough, three of the five pictured below were initially misidentified as a more common species. The bright red one and the bright blue one, just below, were correctly identified and added much color to the Monterey Peninsula (30 Dec 2002) and Moss Landing (1 Jan 2003) Christmas Bird Counts, respectively. The male Summer Tanager was initially found 20 Dec 2002 by David Moen; the male Mountain Bluebird was first found 18 Dec 2002 by Rick Fournier & Rob Burton. The latter is the first winter record in coastal MTY since a flock of 7 was at Camp Ord back in January 1937.
Summer Tanager at Laguna Grande Park, Seaside (left)
© 2003
Scott MacDonald, Salinas
Californian



Mountain Bluebird at Moss Landing cemetery (right)
© 2003
Don Roberson
It had been 25 years since the last Emperor Goose in Monterey County back in Jan-Mar 1978. Thus the adult first located 29 Dec by Captain Yohn Gideon of Elkhorn Slough Safaris was very welcome. These two exceptional photos were taken by Bill Hill; see Bill's web page for more shots of these and other local rarities.
Bill Hill also photographed the Black-throated Green Warbler at Laguna Grande Park, Seaside. The warbler was actually found 30 Dec but not identified until 3 Jan (John Luther). This immature female represents the first winter record for Monterey County.
The final bird of exceptional interest as 2003 began was an interesting
Myiarchus in adjacent Santa Cruz County. Initially discovered 1 Jan on Laurel St. in Santa Cruz, it was confirmed to be a Nutting's Flycatcher M. nuttingi on 3 Jan, just the second California record and the first for northern California (right; photo © 2003 Don Roberson). Elsewhere on this web site, I have an entire web page on the discovery of this bird, and then a detailed analysis of its identification in a 7-page linked series that begins with an introduction linked in this sentence.
TO HIGHLIGHTS FROM SECOND HALF OF 2003

Page initiated 19 Feb 2003; last updated 31 May 2003