MONTEREY COUNTY HIGHLIGHTS: 2003 [part 2]
These highlights chronicle the year 2003. Created incrementally as new photos were available, the year runs generally "backwards" on this page, starting on this "second half" page with June at the bottom. The abbreviation "MTY" means "Monterey County" in the text below. Text by Don Roberson. Photos on this page are copyrighted by the photographers to whom they are attributed, and may not be reproduced in any form (including other web sites) without the express consent of the photographer.

Well, year 2003 ended with a whimper.... rain plagued all three MTY coastal CBCs; indeed, the rain was so heavy and steady on the Moss Landing count (1 Jan 2004) that only 175 species were found: well below the 200 +- we've been used to in recent years! With nicer days before and after the count, we may record up to 20 "count week" birds. Rain on the Big Sur and Monterey Peninsula counts also reduced totals significantly. The Mty Pen count had 174 species, including a young Long-tailed Duck with a flock of Surf Scoters off Tioga Ave. in Sand City (Dan & Inga Labeaune). Let's see if you can pick it out of the group above (photo 7 Jan 2004 © D. Roberson). Also recorded were the stake-out Black-throated Green Warbler in Seaside (now wintering for a second year) and a female-plumaged Orchard Oriole in Pacific Grove (Scott & Ryan Terrill).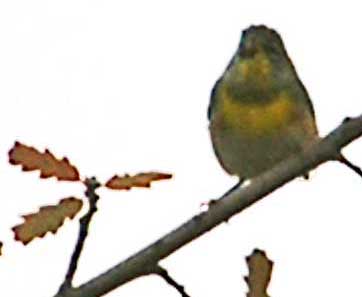 A very unexpected late December find was this apparent adult male Northern Parula (right; photo © Mark Kenyon; below, video capture © Julian P. Donahue) at the Harris Creek access to Lake San Antonio on 26 Dec 2003.

This is the first winter record for Monterey County; there are a handful of wintering records elsewhere in California, mostly in the south. This warbler was with a mixed flock in blue oaks at the north end of Harris Creek boat launching facility parking lot. The observers were Julian P. & Katharine Donahue, Mark Kenyon, and Clare Marter Kenyon. Given the poor lighting conditions for photography (backlit against overcast sky), we're grateful to get this documentation.
| | |
| --- | --- |
| | As winter approached, rare landbirds that may winter were discovered. Last winter's Black-throated Green Warbler reappeared at Laguna Grande in Seaside on 11 Oct (Tim Amaral +). A Nashville Warbler found there 12 Nov could also be last winter's bird returning. It was very nicely documented in this sketch (left; © Alex Cruz); we wish that all reported rarities were this well documented! Last winter's male Williamson's Sapsucker in Del Monte Forest, Pebble Beach, also reappeared in mid-November (B.J. Weed). |
The bird of the autumn season was a Streak-backed Oriole on 24 November, found
and well-documented with written details by Jim Tietz at the Big Sur R. mouth.
Unfortunately, although a few other birders later glimpsed it in the undergrowth or
heard its chatter call, it was never again seen well. Efforts on following days were
not successful. Still, this is a new MTY record and the first for this species in all
of northern California!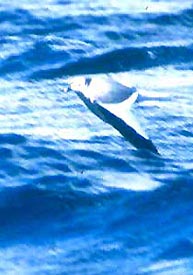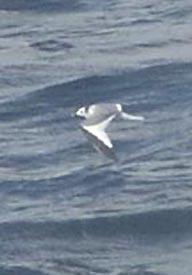 And speaking of documentation, for the first time ever, Sabine's Gull was documented on Monterey Bay in November by physical evidence (photos; right: © Roger Wolfe & D. Roberson, respectively). The latest fall specimen for MTY was taken by Rollo Beck on 28 Oct 1907 (a juv; #CAS). In the county database are six prior November records, all of them sight records. Three were in Nov 1986 following storms, including the latest: an adult seen off Esplanade, Pacific Grove, on 21 Nov 1986 (B.J. Weed). Two of the six prior records were juvenals: 10-11 Nov 1985 Monterey harbor (A. Baldridge) and 9-10 Nov 1986 Pt. Pinos (Lars Jonsson; the famed Swedish artist).

On 9 Nov 2003, some 9 nmi west of Pt. Pinos, a Monterey Seabirds boat trip found this basic-plumaged adult (right) flying south. This plumage, with its kittiwake-like dark bar on the hind neck, was new to the leaders so skipper Richard Ternullo cranked up the speed in a chase that allowed these shots to be taken. Note the yellow tip to the black bill, ruling out any thought of "Red-legged Kittiwake." However, it is possible that Red-legged Kittiwakes are responsible for a few old reports of Sabine's Gull on Monterey Bay in mid-winter (Dec-Feb). I also find it fascinating that photos taken at more or less the same time could be so different in color tone. Roger Wolfe's photo (near right) is from a digital camera; Don Roberson's pic (far right) is with 200 speed Sensia film.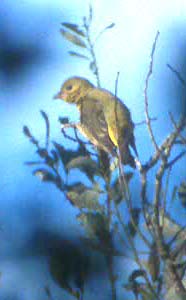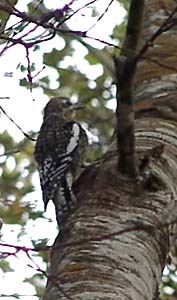 As if to make up for an unusually tepid autumn, the turn from October into November presented a bonanza of interesting birds. A Scarlet Tanager, first discovered on 28 Oct at the Big Sur R. mouth by Matt Brady. It lingered to at least 6 Nov (photo far right, 2 Nov; © D. Roberson) and provided the 3rd MTY record. It seems likely to have been a hatch-year bird but whether a young male or young female was debated. While the lingering tanager set a late date for this county, a juvenal Yellow-bellied Sapsucker, found on 1 Nov at Elkhorn Slough Estuarine Research Reserve by Rick Fournier, is the third earliest fall arrival for this county (photo near right, 2 Nov; © Roger Wolfe). If it should remain to winter, it would push the arrival date for a wintering bird forward a month.

The weekend of 31 Oct-2 Nov also saw a significant inshore incursion of Red Phalaropes, first reported by Brian Weed and Alan Baldridge, with hundreds hugging the shoreline of Monterey Bay (photo below © D. Roberson) and others scattered inland as far as Salinas (B.H. Gerow). Lots of N. Fulmars were also in the Bay, and dozens washed up on local beaches, starving in a apparent natural "boom-and-bust" cycle in this northern breeder.

Best was a Little Shearwater Puffinus assimilis, found by Debi Shearwater and Peter Pyle on 29 October ~3 nmi W of Pt. Joe, a potential first record for both California and the north Pacific! Photos are on Shearwater Journeys website. This is a circumpolar species of colder subtropical oceans in the southern hemisphere.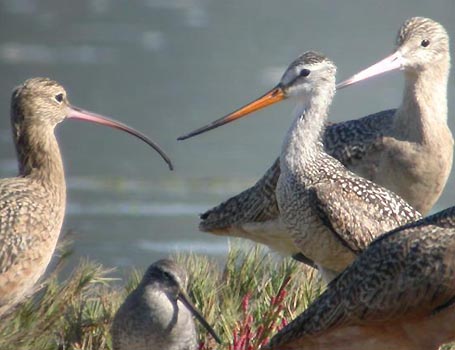 In late October, an odd godwit, initially identified as Bar-tailed Godwit, created excitement along Elkhorn Slough; this fine 60X digiscoped image is by Anne Spence, taken on 27 Oct [© Anne Spence; see her other images of this bird on her web site]. It had some features of the Siberian race baueri of Bar-tailed Godwit (small size, prominent supercilium, barred rump and tail) but a couple weeks later Dan Singer pointed out significant problems with this initial i.d., and concluded that it was an aberrant alternate-plumaged Marbled Godwit still in alternate plumage and now very worn (accounting for the lack of cinnamon tones). Go to a page on this godwit for some of the material presented initially on this page, but with many more images of both this bird and comparative godwits, and expert commentary.
| | |
| --- | --- |
| Other interesting species the last week of Oct 2003 included this young Franklin's Gull (right; © Don Roberson) at Pt. Pinos on 27 Oct; two more Red-throated Pipits near Salinas (Steve & Bruce Gerow); another japonicus pipit near Zmudowski (Roberson/Carratello/Fournier); and an Eastern Phoebe at Moonglow Dairy on 25 Oct (Dan Labeaune) that lingered into November (Bruce Elliot). | |
The most exciting discoveries of fall 2003 were small groups of Pinyon Jays along Monterey County's highest ridges. On 28 Sep, overnight campers from BSOL (including Matt Brady, David Vander Pluym, Ryan Terrill) discovered two Pinyon Jays at Chews Ridge (5000' elev.). On 7 Oct, Don Roberson saw another (and heard more) from the trail below Cone Peak (~4000' elev.). This view of Cone Peak (above) shows the habitat in October: a mixed forest of pines, Santa Lucia firs, black oaks shedding their leaves, and much montane chaparral. Autumn 2003 saw an almost unprecedented movement of Pinyon Jays into the coastal mountains of central California; widespread reports included birds to the south (San Luis Obispo & Santa Barbara Cos.), to the east (Kings & San Benito Cos.), and north (Santa Cruz, San Mateo & Santa Clara Cos.). The only previous record for Monterey County was a small flock way back in Dec 1895 which, according to Joseph Maillard, "made a tour of [Pacific Grove] every day that I was there, flying from one pine tree to another and sometimes alighting on the ground, but never staying in one spot more than a minute or two. The oldest inhabitants could not remember having seen these birds before nor having heard their peculiar cries."
Otherwise, fall 2003 was considered to be one of the slowest autumns in memory for vagrants. Eastern vagrants were in low numbers. Beyond the Pinyon Jays, there were unusual upslope and coastal incursions of Lewis's & Acorn Woodpeckers and Band-tailed Pigeons (likely related to a very poor acorn crop) and, from the north, a good flight of Siberian pipits, first noted by Brady, Terrill, James Restivo and others in mid-October. These included up to 3 Red-throated Pipits and at least two of the japonicus race of American Pipit (sketch of one of them below, upper right, by D. Roberson). These are the first records of this Siberian subspecies in Monterey County. An excellent on-line identification article focusing on japonicus and the other races of American Pipit is on surfbirds.com.
The best eastern vagrants of mid-autumn were both on 13 Sep: a Least Flycatcher banded by Big Sur Ornithology Lab (photo © BSOL below left; this individual had an abnormal bill with the upper mandible shorter than the lower), and a Philadelphia Vireo at the Carmel R. mouth. Rita Carratello, Rick Fournier, and Don Roberson found this exceedingly bright Philly (DR's sketch below, lower right); it remained through 27 Sep and was seen by many. The only southwestern warbler was a Lucy's at Big Sur R. mouth on 11 Oct (R. Wolfe).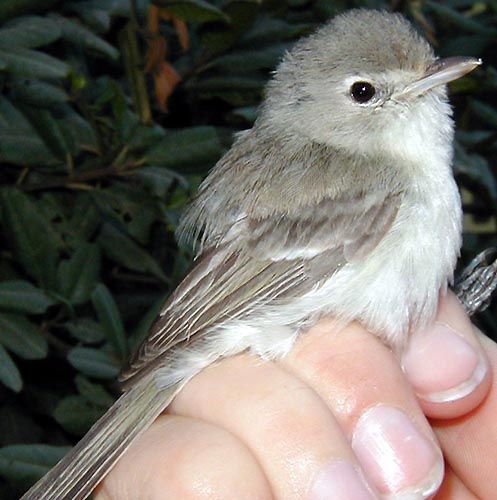 Earlier in the fall, a Bell's Vireo (left and below right; photos © BSOL, all rights reserved, used with permission) was banded at the Big Sur R. mouth by BSOL on 9 Sep 2003. The entirely gray-and-white plumage (with just trace of olive wash to the wing edges) and the measurements were consistent with the endangered California breeding race V. b. pusillus, often termed "Least Bell's Vireo." It was aged in-hand as a HY (hatch-year) bird (by skull) and had rather fresh plumage. The Arizona breeding race V. b. arizonae would show yellowish wash to flanks and olive wash to rump in HY birds, so we may safely consider this to be a record of Least Bell's Vireo, only the 7th MTY record of this great little bird in the last 25 years. It is only the 2nd fall migrant ever encountered and the first to be banded. The only other fall migrant was in the headlands patch at Big Sur R. mouth 20-21 Sep 1995 (Dave Haupt, D. Roberson).

It is also only the second Bell's Vireo ever to be photographed in this county. One of three singing males along the Salinas River near Bradley in June 1983 was photographed; that shot is shown below left (photo 19 June 1983 © Don Roberson). One of those males (not the photographed one) attracted a mate, nested, and hatched young that summer. This was the last confirmed nesting for Monterey County.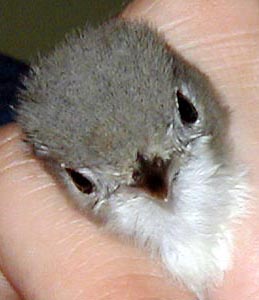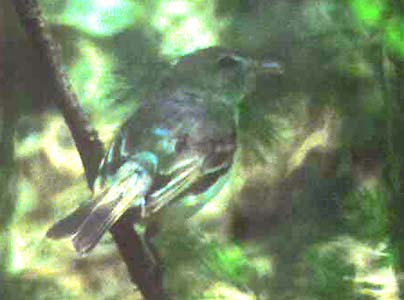 Least Bell's Vireo can be mistaken for Plumbeous Vireo V. plumbeus (28 MTY records of migrants) or Gray Vireo V. vicinior (no records anywhere in northern California). Indeed, some first thought this bird was a Gray Vireo. Both Gray and Plumbeous Vireos are substantially larger than Least Bell's Vireo. In this particular case the wing chord of 54 mm and a weight of 8.8 gr are just about at the median of Bell's but well outside the range of Gray, which has a wing chord of 59-68mm per Pyle's banding guide (1997) and a weight of 11.5-13.5 (per the BONA account). Both species have thin wingbars with the lower one most prominent (and the upper sometimes very obscure). These in-hand photos and the field photo of the adult Bell's (above left) also show how relatively obscure the eye-ring may be on Bell's. The dingy spectacles are most prominent through the lores but very thin around the eye (thickest above the eye; in contrast, our resident Hutton's Vireo V. huttoni, which has the opposite pattern: it has a break above the eye; see nice photo and discussion on Joe Morlan's site). Plumbeous Vireo has more prominent 'spectacles' with broad eye-ring (broken in front of eye) and much more prominent wing bars.

Gray versus Least Bell's Vireo is an under appreciated field problem if size cannot be easily quantified and the birds are not singing. In comparing the photos in my collection and published in the Birds of North America (BONA) fascicles, possible differences may include:
Bell's has an eye-ring and loral stripe that is most prominent through the lores and above the eye; in Gray the loral stripe is very obscure but the eye-ring is usually thin and crisp around most of the eye, broken only in front, although it can also be obscure above the eye and prominent below the eye (thus basically the opposite effect of Bell's). Bell's eye-ring can be slightly broken front and back.
Both have rather short bills but Bell's is rather thin (photo above left) while Gray has a short, stout bill.
The remiges (primaries and secondaries) of Least Bell's Vireo are about the same shade of gray as the rest of the upperparts or just a bit darker. On Gray, the remiges are substantially darker, being more blackish-gray.
The edges of the remiges, and esp. the secondaries, of Least Bell's Vireo are washed with pale olive while the same feathers in Gray are edged whitish or whitish-tan without any trace of olive or yellowish-green color.
Both species characteristically cock their tail up or flip it side-to-side. I suspect there are differences in this behavior between the two; this needs clarification. These two differ from most other vireos in this behavior.
It was interesting looking at the respective BONA accounts as they illustrate just how different one account may be from another. The Bell's Vireo account (by B.T. Brown, 1993, #35 in the series) is perfunctory and barely mentions subspecies. It has only the most superficial treatment on many topics of interest to field birders. In contrast, the Gray Vireo account (by J.C. Barlow, S.N. Leckie & C.T. Baril, 1999, #447) is detailed and enlightening.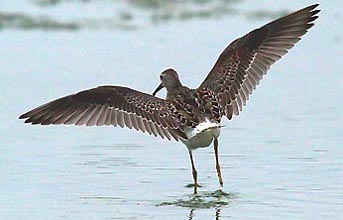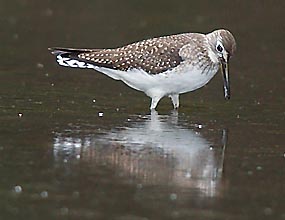 Fall migration began, as always, with adult shorebirds in late June-July and then a flood of juvenal plumaged waders in August. This was quite a good fall locally for Solitary Sandpipers. Birds were found near Moss Landing (Rick Fournier), Ft. Ord (David Styer), near Salinas (Bruce Gerow, Blake Matheson) and Carmel R. mouth (Nancy McMahon). The latter was photographed on the latter date by Bill Hill on 3 Sep (right or above, left-hand shot; photo © Bill Hill). Another scarce wader found in higher than usual numbers was Stilt Sandpiper (right or above; right-hand photo © Bill Hill). Three birds were scattered from Salinas (one an adult & the other a juv.; Bruce Gerow) to Moss Landing (Rick Fournier)

The most spectacular birds of the early fall were just a couple miles offshore from Pt. Pinos: a first county (and only 2nd California) Cory's Shearwater on 22-23 August (Richard Ternullo, Nancy Black, Roger Wolfe, Steve Bailey) and the 8th county record for Streaked Shearwater on 23 August (Steve Bailey, Roger Wolfe). Later, in October, a Greater Shearwater was reported twice (R. Ternullo, R. Wolfe).

Passerine migration also began well with two Painted Buntings at Big Sur R. mouth 31 August (Steve Rovell, Craig Hohenberger, Dave Werner) with one remaining into the next morning. Another (or one of the same lingering?) was seen upstream near BSOL on 16 Sep.
| | |
| --- | --- |
| | Yet another lovely bird to hit the BSOL nets this summer was a Great TIt Parus major (left; photo © D. Roberson). It was first caught on 17 June and hung around the lab all summer. It was recaptured several times and seen into at least early September. Although a striking bird, it is apparently of a European race (quite probably the nominate race) and therefore has no chance of being a wild vagrant to California. Indeed, there have been an increasing number of observations of Great Tit in this State over recent years — usually in cities and suburbs rather than a vagrant trap such as Big Sur R. mouth — and it is apparent that the species is being kept in captivity with some regularity. It is even possible that the growth bars seen on the tail suggest it was hatched in captivity. |
| | |
| --- | --- |
| BSOL captured an even rarer vagrant than the ones shown below on 26 June: this Blue-winged Warbler (right; photo by Sarah Hamilton © BSOL). It represents just the 4th record for Monterey County but the 3rd found at the Big Sur River mouth. | |
| | |
| --- | --- |
| 4 June was a very exciting day to be banding birds at the Big Sur R. mouth at the Big Sur Ornithology Lab (BSOL). They captured a Yellow-billed Cuckoo (left & upper right), only the 4th record there; a singing Northern Parula (below right); and a female Hooded Warbler (below). All photos by Sarah Hamilton © BSOL, used with permission. | |
| | |
THIS PAGE HAS THE HIGHLIGHTS
OF THE SECOND HALF ON 2003 (June - Dec)
CLICK HERE
FOR FIRST HALF HIGHLIGHTS

TOP

TO HIGHLIGHTS FROM FIRST HALF OF 2003

Page initiated 15 June 2003; last updated 19 Jan 2004