These highlights chronicle the year 2011. Created incrementally as new photos were available, the year runs generally "backwards" on this page.
The abbreviation "MTY" means "Monterey County" in the text below. Text by Don Roberson. Photos on this page are copyrighted by the photographers to whom they are attributed, and may not be reproduced in any form (including other web sites) without the express consent of the photographer.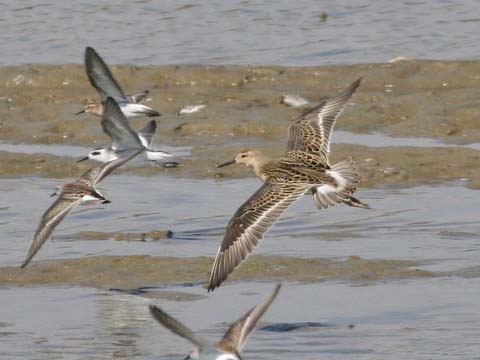 Sometimes birds are just colorful and fun to see, even if they just escaped from someone's cage. This Orange Bishop Eupetes franciscanus (above; sometimes called Northern Red Bishop) is a widespread bird of eastern Africa, but is sold as a cagebird in the U.S. There have even been a few successful nesting efforts of escaped birds in California. Much of the year it looks like a female House Sparrow, but males in full breeding dress are quite spectacular. This one was first found near Salinas in late August by Kent Van Vuren (but I didn't know that when I found it and took this photo on 3 Sep © D. Roberson). We know it is not a wild bird because it is a tropical species that is not significantly migratory, but also the beat-up orange uppertail coverts and long toenails evidence a recent span in captivity. [Thanks to Steve Rottenborn and Bill Bousman in Santa Clara Co. for correcting the i.d. of this bishop. Different field guides present the head pattern differently, but the orange chin feathering and the extensive cloak of orange uppertail coverts — completely covering the short brown tail (which we cannot see) — is characteristic of E. franciscanus].
An excellent wild species found near Salinas on 30 August was this juv Ruff (right; photo © Ryan Terrill. It was joined by a second in early September; and then yet a third bird was present separately.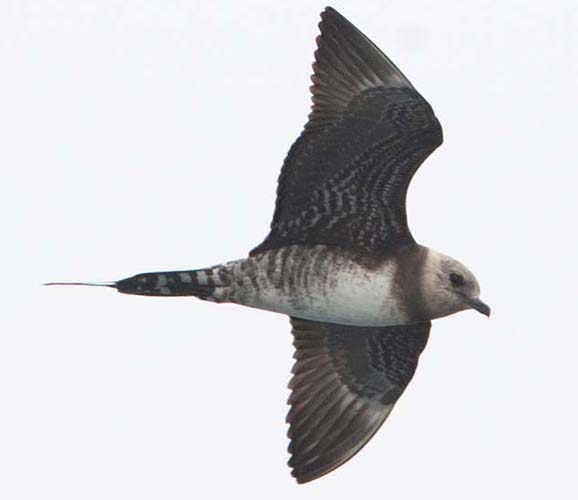 Pelagic birding in late summer was good. It began 23 July, when Martijn Verdoes photographed this 2d cycle Long-tailed Jaeger (left © M. Verdoes) not far off Cypress Pt., for the earliest fall migrant for the county. Good numbers of Sabine's Gulls and Long-tailed Jaegers continued into August, along with a smattering of Fork-tailed Storm-Petrels.
In the Santa Cruz County portion of Monterey Bay, a Great-winged Petrel appeared on 26 August (J.M. Langham et al.); another was in the same part of the Bay just last September [see 2010 highlights].
Along the coast — and often offshore — thick fog turned summer into a soggy wet blanket. For a birders' perspective, summer 2011 was pretty dull. We have come to expect a few spring & fall migrant Black Skimmers, but these two Black Skimmers were at Moss Landing on 31 July (below; D. Roberson).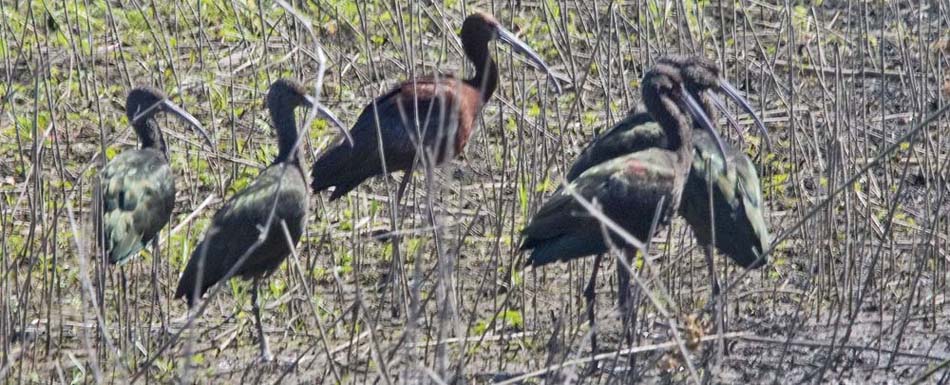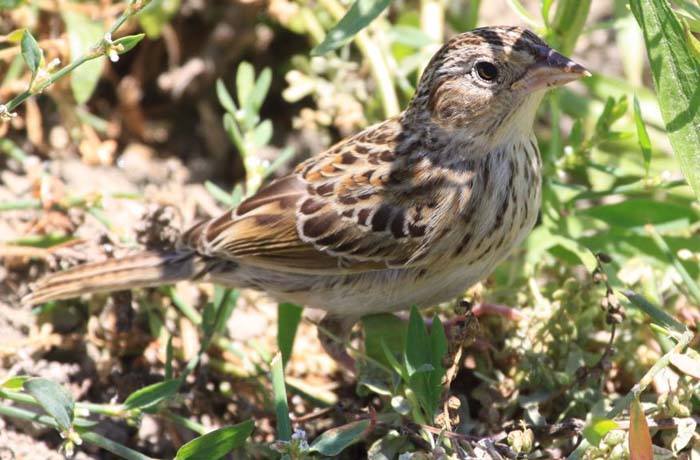 Local birders are also used to a few migrants White-faced Ibis in spring or fall, but rarely do any spend the summer locally. This summer was different, with up to a dozen in the greater Elkhorn Slough vicinity, and often at Zmudowski SB pond. Six White-faced Ibis are shown in this photo by Chuck Bancroft on 3 Aug (above © C. Bancroft).
Grasshopper Sparrow breeds locally in patches of appropriate short-grass habitat, but rarely are the young fledglings actually seen. Kent Van Vuren got close to this juv Grasshopper Sparrow on July 24 near Salinas, and the shot shows many details we rarely observer (left © K. Van Vuren).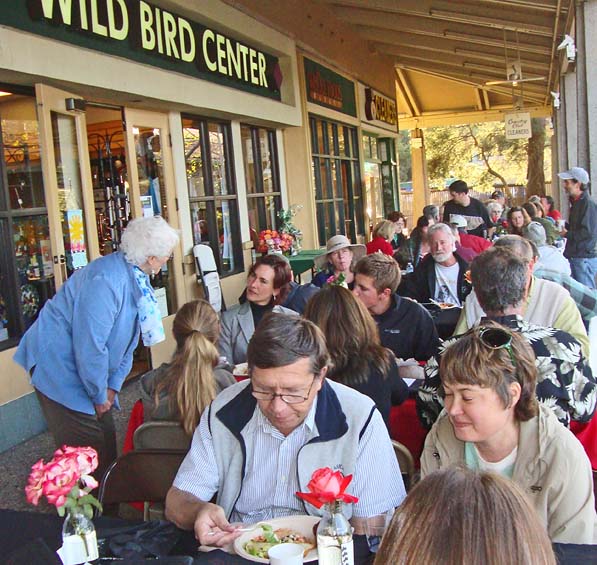 The annual Monterey Audubon birdathon was held over the 24 hours from Friday, 29 April at 4 p.m. to Saturday, 30 April at 4 p.m. Volunteers searched for birds throughout Monterey County (above; Elkhorn Slough). Some 230 species were located during the birdathon. This is on the low side for our local efforts, which have totaled between 230–250 species over the past decade. The weather was very pleasant but it seemed a "late" spring with some breeders not yet in, while some wintering waterfowl were already gone.
Birdathoners were treated to a delicious dinner, prepared by Whole Foods Market, at the count-down event hosted by the Wild Bird Center in Del Monte Shopping Center (right). The money raised goes towards the Monterey Audubon Society's scholarship fund for students in environmental studies; 3 of the 4 recipients of this year's grants were able to attend the event. Many thanks to Jill Himonas and the Wild Bird Center for hosting the event and providing prizes; to Whole Foods Market for the great meal; to Chris Hartzell for organizing the silent auction; and to Monterey Audubon for sponsoring the event.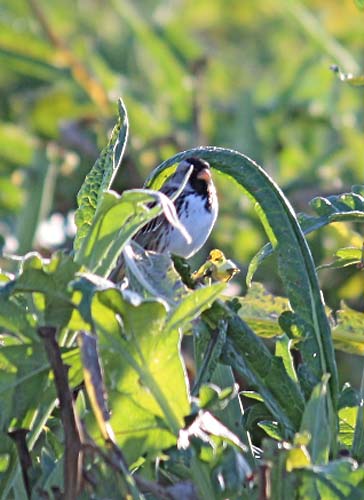 The best birds of "birdathon weekend" were three — yes, three! — Harris's Sparrows: two in an artichoke field next to Espinosa Lake on 29 Apr (Tim Amaral, Steve Rovell; photo of one (left) © Marcos Rangel) and another at a Pebble Beach feeder (fide Bob Tintle); two different migrant Gray Flycatchers on 30 April — one on Fremont Peak (Tim Amaral et al.) and another at Parkfield cemetery in southeastern MTY (Clay Kempf); and a Least Tern along Jetty Road, Moss Landing for a short time late on 29 Apr (Steven Johnston, Rick Fournier).
Lesser highlights included a late Greater White-fronted Goose at El Estero (Brian Weed et al.), a Ridgway's Cackling Goose at Moro Cojo Slough (R. Fournier); lingering Harlequin Duck in Monterey harbor (Inga & Dan Lebeaune); a Short-tailed Shearwater off Pt. Pinos 29 Apr (Brian Sullivan); Ashy and Fork-tailed Storm-Petrel on Monterey Bay 30 Apr (Richard Ternullo); nine White-faced Ibis at Zmudowski (Rita Carratello); three Lesser Yellowlegs around Elkhorn Slough (Bob & Bernadette Ramer, Rick Fournier); and a Cassin's Kingbird well out of place on Ft. Ord (David Styer et al.).
An excellent bird that did not linger to month's end was a breeding-plumaged Palm Warbler at Laguna Grande Park, Seaside, 4–22 April (Don Roberson). By its last date, it was singing (photo (below) 22 Apr © Dennis Bowcut)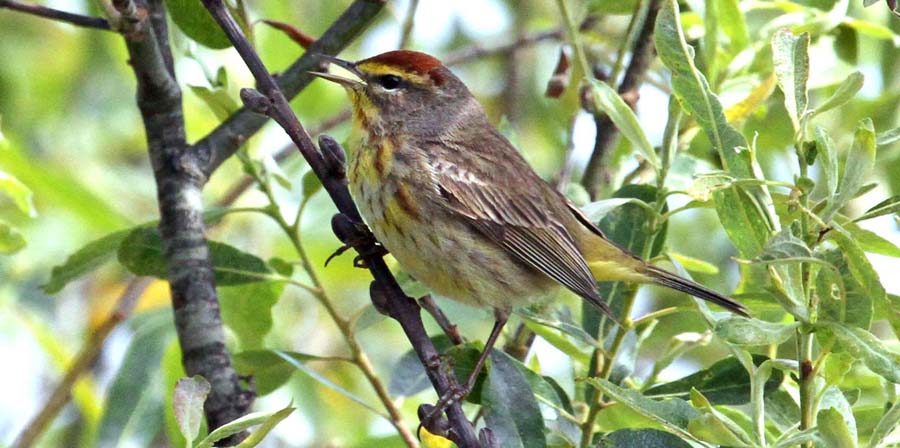 It was a remarkable migration for Rufous Hummingbird this March-April (left; young male 10 Apr in Pacific Grove © D. Roberson ), with numbers considerably higher than usual. Some feeders had half-a-dozen at one time; one short walk in Pacific Grove produced 9 birds.

Rare hummers towards the coast included male Black-chinneds at a York Road feeder 11 Apr (below left © Chris Hartzell) and another in Carmel Valley 8-29 Apr (B.L. Sullivan), and four Calliopes (2 male, 2 female) between two feeders: two on York Rd., Monterey (male below right, 29-30 March, a new early date for MTY © C. Hartzell), and two in Palo Colorado Canyon: male 28 Apr & female 30 Apr (Mike Tyner).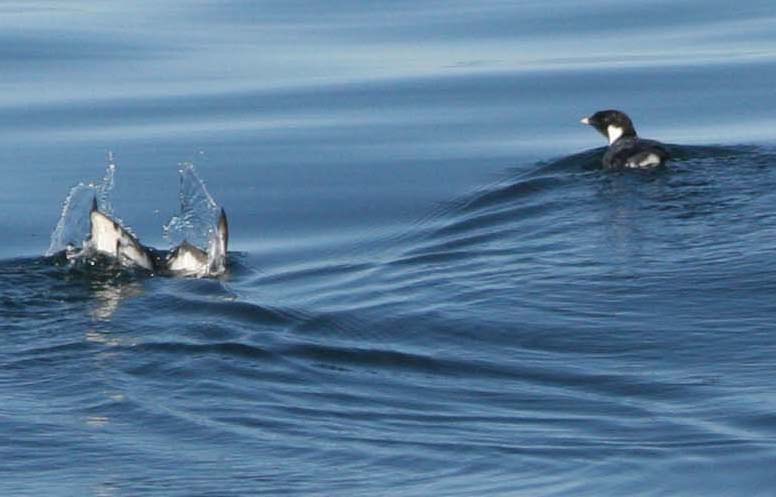 Monterey Bay hosted some interesting birds early in 2011. This adult Brown Booby (above © Martijn Verdoes) flew by a whale-watching boat on 5 January! The fall 2010 invasion of Northern Fulmars ran out of steam in early January but was followed in mid-month by an influx of Black-legged Kittiwakes offshore.
Good numbers of alcids were present this winter, including Ancient Murrelets (right, 23 Jan 2011 © D. Roberson). Oscar Johnson, Abe Borker, and Will Janousek reported a basic- plumaged Thick-billed Murre fly by Point Pinos 29 Jan (details to CBRC).
| | |
| --- | --- |
| | On land, a backyard surprise for Rita Carratello was a young male Summer Tanager (video-capture left on 9 Jan, © R. Carratello). It was seen sporadically thereafter, including a few times in Washington Park, P.G., in February. This had not been found on local Christmas counts, but some CBC rarities did linger into the New Year, including the male and female Barrow's Goldeneye off Del Monte Beach, Monterey, featured in last year's highlights. |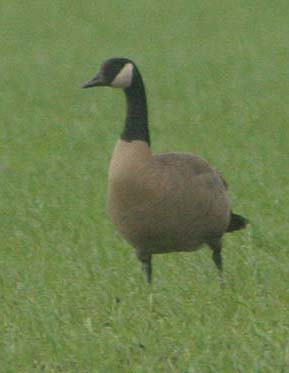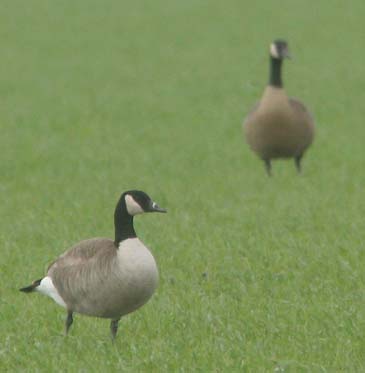 As always, the New Year kicks off on 1 January with the Moss Landing CBC. A rainy day kept numbers down this year, but the ever-changing flock of geese along Dolan Road, Moss Landing, remained interesting. Up to 61 Cackling Geese, mostly Aleutians, mingled with our resident Canada Geese and rarer species: Greater White-fronted, Snow, and Ross's geese. Among the flock was this large, dark goose on 1 Jan (right © D. Roberson; rear bird in near right shot) that may be MTY's first documented "Dusky Canada Goose" B. c. occidentalis. It was almost as large as our resident moffitti Canada (foreground, near right), but heavily washed with brown below. Its bill length may be a tad too long, however, making one wonder about some dark populations of "Lesser Canada Goose" B. c. parvipes. However, they should not be this large. The variation in Canada Geese remains bewildering. See a separate web project on that topic.