These highlights chronicle the year 2011. Created incrementally as new photos were available, the year runs generally "backwards" on this page. The abbreviation "MTY" means "Monterey County" in the text below. Text by Don Roberson. Photos on this page are copyrighted by the photographers to whom they are attributed, and may not be reproduced in any form (including other web sites) without the express consent of the photographer.
The year 2011 concluded with a couple of winter rarities on the Monterey Peninsula. A Cassin's Kingbird in Del Monte Forest, Pebble Beach, on 17 Dec (D. Roberson, R. Carratello) was one of the very few records for the Peninsula (photo right on 18 Dec © Sarah Lane). Alas, it apparently did not linger to the annual Peninsula Christmas Bird count on 27 Dec.

The highlight of that bird count was a Green-tailed Towhee in Pacific Grove (Steve Rovell et al., photo below 30 Dec © Bill Hill). This vagrant did remain into early 2012.
November brought some fine weather and a few decent birds. A great yard bird at Bill Hill's home in Carmel was a hatch-year Tennessee Warbler (above left), present for 3 days in mid-month (© Bill Hill; see more on his web site). Several Swamp Sparrows were found but none was so confiding as the imm Swamp Sparrow found by Dan Lebeaune in late November at Laguna Grande, which was seen by many (upper right, photo © D. Roberson).

The best bird of the month — and maybe the year? — was an imm male Painted Bunting at Asilomar Conference Grounds on 12 Nov (Michael Perrone). It was chased and missed by many local birders, but some of them enjoyed this leucistic Dark-eyed Junco instead (right; photo © D. Roberson).

South county does not receive the same coverage as the coast, but Sarah Lane & Jerry Stengel found a Sage Thrasher along Gloria Road, east of Gonzales, on 7 Nov (below left, photo © Sarah Lane). And sometimes it is just fun to show dramatic shots, like a Northern Harrier dive-bombing a Golden Eagle along Shirttail Canyon Road, east of Soledad, on 25 Nov (below right, photo © D. Roberson).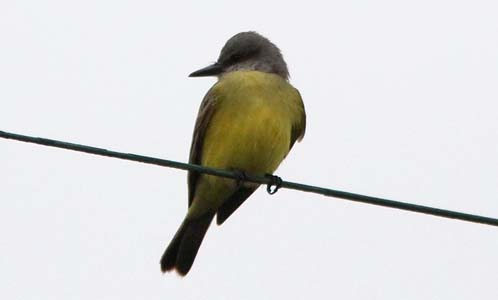 September was fairly quiet for landbird migration, but things picked up in October. The best was an imm Scarlet Tanager eating Myioporum berries at the Pacific Grove cemetery on 25 Oct, found by Blake Matheson, and photographed by several observers the next day (above left © Sarah Lane). More fine photos are on Bill Hill's web site. This represented only the 4th MTY record of Scarlet Tanager. On 30 Oct, an imm male Summer Tanager turned up at Laguna Grande Park (Don Roberson, Rita Carratello, photo above right © D. Roberson; note orangey undertail coverts for age/sex).
A Tropical Kingbird was at Pt. Pinos on 21 Oct (D. Roberson, photo left) and another was there 1 Nov (Blake Matheson). An imm Black-throated Blue Warbler at Pt. Pinos 22-24 Oct (Blake Matheson et al.) was very nice, as it has been some years since there has been one locally. Additional eastern warblers this fall included a Magnolia, a Tennessee, and a number of Black-and-whites, Blackpolls, and Palms.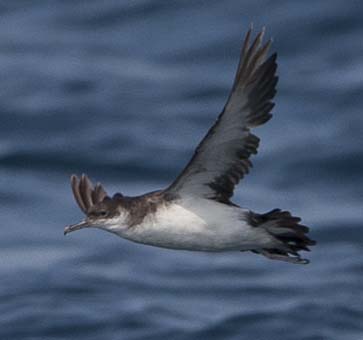 Pelagic birding in Monterey Bay was good this fall, including a Great-winged Petrel on 26 August (in SCZ waters; details on Shearwater Journeys site); a Red-billed Tropicbird on 24 September (also in SCZ, just barely; Jay Withgott et al.); an adult Brown Booby on 9 Sep, a Manx Shearwater on 11 Sep (photo right © Brian L. Sullivan), and multiple reports of Flesh-footed Shearwater, Fork-tailed Storm-Petrel, and Xantus's Murrelet. There was an impressive influx of Northern Fulmars in October.
A highlight of a Monterey Seabirds trip on 29 Oct was the presence of three different Laysan Albatross. Two were together about 8 miles offshore (just below © D. Roberson) but a third was within ~3 miles of shore (second shot below © D. Roberson). It is a strange photo indeed to see the Monterey Peninsula in the background of a Laysan Albatross shot!



Black Tern is a scarce spring and fall migrant through MTY. In autumn its narrow window of occurrence is late August–early September. This juv Black Tern (above) was near Salinas on 9-10 Sep (B.L. Sullivan, photo 10 Sep D. Roberson) while two more were seen migrating over Monterey Bay on 10 Sep (Roger Wolfe et al.). Brown Pelicans are in huge numbers on the coast but they are quite rare inland, as was this young Brown Pelican near Salinas during the second week of September (right © D. Roberson)

The escaped Orange Bishop remained it a weedy ditch near Salinas in early September. In this shot you can see the very long uppertail coverts that have completely covered the short brown tail to make the bird look entirely orange from behind (© D. Roberson).


Early September is prime shorebirding time, and as any good shorebirder knows, the key to learning waders is to first understand how to age each bird — what plumage is it wearing. Migrant adults will be in worn alternate plumage [=breeding plumage] until they reach the wintering grounds, where they quickly molt into basic [=winter] plumage, while youngsters on their first flight south will be in crisp new juvenal plumage. [Dunlin, a late arrival, is an exception, and molts before migrating]. Below are two photos of Pectoral Sandpiper taken in early September in the lower Salinas Valley. The juv Pectoral (left) has a very crisp and beautiful pattern of colorful edges to all the feathers of the upperparts. The back is edged with red and white (forming a pair of 'stripes' down the back) while the upperwing coverts are edged crisply in pale buff and white. About 99% of migrant Pectoral Sandpipers in fall in MTY are in this plumage. But an adult Pectoral (right) does occasionally appear. Note the very dark and very worn feathers of the upperparts; the worn and dull wing coverts; and the darker appearance to the chest. Most adult migrants are early in the season, typically in July, so this one on 10 Sep was quite late [photos © D. Roberson].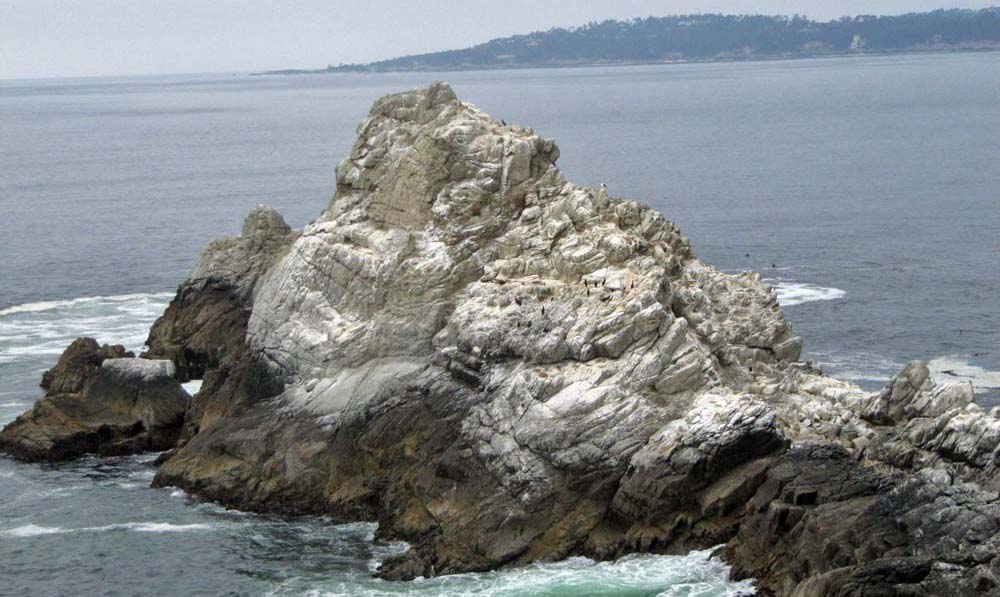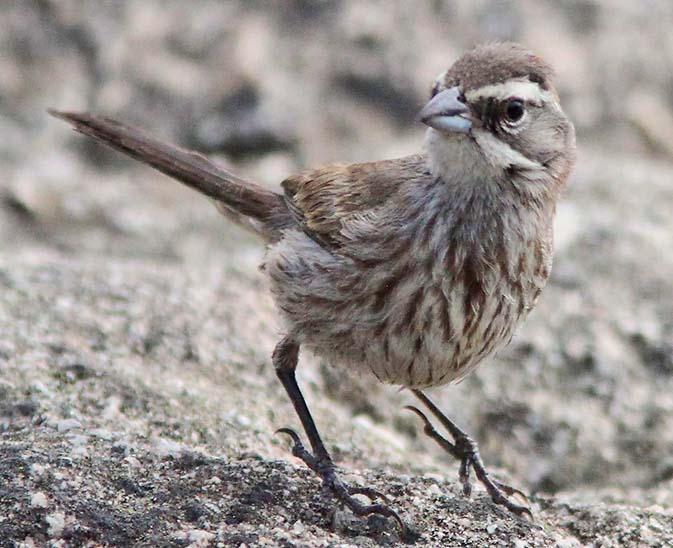 On 4 September, Laurie Bechtler from Mountain View visited Pt. Lobos State Reserve with friends. She took this lovely scenic shot of Pinnacle Pt., the extreme northwest tip of Pt. Lobos (above © L. Bechtler). Local birders are glad she did, because she then noticed an unusual sparrow with other sparrows at the edge of the cliff, and took a shot of it also. That evening she figured it out from books and the photos at #10 on "Monterey's ten most misidentified birds" on this web site [a project badly in need of updating].
She was able to get in touch with me by mid-day on 5 Sep. Her emailed photo nicely documented a juv Black-throated Sparrow — an excellent vagrant locally — and I was able to gather a few friends to look for it in late afternoon. It reappeared after the tourists cleared out about 4:30 p.m., and put on a nice show (photos right & below © D. Roberson).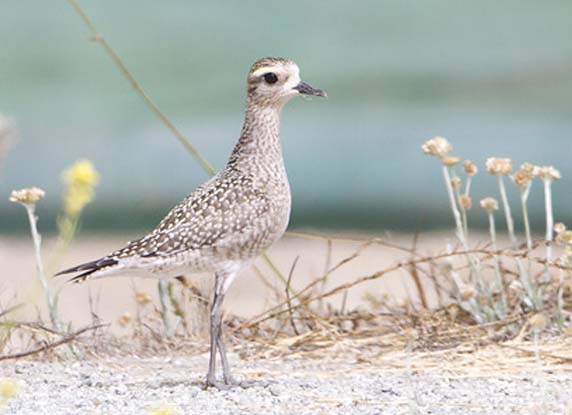 Autumn 2011 had just begun when two juv American Golden-Plover were found near Salinas 3-4 Sep (photo left 4 Sep © Brian L. Sullivan). This species is much rarer in MTY than Pacific Golden-Plover, and the vast majority of records are of juvenal-plumaged birds in fall migration.
Two species that rarely summer locally were also documented all summer long in the lower Salinas Valley: a Greater White-fronted Goose with a huge flock of Canada Geese, and a female Bufflehead (below; flightless on 5 Sep © D. Roberson).

Other vagrants over Labor Day weekend included a Chestnut-sided Warbler at the Majella willows, Asilomar SB, 4-5 Sep (B.L. Sullivan +) and a Lucy's Warbler at Big Sur R. mouth 4 Sep (D. Roberson).